1.Too Complacent a Market?? Shorts Disappearing as VIX Hits Single Digits.
Equity Markets: SPY ETF short interest continues to decline as short-sellers capitulate.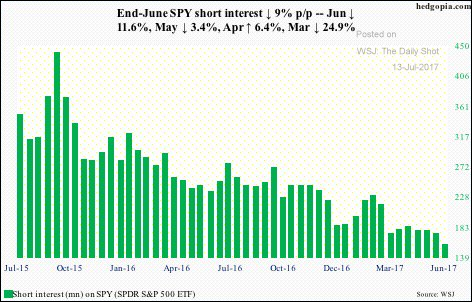 Source: @hedgopia, @jessefelder
www.thedailyshot.com
2.VIX Breaks Thru $10 for New YTD Lows.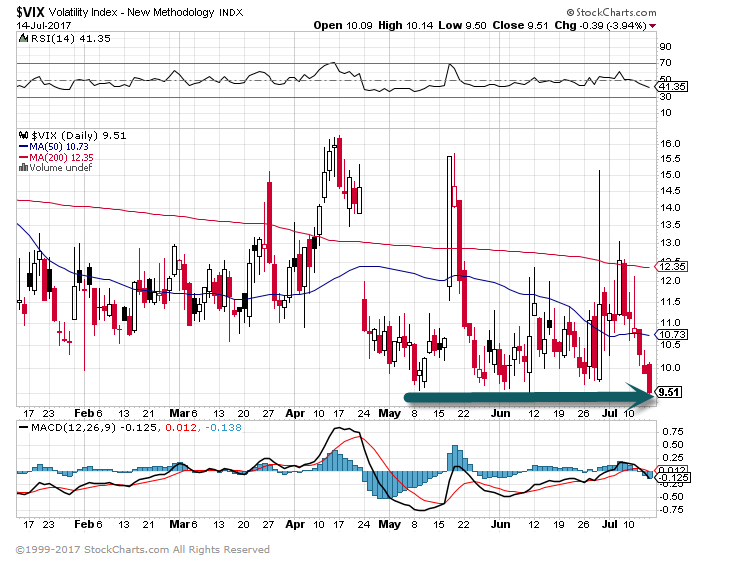 3.No Shorts, Volatility Dropping to New Lows and Now Hedge Funds Giving up on Precious Metals…Hmmm Contrarians!
Hedge Funds Are Losing Faith in Precious Metals
By
Luzi-Ann Javier
July 16, 2017, 5:00 AM EDT
· Money managers most bearish on silver in almost 2 years: CFTC
· Platinum net-short position reached a record as car sales slow
Gold is out of favor with money managers and it's not the only precious metal facing investor exodus.
Hedge funds and other large speculators are hitting the exit as they brace for monetary tightening in the U.S. and Western Europe. Money managers are not waiting around for signs that the Federal Reserve may change its rate trajectory, as they turn bearish on precious metals. These charts show the trend in sentiment.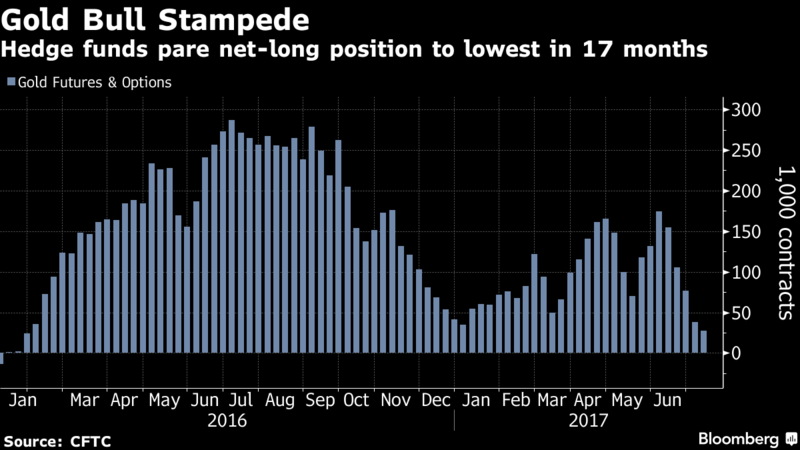 In the week ended July 11, the net-long position in gold fell to the lowest in 17 months, before the metal posted its first weekly gain in six weeks. The changes came just before government data showed consumer prices were little changed, fueling speculation the Fed may take longer to meet its goal, especially after Chair Janet Yellen said earlier in the week she sees uncertainty over inflation.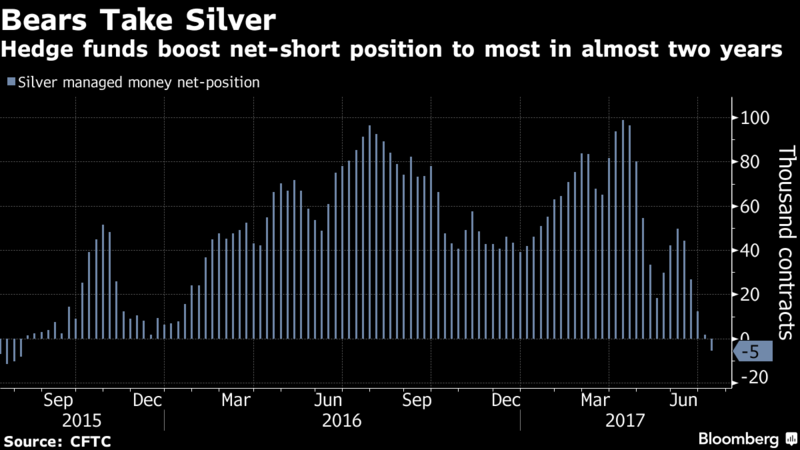 Silver is also losing its luster in the eyes of hedge funds. The position in gold's cheaper cousin swung to a net-short from a net-long and is the most bearish since August 2015. Investors concerned by the prospect of higher interest rates exited in droves — just as the metal capped its biggest weekly advance in six months on dovish U.S. economic data.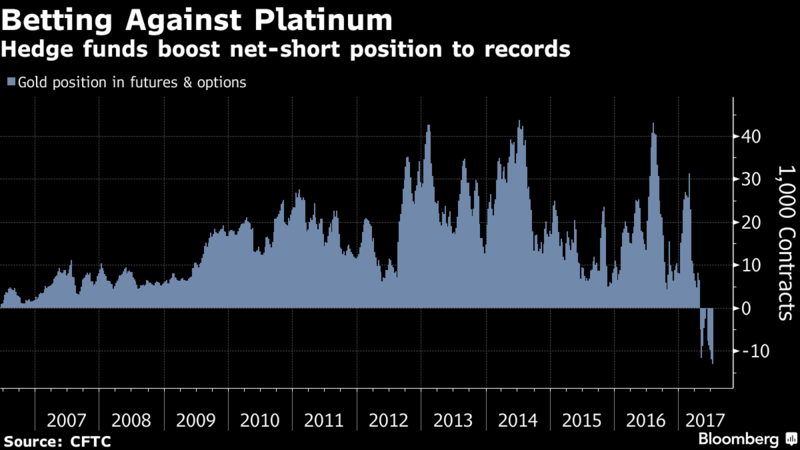 Money managers pushed their net-short position in platinum — used to curb vehicle emissions — to a record before data showed European car sales slowed in June as Brexit-related concerns weighed on a peaking vehicle market.
https://www.bloomberg.com/news/articles/2017-07-16/three-charts-showing-hedge-funds-losing-precious-metals-faith
4.XOP Oil and Gas Exploration.. 31% Drop Since End of 2016
Capital spending outstripping cash flow with falling prices.
Capital spending by 20 major U.S. exploration companies and 24 mid-cap companies is expected to rise 48% this year, to $58.8 billion, and increase another 15% in 2018, to $68 billion, with this year's spending outstripping cash flow by $12 billion, Driscoll estimated in a recent report.
http://www.barrons.com/articles/8-great-energy-stocks-at-bargain-prices-1500094714?mod=BOL_twm_ls&tesla=y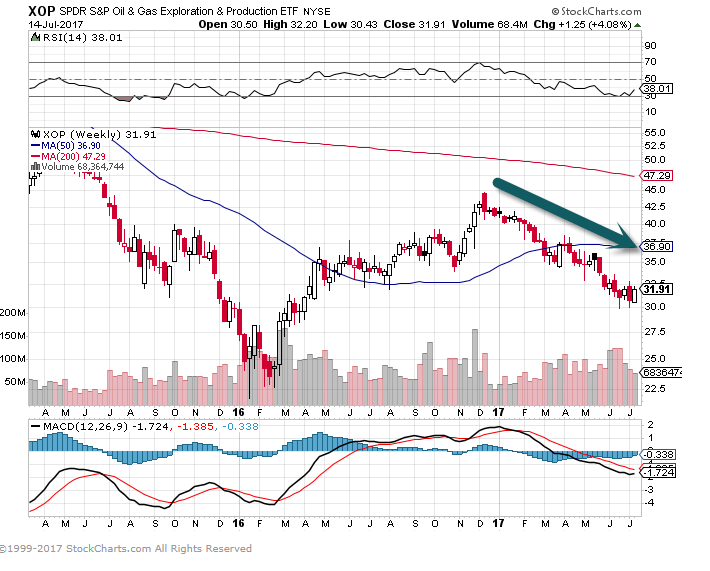 5.The Elephant in the Room for Energy Markets.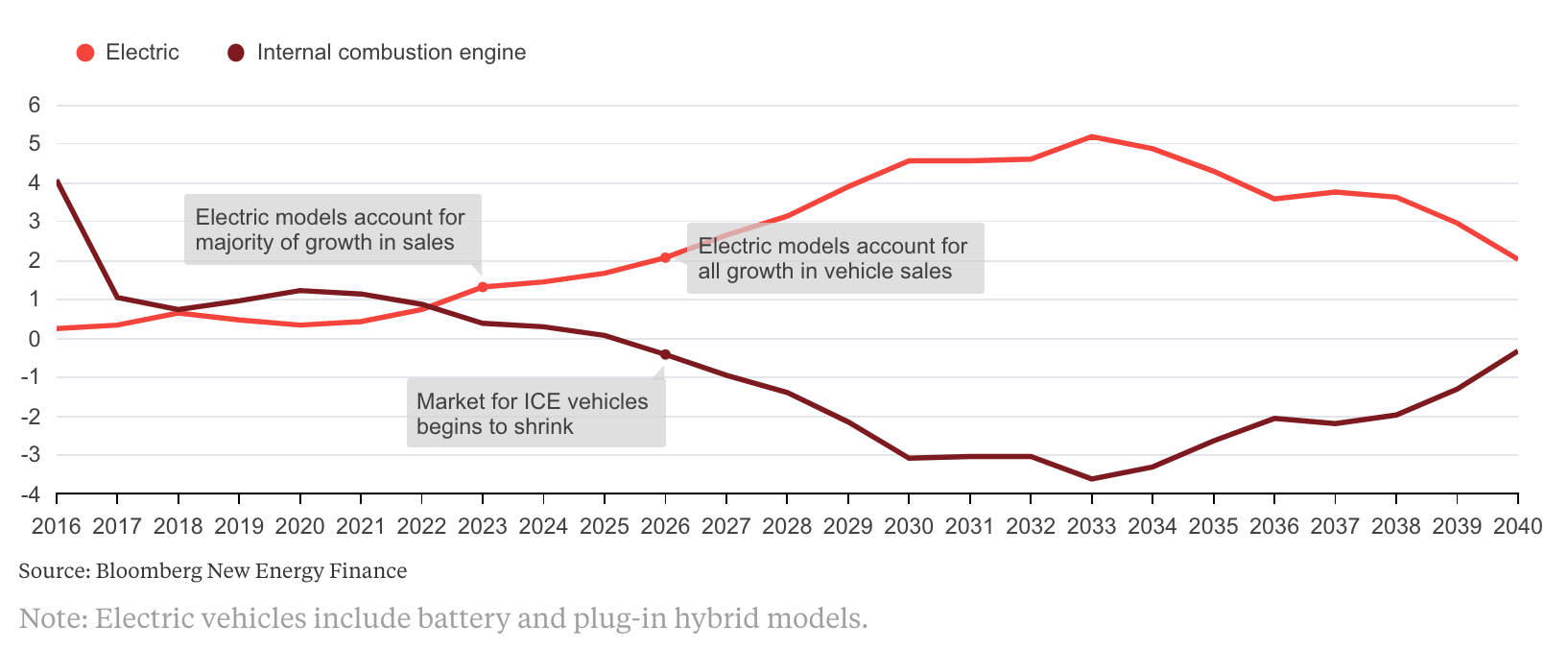 Found at Barry Ritholtz blog.
http://ritholtz.com/2017/07/weekend-reads-279/
6.These Companies Beat Earnings the Most Often
Jul 14, 2017
Using our Interactive Earnings Calendar, below is a list of the stocks reporting earnings next week that have historically beaten consensus analyst earnings estimates the most often. To make the list, the company must have at least 5 years (20 quarters) worth of earnings reports.
As shown, Lockheed Martin (LMT) is an earnings beast with a 96.8% beat rate. Since 2001, Lockheed has reported 63 times and it has only missed estimates once! Even more remarkably, the stock has beaten estimates on every quarterly report since April 2004, which is 53 quarterly beats in a row!
Visa (V), SBNY, JNJ, UNH, MCO, ADS, and WAL are the additional companies reporting next week that have EPS beat rates of 90% or more. These stocks simply deliver! All eight of them have historically averaged a gain on their earnings reaction days as well (far right column).
Other key stocks that make the list include Goldman Sachs (GS), Netflix (NFLX), eBay (EBAY), Intuitive Surgical (ISRG), and Check Point Software (CHKP).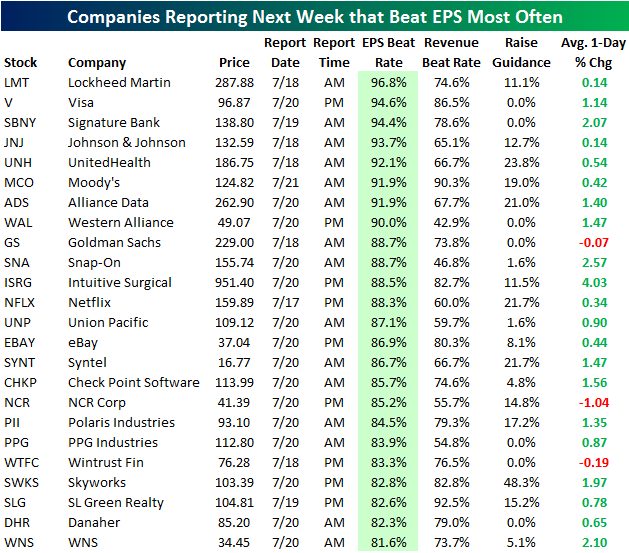 https://www.bespokepremium.com/think-big-blog/
7. Emerging Stocks Break Decade-Long Downtrend!
Posted July 16, 2017 by Joshua M BrownMy friend Ari Wald (Oppenheimer) spots what has the potential to become very big news for investors with global allocations and traders looking for the next mega-trend:
EEM Reverses 10-year Downtrend!
Our chart of the week, month, and potentially year, is the iShares MSCI Emerging Markets' (EEM) reversal of a 10-year downtrend dating back to its 2007 peak. This not only carries significance for the future direction of EEM's trend—we think higher—but also for the cyclical recovery as well because broadening global participation remains a focal point to our outlook. Specifically, we see EEM's reversal as the next step toward our bull case scenario in which global equities, both developed and emerging, join the US in secular rise. It also corroborates our view that the market cycle is early-to-middle innings rather than late. For EEM, the first higher high relative to the MSCI All World index since 2010 argues for continued outperformance, and we accordingly recommend adding to our allocation.
Below, Ari's charts – the first one is the breaking of the downtrend and the bottom one is a ratio chart, emerging markets relative to the MSCI World Index: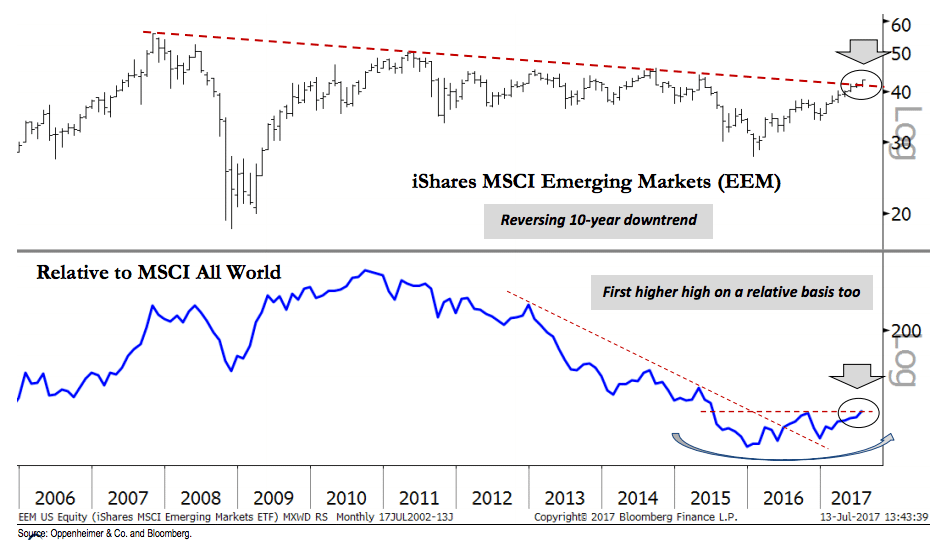 From Josh Brown Blog
http://thereformedbroker.com/2017/07/16/chart-o-the-day-emerging-stocks-break-decade-long-downtrend/
8.Housing Affordability Very Good….Average Mortgage Payment as a Percentage of Household Income 14.2. Philly apartment renters spending 43% of income on rent and New York renters spend a whopping 58% on rent.
http://www.businessinsider.com/jpmorgans-ultimate-guide-to-the-markets-and-the-economy-q3-2017-7?op=0#/#jpm-funds-guide-to-markets-q3-2017-35
9.Read of Day…Social Security $46B Disability vs. $2.8 Trillion Retirement……50 million Americans receive social security and 56 million see Medicare benefits.
The fund for disability benefits is the smaller of the two—$46 billion for disability, compared with $2.8 trillion for retirement. The longer projection for the smaller fund means Congress isn't immediately forced to grapple with looming shortfalls in any of its programs.
In 2016, over 50 million Americans received retirement benefits from Social Security and Medicare benefits were received by 56.8 million people. Spending on the programs is poised to grow as the nation's population ages.
https://www.wsj.com/articles/social-security-and-medicare-face-depletion-within-17-years-trustees-say-1499973205?tesla=y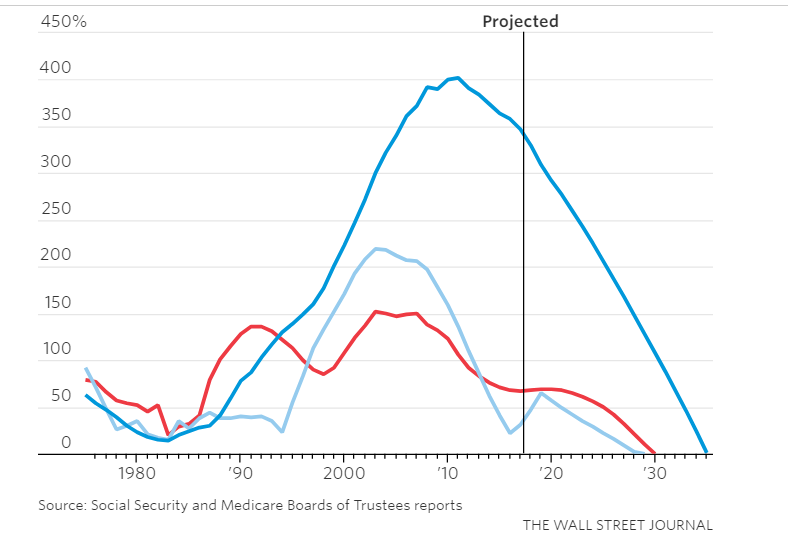 10.Scientists found that having purpose in life is what allows for a restful sleep
Sarah Knapton, science editor
It is said that a clear conscience makes the softest pillow, but according to a new study the secret of a good night's sleep is having something worth getting out of bed for the next day.
In the first research of its kind, US scientists found that having a purpose in life results in fewer nighttime disturbances and improved sleep quality.
Although all the participants in the study were elderly, researchers said the findings are likely to apply to people of all ages, suggesting that whether you will sleep well is already decided before you even get into bed.
Recommended by
Sleep problems are also associated with many illnesses, including Alzheimer's disease obesity, heart disease, diabetes and even colds and flu, so promoting better sleep could help overall health.
"Helping people cultivate a purpose in life could be an effective drug-free strategy to improve sleep quality, particularly for a population that is facing more insomnia," said senior author Jason Ong, an associate professor of neurology at Northwestern University Feinberg School of Medicine, in Illinois.
"Purpose in life is something that can be cultivated and enhanced through mindfulness therapies."
In general, adults need between seven and nine hours of sleep each night but the exact amount varies from person to person, depending on age, lifestyle and genes.
More than a third of Britons sleep for less than six hours a night according to The Sleep Council with modern life blamed for problems nodding off.
How to perform the 4-7-8 breathing exercise
01:07
Light pollution and the glare from smartphones and tablets mimic daylight, disrupting the release of melatonin, the rest hormone and altering our sleep patterns.
Health and lifestyle problems are also known to impact sleep include obesity, excessive alcohol and sugary drink consumption, smoking, lack of physical activity, mental health problems, stress at work, shift work, financial concerns, and long commuting.
In the new study 823 people between the ages of 60 and 100 answered a 10-question survey on purpose in life and a 32-question survey on sleep. Those who felt their lives had meaning were 63 percent less likely to have sleep apnea and 52 percent less likely to have restless leg syndrome. They also had moderately better sleep quality, a global measure of sleep disturbance.
Sleep apnea is a common disorder that increases with age in which a person has shallow breathing or pauses in breathing during sleep several times per hour. Restless leg syndrome causes uncomfortable sensations in the legs and an irresistible urge to move them.
For the purpose in life survey, they were asked to rate their response to such statements as: "I feel good when I think of what I've done in the past and what I hope to do in the future."
The team now wants to see if mindfulness-based therapies to improve purpose can also improve sleep quality.
It is estimated that insufficient sleep among the British working population costs the economy up to £40 billion a year through lost working hours, the equivalent of 1.86 per cent of the country's GDP.
The new study was published in the journal Sleep, Science and Practice.
http://www.telegraph.co.uk/science/2017/07/10/secret-good-nights-sleep-has-finally-found-scientists/
Sleep smarter | Forty winks in seven steps
1. Prioritise your pre and post sleep routines as they directly affect the quality of your sleep and waking day.
2. Take technology breaks during the day as a reward and training for body and mind.
3. Get up earlier than you need to. Take a full 90 minutes to prepare for your day.
4. Don't reach for the phone! Raise your alertness before you send your first text message or reply to that email.
5. Moving your body from warm to cooler helps trigger the natural drop in body temperature you need to sleep well. A quick warm rinse under the shower and a cooler sleeping environment will help.
6. Declutter your bedroom and mind before you attempt sleep.
7. Go from light to dark in the evening and darkness to light in the morning in an unrushed way.
Found at www.abnormalreturns.com