1. Divers Rescue Path.
Source: WSJ.com, h/t Paul Menestrier; Read full article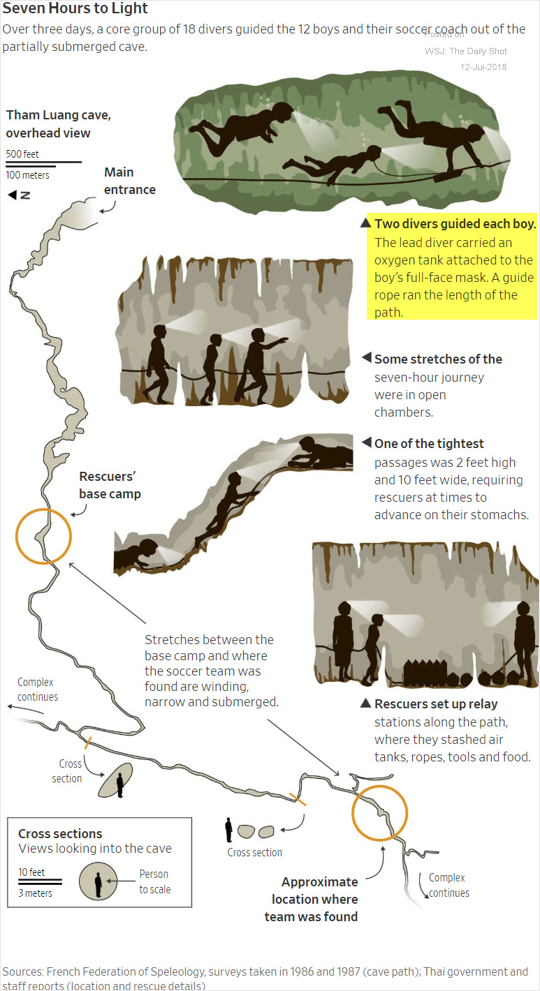 2.Hedge Funds Turn to These Tiny Stocks That Have Been Quietly Surging
By
Kana Nishizawa and Bei Hu
Chinese tech giants aren't the hot hedge fund favorites they once were.
Alibaba and Tencent are giving way to a new crop of top picks: smaller non-Chinese companies that have been quietly surging even as valuation worries and market jitters have weighed down the behemoths. Among the winners are Taiwan's Wiwynn Corp. and Yageo Corp., whose shares have more than tripled in 2018, and San Mateo, California-based Coupa Software Inc., whose shares have doubled.
Asian hedge funds such as Rays Capital Partners, APTA Investments and Sylebra Capital Management are profiting from early bets on these overlooked tech stocks, which they say have plenty more room to run. Sky-high valuations had many funds pare or avoid large tech stocks even before the recent slump.
"Tencent and Alibaba have been trading at relatively high valuations — those are the types of stocks that are seeing more volatility and looking more expensive," said James Norman, head of equity strategy for $21 billion money manager QS Investors, which uses a quantitative strategy to pick stocks. "They've had a great run but what we're focused on is some of the other parts of the technology world," said the manager, who is turning to sectors such as Taiwan's semiconductor companies with stable cash flows.
Fund Favorites
Lesser-known technology stocks favored by Asian hedge funds
Source: Bloomberg
Returns and market value current as of July 11, 2018 Past month returns are for rolling one month period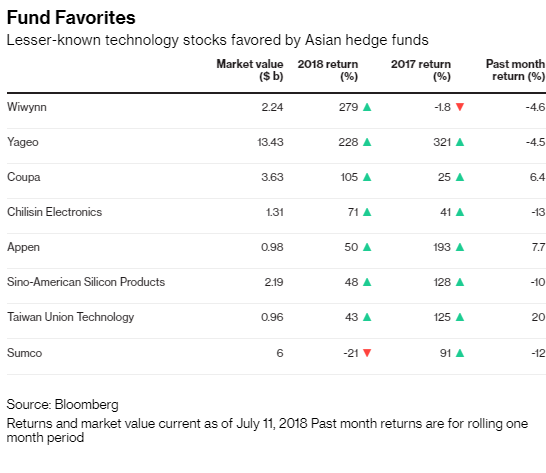 Tat Wang, who manages a $55 million technology fund for Hong Kong-based Rays Capital, has invested in companies such as Wiwynn, a data center supplier to Facebook Inc. with hardly any analyst coverage, and Yageo, which makes tiny components used in circuit boards. The Rays Capital fund is up an estimated 21 percent this year, according to an investor update.
"This year is very special," said Wang. "Many big caps have limited growth because they're dragged by the smartphone industry, which has no volume growth."
Sylebra Capital Management, a Hong Kong-based hedge fund firm overseeing $1.25 billion, has bet on Coupa, which has helped fuel gains. Sylebra's hedge fund gained 25 percent in the first half of the year, the firm said.
Coupa, which provides cloud-based software to help customers automate procurement and expense management, has beaten all but Netflix Inc. this year among the 10 constituent stocks of the NYSE FANG+ Index that tracks big technology companies.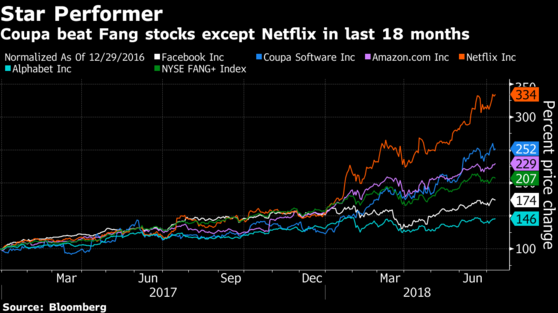 At APTA Investments, a hedge fund backed by Dymon Asia Capital (Singapore), Chief Investment Officer Jeff Zielinski is betting on a pair of silicon wafer makers. Japan's Sumco Corp. and Taiwan's Sino-American Silicon Products will benefit from price increases as China attempts to boost domestic semiconductor production, he said.
Some of the biggest mainland tech companies have been hit especially hard this year as President Donald Trump's administration cracks down on Chinese investments in U.S. technology, from takeovers to venture capital funding rounds.
E-commerce giant Alibaba Group Holding Ltd. is down 10 percent from last month's high, while Tencent Holdings Ltd. has tumbled nearly 20 percent from a January peak. They're still not cheap — even after the selloff, the companies are still trading at valuations far higher than smaller companies. Singapore's sovereign wealth fund, which backed some of China's biggest technology startups, this week said it's becoming more selective about investments in the sector amid soaring valuations.
https://www.bloomberg.com/news/articles/2018-07-12/hedge-funds-turn-to-tiny-stocks-as-china-tech-giants-lose-luster
3.Huge Positive for Economy
R&D as a share of GDP is at the highest level ever, see chart below and here. This is good for the long-term prospects for the US economy.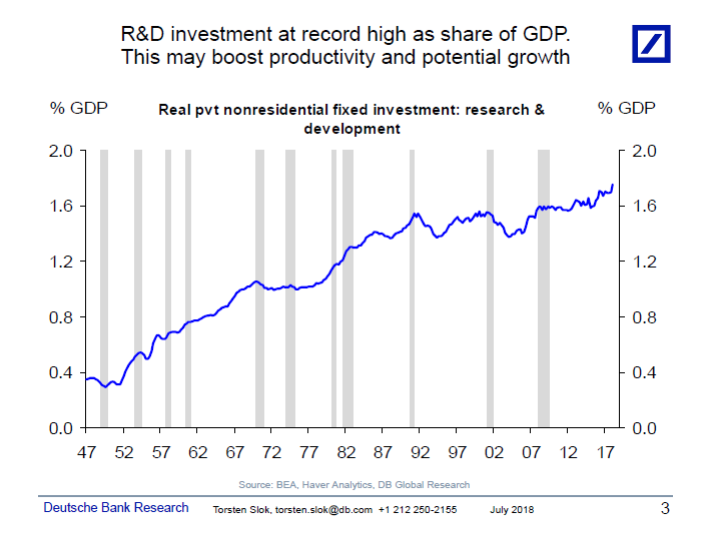 ———————————————–
Let us know if you would like to add a colleague to this distribution list.
Torsten Sløk, Ph.D.
Chief International Economist
Managing Director
Deutsche Bank Securities
60 Wall Street
New York, New York 10005
Tel: 212 250 2155
4.Consumer Price Index for Urban Consumers Got a Fair Amount of Press Last Week….Above 10 Year Avg. but Below Long-Term Average.
A Long-Term Look at Inflation
by Jill Mislinski, 7/13/18
The Consumer Price Index for Urban Consumers (CPI-U) released yesterday morning puts the year-over-year inflation rate at 2.87%. It is substantially below the 3.76% average since the end of the Second World War and above its 10-year moving average, now at 1.631%.
For a comparison of headline inflation with core inflation, which is based on the CPI excluding food and energy, see this monthly update.
For a better understanding of how CPI is measured and how it impacts your household, see our Inside Look at CPI components.
For an even closer look at how the components are behaving, see this X-Ray View of the data for the past six months.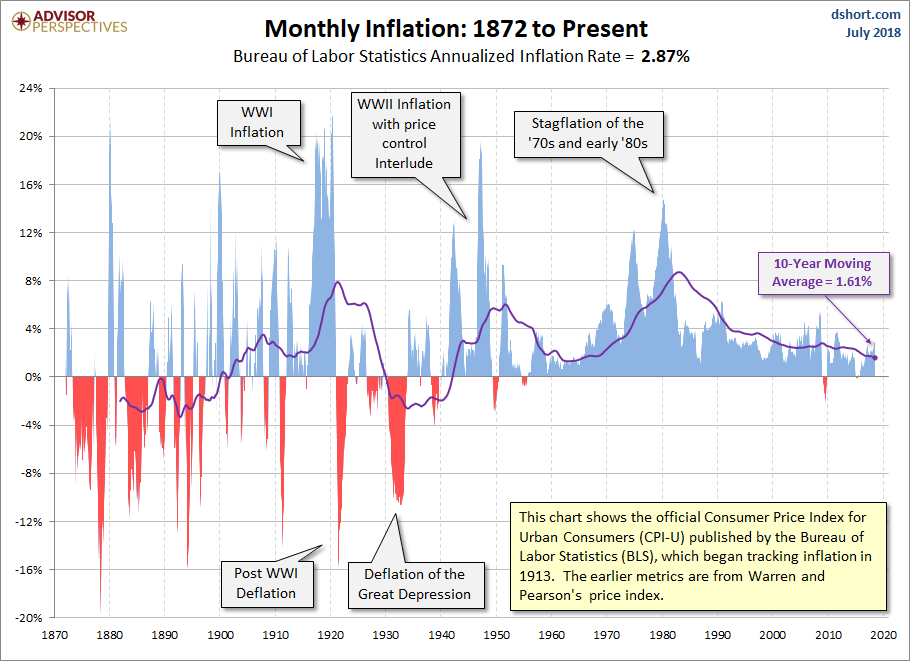 https://www.advisorperspectives.com/dshort/updates/2018/07/13/a-long-term-look-at-inflation
5.The Housing Recovery Picture.
As of Q1 2018, U.S. homeowners have $14.9 trillion in equity vs $10.1 trillion in mortgage debt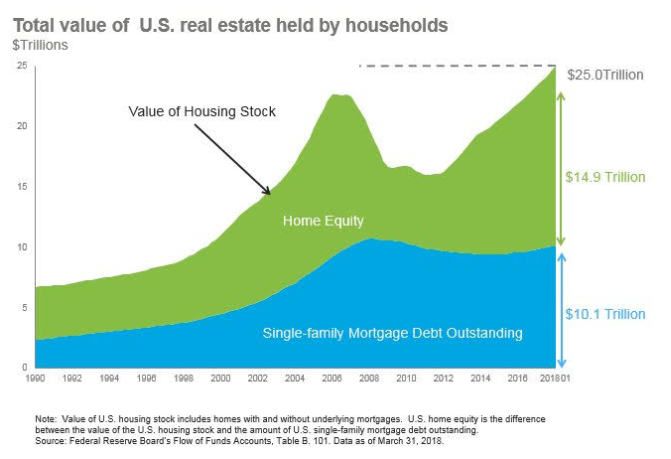 Found at The Big Picture Barry Ritholtz
6.IMF Forecasts For Country Recessions Going Forward.
On a global scale, all 45 OECD countries grew together in 2017 for the first time in a decade.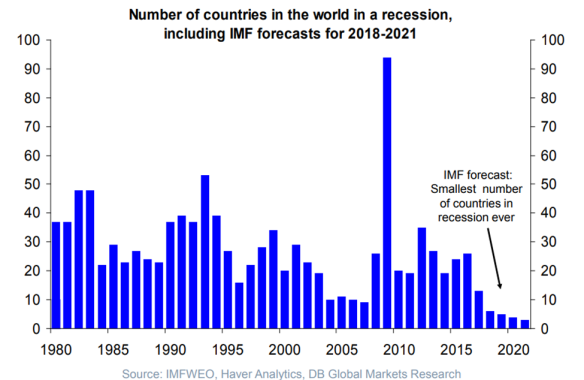 https://rpseawright.wordpress.com/2018/01/09/2018-investment-outlook/
7.AI IN MARKETING:
How brands can leverage artificial intelligence to improve personalization, enhance ad targeting, and make marketing teams more agile
Kevin Gallagher
Mar. 6, 2018, 1:22 PM
Here are some of the key takeaways from the report:
-AI is advancing beyond data analysis and moving rapidly into data generation, as machines get better at automating two basic human senses: sight and hearing. Gleaning insights from data-rich media like voice and video is now possible, and humans no longer have to manually categorize or describe various types of media.
-AI will transform marketers from reactive to proactive planners. The enhanced analytics that AI provides will help marketers more efficiently plan and execute campaigns in three main areas: segmentation, tracking, and keyword tagging.
However, the rapid pace of innovation is contributing to marketers' sense of unpreparedness for AI implementation and future use cases. When asked to choose which trending technology they felt most unprepared for, 34% of global marketing executives chose AI, the most of any option, according to Conductor.
-AI will aid in content creation, but human marketers are still necessary. It's still early days for marketers to use AI to automatically create editorial content or stitch together the right image with the right messaging for display ads. Machines will help cut down on production time, but humans are needed for their creative juices.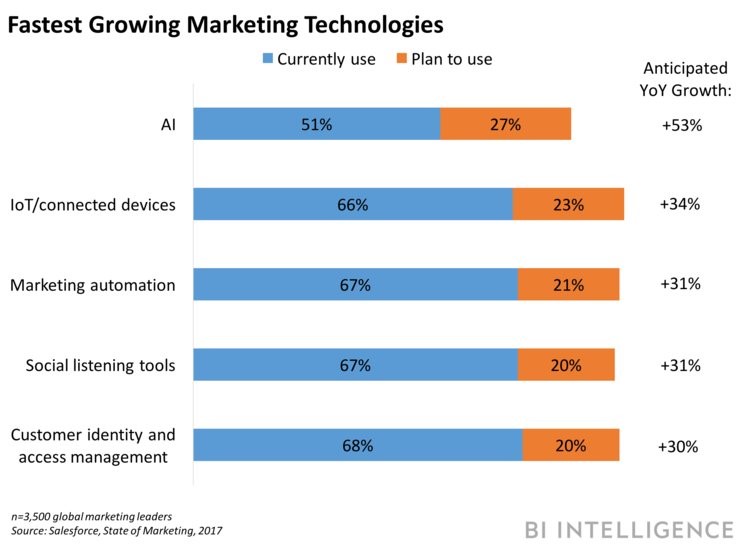 http://www.businessinsider.com/ai-marketing-report-2018-3
8.Netflix vs. HBO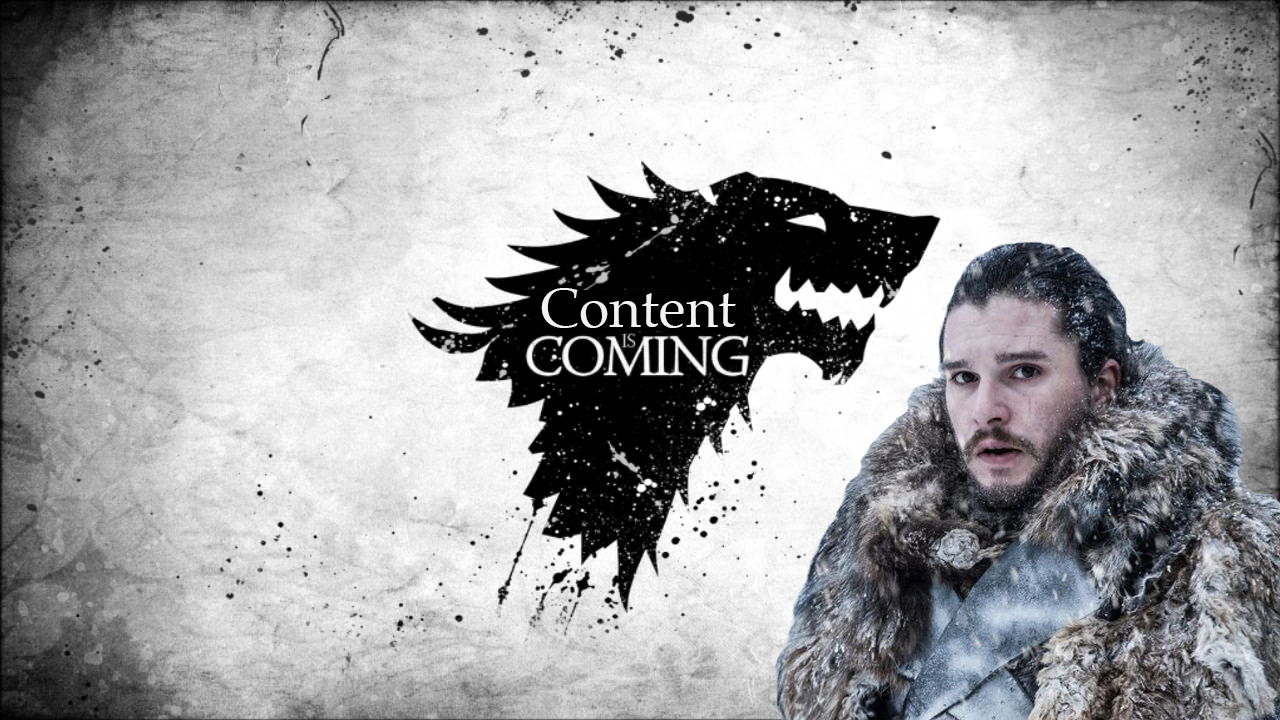 The Emmy nominations just came out for 2018, and for the first time in 18 years…HBO was not the most nominated network.

So what was?

Surprise, surprise…it was Netflix with 112 nominations, narrowly beating out HBO's 108.
On the bright side for HBO, Game of Thrones led any show with 22 nominations, while Westworld raked in 21.
Or maybe that's not the bright side…
While HBO's mission has always been quality over quantity, Netflix consistently shoots for both.
Take a gander:
HBO spends just $2 billion a year (mainly invested into its top shows).
Netflix is spending up to $13 billion this year (creating a melting pot of content).
And this dart-throwing mentality has proven to be a success.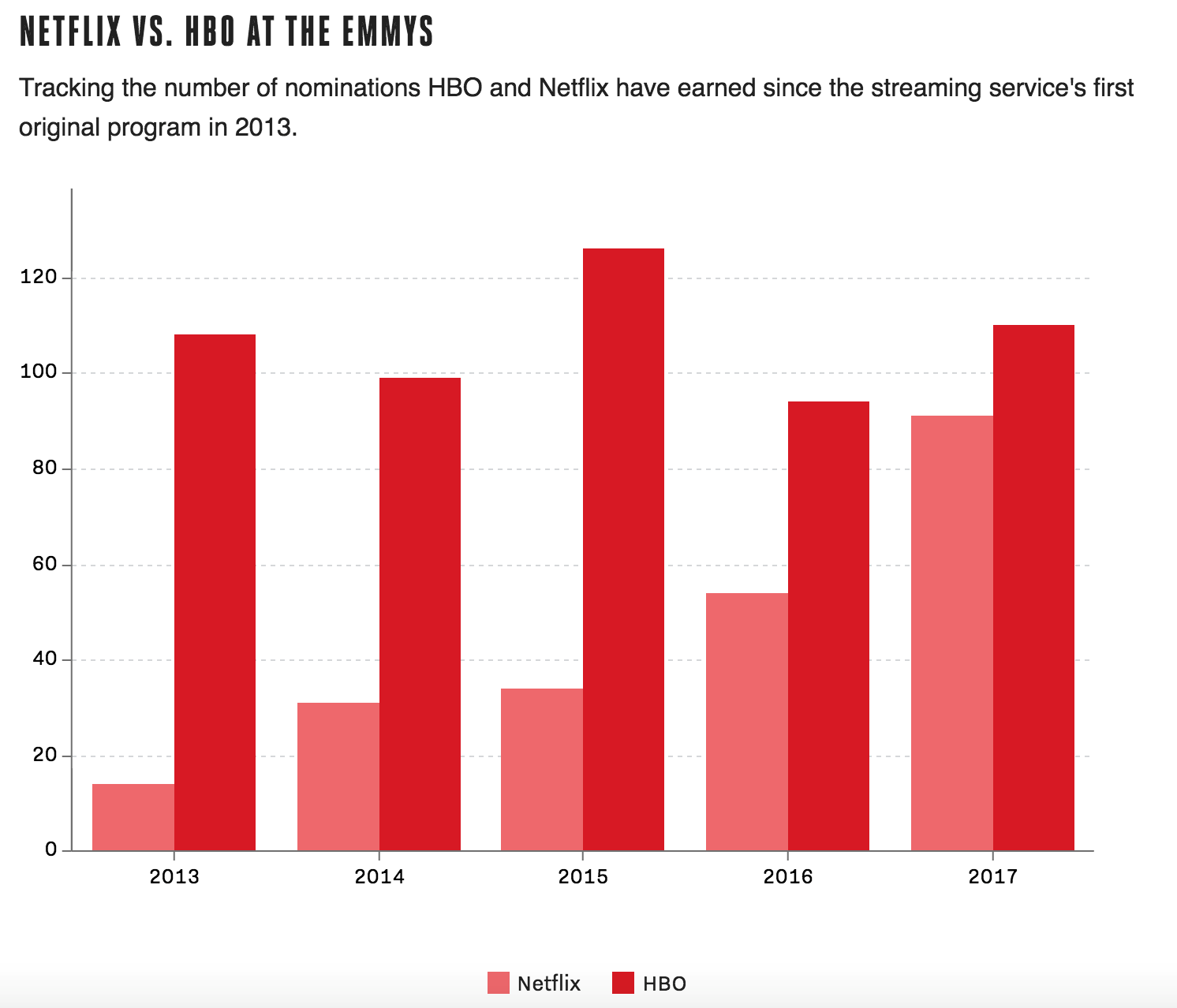 Source: The Verge
So what can HBO possibly do to flip the script?
Try to beat Netflix at its own game…and spend. In fact, that solution became a serious possibility at a recent town hall meeting between HBO and its new parent, WarnerMedia (all part of AT&T).
So why is more spending the solution? Because as WarnerMedia CEO John Stankey implied at the meeting (per the NYT), it's not just about the Emmys you win, but also the engagement on your platform.
Sure, HBO's great for those sweat-through-your-shirt dramas every Sunday night, but for everything else…there's Netflix.
And that's why HBO is the one catching up.
Who cares if not every show is an Emmy winner? Netflix knows how you watch, when you watch, and what you watch.
The result? Data-informed insights HBO can't possibly compete with.
So bottom line: If HBO ever wants to regain its Emmy-nomination crown (or just compete with Netflix), it needs to spend, forfeit some quality, produce more content, and collect a lot more data. And if you've been following along, THAT is precisely why we are gearing up for the greatest content war ever.
+ Food for thought: We didn't even mention Disney's streaming ambitions.
9.Read of the Day…Taking Away the Phones Won't Solve Our Teenagers' Problems
By Tracy A. Dennis-Tiwary
Dr. Dennis-Tiwary is a psychology professor.
July 14, 2018
Apple has introduced new softwaredesigned to help users restrict the time they spend on their phones — just change your settings and your favorite app will lock you out after a certain number of hours. It's been especially welcomed by parents who fret about the habits of their "screenagers" — young people who seem permanently attached to their mobile devices.
Even Silicon Valley insiders demanded that Apple make its devices "less addictive." Some researchers have gone so far as to declare that smartphones have psychologically destroyed a generation of millennials and are fueling the epidemic of teenage anxiety and suicide in the United States. One study notes a spike in anxiety and depression among teenagers in 2011 — around the time of broad smartphone adoption.
But I've come to believe that conventional wisdom about the relationship between troubled kids and their favorite technology is wrong.
Although some research does show that excessive and compulsive smartphone use is correlated with anxiety and depression, there is a lack of direct evidence that devices actually cause mental health problems.
In other words, there simply does not yet exist a prospective longitudinal study showing that, all things being equal, teenagers who use smartphones more often or in certain ways are more likely than their fellows to subsequently develop mental illness.
Large studies that fail to follow individuals over time can reveal only correlation, not cause. Luckily, some recently begun studies will be poised to weigh in on causation — but we'll have to wait years for the results.
In the meantime, we can't just blame the machines. This is especially important because if smartphones aren't a direct cause of teenagers' mental health struggles, their use might instead be a crucial way in which these struggles are expressed. This calls for a different set of solutions.
Teenagers are struggling with anxiety more than any other problem, and perhaps more than ever before. There's a good chance that it is anxiety that is driving teenagers (and the rest of us) to escape into screens as a way to flee fears. Across most types of anxiety runs a common thread — difficulty coping with feelings of uncertainty: something today's teenagers have more than their fair share of.
They have uncertain economic lives: Unlike previous generations, they can anticipate a worse economic future than their parents.
They've also grown up with uncertain truths and unreliable sources of news and facts, yet they cannot easily escape the digital ecosystem that's to blame.
Finally, teenagers have uncertain independence, many having been raised under the whirring of helicopter parents, overinvolved and trying to fix every problem for their children. This suffocates independence at a time when teenagers should be exploring autonomy, limits the development of self-reliance and grit and may even directly produce anxiety and depression.
When we're anxious, we gravitate toward experiences that dull the present anxious moment. Enter mobile devices, the perfect escape into a two-dimensional half-life, one that teenagers can make sense of.
We already know that teenagers go online to avoid feelings of stress, depression and anxiety, and we also know this strategy has more negative emotional consequences than positive ones. With their slot-machine logic and addictive properties, smartphones keep us coming back for more: for distraction, a message from a friend, news, a funny cat meme.
Digital technology is designed to grab our attention, so it exhausts us, distracts us and detracts from our ability to nurture fulfilling relationships. With that in mind, teenagers should reduce their reliance on smartphones, and we must heed the call to make smartphones and social media less addictive while figuring out how they affect us and our children.
At the same time, if smartphone addiction is a reflection of adolescent anxiety, cutting screen time may not solve the broader problems that drive teenagers to their screens. Just blaming the machines is a cop-out, a way to avoid the much more difficult task of improving young people's lives so they won't need to escape.
Yes, we should devote resources to making smartphones less addictive, but we should devote even more resources to addressing the public health crisis of anxiety that is causing teenagers so much suffering and driving them to seek relief in the ultimate escape machines.
Tracy Dennis-Tiwary is a professor of psychology at Hunter College of the City University of New York.
https://www.nytimes.com/2018/07/14/opinion/sunday/smartphone-addiction-teenagers-stress.html?action=click&pgtype=Homepage&clickSource=story-heading&module=opinion-c-col-left-region&region=opinion-c-col-left-region&WT.nav=opinion-c-col-left-region
10.How to Get Motivated (Even When You Don't Feel Like It)
How do some of the most prolific artists in the world motivate themselves? They don't merely set schedules, they build rituals.
Twyla Tharp is widely regarded as one of the greatest dancers and choreographers of the modern era. In her best-selling book, The Creative Habit (audiobook), Tharp discusses the role rituals, or pre-game routines, have played in her success:
I begin each day of my life with a ritual; I wake up at 5:30 A.M., put on my workout clothes, my leg warmers, my sweatshirts, and my hat. I walk outside my Manhattan home, hail a taxi, and tell the driver to take me to the Pumping Iron gym at 91st street and First Avenue, where I workout for two hours. The ritual is not the stretching and weight training I put my body through each morning at the gym; the ritual is the cab. The moment I tell the driver where to go I have completed the ritual.
It's a simple act, but doing it the same way each morning habitualizes it — makes it repeatable, easy to do. It reduces the chance that I would skip it or do it differently. It is one more item in my arsenal of routines, and one less thing to think about.
Many other famous creatives have rituals too. In his popular book Daily Rituals: How Artists Work, author Mason Currey notes that many of the world's great artists follow a consistent schedule.
Maya Angelou rented a local hotel room and went there to write. She arrived at 6:30 AM, wrote until 2 PM, and then went home to do some editing. She never slept at the hotel.
Pulitzer Prize winner Michael Chabon writes five nights per week from 10 PM to 3 AM.
Haruki Murakami wakes up at 4 AM, writes for five hours, and then goes for a run.
The work of top creatives isn't dependent upon motivation or inspiration, but rather it follows a consistent pattern and routine. Here are some examples of how you can apply ritual and routine to get motivated:
Exercise more consistently:Use the same warm up routine in the gym.
Become more creative:Follow a creative ritual before you start writing or painting or singing.
Start each day stress-free:Create a five-minute morning meditation ritual.
Sleep better:Follow a "power down" routine before bed.
The power of a ritual, or what I like to call a pre-game routine, is that it provides a mindless way to initiate your behavior. It makes starting your habits easier and that means following through on a consistent basis is easier.
The key to any good ritual is that it removes the need to make a decision: What should I do first? When should I do this? How should I do this? Most people never get moving because they can't decide how to get started. You want starting a behavior to be easy and automatic so you have the strength to finish it when it becomes difficult and challenging.
How to Make Motivation a Habit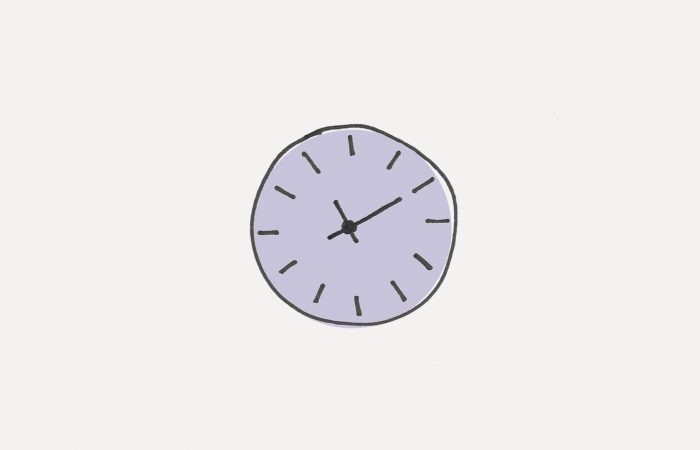 There are three simple steps you can take to build better rituals and make motivation a habit.
Step 1: A good pre–game routine starts by being so easy that you can't say no to it. You shouldn't need motivation to start your pre–game routine. For example, my writing routine starts by getting a glass of water. My weightlifting routine starts by putting on my lifting shoes. These tasks are so easy, I can't say no to them.
The most important part of any task is starting. If you can't get motivated in the beginning, then you'll find that motivation often comes after starting. That's why your pre–game routine needs to be incredibly easy to start.
For more about the importance of getting started, read this.
Step 2: Your routine should get you moving toward the end goal.
A lack of mental motivation is often linked to a lack of physical movement. Just imagine your physical state when you're feeling depressed, bored, or unmotivated. You're not moving very much. Maybe you're slumped over like a blob, slowly melting into the couch.
The opposite is also true. If you're physically moving and engaged, then it's far more likely that you'll feel mentally engaged and energized. For example, it's almost impossible to not feel vibrant, awake, and energized when you're dancing.
While your routine should be as easy as possible to start, it should gradually transition into more and more physical movement. Your mind and your motivation will follow your physical movement. It is worth noting that physical movement doesn't have to mean exercise. For example, if your goal is to write, then your routine should bring you closer to the physical act of writing.
Step 3: You need to follow the same pattern every single time.
The primary purpose of your pre–game routine is to create a series of events that you always perform before doing a specific task. Your pre–game routine tells your mind, "This is what happens before I do ___."
Eventually, this routine becomes so tied to your performance that by simply doing the routine, you are pulled into a mental state that is primed to perform. You don't need to know how to find motivation, you just need to start your routine.
If you remember the article on the 3 R's of Habit Change, then you may realize that your pre–game routine is basically creating a "reminder" for yourself. Your pre–game routine is the trigger that kickstarts your habit, even if you're not motivated to do it.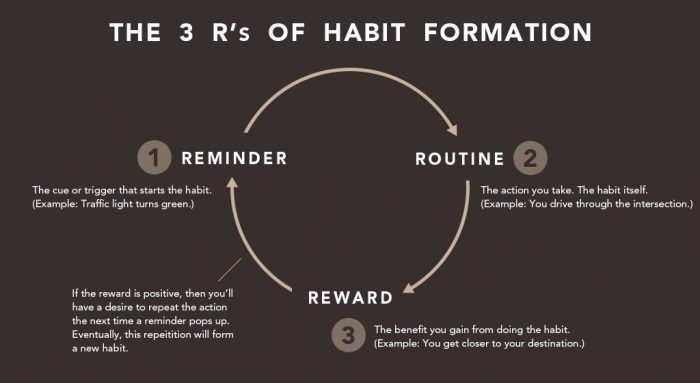 This is important because when you don't feel motivated, it's often too much work to figure out what you should do next. When faced with another decision, you will often decide to just quit. However, the pre–game routine solves that problem because you know exactly what to do next. There's no debating or decision making. Lack of motivation doesn't matter. You just follow the pattern.
https://jamesclear.com/motivation#How%20to%20Make%20Motivation%20a%20Habit