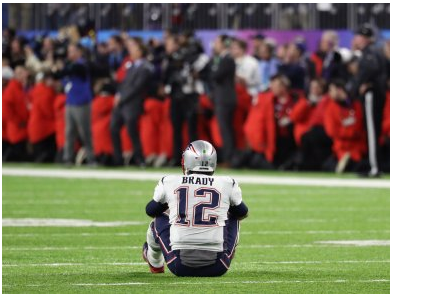 1.The Yield Curve Flattening has Taken Center Stage….How do Stock Perform Leading Up to Inverted Yield Curve?
From Charles Schwab.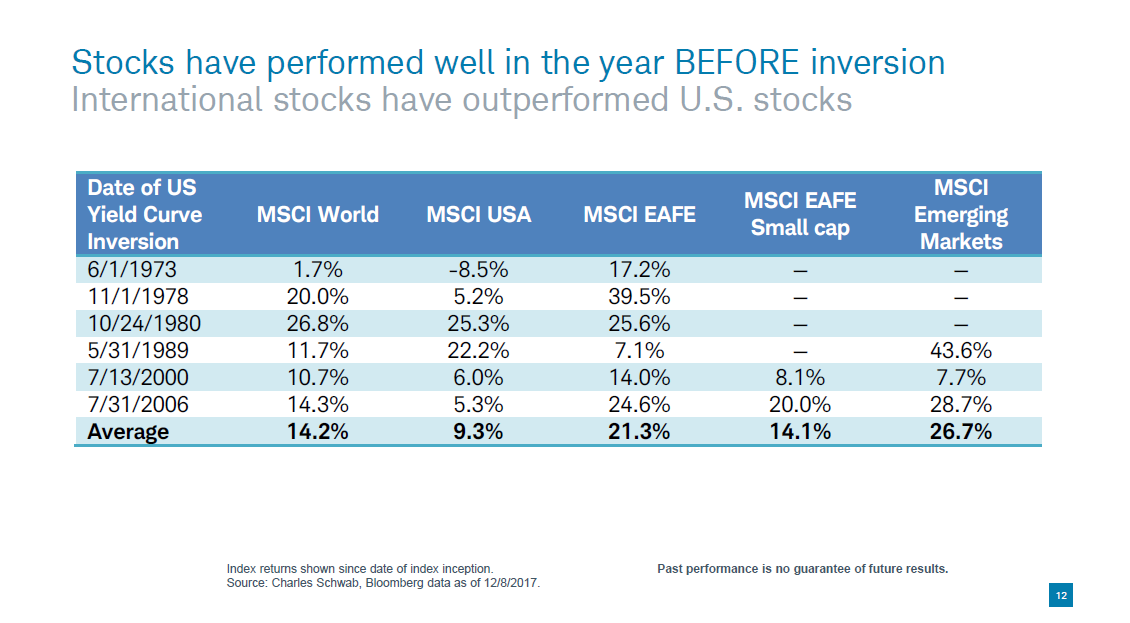 2.Banks are One of Only Sectors Trading at Median of 15 Year Price to Book….Total Share Buybacks Increasing in Sector.
SPDR BLOG

https://us.spdrs.com/docs-advisor-education/investment-strategies/sector-investing/sectors-industries-spotting-trends.pdf
3.10 Year Treasury Yields 4 Year High.
Ten Year Yield Chart-see new high going back to beginning of 2014.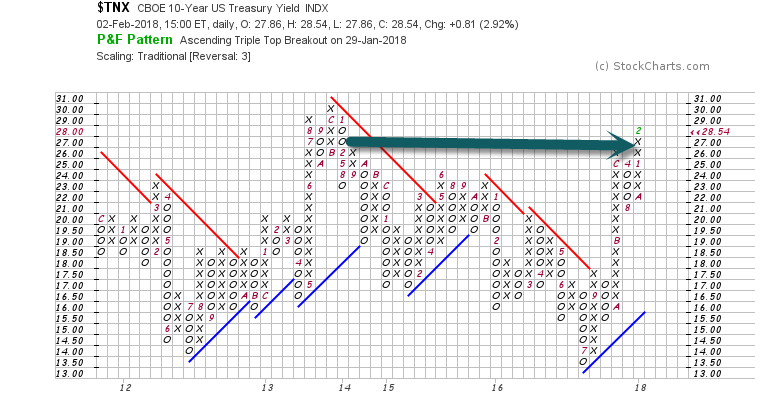 German 10 Year Yields close to double YTD.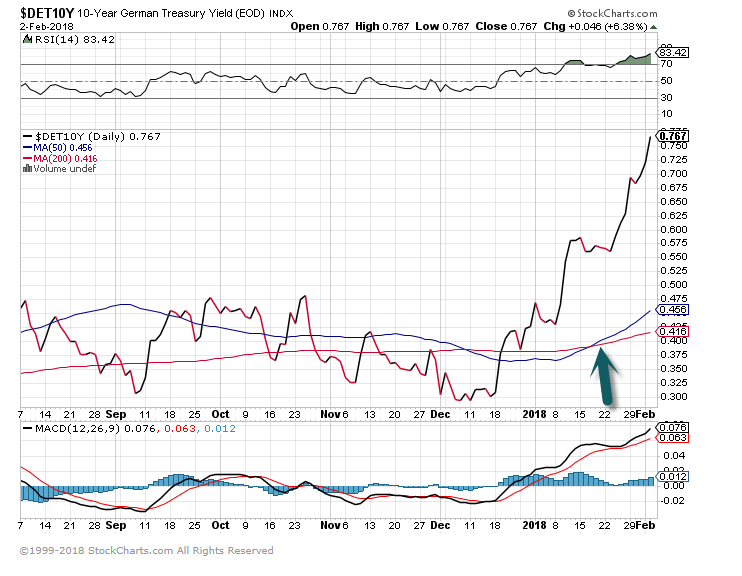 www.stockcharts.com
4.Biggest Fear from Advisors Inflation and Bond Crash.
Rising inflation and a crash in the bond market was cited as the greatest tail risk for markets in Bank of America Merrill Lynch's January fund manager survey, reminds the WSJ – "…the yield curve steepened and not flattened. We would be worried if the yield curve had continued to flatten as the equity market corrected." – Jefferies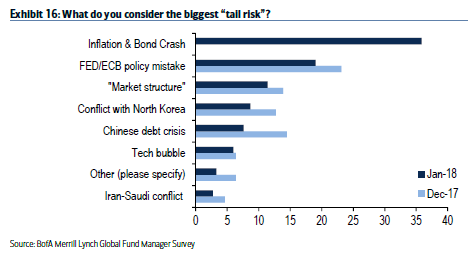 5.Perspective on How Common Drawdowns are in Bull Market.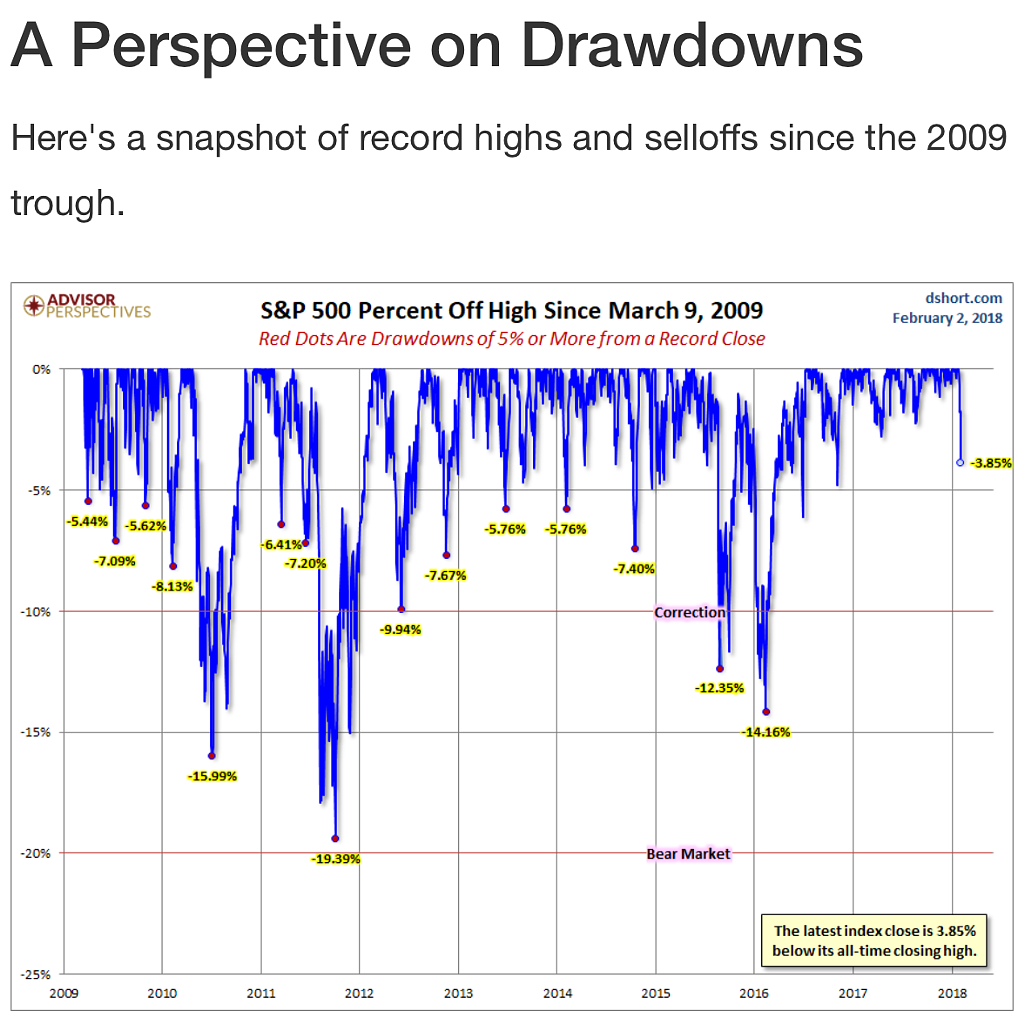 https://www.advisorperspectives.com/
6.VIX Should Move Above 20 this Morning…First Time Since 2016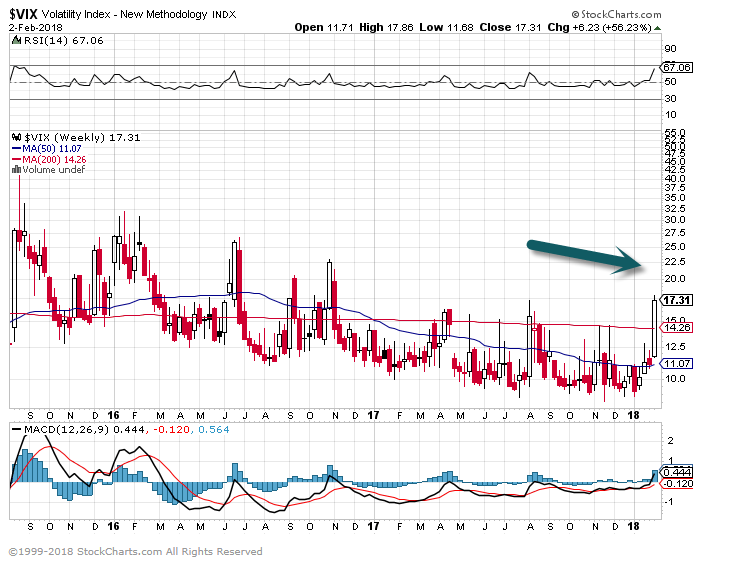 Fear and Greed Index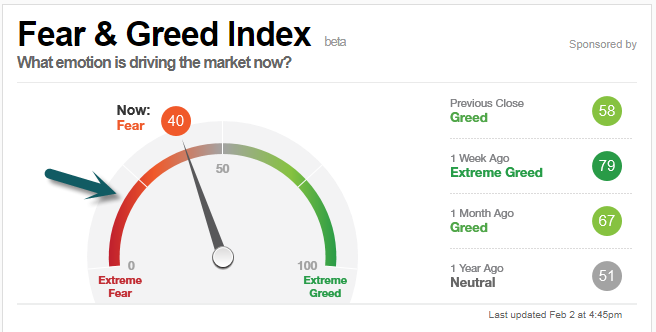 Extreme Fear Not Seen Since 2015.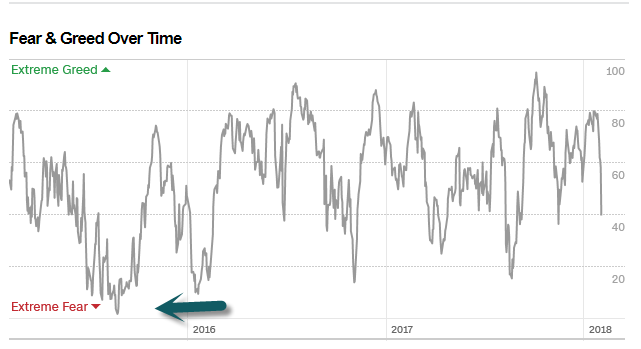 http://money.cnn.com/data/fear-and-greed/
7.3 vital economic themes for 2018
Blackrock Blog
Rick RiederBlackRock Chief Investment Officer of Global Fixed Income
Amid the seemingly endless noise that poses as news, Rick Rieder and Russ Brownback focus in on three of the most critical themes that investors need to consider for 2018.
We've often argued that market participants appear to solely fixate on one thing at a time, and moreover their collective attention span appears to be very short, as these things, or themes, continually shift during the course of a year. To that end, we think it might be useful as the year gets going to reflect on a few critical themes that we believe will persist in their importance to markets in 2018. Hopefully, this may aid investors in tuning out the parade of market noise that ultimately won't matter much to the year's investment prospects.
G3 Monetary Policy Liquidity Slowly Waning; Organic Drivers Should Step Up
A proxy for global liquidity (defined by the year-over-year change in aggregate G3 central bank balance sheets, in U.S. dollars, plus changes in global foreign exchange reserves) grew by nearly $14 trillion from 2008 through 2017, according to Federal Reserve and Bloomberg data as of September 2017. That massive infusion of liquidity helped to restore confidence in both the financial and real economies in the wake of the global financial crisis, yet at this stage, with the global economy enjoying one of its most powerful synchronized expansions since the crisis, it only makes sense that this liquidity be reined in. In fact, we argued that the process should have started a couple years before it did, as it resulted in some significant market distortions and excessive valuations, but nevertheless 2018 will now be an important inflection point for policy.
This raises the vital question, then, of what the prospects are for risk assets under evolving policy liquidity? Overall, we think global growth, fiscal policy and organically derived forms of liquidity will likely more than offset the slow pace of central bank tightening this year. Still, it must be recognized that organically derived liquidity, by its very nature, is more volatile than the kind supplied by central banks, so we fully expect market volatility to rise alongside this transition.
U.S. Fiscal Policy More Supportive of Economy/Markets Than Many Acknowledge
At the end of 2017, the U.S. Congress and Administration passed the Tax Cuts and Jobs Act, which represents the most fundamental re-thinking of tax policy in the U.S. in 30 years. Among many other provisions, the Act lowered individual income tax rates, lowered the top corporate rate from 35% to 21%, allowed for the full write-off of corporate capital expenditures through 2023, included a deemed repatriation tax for corporations and shifted the country to a largely territorial tax system, bringing it closer in line with most of the rest of the world. We're not going to suggest the legislation was perfect, but we do think it is more supportive of the economy and markets than many commentators have acknowledged.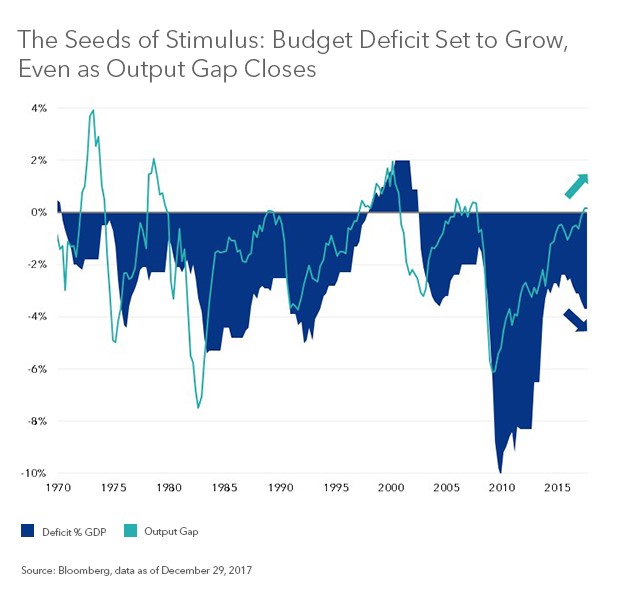 Follow Rick on Twitter.
The U.S. budget deficit as a percentage of gross domestic product is likely to continue to grow, even as the output gap closes, whereas typically deficits would be narrowing at this point (see graph above). In many respects, with a partially deficit-financed tax cut, alongside the new capex and expensing provisions, we are likely to witness a greater drawing forward of economic activity and demand than otherwise would have been the case; essentially, we're borrowing future growth for the present. At the same time, significant deregulation in the U.S. has been working its way through the system, interest rates, while higher, are still running at accommodative levels, and as mentioned, global liquidity is still growing at a solid pace. Investment is by far the most volatile component of economic growth, and while it is poised for a rebound (partly spurred by the tax bill), we think this will result in greater economic volatility alongside of higher velocity (with solid growth, and wages and inflation picking up), facts investors should be prepared for.
The Transformation of Commerce Will Continue in 2018, and More Rapidly Than People Expect
We have long argued that both unfolding demographic trends and the rapid rise of technological advancement are changing the very nature of commerce, and we continue to see this development outpacing many people's expectations. Indeed, consumers around the world have witnessed a veritable revolution is how, where and at what price their demand for goods and services is met.
One of the most obvious signs of this change is the well-known shift to online retailing that is displacing brick-and-mortar sales (particularly at department stores), but the extent of this disruption and its impact on commercial real estate markets may still be underappreciated. Last year, thousands of retail stores closed their doors, and it is likely that hundreds of shopping malls will have to close in the years ahead (many from middle-range markets), as online retailing of myriad goods becomes ever more entrenched. Beyond the location of purchase, the price-comparison function of the web has radically diminished pricing power in some markets. On the whole, technological innovation has resulted in a broadly disinflationary influence on the economy, allowing consumers to do more with less, even as it continues to significantly reshape corporate cash flow dynamics and disrupt entire industries. Clearly, it's vitally important for investors to understand and adapt their investment process to these dynamics.
In the end, while investors will be inundated with innumerable "news stories" in 2018 that ostensibly have "information value" for markets, most of these will be simple noise. If, instead, investors remain focused on the key themes discussed above, we think they'll stand a much better chance of effectively allocating capital. We see respectable economic growth in 2018, but with potentially higher levels of both economic and market volatility, so investors may well face a more difficult market environment this year, as full asset valuations in many areas combine with greater gyrations.
Rick Rieder, Managing Director, is BlackRock's Chief Investment Officer of Global Fixed Income and is a regular contributor to The Blog. Russell Brownback, Managing Director, is a member of the Corporate Credit Group within BlackRock Fundamental Fixed Income and contributed to this post.
https://www.blackrockblog.com/2018/01/19/3-economic-themes-2018/
8.Demographics are Destiny….As Longevity Hockey Sticks Higher…Demand for Financial Assets will Follow.
Rick Reider Blackrock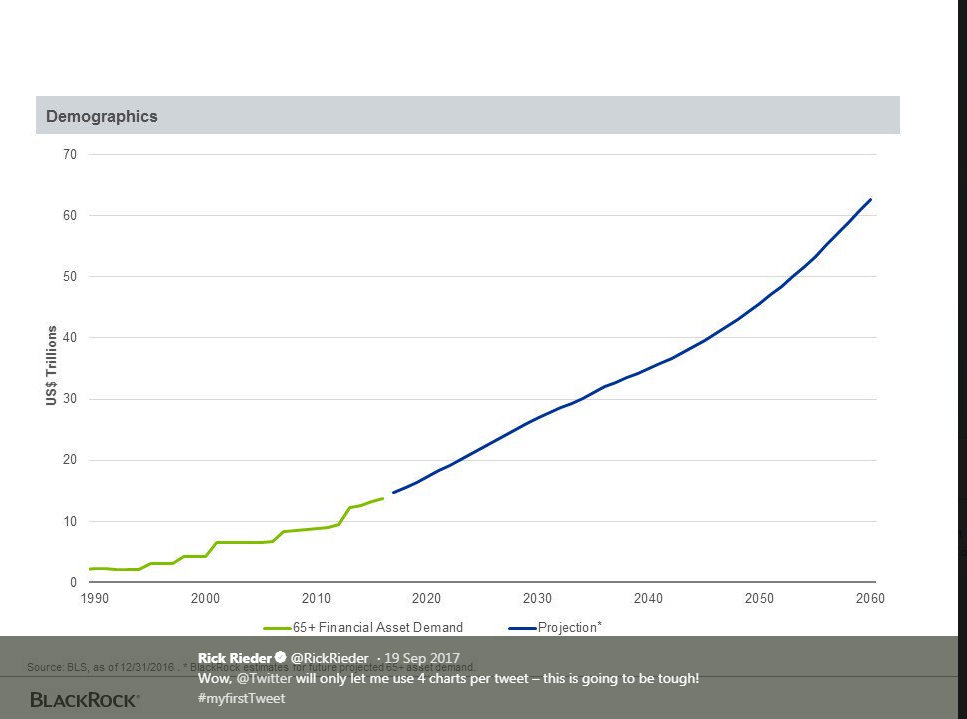 9.Read of the Day….The Most Popular Class in Yale 316 Year History.
Yale's Most Popular Class Ever: Happiness
By DAVID SHIMERJAN. 26, 2018
Continue reading the main storyShare This Page
Jennifer Chen, left, and Sean Guo are among the almost 1,200 students taking Laurie Santos's "Psychology and the Good Life," at Yale. The class was recently moved to Woolsey Hall, the university's concert venue, from Battell Chapel, which could only accommodate a crowd of 800.CreditMonica Jorge for The New York Times
NEW HAVEN — On Jan. 12, a few days after registration opened at Yale for Psyc 157, Psychology and the Good Life, roughly 300 people had signed up. Within three days, the figure had more than doubled. After three more days, about 1,200 students, or nearly one-fourth of Yale undergraduates, were enrolled.
The course, taught by Laurie Santos, 42, a psychology professor and the head of one of Yale's residential colleges, tries to teach students how to lead a happier, more satisfying life in twice-weekly lectures.
"Students want to change, to be happier themselves, and to change the culture here on campus," Dr. Santos said in an interview. "With one in four students at Yale taking it, if we see good habits, things like students showing more gratitude, procrastinating less, increasing social connections, we're actually seeding change in the school's culture."
Dr. Santos speculated that Yale students are interested in the class because, in high school, they had to deprioritize their happiness to gain admission to the school, adopting harmful life habits that have led to what she called "the mental health crises we're seeing at places like Yale." A 2013 report by the Yale College Council found that more than half of undergraduates sought mental health care from the university during their time there.
"In reality, a lot of us are anxious, stressed, unhappy, numb," said Alannah Maynez, 19, a freshman taking the course. "The fact that a class like this has such large interest speaks to how tired students are of numbing their emotions — both positive and negative — so they can focus on their work, the next step, the next accomplishment."
Prof. Laurie Santos delivering one of her twice-weekly lectures. She says the course aims to not only make individual students happier, but also to change the culture at Yale. CreditMonica Jorge for The New York Times
Students have long requested that Yale offer a course on positive psychology, according to Woo-Kyoung Ahn, director of undergraduate studies in psychology, who said she was "blown away" by Dr. Santos's proposal for the class.
Administrators like Dr. Ahn expected significant enrollment for the class, but none anticipated it to be quite so large. Psychology and the Good Life, with 1,182 undergraduates currently enrolled, stands as the most popular course in Yale's 316-year history. The previous record-holder — Psychology and the Law — was offered in 1992 and had about 1,050 students, according to Marvin Chun, the Yale College dean. Most large lectures at Yale don't exceed 600.
Offering such a large class has come with challenges, from assembling lecture halls to hiring the 24 teaching fellows required. Because the psychology department lacked the resources to staff it fully, the fellows had to be drawn from places like Yale's School of Public Health and law school. And with so many undergraduates enrolled in a single lecture, Yale's hundreds of other classes — particularly those that conflict with Dr. Santos's — may have seen decreased enrollment.
At the start of the semester the class was divided between a live lecture in the 844-seat Battell Chapel, a historic place of worship on campus, converted to a lecture hall, and one or two smaller auditoriums where several hundred more students watched a live stream of Dr. Santos. After several weeks, the decision was made to move the lectures to Woolsey Hall, usually the site of events like symphony performances, which can accommodate the entire class.
The course focuses both on positive psychology — the characteristics that allow humans to flourish, according to Dr. Santos — and behavioral change, or how to live by those lessons in real life. Students must take quizzes, complete a midterm exam and, as their final assessment, conduct what Dr. Santos calls a "Hack Yo'Self Project," a personal self-improvement project.
Offering such a large course is not without challenges: It requires 24 teaching fellows drawn from various departments and may have driven down enrollment in other courses whose times conflict with it.CreditMonica Jorge for The New York Times
Some students admit that they see the course as an opportunity to take a relaxed lecture with few requirements.
"I wouldn't have known about the course if not for word of mouth, but it's low-pressure, and maybe I'll learn a few tricks to having a less stressful life," said Riley Richmond, 22, a senior who enrolled in the class with several of his friends.
Charlotte Emerson, 18, a freshman in the course, says she worries some students will take advantage of the lack of accountability that comes with a lecture of this size. For example, Dr. Santos is not monitoring whether students complete weekly "rewirement" assignments, like performing acts of kindness and forming new social connections, Ms. Emerson said.
But while others might see easy credits, Dr. Santos refers to her course as the "hardest class at Yale": To see real change in their life habits, students have to hold themselves accountable each day, she said.
She hopes that the social pressures associated with taking a lecture with friends will push students to work hard without provoking anxiety about grades. Dr. Santos has encouraged all students to enroll in the course on a pass-fail basis, tying into her argument that the things Yale undergraduates often connect with life satisfaction — a high grade, a prestigious internship, a good-paying job — do not increase happiness at all.
"Scientists didn't realize this in the same way 10 or so years ago, that our intuitions about what will make us happy, like winning the lottery and getting a good grade — are totally wrong," Dr. Santos said.
College courses on positive psychology have a track record of attracting scores of students. At Harvard, about 900 students enrolled in a lecture titled Positive Psychology in 2006. What distinguishes Dr. Santos's course from the one at Harvard in 2006, she said, is that it also focuses on behavioral change.
Still, Dr. Santos says she does not plan to offer the course again. Dr. Ahn, of the psychology department, said, "Large courses can be amazing every once in a while, but it wouldn't be fair to other courses and departments to take all of their students away."
She added, "It causes conflict, and we can't afford to offer this every year in terms of teaching fellows and resources."
Dr. Santos said a multipart seminar-style series on the course material — filmed last year in her home and titled the Science of Well-Being — will soon be available for free on Coursera, an online education platform. For now, she is eager to see whether her teachings alter campus life.
"We have this moment where we can make a difference in Yale's culture, where students feel like they are part of a movement and fighting the good fight," she said.
Follow David Shimer on Twitter @davidashimer.
https://www.nytimes.com/2018/01/26/nyregion/at-yale-class-on-happiness-draws-huge-crowd-laurie-santos.html
10.Why Self-Discipline Will Make You Unstoppable
A one time management expert explains how commitment and discipline are directly related to successful achievement.
Image credit: missiontolearn.com
Dan S. Kennedy • VIP Contributor
Author, Strategic Advisor, Consultant, and Business Coach
Opinions expressed by Entrepreneur contributors are their own.
In his book No B.S. Time Management for Entrepreneurs, business coach and consultant Dan Kennedy reveals the steps behind making the most of your frantic, time-pressured days so you can turn time into money. In this edited excerpt, the author describes the importance of self-discipline to the achievement of success.
On the morning of my mother's funeral, I wrote the following paragraph for the original, first edition of this book:
My mother passed away a couple of days, actually nights ago, and the viewing was last night; the memorial service will be in about four hours from now, this morning. It is 6:00 A.M. And here I am, at the keyboard, in my home office, writing. That's what I do almost every day, for at least the first early hour of the morning, no matter what. And that's the answer to how I can have five books in bookstores, a sixth and seventh hitting early in 1996, be under contract for an eighth for 1997, write my monthly newsletters, and so on.
ADVERTISING
It's not that I'm devoid of emotion, nor that I didn't love my mother. However, I learned long ago the vital importance of regimen, ritual, commitment and discipline in relationship to successful achievement. So it takes a lot to derail me. Most people are much more easily distracted. Perhaps I'm extreme in my insistence on proceeding with my work plans no matter what, but most people are even more extreme in their willingness to set aside their work plans for just about anything.
Having and commanding the respect of others is a tremendous advantage in life. That edge comes from self-discipline. The highly disciplined individual does not have to point a gun at anyone to take what he wants; people "sense" his power and cheerfully give him everything they've got.
By Change Healthcare
Take a look at how little self-discipline most people have. Ask an employer of any size, and you'll hear how big the problems of tardiness and absenteeism are. People don't even have enough self-discipline to get up in the morning!
In my business dealings, I find more than half the people can't seem to get to appointments and meetings on time or keep preset telephone appointments. Clients miss prescheduled appointments. Vendors miss deadlines as often as they make them.
In the entrepreneurial environment, there's a lot to be said just for showing up on time, ready to work. The meeting of deadlines and commitments alone causes a person to stand out from the crowd like an alien space ship parked in an Iowa cornfield. The ability to get things done and done right the first time will magnetically attract incredible contacts, opportunities and resources to you. All of this is a matter of self-discipline.
And self-discipline aimed and applied at a particular thing is quite literally a magic power. When you focus your self-discipline on a single purpose, like sunlight through a magnifying glass on a single object, look out! The whole world will scramble to get out of your way, hold the doors open for you, and salute as you walk by.
Successful achievement of most worthwhile objectives — including being an infinitely more productive entrepreneur who makes the most of his time — is rarely easy, but is often simple. In fact, it can be boiled down to three steps.
Awareness. If you become aware of the importance of time, you'll have a different concept of time, valuing of time, and how you must exercise control over your use and others' consumption of your time in order to have a reasonable chance of achieving your goals and tapping your full potential. You'll have new awareness of how your time is used or abused, invested or squandered, organized and controlled or let flow about at random. As the first step to new achievement, there's always awareness of problems and failings, and of opportunities and successes.
Decision. All achievement follows deliberate decision, with extremely rare exceptions of accidental achievement, like tripping over an untied shoelace, falling face down on the pavement, and seeing a wrapped stack of lost $100 bills lying against the curb you wouldn't have noticed otherwise. Absent that kind of freak accident, achievement can only follow decision. As a result of your thinking of the importance of time, you can develop certain decisions.
Action. There are three kinds of action: starting things or implementation, follow-through, and completion. When you've made a decision, you have to start doing things about it. For some people, this is hard, but for many people in many situations, starting is relatively easy. The person who decides on a new diet may find it easy, even exhilarating to take a huge garbage bag and empty the refrigerator and pantry of all offending foods. It's follow-through that is usually the hard part. That's where the tough-minded boss-of-self comes to bear. Relying on sheer willpower is rarely successful. You have to create an environment in which high self-discipline is supported. But self-discipline is required. And rewarded.