1.Domino's vs. Google.
Feb 21, 2019
If you were sent back in time to 2004 and had the choice to buy Domino's Pizza (DPZ) or Alphabet (GOOGL) at their IPO, which would have been the better choice?  Due to the epic size and influence of its business, impulse would probably have you choose Alphabet.  But DPZ has actually seen significantly better returns than GOOGL since the companies' IPO dates. Since inception, DPZ has seen a total return of 3,604% even after today's 9.03% decline in the stock in reaction to an earnings miss this morning.  Not that GOOGL's 2,490% return is something to turn your nose at, but it is dwarfed by DPZ's returns.  For the stocks' first decade, up until 2014, this was not the case though.  GOOGL had actually outperformed DPZ for much of their lifespans as public companies.  From then up until early 2016, the two stocks alternated between being the leader, but in the last two years, Domino's ran away with things.  Part of the reason for this is DPZ has fairly consistently paid a dividend since 2004 which is why returns for the stock have been considerably better over the long term.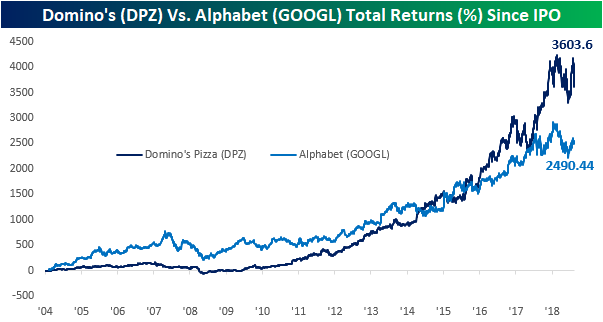 https://www.bespokepremium.com/think-big-blog/
2.Healthcare vs. S&P Since 1994
In U.S. equities consider the healthy healthcare sector.
In an environment of slowing growth and less certain earnings outlooks, the resilient earnings growth of healthcare stocks are appealing. Plus, valuations broadly look reasonable compared to historical levels. Tactical investors may consider getting more granular by focusing on exposure to the medical devices industry.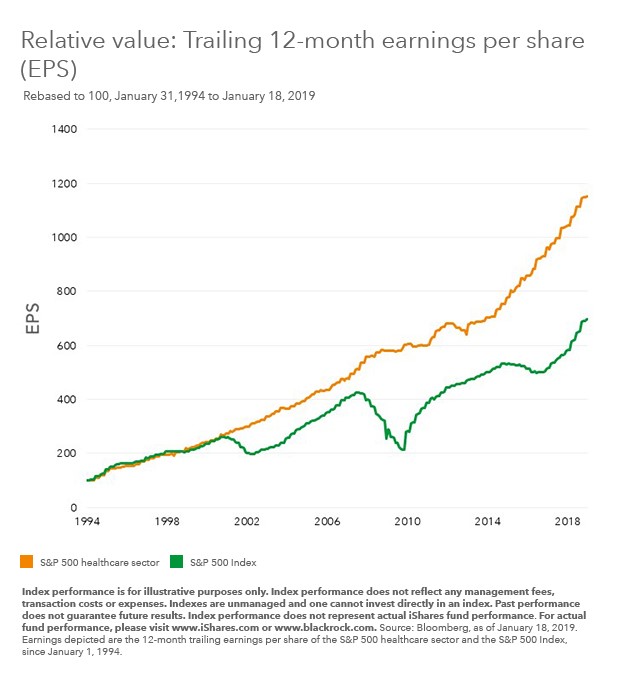 https://www.blackrockblog.com/2019/02/22/investment-themes-2019-spring/
3.New High in Advance/Decline
More Good News
Posted by lplresearch
As this week's Weekly Market Commentarysuggested, over the near term equities appear quite stretched, but overall we continue to think the bull market has plenty of life left. Today, we'll take a look at market breadth—one of our favorite technical indicators—to explore whether it may be pointing to better times ahead for equities.
Market breadth measures how many stocks are participating in the movement of broader indexes. One of the easiest ways to measure this is via advance/decline (A/D) lines on various exchanges. An A/D line is a ratio of how many stocks go up versus down each day. The thinking is, if gains are caused by increases in many stocks, then there are plenty of buyers and the upward trend should likely continue, all else equal. On the other hand, if an upward move in a broad market gauge is driven by relatively few stocks, this can be a warning sign of cracks in the bull's armor.
Today's LPL Chart of the Day shows that the NYSE Common Stock Only A/D line has broken out to a new all-time high. "This is another clue to market participants that things are actually quite healthy under the surface. When advance/decline lines are breaking out to new highs, history tells us that stocks usually aren't too far behind," explained LPL Senior Market Strategist Ryan Detrick.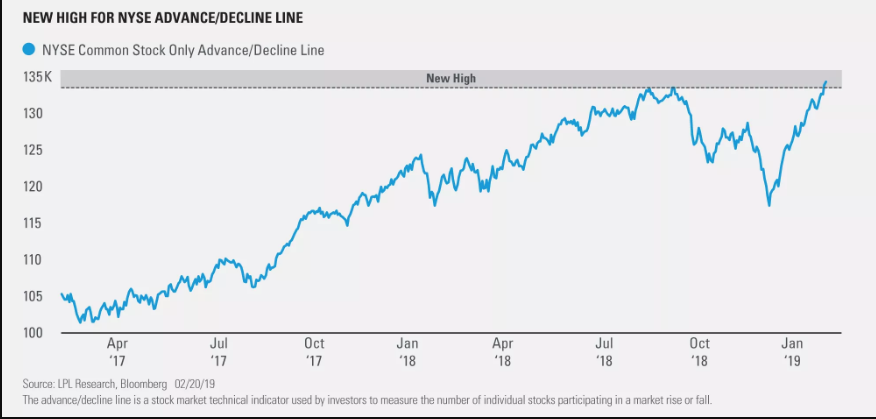 https://lplresearch.com/2019/02/21/more-good-news/#more-12152
4.South Korean Exports Drop -12% with Semiconductors -27%.  Huge Exporting Country in World Economy.
Key exporters Japan and South Korea provided fresh evidence over the past two days that the slump in global trade has further to run, and is beginning to spread to factories – South Korea's total exports tumbled by 12 per cent during the first 20 days of February, while shipments of semiconductors, a key driver of growth, dropped by 27 per cent. A day earlier Japan reported that exports fell 8.4 per cent in January from a year earlier, the first back-to-back fall in more than two years.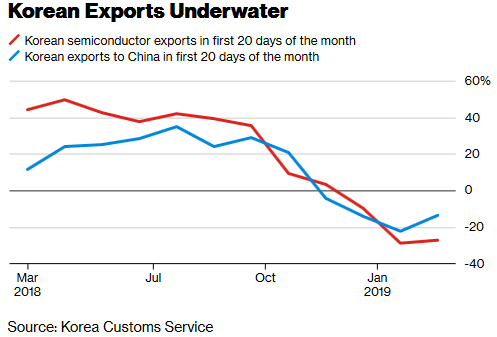 Dave Lutz at Jones Trading
5.S.Korean Stats Led Me to Hit Up Baltic Dry Shipping Index
Breaks thru 2017 Lows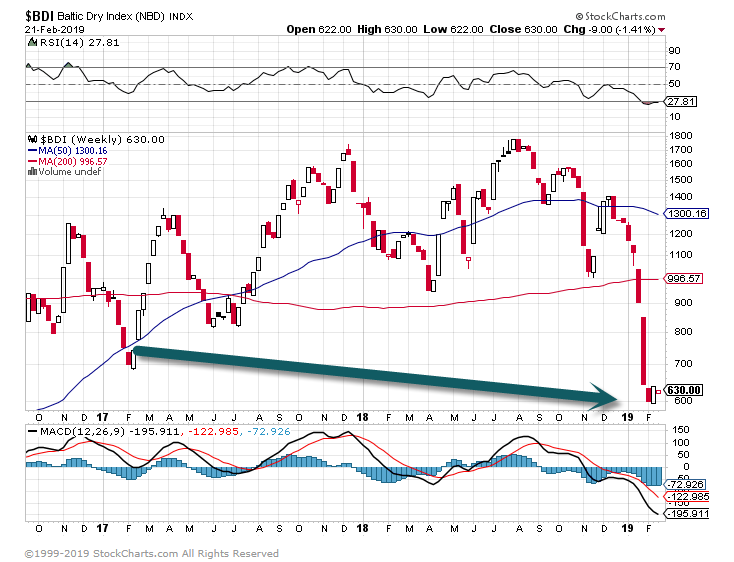 6.Mortgage Rates Roll Back Over…Hit 10 Month Low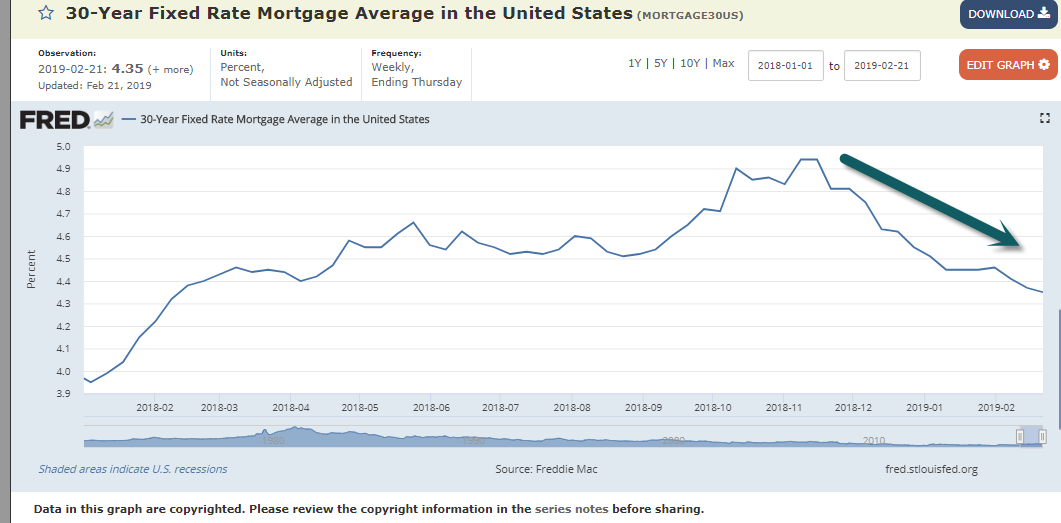 https://fred.stlouisfed.org/series/MORTGAGE30US
7.Retail Sales Outlier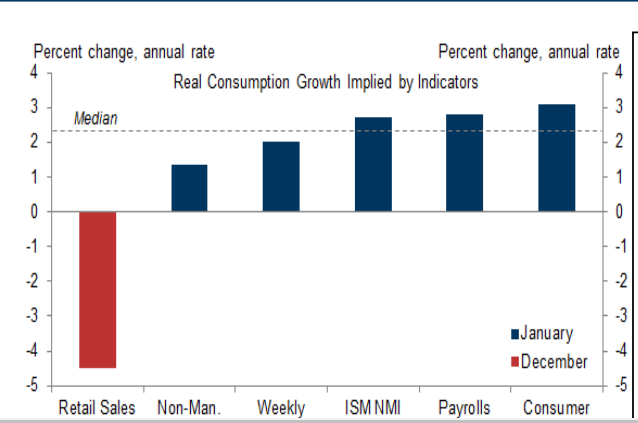 Avalon Advisors-Bill Stone
http://avalonadvisors.com/assets/avalon-weekly-market-guide-february-19%2c-2019.pdf
8.New York Job Factory
Even without Amazon.com Inc., New York City has been a runaway job creator lately, notes Justin Fox. But this hasn't helped the city's infrastructure or lifted the fortunes of its residents at the same pace.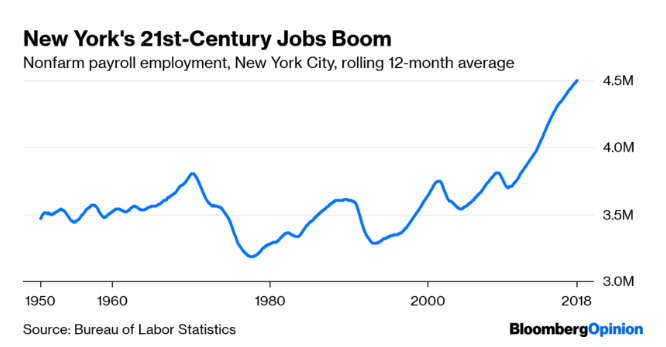 https://www.bloomberg.com/opinion/articles/2019-02-20/subprime-debt-comes-in-many-dangerous-flavors-like-clos?srnd=premium
9. Nearly three-quarters of bills will be paid digitally by 2022 — this is how banks can stay ahead of the trillion-dollar opportunity
May 24, 2018, 4:23 PM
This is a preview of a research report from Business Insider Intelligence, Business Insider's premium research service. To learn more about Business Insider Intelligence, click here. Current subscribers can read the report here.
Between housing costs, utilities, taxes, insurance, loans, and more, US adults paid an estimated $3.9 trillion in bills last year.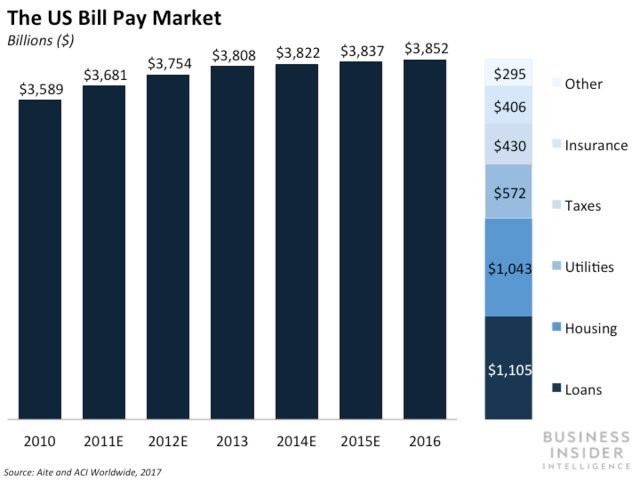 Business Insider IntelligenceThat market is growing slowly, but it's changing fast — more than ever before, customers are moving away from paying bills via check or cash and toward paying online, either through their banks, the billers themselves, or using a third-party app.
Thanks to rising customer familiarity with digital payments, an increase in purchasing power among younger consumers more interested in digital bill pay, and a rise in digital payment options, nearly three-quarters of bills will be paid digitally by 2022, representing a big opportunity for players across the space.
https://www.businessinsider.com/bill-pay-report-2018-5
10.This Study Reveals The 5 Biggest Regrets People Have Before They Die
Do you have any regrets?
Most people do.
But it appears our regrets gain a lot of weight as we approach the end of our lives.
For many years, Bronnie Ware – an Australian nurse and counselor – worked in palliative care; taking care of terminally ill people, most of whom had less than 12 weeks to live.
Her patients were typically old people with very serious illnesses, waiting to die.
And a lot of her work involved providing counseling and relief from the physical and mental stresses that come naturally when a human being comes face to face with their mortality.
Death is not a comfortable subject for most people. We prefer to not think or talk about it.
But the sad truth is, all of us will die someday.
Knowing you are going to die in a few weeks is a very bitter pill to swallow. And Bronnie noticed as her patients experienced a range of emotions that usually started with denial, and then fear, anger, remorse, more denial, and eventually, acceptance.
As part of therapy, Bronnie would ask about any regrets they had about their lives, and anything they would do differently if life gave them a second chance.
Of all the responses she got from her patients, she noticed there were 5 regrets that stood out. These were the most common regrets her patients wished they hadn't made as they coursed through life.
But the regrets of the dying can be sound and invaluable advice for the living.
And that's why it's a really good thing you're reading this article.
One of the key revelations from Bronnie's study is that we often take our lives for granted because we are healthy.
Health affords us boundless freedom very few realise, until we no longer have it.
But while her dying patients were helpless in the face of their regrets, you and I still have time to do something about our regrets, before it's too late.
Let's now look at each of the 5 most common regrets Bronnie observed:
1)    I wish I pursued my dreams and aspirations, and not the life others expected of me
According to Bronnie, this was by far the most common regret of all.
When people realise their life is coming to an end, it becomes easier to look back and see all those dreams they had but didn't have the courage to pursue.
In many cases, their failure to pursue those dreams were often due to fitting into the expectations of others – usually family, friends and society.
One of her dying patients, Grace, made Bronnie promise that she would pursue all her dreams and live her life to its fullest potential without ever considering what others would say.
According to Bronnie, Grace was in a long but unhappy marriage. And after her husband was put in a nursing home, she was diagnosed with a terminal illness. And Grace's biggest regret was that she never was able to pursue all the dreams she put on hold.
I think the biggest lesson from this regret is, if you know what really makes you happy, do it!
It appears that our unfulfilled dreams and aspirations have a way of silently stalking us, and eventually haunt our memories in our dying days.
And if you're afraid of what people will say about your choices, remember that their voices will not matter to you in your dying days.
2)   I wish I didn't work so hard
This one makes me feel guilty.
According to Bronnie, this regret came from every male patient she nursed. And a few female patients too.
As breadwinners, their lives were taken over by work, making a living, and pursuing a career. While this role was important, these patients regretted that they allowed work to take over their lives causing them to spend less time with their loved ones.
Their regrets were usually about missing out on the lives of their children and the companionship of their spouse.
When asked what they would do differently if given a second chance, the response was quite surprising.
Most of them believed that by simplifying our lifestyle and making better choices, we may not need all that money we're chasing. That way, we can create more space in our lives for happiness and spend more time with the people who mean the most to us.
3)   I wish I had the courage to express my feelings and speak my mind
This one just made me so much bolder. 🙂
According to Bronnie, many of her dying patients believed they suppressed their true feelings and didn't speak their mind when they should have, because they wanted to keep peace with others.
Most of them chose not to confront difficult situations and people, even when it offended them. By suppressing their anger, they built up a lot of bitterness and resentment which ultimately affected their health.
Worse still, harbouring bitterness can cripple you emotionally and stand in the way of fulfilling your true potential.
To avoid this type of regret later in life, it's important to understand that honesty and confrontation are a necessary part of healthy relationships.
There is a common misconception that confrontation is bad for relationships and can only create division.
Not all the time.
In reality, when confrontation is kind, honest and constructive, it helps to deepen mutual respect and understanding and can take the relationship to a healthier level.
By speaking our minds, we express our true feelings and reduce the risks of building up unhealthy stores of bitterness that ultimately hurt us.
4)   I wish I had stayed in touch with my friends
This one is a regret many of us struggle with.
Bronnie found that her patients missed their old friends and regretted they didn't give those friendships the investment of time and effort they deserved.
Everyone misses their friends when they're dying.
It appears that when health and youth have faded, and death is looming, people realise that some friendships hold more value than all their wealth and achievements.
According to Bronnie, it all comes down to love and relationships in the end. Nothing else mattered to her patients in the last few weeks of their lives but love and relationships.
We live in a busy world these days. And the pressures and demands of work, city life and trying to raise a family can take its toll on some golden relationships.
Knowing this now, what would you do differently?
5)   I wish I had let myself be happier
This is a very humbling one, really.
Many of her patients didn't realise until the end of their lives that happiness is a choice.
They wished they had known that happiness isn't something to be chased and acquired through wealth, social acceptance and the trappings of life.
In their deathbeds, these patients realized they could have chosen to be happy, regardless of their circumstances in life – rich or poor.
To me, this regret is the most touching.
Throughout our active lives, we often focus too much on acquiring the things we would like to have – wealth, status, power and achievement. We often (wrongly) believe that these things hold the keys to our happiness.
When asked what they could have done differently, here's the key message those dying folks shared: Learn to relax and appreciate the good things in your life. That's the only way to find real happiness.
Happiness is a choice.
Is it possible to live a life without regrets?
This is the big question I've been asking myself.
As no human being is perfect, and I doubt there's anything like a "perfect life", I expect all of us would have some regret(s) in our dying days.
But I think the key is to have as few regrets as possible.
And the best way to die with very few regrets is to live life as if we would die today.
After all, almost nobody knows exactly when they'll die.
By living our lives as if the end is nigh, we would realise that we really don't have all the time in the world. As a result, we would procrastinate less, and pursue our truest desires, dreams and aspirations.
Also, to live a life of few regrets, we have to focus on and accommodate ONLY those things and people that make us happy. Because if we try to conform to the expectations of others and hide our true feelings, the regrets could haunt us later in life.
If you're reading this article and you're alive and healthy, you still have a choice.
Remember, you only live once!
Don't forget to share this article with people you care about. You may just save someone a ton of regrets.
I wish you an amazing life.
Best,
John-Paul
PS: Inspired by the regrets of the dying people she cared for, Bronnie Ware went on to become a writer and songwriter. The experience totally transformed her life and she is daring everyday to live up to her truest potential. She authored a full-length memoir about this experience titled 'The Top Five Regrets of the Dying – A Life Transformed by the Dearly Departing'.
Follow John-Paul on Twitter @JP_Iwuoha for updates, articles, insights and other great stuff.