1.Ten Years Into Expansion Discretionary Spending for Consumers and Corporates is Still Below Historical Average.
Check out Torsten Slok on CNBC Monday
I will be on CNBC tomorrow at 10 am to discuss the outlook for markets in 2020. This expansion has been characterized by an extreme degree of caution among consumers and corporates. Because of the experience in 2008-2009, households and companies have been hesitant to spend too much money and take too much risk. As a result, ten years into this expansion, discretionary spending for consumers and corporates is still below its historical average. As the chart below shows, this is highly unusual compared with previous cycles. The lack of willingness to spend on consumer durables and corporate capex is also the reason why this expansion has been so weak. And it is also the reason why this expansion could continue for many more years; we are simply less vulnerable to shocks in 2020 because there are few imbalances in the economy, see again chart below and here and here.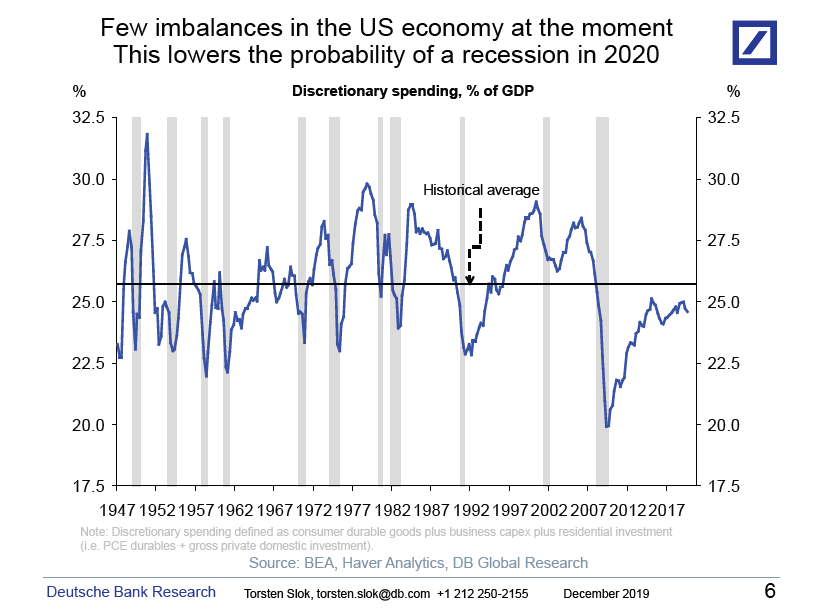 ———————————————–
Let us know if you would like to add a colleague to this distribution list.
Torsten Sløk, Ph.D.
Chief Economist
Managing Director
2.ETF Assets Cross Mutual Fund Assets in 2024
The Slow Demise of Mutual Funds-Mutual funds are under attack on all fronts. Can they survive? –Diana Britton |
https://www.wealthmanagement.com/mutual-funds/slow-demise-mutual-funds?NL=WM-27&Issue=WM-27_20191228_WM-27_33&sfvc4enews=42&cl=article_1_b&utm_rid=CPG09000007333628&utm_campaign=24636&utm_medium=email&elq2=c38b520cbaf741e99d8d3929ca172acb
Vanguard on Cover of Barrons this weekend….Here are the stats for net assets mutual funds and ETFs.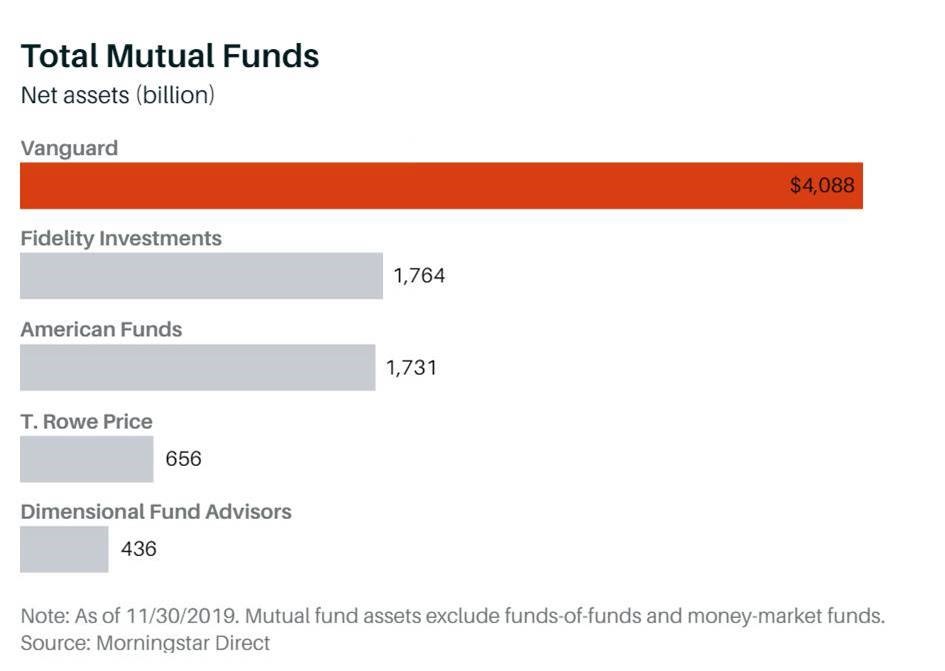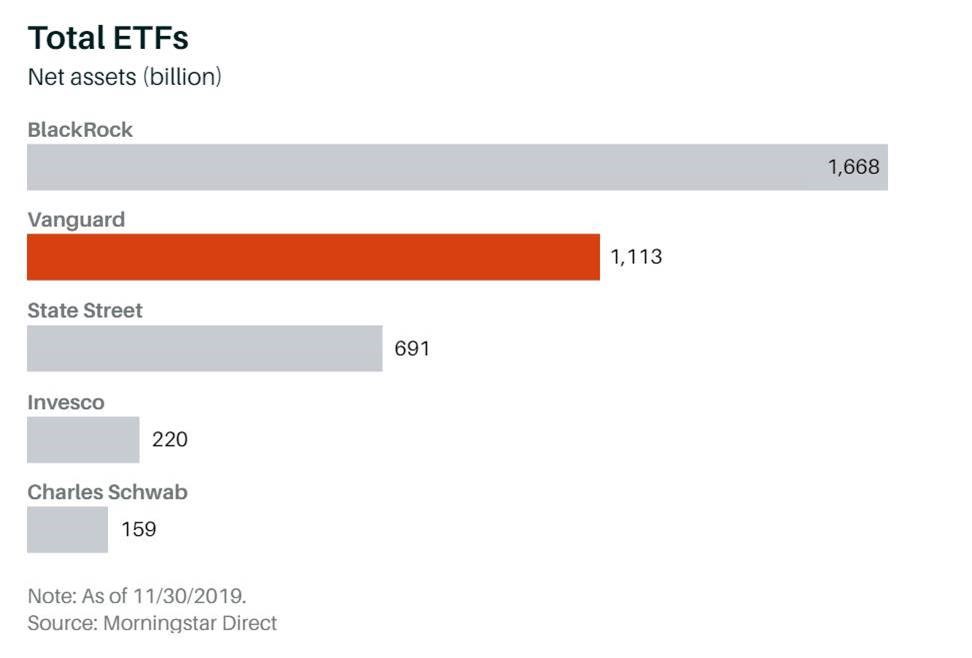 Vanguard Led the Way for Decades. Now It's Playing Catch-Up.-Daren Fonda
https://www.barrons.com/articles/vanguard-led-the-way-for-decades-how-long-can-it-stay-on-top-51577475828?mod=past_editions
3.European Stocks Breaking a Twenty Year High
Posted December 16, 2019 by Joshua M Brown
Jon Krinsky made a big call this fall – in late October he titled his weekly technical research note Prestige Worldwide and informed us about some big moves happening in overseas markets. The whole world was likely on the verge of breaking out and Jon stuck his neck out just before it happened. I wrote about it here.
It turned out to have been prescient, with stocks all over planet earth taking out 52 week highs and accelerating their advances.
This week, Jon took a look at European equities, via the STOXX 600 index and noted that this asset class, which almost no one is excited about, may be on the verge of breaking out of a twenty year base…
Europe – The Lost Two Decades
While the S&P 500 has doubled from its March 2000 peak, Europe has largely been a dud. Even over the last four-and-a-half years, the Euro Stoxx 600 (SXXP) is essentially flat. Will the next decade be better than the last two? Our bet is yes as it's just now beginning to emerge from a 20-year base.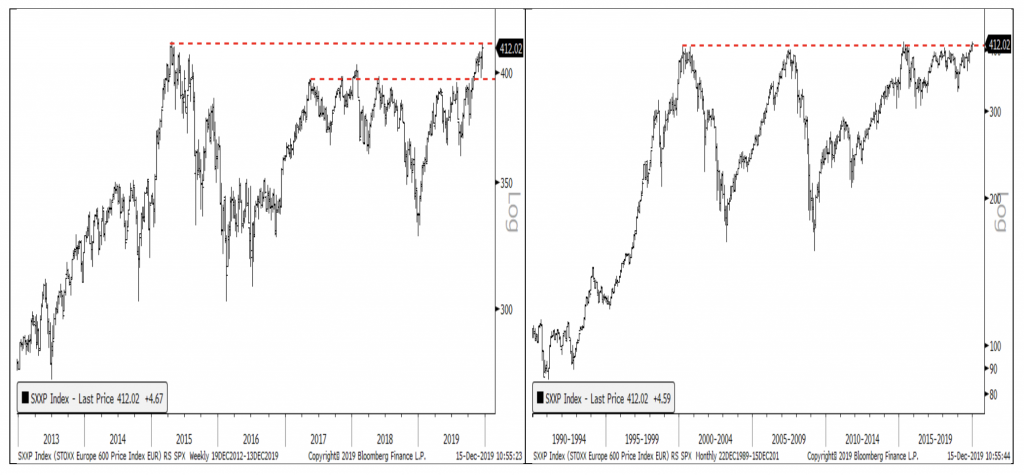 Josh here – I would note that this index is price only, so including dividends investors would have done slightly better, but price indices are what matter to traders when assessing price action.
One of the biggest anchors holding down European stocks over the last decade or more would be the financial services industry. European banks have just been absolutely atrocious. But if that were to turn, sentiment would turn with it. Here's Jon's peek at the Euro banks' recent attempt at bottoming…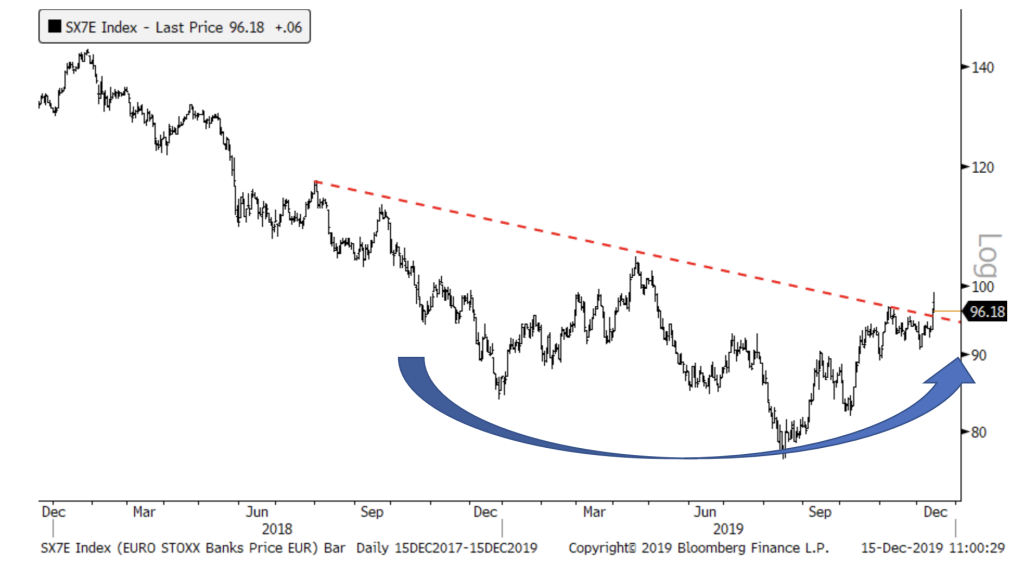 So what could support this price action fundamentally? Well, who knows, but my best guess is they have to stop with the negative interest rates bullshit, which does absolutely no good, has not produced the desired "inflation target" and has done severe harm to bank balance sheets, lending operations and confidence. Recent remarks from several EU officials have revealed a newfound skepticism for negative rates, so let's see if they've had enough of that nonsense at some point in 2020.
European stocks currently sell for 15x forward earnings, while US stocks are more like 19x. We are all aware of the fact that Europe has less technology companies and the US economy is growing faster, so don't worry about emailing me that.
Source:
The Next Breakout Candidate: Consumer Discretionary
Baycrest Partners – December 15th, 2019
FROM JOSH BROWN REFORMED BROKER
4.Corporate Profits Vs. Tax Receipts.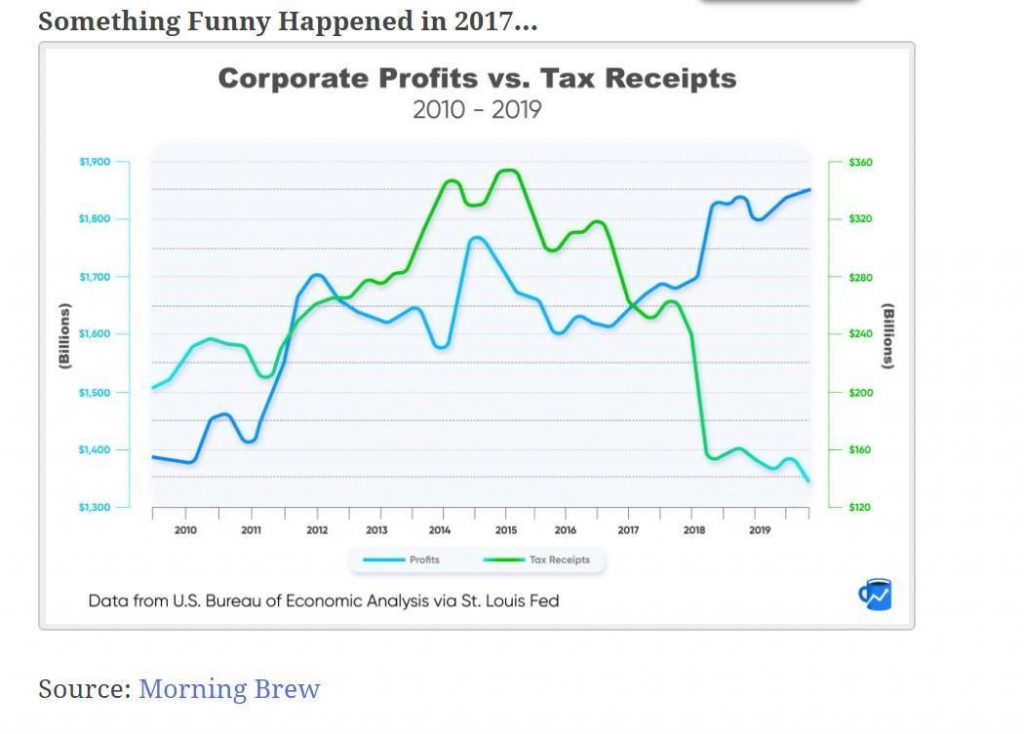 From Barry Ritholtz blog
5. 29 States Have Raised the Minimum Wage Above Federal Level.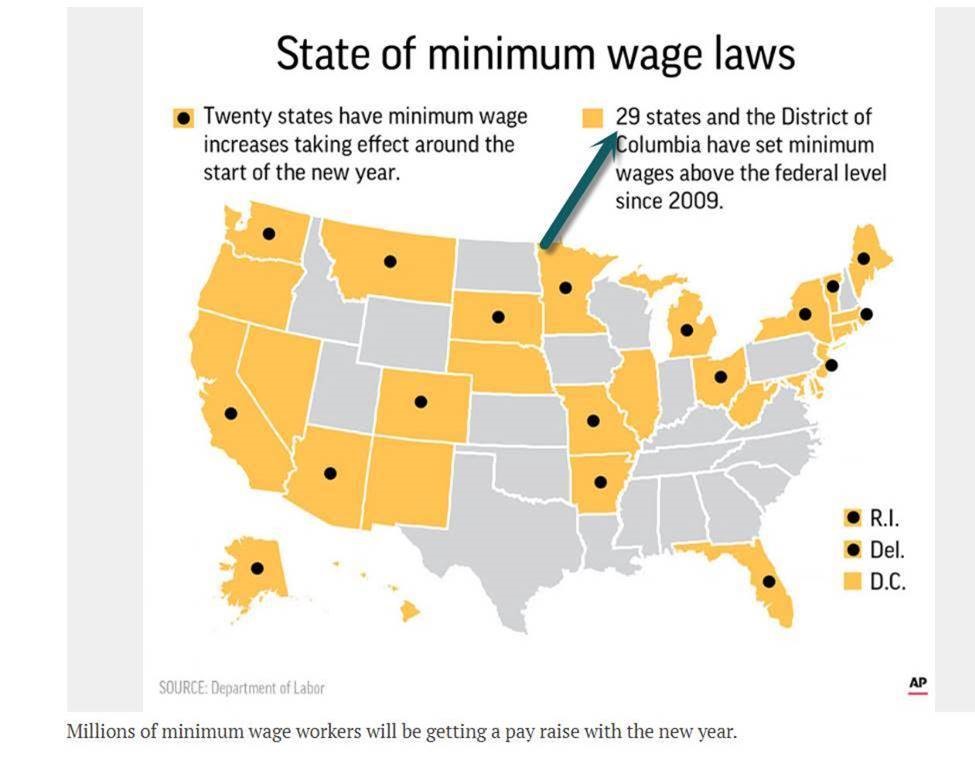 Minimum wage rising in 20 states and numerous cities-By DAVID A. LIEB, Associated Press
http://kentuckytoday.com/stories/minimum-wage-rising-in-20-states-and-numerous-cities,16978
6.Atlantic City Online Betting Up 66% Year Over Year to $460m
New Jersey Sports-Betting Frenzy Boosts Online Casinos-Revenue from online games like blackjack and roulette in New Jersey is on track to grow 66% this year
https://www.wsj.com/articles/new-jersey-sports-betting-frenzy-boosts-online-casinos-11577392993
7.Breakdown in College Enrollment.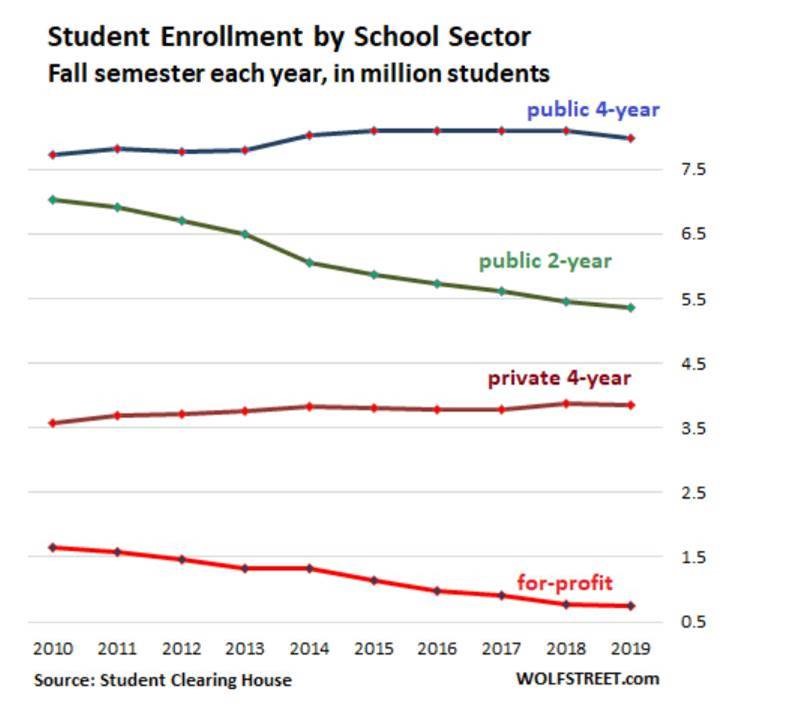 For Profit College Enrollment -54%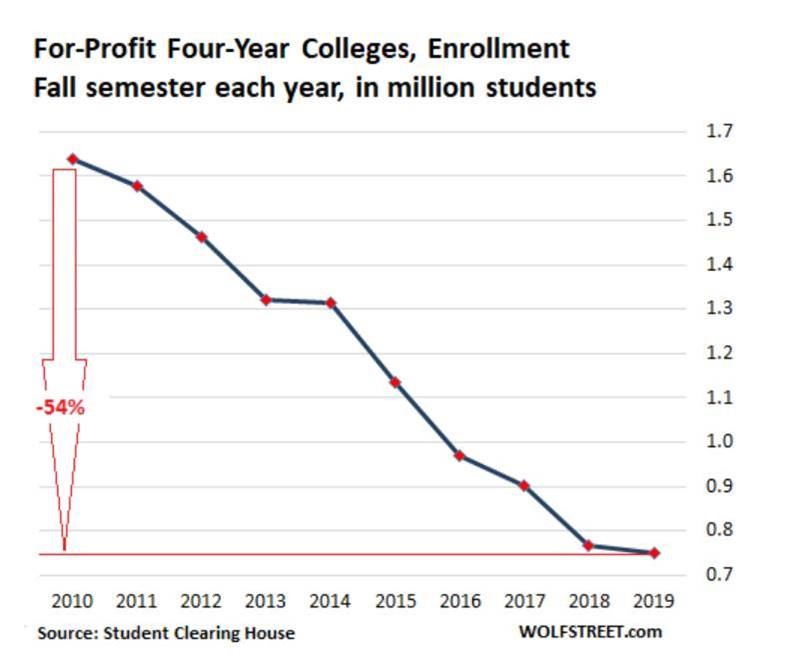 College Enrollment Skids for 8th Year in a Row in 2019, But Student Loans Skyrocket. What Gives?
by Wolf Richter • Dec 16, 2019 • 225 CommentsThe stunning decline of men in the student headcount.By Wolf Richter for WOLF STREET.
https://wolfstreet.com/2019/12/16/college-enrollment-skids-eighth-year-in-a-row-in-2019-but-student-loans-skyrocket/
8.Immigrant share in U.S. nears record high but remains below that of many other countries
By Phillip Connor and Abby Budiman
Nearly 14% of the U.S. population was born in another country, numbering more than 44 million people in 2017, according to a Pew Research Center analysis of the U.S. Census Bureau's American Community Survey.This was the highest share of foreign-born people in the United States since 1910, when immigrants accounted for 14.7% of the American population. The record share was 14.8% in 1890, when 9.2 million immigrants lived in the United States.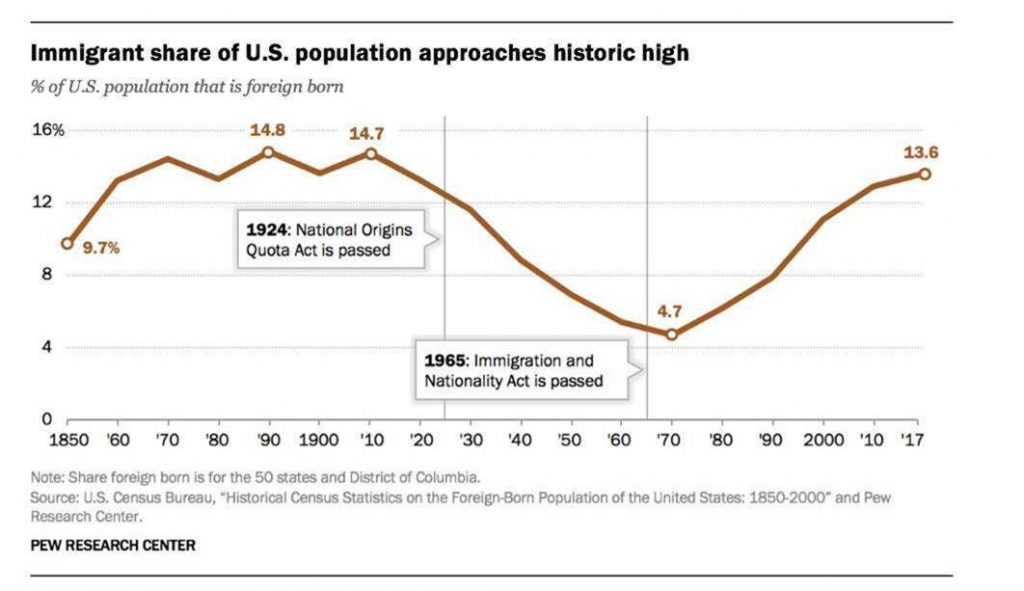 9.Ranking of American Institutions by Trust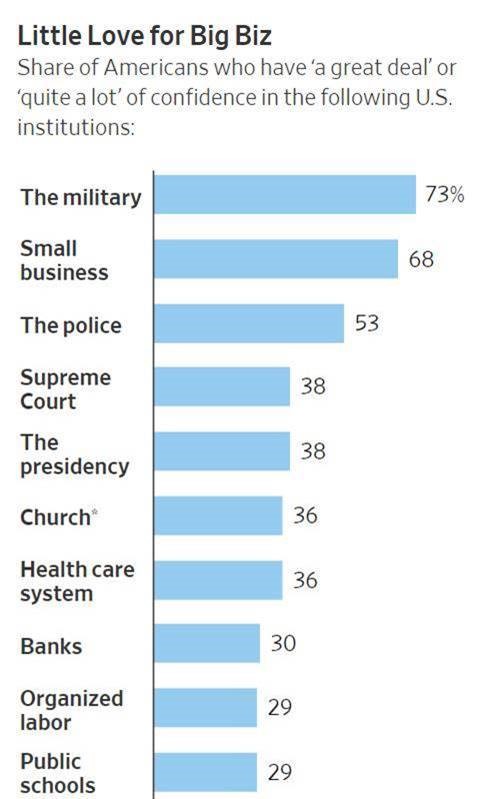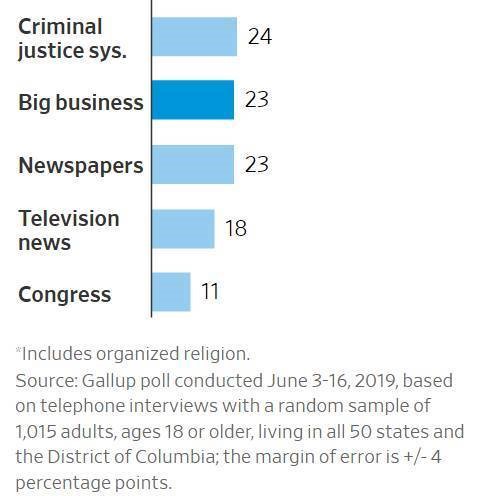 A New Year's Resolution for Corporations: Address the Trust Crisis
Companies have plans for our digital lives over the next decade, but they don't have our confidence
https://www.wsj.com/articles/a-new-years-resolution-for-corporations-address-the-trust-crisis-11577473171?mod=searchresults&page=1&pos=1
10.How to Find Your Life Purpose
How to obtain direction, meaning, and motivation.
I once had a client who, when asked about her deepest values, paused for a long time, before she finally said: "That's the scariest thing I've ever been asked."
After another pause, she added, "I've not thought about that in a long, long time," and began to cry.
Unfortunately, the experience of my client is not uncommon. It's easy to get bogged down in our daily chores and habits while losing sight of what matters most. Like a cog in a machine, we might function on the outside but are actually stuck, repeating the same old motions, unable to change, or even see a different way of living.
We might have mindlessly adopted the values and goals of our friends and family, never daring to explore our own out of fear they might deviate from our cultural upbringing. Or we might have come to doubt our ability to pursue a different path, because we are not smart enough, not confident enough, not good-looking enough, or simply… not enough.
There are many reasons why we lose touch, and they all lead to suffering—because humans are not mindless machines following a programmed script, but rather breathing beings with a yearning for meaning and self-direction. Without purpose, life becomes empty and dull, which is why values are central to my work with clients.
What Values Can Do For You
Values are chosen qualities of being and doing, such as being a caring parent, being a dependable friend, being loving, loyal, honest, and courageous. They can be expressed with verbs and adverbs, like teaching compassionately and giving gratefully. However, they are not goals.
Goals are finite; they are achievements, and once achieved, you are done with them. Values, on the other hand, are enduring, ongoing guides to living. You cannot achieve a value; you can only manifest it by acting in accordance with it.
Your values not only tell you where to focus your efforts and energies but also provide you with a new source of motivation. Whatever pain you have to endure along your journey becomes much easier to bear when it's in the service of your goals and values. And acting in line with your heart's deepest desires brings a sense of fulfillment and vitality that no material wealth is able to match.
Which values you choose is completely up to you. However, if you're unclear what those values might be, and how to implement them, here are a few helpful steps.
How to Know Your Heart's Deepest Desires
1. Rate Your Life Areas
The following exercise is based on the Valued Living Questionnaire by my friend and colleague Kelly G. Wilson. Please take a look at the following life areas, and rate their importance on a scale of 1-10 (1 = less important, and 10 = highly important). Remember, this is for you and nobody else. There is no right or wrong answer.
Marriage/couples/intimate relations
Parenting
Friends/social life
Work
Education/training
Recreation/fun
Citizenship/community Life
Physical self-care (diet, exercise, sleep)
Environmental issues
Art, creative expression, and aesthetics
2. Rate Your Consistency
Next, look at the life areas once more, but this time rate yourself in terms of how consistent your actions have been lately with your values in each of these domains.
Family (other than marriage or parenting)
Marriage/couples/intimate relations
Parenting
Friends/social life
Work
Education/training
Recreation/fun
Spirituality
Citizenship/community life
Physical self-care (diet, exercise, sleep)
Environmental issues
Art, creative expression, and aesthetics
3. Write Your Values
Take a look at your answers from the previous exercise and identify the domains that have a high importance score (9 or 10) and a low consistency score (6 or less). These are problem areas, and I suggest you start your values work with one of them.
Next, take a piece of paper and write for 10 minutes about your values in one of your previously identified domains. Really do it—10 minutes is not very long. You can ask yourself, "What do I care about in this area?" or "What do I want to do in this area that reflects that caring?" and "What might I do to manifest this value more in my life?"
Research has shown that writing about your values has a measurable effect on your health and behavior. Keep in mind that this is only the beginning. There are many ways to connect deeper with your purpose and live more in alignment with your goals and values, lots of which I share in my new book, A Liberated Mind.
Living in line with your values is not just about knowing what matters but also about how to act according to these principles. It's not a one-time choice, but a lifelong journey of choosing and committing. Again, and again.
https://www.psychologytoday.com/us/blog/get-out-your-mind/201912/how-find-your-life-purpose?collection=1137515