1.Another Group at New Highs….Low Vol Stocks.
Large Cap Low Vol USMV New Highs.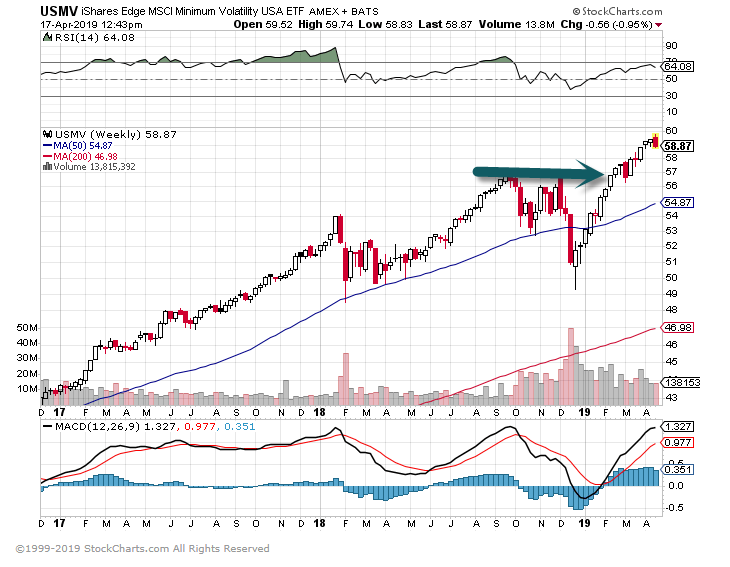 2.Update on Chart…Number of Countries in Recession Record Lows.
The latest IMF World Economic Outlook is out, and they forecast a record-low number of countries in a recession over the coming years, see chart below. We agree with the view of no recession in the US. We discuss the upside and downside risks to that view in our latest US outlook here. For market implications see also our latest DB House View here.  Please vote for my team in ii if you find our research useful. Best, Torsten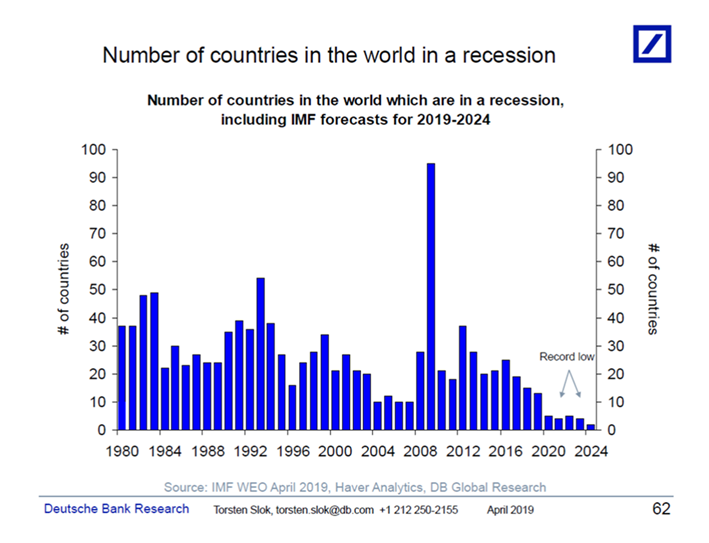 ———————————————–
Let us know if you would like to add a colleague to this distribution list.
Torsten Sløk, Ph.D.
Chief Economist
Managing Director
Deutsche Bank Securities
3.More Data That Inflation is Falling
From Dave Lutz at Jones Trading.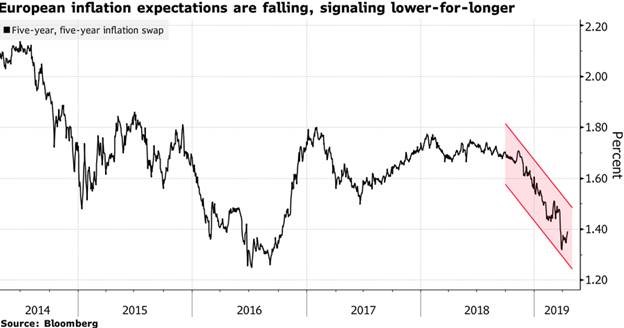 Euro zone inflation slowed in March and the core figure dipped, the European Union's statistics office said on Wednesday, confirming its initial estimates and providing an uncomfortable signal for the European Central Bank (ECB) – Eurostat said prices in the 19-nation currency bloc rose 1.4 percent in March on the year, from a 1.5 percent increase a month earlier, confirming the previous reading.
4.Dollar New Highs and Inflation Rolling Over….Gold Gives Up Gains for the Year.
Gold (GLD) down for the year…Gold (GDX) stock were up double digits at one point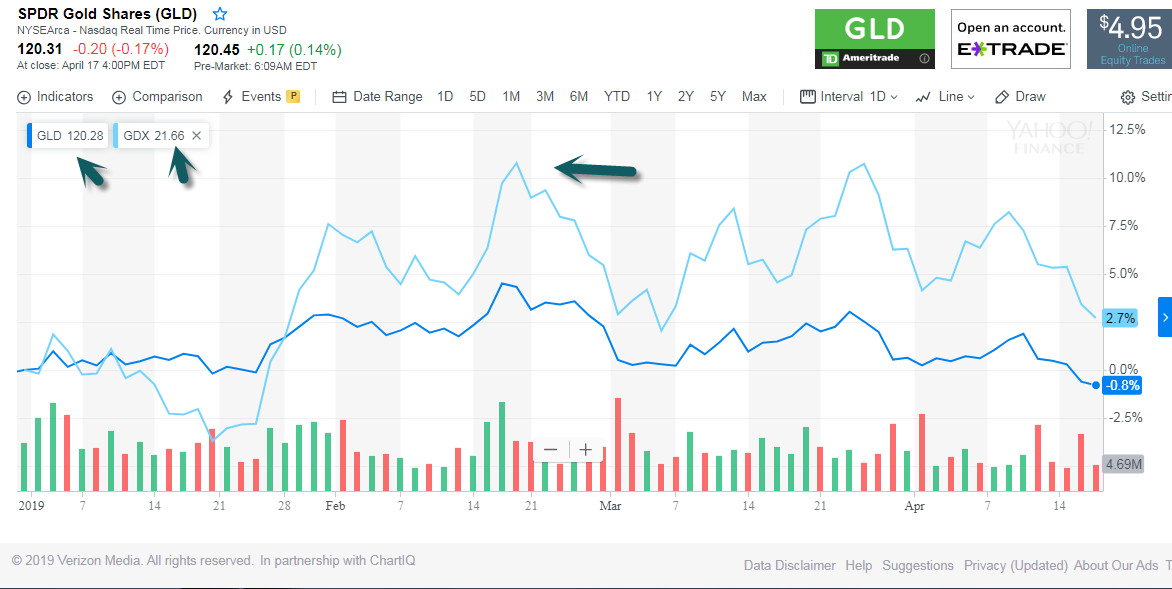 5.Good Data Out of China…Chinese Small Caps Rallying
China small caps rally but not close to new highs.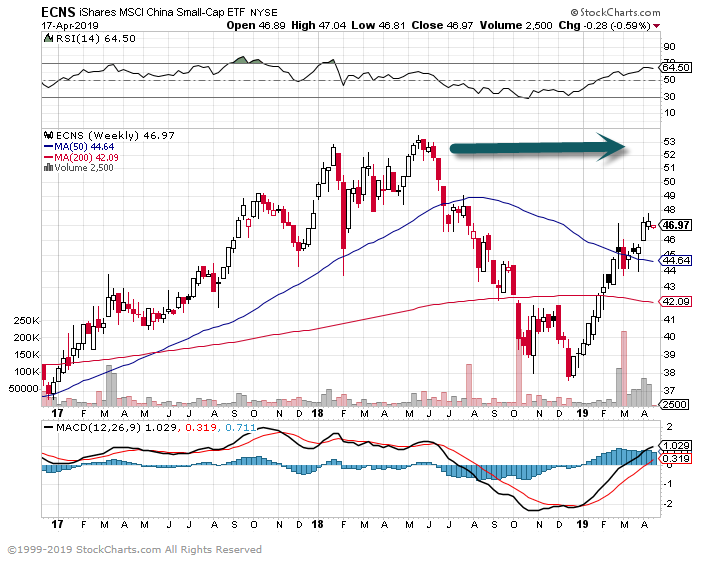 6.Biotech 4 Shots To Break Out in 2 ½ Years
 BBH-No Breakout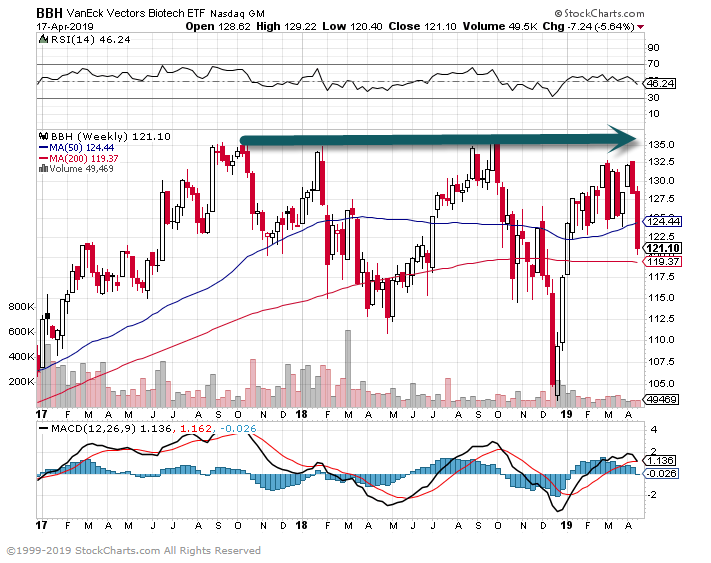 7.Read of Day…Pinterest Priced Above Range Last Night….Did Unicorns Stay Private Too Long?
The Pinterest IPO Could Be Make or Break for Uber and Other 'Unicorns'
By
Al Root
Get ready to pin your best egg-dying ideas to your Easter board today.
Social media company Pinterest (ticker: PINS) prices its initial public offering Wednesday night. The Wall Street Journal reported demand for the deal is strong, and shares are likely to price above the originally suggested range of $15 to $17.
That is good news—so far—for other so-called unicorns looking to raise money in public equity markets. Unicorns are private, venture-backed companies with valuations of more than $1 billion. But the stakes are even higher for unicorns once Pinterest starts trading publicly.
That's because ride-hailing unicorn Lyft (LYFT) also priced its IPO above its expected range, but its shares haven't lived up to the hype. To help soothe the sting from the Lyft IPO and restore investor confidence in other unicorn IPOs to come, Pinterest stock will need to gain after it opens for trading on Thursday.
The back story: 2019 is the year of the unicorn IPO. Since Lyft went public on March 29, its stock has dived 36% from where it opened for trading and is down 22% from its IPO price.
But Lyft's situation can't stop the parade of unicorns IPOs. Uber Technologies (UBER) will go public in coming weeks. Slack, Airbnb, and videoconferencing company Zoom will also raise money in equity market this year.
What's new: Pricing above $17 will give Pinterest a market value of more than $12 billion. That valuation figure includes about 157 million shares represented by low-price stock options and restricted stock units. Those shares are excluded from the company's calculation of stock outstanding in regulatory filings, but most will become regular stock some day.
The final private market valuation for the company was also a little more than $12 billion, making it an important valuation figure for Pinterest.
Looking ahead: Even though many of the unicorns' business models are very different, Lyft's stock performance casts a pall over those soon going public. Investors need an IPO win to restore confidence that buying startup companies' shares is still a good idea.
Each unicorn IPO that performs poorly feeds the narrative that this batch of startups remained private for too long—raising fears that most of their big gains were made by the venture-capital firms that backed them.
Write to Al Root at allen.root@dowjones.com
https://www.barrons.com/articles/the-pinterest-ipo-is-high-stakes-for-uber-and-other-unicorns-51555513134?mod=hp_DAY_4
8.State Tax Burdens and Cost of Living Shifting Retirees to New Mexico, Arizona and Florida….
Reasons for leaving California include favorable income tax rates in other areas, Herron said.
California has a top individual income tax rate of 13.3%. The top marginal rates are lower in Oregon: 9.9%. They're nearly half that amount in Colorado (4.63%) and Arizona (4.54%), according to the Tax Foundation.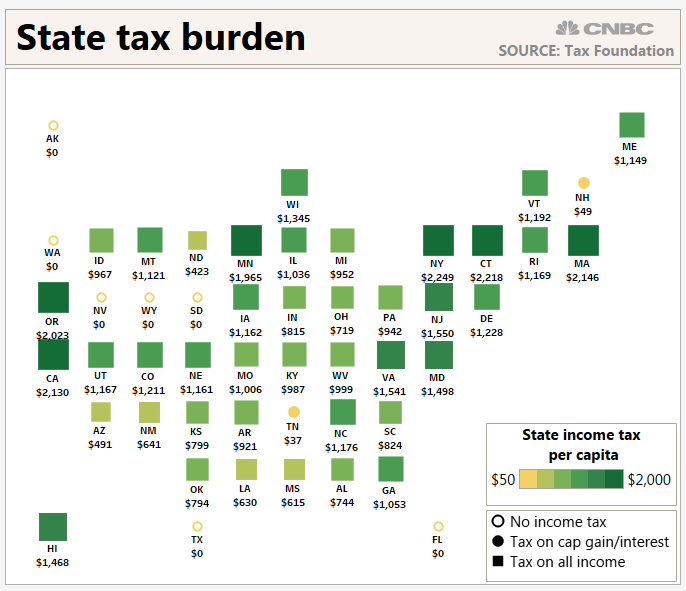 Another consideration is how does your destination state treat retirement income? In all, 13 states tax Social Security: Colorado, Connecticut, Kansas, Minnesota, Missouri, Montana, Nebraska, New Mexico, North Dakota, Rhode Island, Utah and Vermont.
Don't forget to think about how other levies might affect your expenses.
Indeed, New Jersey — which is experiencing an outbound flight of residents — has an effective property tax rate of 2.13 percent, according to the Tax Foundation. It's the highest in the country.
The Garden State also has a top individual income tax rate of 10.75 percent, applicable to income exceeding $5 million.
"A lot of places that don't tax income have high property taxes, so we need to make sure it makes sense to move there," Herron said.
Retirees are flocking to these 3 states — and fleeing these 3 states in droves
https://www.cnbc.com/2019/04/17/retirees-are-flocking-to-these-3-states-and-fleeing-these-3-states.html
9.Housing Shifting to Buyers Market 2020?  Experts?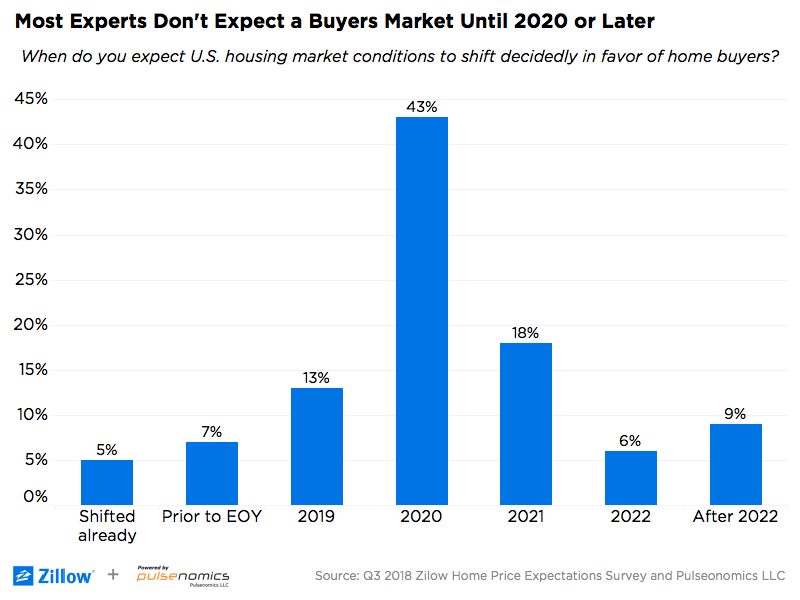 https://nationalmortgageprofessional.com/news/68319/housing-market-finally-cooling
10.How Can You Reignite—or Find—Your Passion?
DON'T LEAP IN. Pursue your interests gradually. Research shows that people who quit their job to follow their passion tend to fail at a higher rate than people who pursue the new endeavor gradually, says Brad Stulberg, author of "The Passion Paradox." The pressure to love the new activity and make money at it can be too high if you jump all in.
BLOCK OUT TIME. Mr. Stulberg suggests adding three 60- to 90-minute sessions to your calendar each week where you will only do the type of work you love. It's key to commit ahead of time. "You need to make it a priority so it will happen," he says.
FIND YOUR PERSON. "Call someone who knows your passion and can help remind you of it," says Aleja Parsons, a therapist in Manhattan and a research psychologist at the Family Translational Research Group at New York University. Let your friend guide you toward self-awareness.
MAKE A PLAN. It should include small, progressive steps, because this is how habits form, says Dr. Parsons. You don't want to act sporadically but consistently. Remember the saying: How do you eat an elephant? One bite at a time.
DON'T GET LOST IN PREPARATION. Do the actual work. Do you want to sculpt? Buy some supplies, set them up in a corner somewhere and start sculpting. Too often, people get lost in preparing the perfect environment or purchasing all their supplies. This makes you think you are making progress but you are not. "Just get started," says Mr. Stulberg.
PLAN REWARDS ALONG THE WAY. They can be small and intermittent, to celebrate that you are staying on your path, such a movie or bubble bath to reward yourself for doing an hour of work today. Or they can be larger to mark a bigger milestone. (I bought red cowboy boots recently when I hit a big writing goal.) The idea is people will continue to do things they get rewarded for, Dr. Parsons says.
FOCUS ON THE JOY. Don't worry about the outcome. You keep passion alive by experiencing it as pleasure, by loving what you are doing. And when you love what you are doing, the rewards tend to come.
Write to Elizabeth Bernstein at elizabeth.bernstein@wsj.com or follow her on Facebook, Instagram or Twitter at EBernsteinWSJ.
Read Full Story
Burned Out at Work? Here's How to Find Your Passion—Or Get It Back
Follow your passion? It's not so easy. Experts say small steps, not dramatic leaps, create the best path.
https://www.wsj.com/articles/burned-out-at-work-heres-how-to-find-your-passionor-get-it-back-11555160400