1. S&P Approaching Giving Back 2 Years of Gains.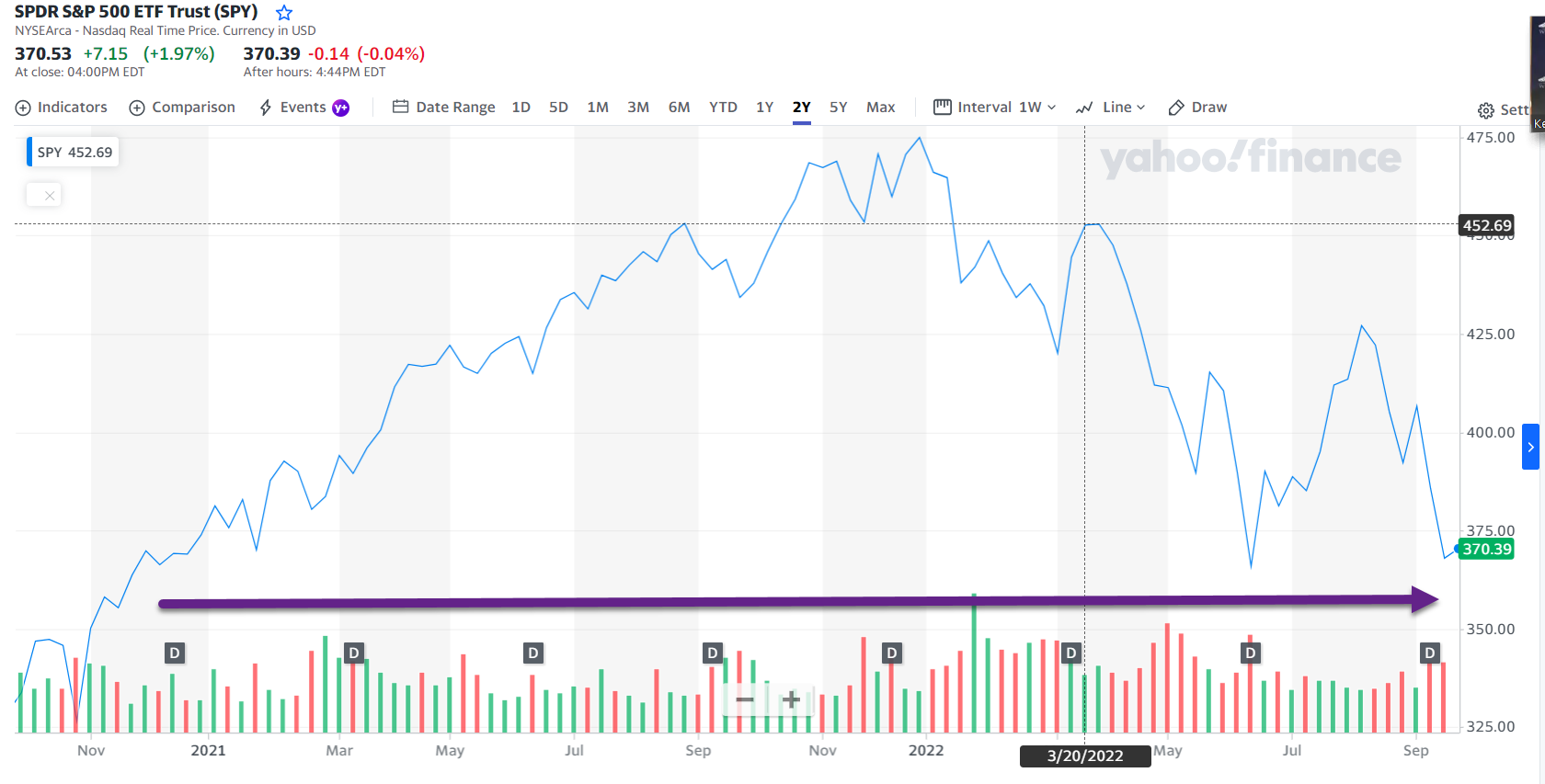 ---
2. Zero Coupon Bond Down Close to -50%
---
3. Another Bond Chart….Muni ETF
50 week going thru 200 week to downside….Munis break to new lows.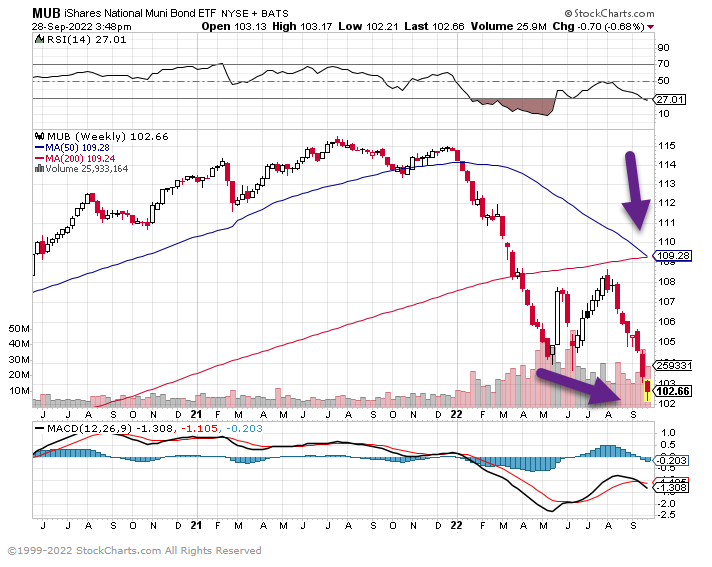 ---
4. Oil Prices Officially Below Ukraine Invasion Numbers.
LPL Research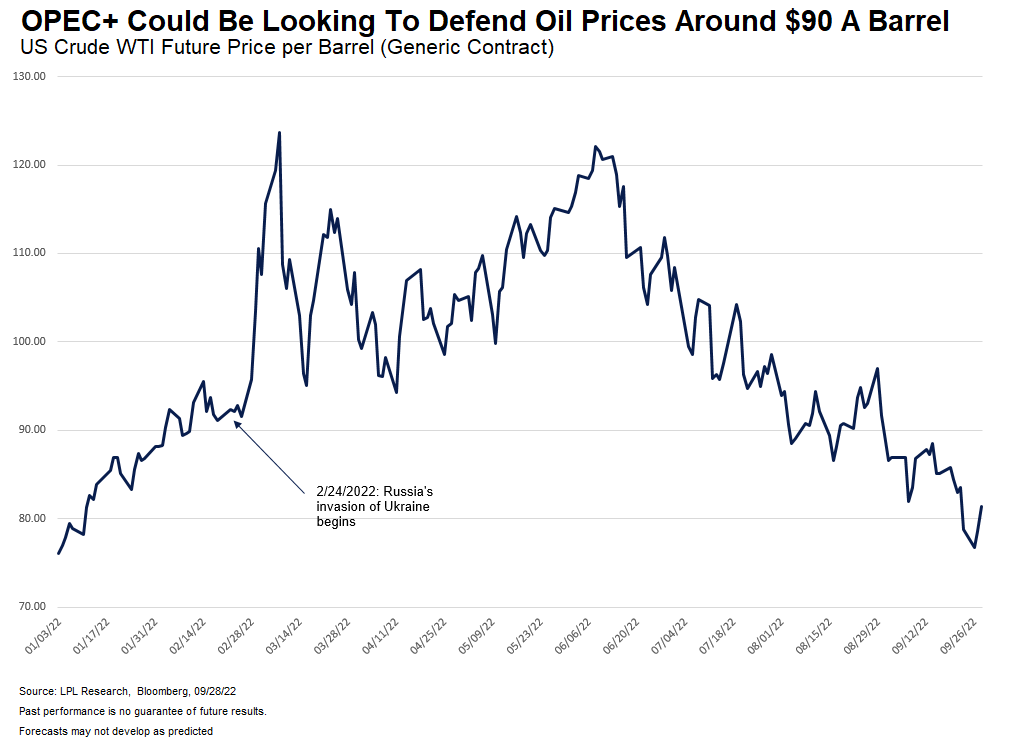 https://i0.wp.com/lplresearch.com/wp-content/uploads/2022/09/chart-12.png?ssl=1
---
5. China Currency Drawdown Thru Covid Lows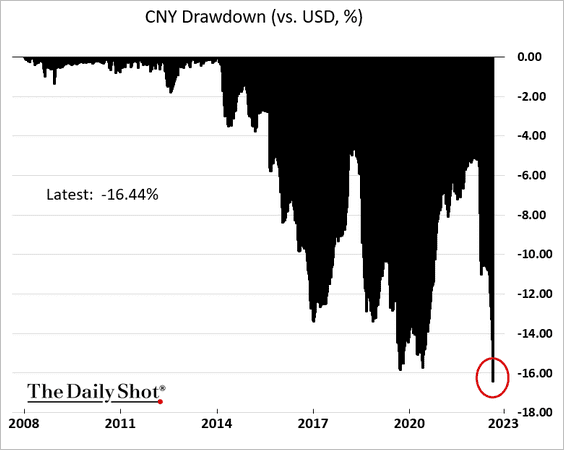 https://dailyshotbrief.com/
---
6. Chinese Internet Stocks Not Breaking New Lows Yet.
KWEB forming base since March….-75% from Highs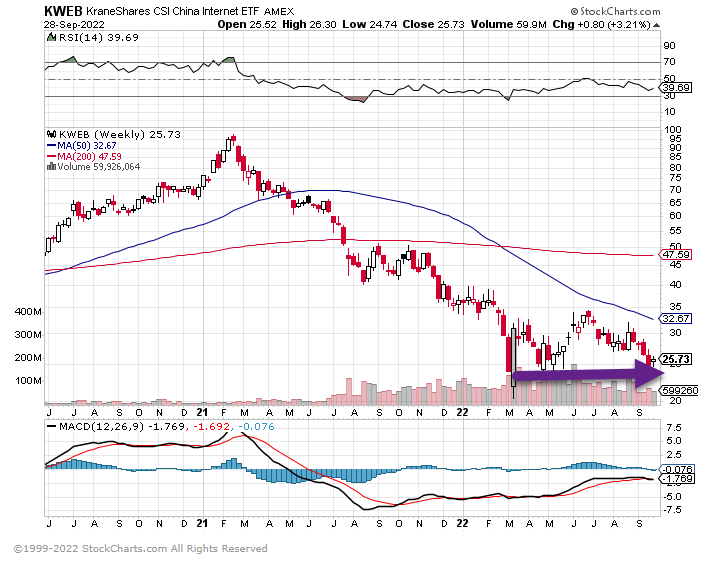 ---
7. Stock/Bond Drawdown $57.8 Trillion
@DTAPCAP DTAP Capital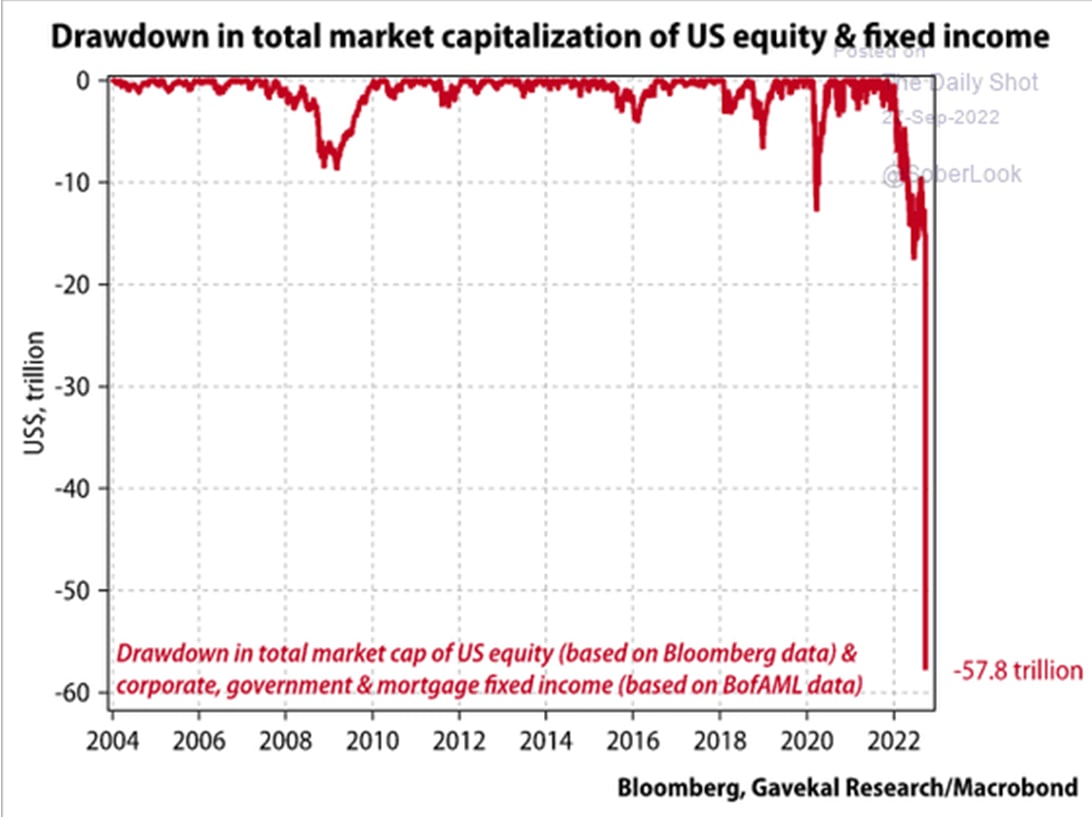 https://twitter.com/DTAPCAP
---
8. Consumer Related Commodity Pullback
Carl Quintanilla
@carlquintanilla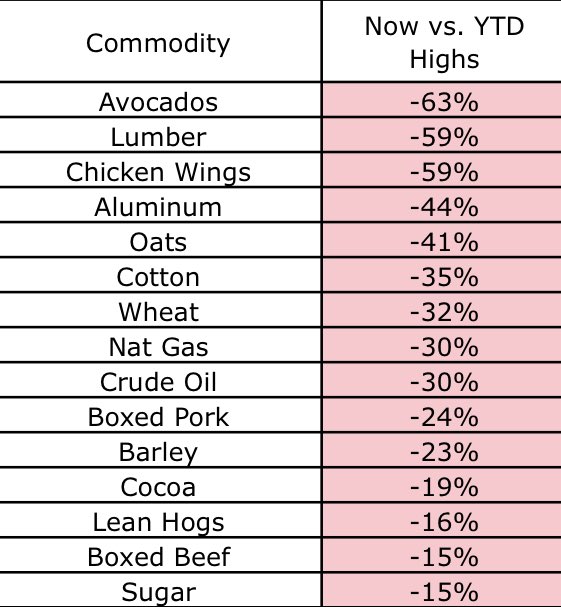 https://twitter.com/carlquintanilla
---
9. Pace of Rent Increases Continues to Slow…Rents Huge for Inflation Numbers
Higher Rents will continue to impact measures of inflation in 2022CalculatedRisk by Bill McBride
Another monthly update on rents. First, from ApartmentList.com: Apartment List National Rent Report
Welcome to the October 2022 Apartment List National Rent Report. Our national index fell by 0.2 percent over the course of September, marking the first time this year that the national median rent has declined month-over-month. The timing of this slight dip in rents is consistent with a seasonal trend that was typical in pre-pandemic years. Assuming that trend continues, it is likely that rents will continue falling in the coming months as we enter the winter slow season for the rental market. … Year-over-year growth is continuing to decelerate, and now stands at 7.5 percent, down from a peak of nearly 18 percent at the beginning of the year.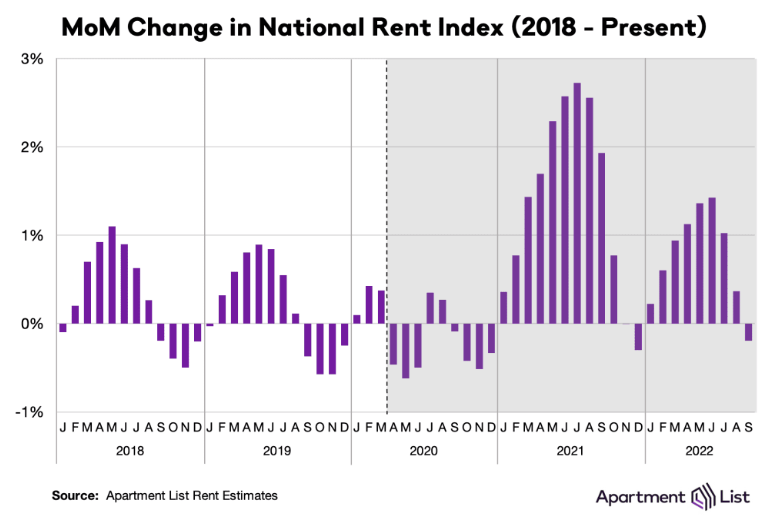 https://calculatedrisk.substack.com/p/pace-of-rent-increases-continues-601  Found at Abnormal Returns Blog www.abnormalreturns.com
---
10. Korn Ferry's CEO says the best résumé he's ever seen nailed these 6 key elements
Gary Burnison, the CEO of Korn Ferry. Anne Cusack/Los Angeles Times via Getty Images
Gary Burnison is the CEO of the management-consultancy firm Korn Ferry.
He's spent the past 20 years recruiting candidates for the LA-based company.
He told CNBC the six keys to one of the best résumés he's seen in his time at the firm.
Get a daily selection of our top stories based on your reading preferences.
A Roblox creator earns up to $90,000 a month selling virtual items like $0.94 stud earrings and $1.24 fur hood…
This is an edited, translated version of an article that originally appeared on September 16, 2022.
Gary Burnison is the CEO of the management-consultancy firm Korn Ferry. He's been interviewing and hiring candidates for the company for 20 years.
Writing for CNBC Make It, he said that despite being tough to impress when it comes to résumés, one, in particular, has stuck in his mind to this day.
Burnison shared the six key things that made this résumé stand out as one of the best he'd ever read.
1. A strong narrative
The résumé offered a clearly defined, chronological path through the candidate's career history, Burnison told CNBC.
Burnison said a good résumé should start with the most recent professional experience and work backward from there. The résumé should show progression in terms of the candidate's responsibilities and not have any career gaps, he added.
2. Well-presented 
Burnison said that the résumé was two pages long and well-organized.
"Line spacing was just right, company names in bold, titles italicized, and job details arranged in bullet points," he said.
He added that he likes candidates to use a simple, clear font.
3. No clichés
Burnison also said that the best résumés avoid clichés and use action verbs instead.
He said including vague terms like "excellent communicator," "team player," "creative," or "hard-working" could quickly put off recruiters.
As an example, Burnison said: "Instead of 'excellent communicator,' say 'presented at face-to-face client meetings and spoke at college recruiting events."'
4. It highlighted achievements
Another integral reason this résumé stood out was that it provided examples of the candidate's achievements, as well as the duties they had to carry out in their previous roles, Burnison said.
Burnison said that hiring managers want to see evidence that candidates have delivered "quantifiable" results and why they're better than the average applicant.
He said one way to do that is by highlighting your responsibilities through your best achievements.
Burnison shared an example of what this could look like for a candidate: "Instead of 'led marketing and sales team,' say 'supervised marketing and sales team and achieved 15% annual growth vs. 0.5% budget."'
5. It was open and honest
The candidate provided a link to a portfolio of their work and their LinkedIn page. Burnision said this left a positive impression as he could easily double-check any claims made in the résumé, which added to the candidate's credibility.
Burnison said that honesty is crucial to success, as a reference check will end your chances if you've lied about anything.
6. It came with a referral
The candidate included a referral from a colleague from Burnison's firm. The CEO shared that this is "the most effective way to get an employer's attention."
While this isn't possible for everyone, even those who don't have a contact at the company should still try and find a way of making an informal introduction to a current employee.
This can just be something simple like meeting an employee for coffee, he continued, adding that once you've formed a relationship with someone within the firm, you can start inquiring about job opportunities.
Read the original article on Business Insider Deutschland. Copyright 2022.
https://www.businessinsider.com/6-keys-best-resume-management-consultancy-recruiter-korn-ferry-2022-9