1. Apple is Worth More than the Entire U.S. Small Cap Stock Index.
Barrons–But at some point in the past couple of weeks, depending on data providers, Apple's market capitalization, at $2.76 trillion, topped the combined market cap of the entire Russell 2000RUT –0.62%  index of small-cap stocks.    And it gets worse. Today's five biggest stocks—Apple, Microsoft (MSFT), Alphabet(GOOGL), Amazon.com (AMZN), and Nvidia (NVDA)—have a combined market cap of about $8.7 trillion, almost 25% of the S&P 500 cap and about 3.2 times the $2.7 trillion Russell cap.  That, says Michael Arone, chief investment strategist at State Street's U.S. SPDR exchange-traded fund business, is now larger than the five biggest stocks were relative to the Russell 2000 at the peak of the dot-com boom in 1999 and 2000.
Chart AAPL vs. IWM (small cap Russell 2000)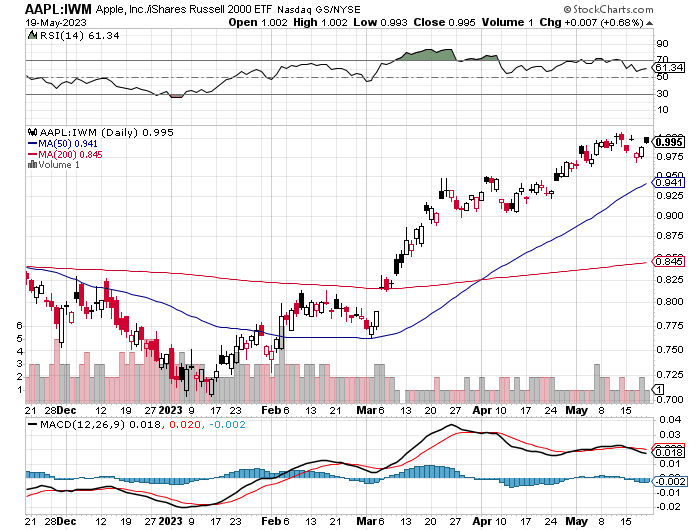 Al Root at allen.root@dowjones.com
---
2. Apple and MSFT 14.1% of S&P….NVDA Trading at 29X Sales.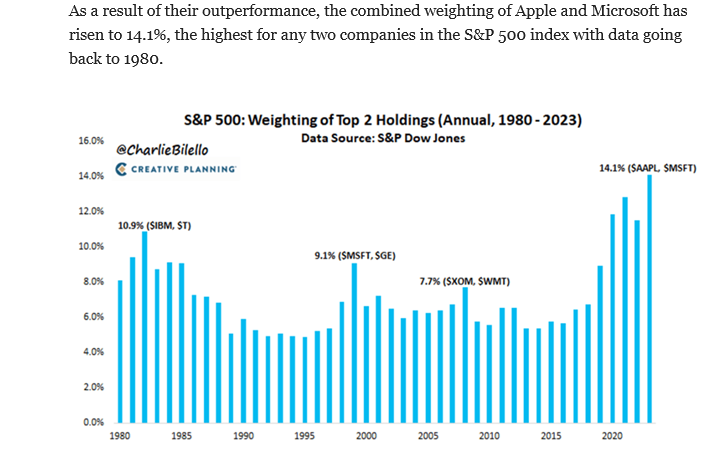 Here are the 10 highest Price to Sales Ratios in Nasdaq 100 today…
1.      NVIDIA $NVDA: 29x 
2.      Lucid $LCID: 18x 
3.      Intuitive Surgical $ISRG: 18x 
4.      Seagen $SGEN: 17x 
5.      DexCom $DXCM: 16x 
6.      Datadog $DDOG: 16x 
7.      Cadence $CDNS: 16x 
8.      CrowdStrike $CRWD: 15x 
9.      Verisk $VRSK: 15x 
10.   CoStar $CSGP: 14x 
---
3. NVDA Earnings this Week….Right at Pre-Tech Sell Off Highs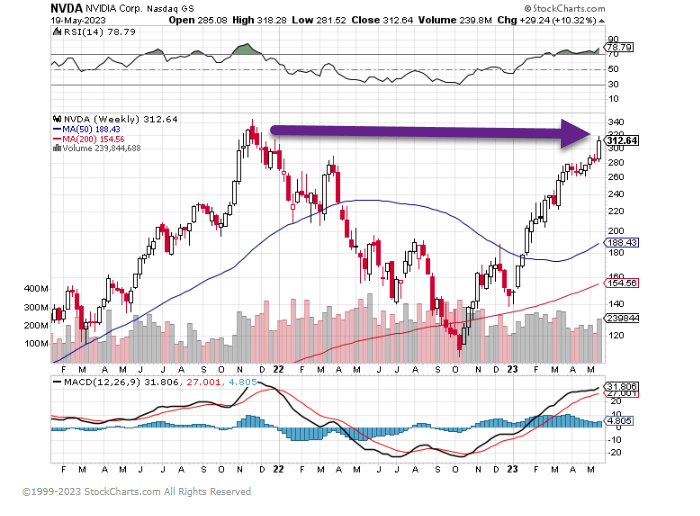 ---
4. Seven Months Without New Lows.
JP Morgan Private Wealth.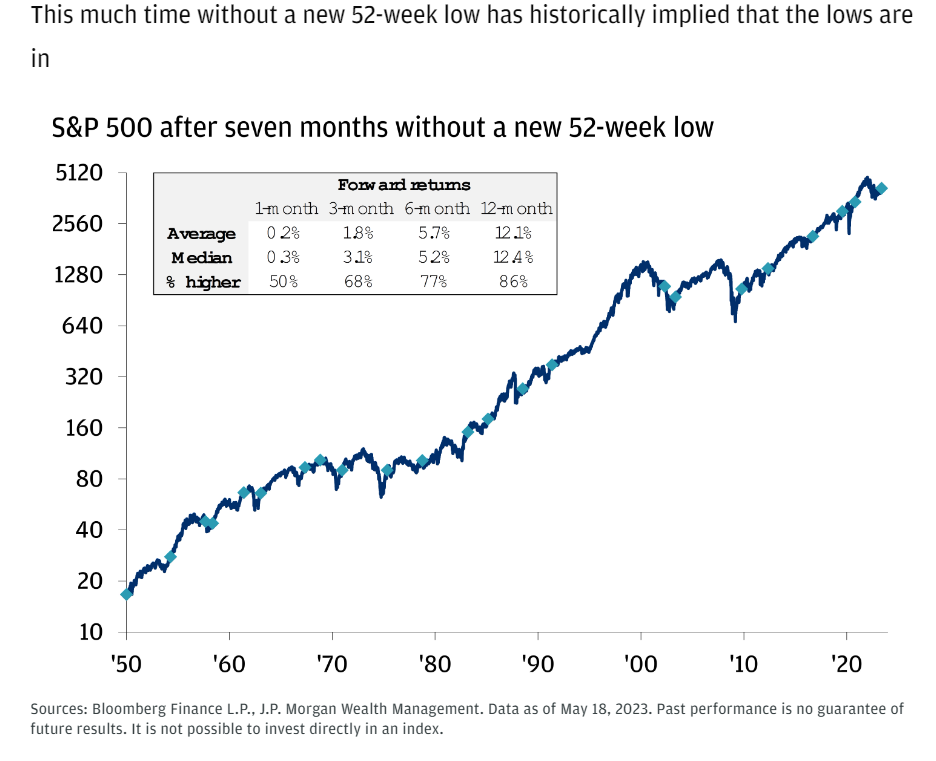 ---
5. Budweiser Only Gets 30% of Profits from U.S. and Canada.
Andrew Bary Barrons https://www.barrons.com/articles/buy-bud-stock-price-pick-848b3e7a?mod=past_editions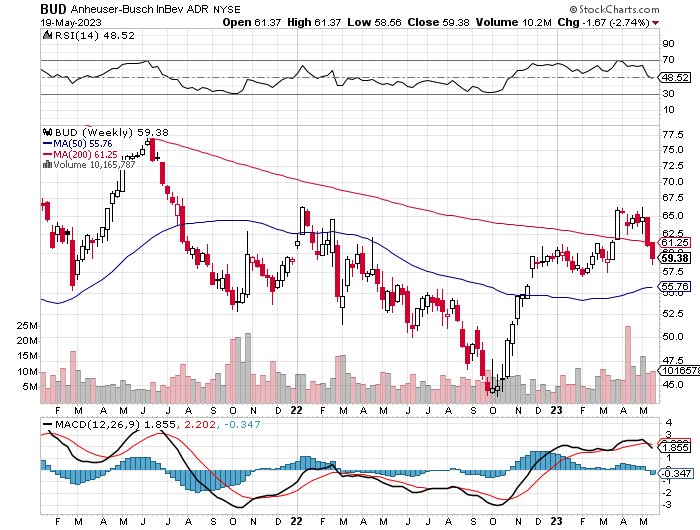 ---
6. Mineral Mix in Average EV Battery
Capital Group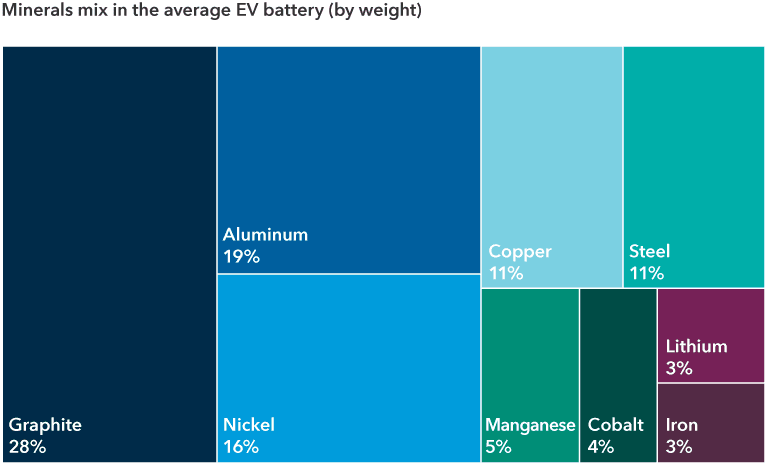 https://www.capitalgroup.com/advisor/insights/articles/making-case-international-equities.html?sfid=1988901890&cid=80992256&et_cid=80992256&cgsrc=SFMC&alias=btn-LP-CTA
---
7. Price Per Sq Foot for Offices -30%

 
Torsten Slok Apollo Group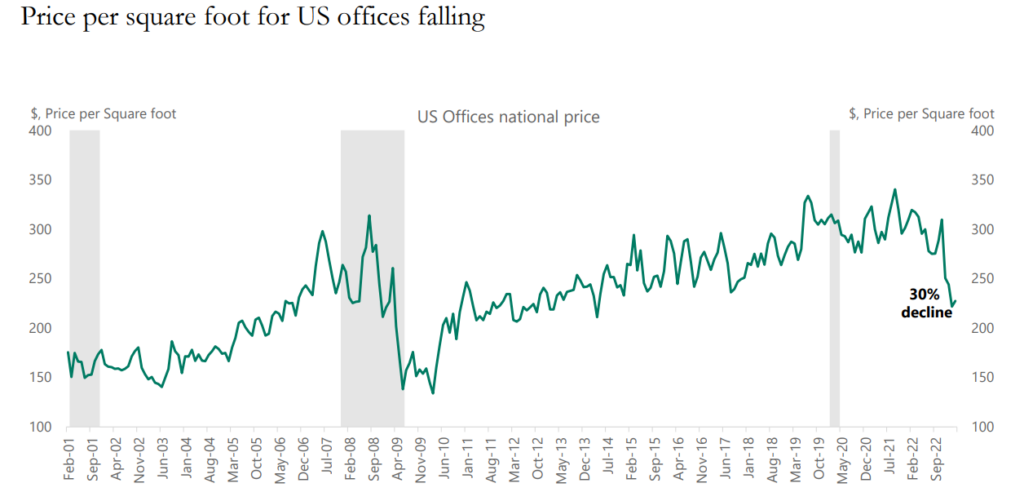 ---
8. The Greatest Wealth Transfer in History Is Here….Baby Boomers $78 Trillion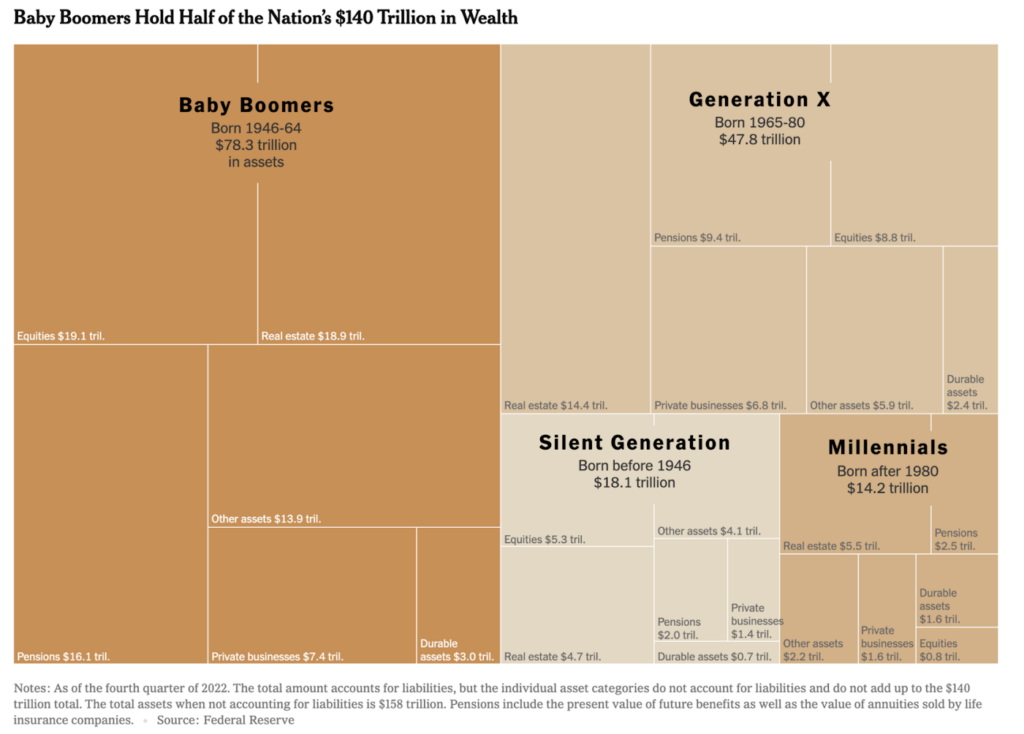 https://ritholtz.com/2023/05/weekend-reads-565/
---
9. Largest Endowments in World Dominated by U.S. Universities.
The Largest Endowment Funds The largest endowment funds can be compared on a grand economic scale, in terms of assets.
To put it all into perspective, the largest 50 endowment funds represent over a trillion dollars in assets. Or for a more singular example, look at Harvard's fund, which has an endowment greater than the entire GDP of countries like Serbia, Bolivia, or Slovenia.
Here's how the top 50 rank.
| | | | |
| --- | --- | --- | --- |
| Rank | Endowment Fund | Total Assets | Region |
| 1 | Ensign Peak Advisors, Inc | $124,000,000,000 | North America |
| 2 | Japan Science and Technology Agency | $80,700,000,000 | Asia |
| 3 | Stanford University | $75,143,751,000 | North America |
| 4 | Harvard Management Company | $72,781,329,000 | North America |
| 5 | Yale University | $56,223,259,000 | North America |
| 6 | Princeton University | $44,460,038,000 | North America |
| 7 | MIT Investment Management Company | $42,526,492,000 | North America |
| 8 | Duke University | $30,385,835,000 | North America |
| 9 | New York University | $27,840,535,000 | North America |
| 10 | Columbia University in the City of New York | $24,698,782,000 | North America |
| 11 | University of Notre Dame | $24,599,541,000 | North America |
| 12 | KAUST Investment Management Company | $23,500,000,000 | Middle East |
| 13 | Emory University | $20,458,905,000 | North America |
| 14 | Johns Hopkins University | $18,037,751,000 | North America |
| 15 | Church Pension Fund | $17,773,649,171 | North America |
| 16 | University of Chicago | $17,276,136,000 | North America |
| 17 | Ohio State University | $16,006,851,000 | North America |
| 18 | Northwestern University | $15,855,683,000 | North America |
| 19 | Washington University in St Louis | $15,103,569,000 | North America |
| 20 | Penn State University, Office of Investment Management | $15,017,272,000 | North America |
| 21 | Notre Dame of Maryland University | $14,938,580,253 | North America |
| 22 | Cornell University | $14,850,618,000 | North America |
| 23 | University of Southern California | $14,495,427,000 | North America |
| 24 | Vanderbilt University | $13,883,495,000 | North America |
| 25 | University of Virginia Investment Management Compnay | $13,811,076,000 | North America |
| 26 | University of Tokyo | $13,285,270,000 | Asia |
| 27 | National University of Singapore | $12,626,100,000 | Asia |
| 28 | UNC Management Company | $11,986,857,000 | North America |
| 29 | University of Michigan Office of Investments | $11,900,000,000 | North America |
| 30 | General Authority of Awqaf | $11,238,371,192 | Middle East |
| 31 | Church Commissioners for England | $11,197,700,000 | Europe |
| 32 | J.Paul Getty Trust | $10,778,927,000 | North America |
| 33 | Trinity Wall Street Episcopal Church | $9,932,419,000 | North America |
| 34 | Unitersity of Utah | $9,827,602,000 | North America |
| 35 | Brown University | $9,793,108,000 | North America |
| 36 | Kamehameha Schools | $9,326,013,000 | North America |
| 37 | Dartmouth College | $9,078,340,000 | North America |
| 38 | Hong Kong Jockey Club | $8,603,580,000 | Asia |
| 39 | Rice University | $8,424,555,000 | North America |
| 40 | The Leona M. and Harry B. Helmsley Charitable Trust | $8,313,588,000 | North America |
| 41 | University of Pittsburgh | $8,011,856,000 | North America |
| 42 | Nature Conservancy | $7,870,380,000 | North America |
| 43 | University of Toronto Asset Management Corporation | $7,329,730,000 | North America |
| 44 | University of Rochester | $7,149,025,000 | North America |
| 45 | Virginia Commonwealth University | $6,985,495,306 | North America |
| 46 | Purdue University | $6,755,500,000 | North America |
| 47 | University of Miami | $6,582,600,000 | North America |
| 48 | University of Minnesota | $6,304,508,000 | North America |
| 49 | Caltech Investment Office | $6,252,584,000 | North America |
| 50 | Metropolitan Museum of Art of New York City | $5,588,554,000 | North America |
https://www.zerohedge.com/personal-finance/these-are-worlds-top-50-endowment-funds
---
10. Late-Night TV RIP
Scott Galloway