1. Yield Curve Inversion Hits Record
The inversion between the 2-year and 10-year Treasury yields hit a record 103.5 basis points on Tuesday, according to Refinitiv data. It later narrowed to 102.4 basis points. The last time the yield curve inverted by more than 100 basis points, or 1 percentage point, was in 1981, due to similar circumstances. Then-Fed Chair Paul Volcker was also battling surging inflation. Recession followed and the unemployment rate soared. Business Insider https://www.businessinsider.com/
Fred Charts 10Year to 2Year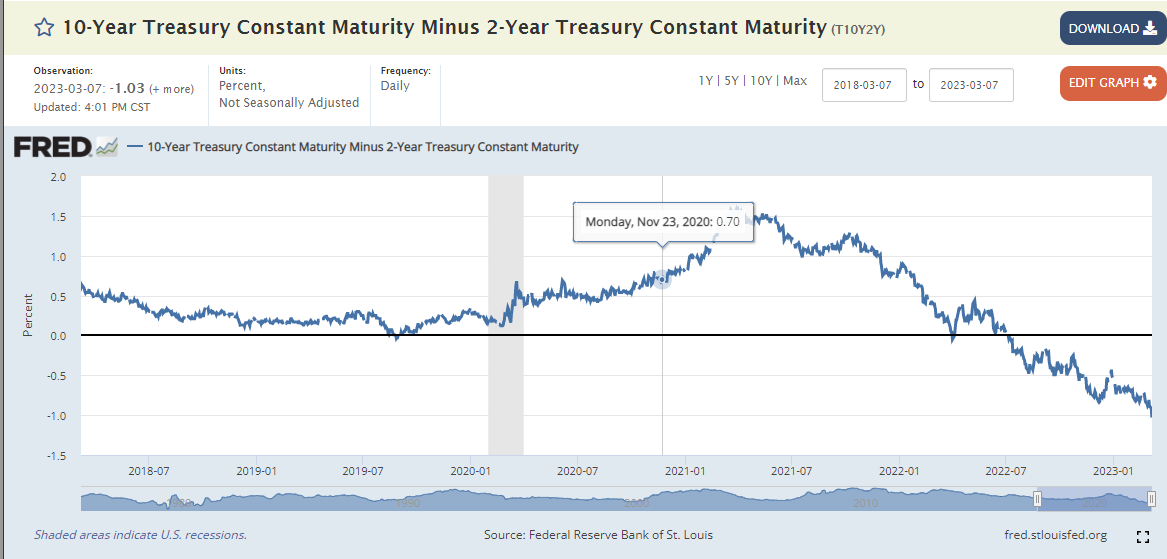 https://fred.stlouisfed.org/series/T10Y2Y
---
2. 10-Year Treasury Yield Runs Back to 4%….Fed Fund Futures 100% Probability of 2 More 25 basis point Rate Hikes
---
3. Speculators Bearish Bets on Rates Hitting Extreme Levels.
From The Daily Shot Brief Rates: Treasury market bearish bets are hitting new extremes.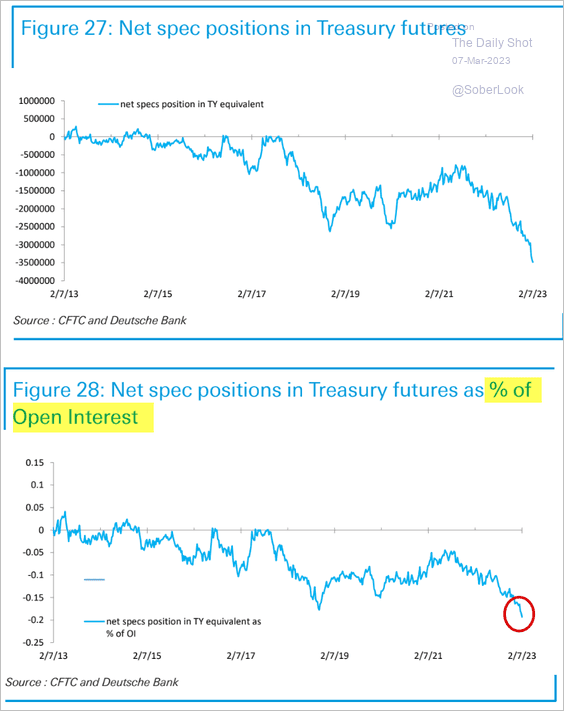 Source: Deutsche Bank Research
---
4. Spread between S&P 500's earnings yield and 10y Treasury yield continues to grind lower; now testing low point seen in 2010
Liz Ann Sonders Schwab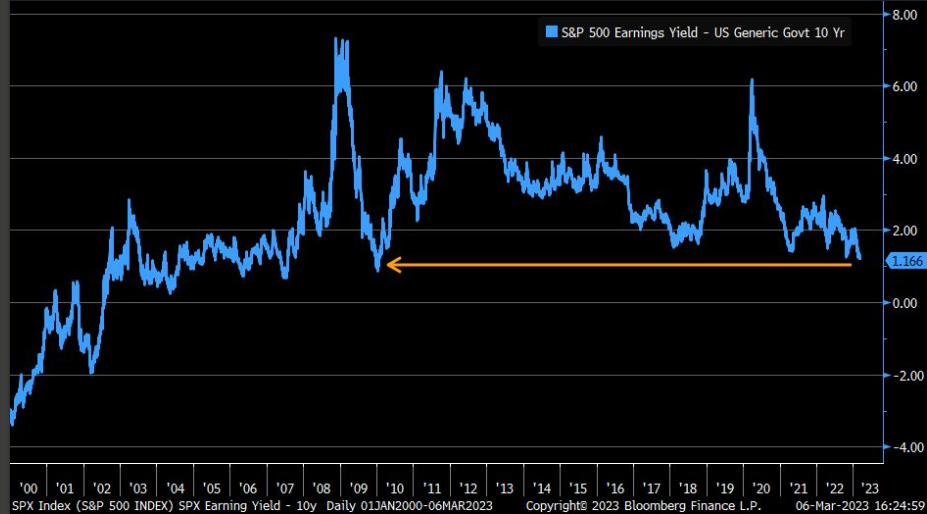 https://www.linkedin.com/in/lizannsonders/
---
5. Recession? Industrial Stocks About to Break to New Highs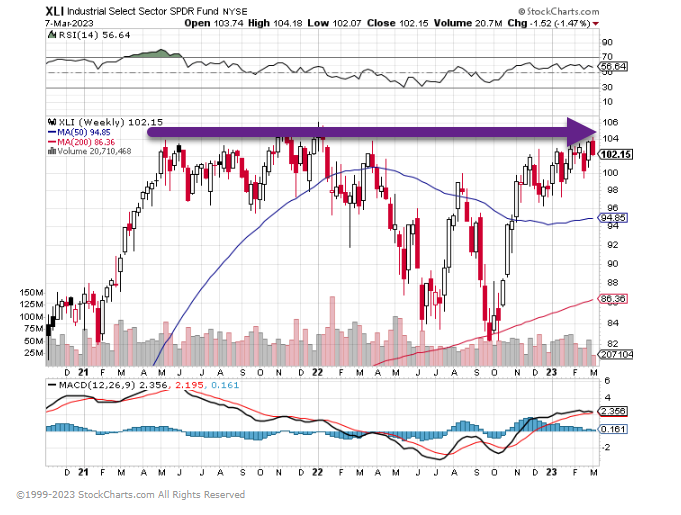 ---
6. Recession? Cruise Lines 2023….
RCL +48% … CCL +35% …….vs. S&P +4%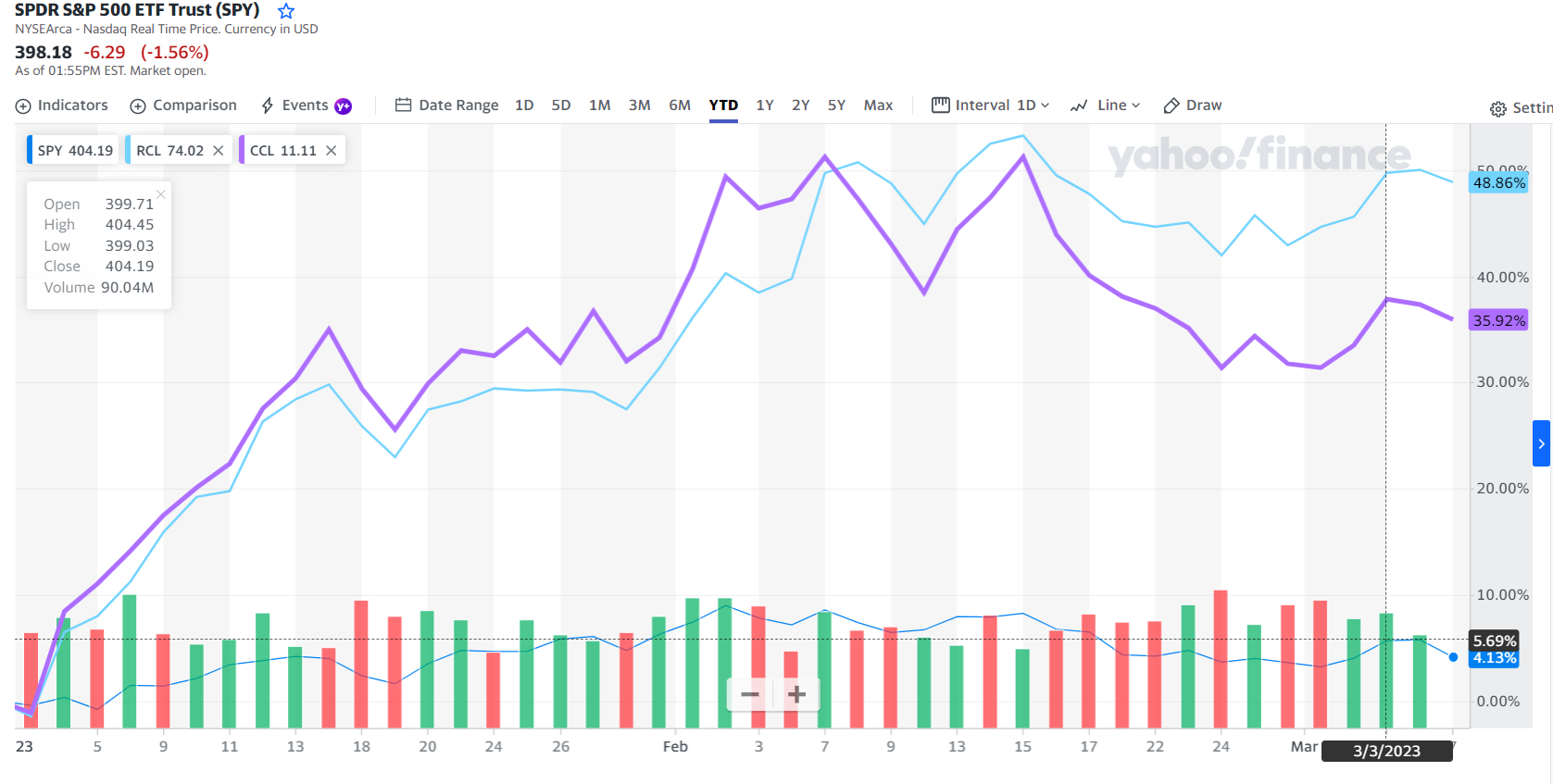 ---
7. International Small Cap
ECNS Chinese Small Cap Stocks…3 Runs at 200 Week Moving Average Fail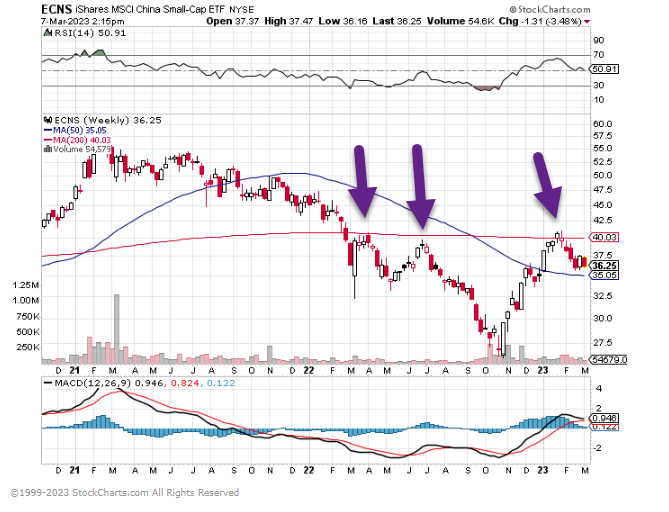 European Small Caps Siting on 200 week moving average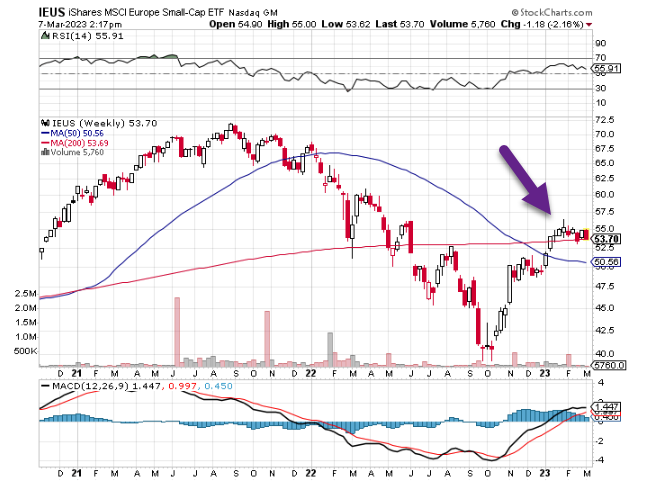 ---
8. Average Short Interest by Sector S&P 500
Nasdaq Dorsey Wright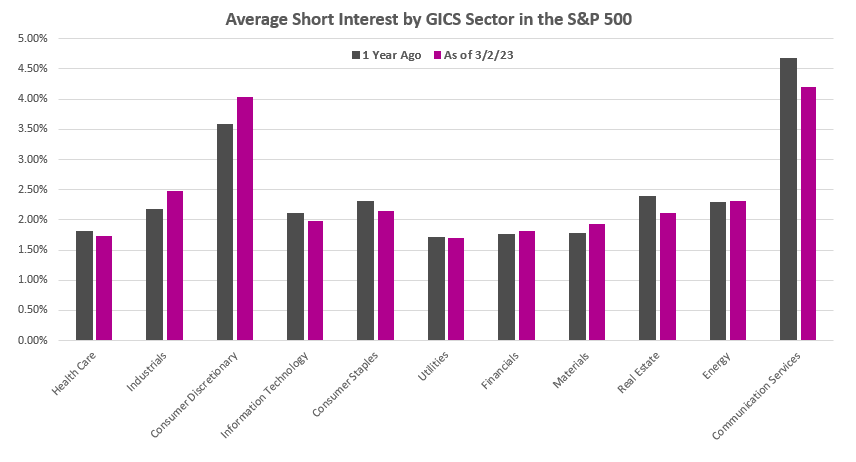 https://www.nasdaq.com/solutions/nasdaq-dorsey-wright
---
9. Hedging Against Stock Market Dangers Could Make Losses Much Worse
Bloomberg Lu Wang
(Bloomberg) — Stocks are unpredictable, so people buy protection in case they crash. But the tactics Wall Street has devised to protect investors at times of crisis are just as hard to forecast, and what seems like prudent hedging may just make things worse.
That's a finding of new research by Roni Israelov, chief investment officer of Boston-based financial services firm NDVR, who made waves with prior papers arguing that cash is usually a better equity hedge than buying put options. Now the former AQR Capital strategist is back with a point-by-point dissection of how popular volatility strategies sometimes fail users at exactly the wrong time.
The warning comes as predictions for market chaos abound. A little over a month ago, Mark Spitznagel at tail-risk hedge fund Universa Investments told clients that ballooning debts across the global economy are poised to wreak market havoc rivaling the Great Depression. Israelov's paper says that it takes more than knowing an asset will stumble to make money buying protection on it.
"Different protection strategies protect against different types of drawdowns. And who knows what the next drawdown is going to look like?" Israelov said in an interview. Is it "a catastrophe as markets drop by 30% in a week, or they drop by 30% or 50% over the entire year? How it occurs has a huge impact on which hedging will pay off, and which will not."
In the paper titled "Equity Tail Protection Strategies Before, During, and After Covid," Israelov and colleague David Nze Ndong studied three popular hedging strategies' performances during those regimes. Each met with success and failure, which is Israelov's point: Hedging tools that work well in one environment tended to struggle in others. https://finance.yahoo.com/news/hedging-against-stock-market-dangers-120000116.html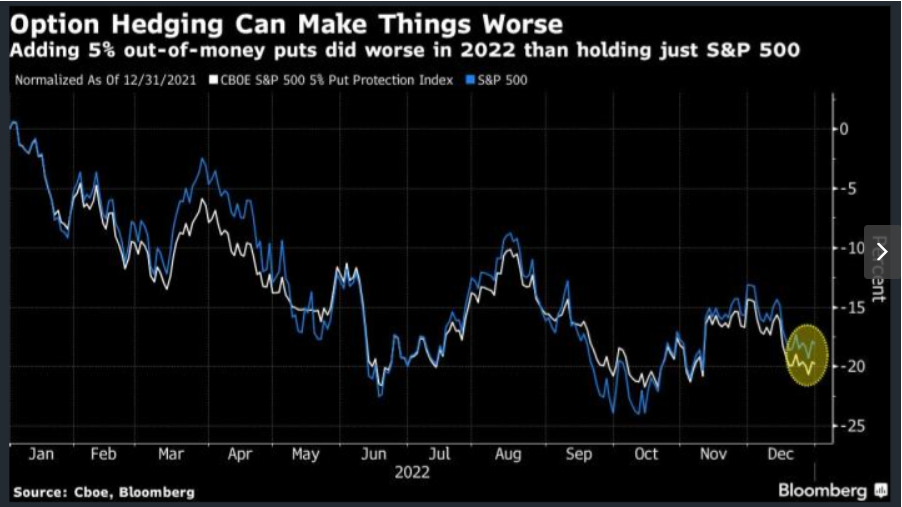 ---
10. Yes, students are in crisis. But going easy on them might make it worse.
Jonathan Zimmerman Philadelphia Inquirer
Young people do best — academically, socially, and psychologically — when we hold them to high standards. By going easy on them, we might have made their lives even harder.
Our students are experiencing a crisis in mental health. They have problems studying, sleeping, and interacting with others. Teachers should assign less work and let students complete it at their own pace. Strict deadlines will only harm them further.
That's been the message I and other teachers (both college and K-12) have received from school officials since March 2020, when the pandemic sent us into lockdown. Many of us have responded by lowering our expectations, in a good-faith effort to alleviate the very real pain that students are suffering.
But it hasn't worked. Many teachers have been coddling students for almost three years now, and the kids are still struggling.
As a long line of research reminds us, young people do their best — academically, socially, and psychologically — when we hold them to high standards. By going easy on them, we might have made their lives even harder.
For example, procrastination among college students has long been associated with poor mental health. But we also know that people are less likely to procrastinate if they are required to produce small amounts of work on a regular basis, instead of something big that they can put off until the end.
That's why I require a piece of writing from each of my students, every week. It's not long, but it's also not optional. It keeps them engaged in the course. And, most of all, it lets them know that I think highly of them: I believe they are competent human beings, who can accomplish the tasks set before them. And almost all of them do.
"I require a piece of writing from each of my students, every week."
Cutting them slack communicates the opposite. It signals that I believe they are feeble, inept, or fragile. And that can become a self-fulfilling prophecy, another well-known phenomenon in psychological research. If students think they are weak and wounded, they may be more likely to behave that way as well.
I also insist that my students come to class. Woody Allen might have exaggerated when he said that 90% of success in life is just showing up, but he wasn't off by much. In a 2019 study, scholars at Indiana University showed that more students go to class when there are strict attendance rules, and that — surprise! — the students who show up get better grades.
So why are so many colleges saying that students don't have to show up, or even offering "wellness days" when everyone gets to play hooky? I don't doubt the good intentions of the people behind these policies. But that doesn't mean they're good for our students.
Let's be clear: There really is a crisis in mental health among American students. In a 2021 survey, nearly three-quarters of college students reported moderate or serious psychological distress. And in a 2022 study by the Centers for Disease Control and Prevention, almost half of high school students said they had felt sad or hopeless almost every day for at least two weeks in a row.
Some of those problems were surely exacerbated by the COVID-19 pandemic. But I haven't seen any indication that our students' mental health is improving now that the pandemic is abating.
So what can we do about that? Of course, we need more psychological services for students at every level. Many K-12 schools report that they are overwhelmed with demands for mental health treatment and lack the funds or staff to meet them. And even at an extremely well-resourced university like Penn, where I teach, students complain that they can't obtain timely or effective psychological assistance.
But I also think we need to look more carefully at the causes of the mental health crisis. I believe one of them, ironically, is the culture of leniency around mental health itself.
Students with diagnosed mental illnesses might need special accommodations, of course, including extra time to complete schoolwork. And everyone should be encouraged to seek out psychological help when they need it. But I fear that teachers who routinely let their students off the hook — in the mistaken belief that this will help them feel better — could actually make them feel worse. The best thing we can do for their psychological well-being is to require that they show up, stay engaged, and submit their work on time. And, most of all, we need to have faith in their capacity to do it.
A beautiful new charter school just opened up in the South Bronx, in a repurposed former ice plant. Designed by the celebrated Ghanaian British architect David Adjaye, the school features a staircase with a simple inscription in bold red letters: "ALL KIDS CAN."
If we tell our students they are frail and debilitated human beings, they will feel — and act — accordingly. The only remedy is to tell them that they are strong and that they can succeed. All of them can.
Jonathan Zimmerman teaches education and history at the University of Pennsylvania. He is the author of "Whose America?: Culture Wars in the Public Schools," which was recently published in a revised 20th-anniversary edition by the University of Chicago Press.
https://www.inquirer.com/opinion/students-mental-health-teachers-go-easy-20230301.html