1. Forget FAAANG….Overstock.Com +750% YTD.
OSTK Bottomed at $2.75…..$62 Last
2. Kodak Spikes 2200% in 2 Days as 62,000 Robinhood Traders Swarm the Stock.
Business Insider.
More than 63,000 Robinhood traders piled into Kodak shares during its 2,100% rally–Ben Winck
https://markets.businessinsider.com/news/stocks/kodak-stock-price-rally-leads-robinhood-investors-buy-robintrack-retail-2020-7-1029447131#
3. Number of Robinhood User Positions in S&P 500 Stocks.
https://www.linkedin.com/in/nicholas-lampone-9277986/
4. Velocity of Returns Great Financial Crisis vs. Corona Rally.
5. Another Insider Selling/Sentiment Chart.
The Daily Shot-WSJ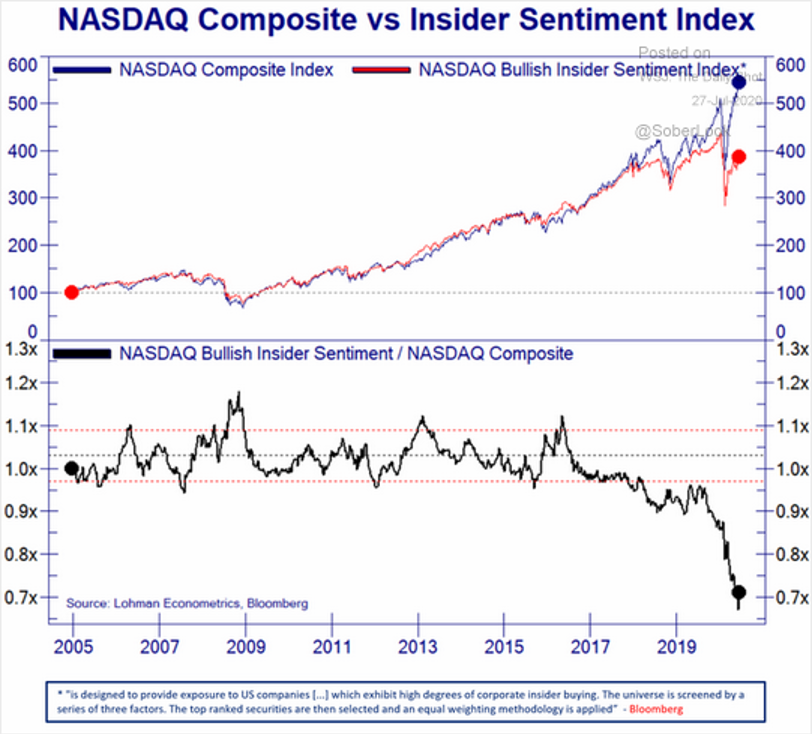 https://blogs.wsj.com/dailyshot/2020/07/27/the-daily-shot-factors-behind-the-record-setting-rally-in-gold/
6. 17-23% of Bitcoins Lost Forever???
Just as gold bars are lost at sea or $100 bills can burn, bitcoins can disappear from the Internet forever. When all 21 million bitcoins are mined by the year 2040, the actual amount available to trade or spend will be significantly lower.
According to new research from Chainalysis, a digital forensics firm that studies the bitcoin blockchain, 3.79 million bitcoins are already gone for good based on a high estimate—and 2.78 million based on a low one. Those numbers imply 17% to 23% of existing bitcoins, which are today worth around $8,500 each, are lost.
Exclusive: Nearly 4 Million Bitcoins Lost Forever, New Study Says BY JEFF JOHN ROBERTS AND NICOLAS RAPP
https://fortune.com/2017/11/25/lost-bitcoins/
7. Another Sentiment Indicator Hits Record Highs
$NDX Daily Sentiment. The 50d reached Top 2.5% most overbought in history (20 years) and the highest since 2011. See the break below its 50d, similar to Feb 2018, May 2019, Jan 2020. The 50d has also turned down. If history repeats, this could be finished, or very close.
8. Millennial Home Ownership Spike.
Big jump in the homeownership rate today, mostly driven by younger households. We saw a spike in the number of owners, and a decline in the number of renters. This is the highest rate of homeownership since 2008.
9. A Third of Jobs Lost During Pandemic Have Returned.
https://www.washingtonpost.com/business/2020/07/16/9-charts-that-show-good-bad-alarming-this-early-economic-recovery/
10. Reading On Paper
I'm staring at a pile of paper on my desk that is my stack of things I found on the Internet that I want to read.
It's a bit ironic to write this on a blog, but if I come across something on my computer or phone that is longer than a page or two, I print it out and read it on paper.
I have found that when I read on a computer screen or phone, I tend to skim. That's fine for a short email or a short blog post (as this will be).
But it is not great for an eight page blog post, a white paper on a new crypto project, or a memo from one of my colleagues or portfolio companies.
When I read on paper, I often will use a pen to underline or mark-up the document. I find that leads to better comprehension and retention of the concepts.
I've noticed that our children, all of whom are in the mid to late 20s, also read books in paper form and mark them up when reading them. So while reading on paper may be a generational thing, I believe it is also a valuable technique for all ages and all generations.
Found at Abnormal Returns Blog www.abnormalreturns.com
Disclosure
Lansing Street Advisors is a registered investment adviser with the State of Pennsylvania..
To the extent that content includes references to securities, those references do not constitute an offer or solicitation to buy, sell or hold such security as information is provided for educational purposes only. Articles should not be considered investment advice and the information contain within should not be relied upon in assessing whether or not to invest in any securities or asset classes mentioned. Articles have been prepared without regard to the individual financial circumstances and objectives of persons who receive it. Securities discussed may not be suitable for all investors. Please keep in mind that a company's past financial performance, including the performance of its share price, does not guarantee future results.
Material compiled by Lansing Street Advisors is based on publicly available data at the time of compilation. Lansing Street Advisors makes no warranties or representation of any kind relating to the accuracy, completeness or timeliness of the data and shall not have liability for any damages of any kind relating to the use such data.
Material for market review represents an assessment of the market environment at a specific point in time and is not intended to be a forecast of future events, or a guarantee of future results.
Indices that may be included herein are unmanaged indices and one cannot directly invest in an index. Index returns do not reflect the impact of any management fees, transaction costs or expenses. The index information included herein is for illustrative purposes only.