1. ESG /Sustainable Funds Seeing Record Inflows….Another Trend that Accelerated During Corona.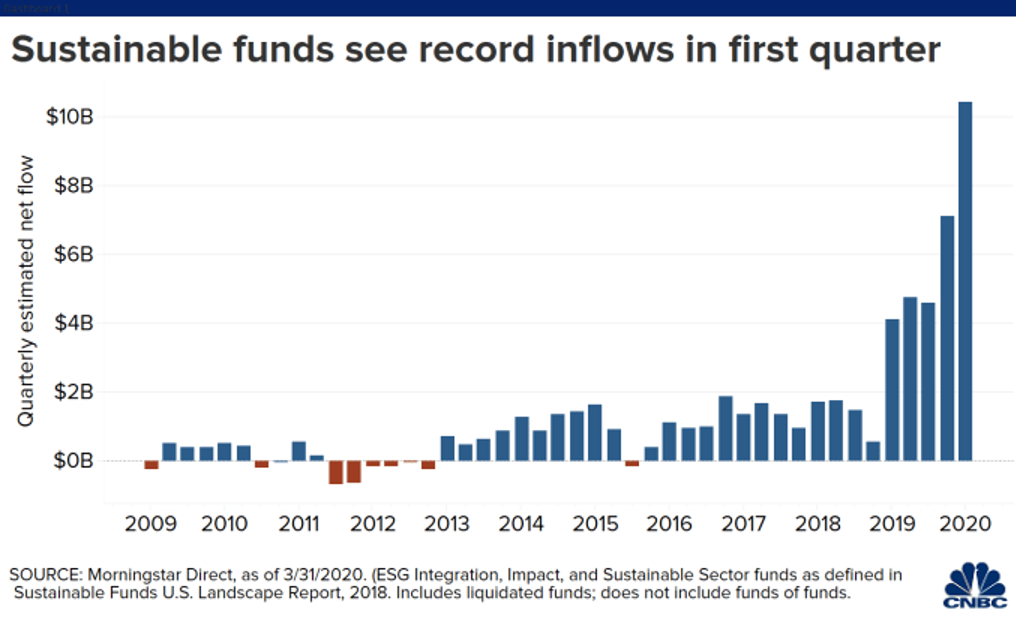 COVID-19 Panic Seen As Boost To ESG Investing
MARCH 27, 2020 • KAREN DEMASTERS
In January, deVere Group conducted a global survey in which 77% of millennials said that ESG investing was their top priority when considering investment opportunities, deVere said.

"Before the pandemic, research revealed that investments that score well in terms of ESG credentials often outperform the market and have lower volatility over the long run," Green added. "Since the COVID-19 public health emergency upended the world, the latest broad analysis shows that ESG funds have typically continued to outperform others."
In addition, the virus has shown "that increasingly companies will only survive and thrive if they operate with a nod from the wider court of public approval. It has underscored the complexity and interconnectedness of our world in terms of demand and supply, in trade and commerce – and how these can be under threat if not sustainable," he said.
"Demographic shifts will support the trend. Millennials, those people who were born in the time period ranging from the early 1980s to the early 2000s, cite ESG investing as their top priority when considering investment opportunities," Green said. "This is crucial because the biggest-ever generational transfer of wealth, which will be around $30 trillion, from baby boomers to millennials, will take place in the next few years."
Green added, "ESG investing was already going to reshape the investment landscape in this new decade, but the coronavirus will quicken the pace of this reshaping."
https://www.fa-mag.com/news/esg-investing-will-see-surge-from-coronavirus–devere-says-54890.html
2. American Public Opinion Points to ESG Trend Accelerating.
Two-Thirds of Americans Think Government Should Do More on Climate
A majority of Americans continue to say they see the effects of climate change in their own communities and believe that the federal government falls short in its efforts to reduce the impacts of climate change.
At a time when partisanship colors most views of policy, broad majorities of the public – including more than half of Republicans and overwhelming shares of Democrats – say they would favor a range of initiatives to reduce the impacts of climate change, including large-scale tree planting efforts, tax credits for businesses that capture carbon emissions and tougher fuel efficiency standards for vehicles, according to a new Pew Research Center survey.
Two-Thirds of Americans Think Government Should Do More on Climate–Bipartisan backing for carbon capture tax credits, extensive tree-planting efforts BY ALEC TYSON AND BRIAN KENNEDY
https://www.pewresearch.org/science/2020/06/23/two-thirds-of-americans-think-government-should-do-more-on-climate/
3. U.S. crude oil production peaked at 13.1 million barrels per day in March, tumbled as low as 10.5 million barrels per day in June, and currently stands at 11 million barrels per day.
US Crude Oil Production-ETF.COM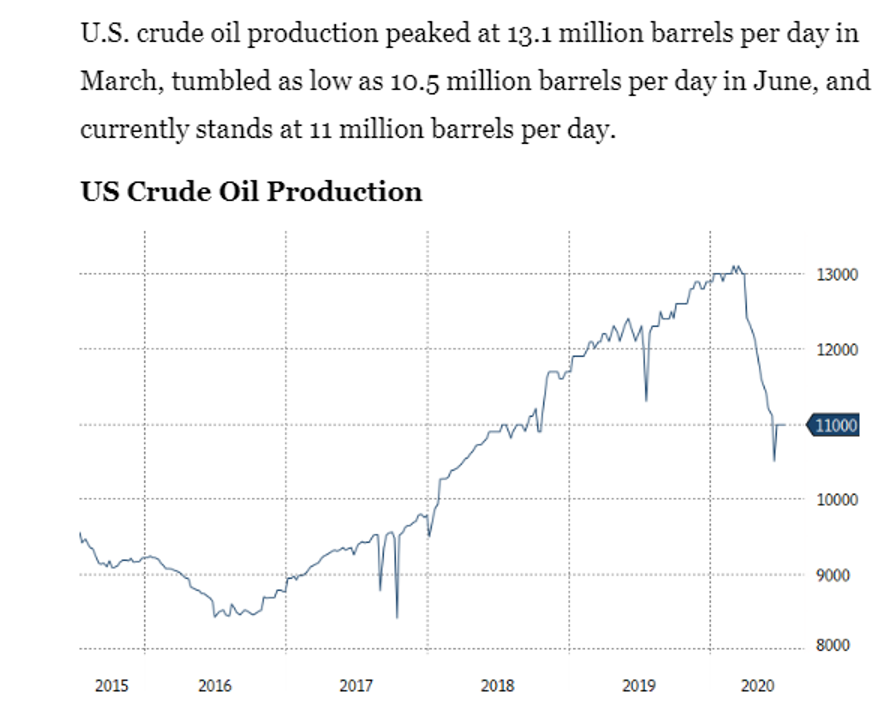 Oil Steady As OPEC Eases Cuts–Sumit Roy
https://www.etf.com/sections/features-and-news/oil-steady-opec-eases-cuts
XLE-Large Cap Energy ETF10 POINTS OFF HIGH
4. Ant Could Be the Biggest IPO Ever…Listing Not Looking Like It Will Happen in U.S.
No time frame was given for Ant's IPO or how much it hoped to raise, but Ant was last valued at $150 billion in mid-2018 in a private fundraising round
In a note to clients, Bernstein's David Dai said the firm had valued Ant at $210 billion when it did a deep dive into the company last year, noting that the payment business was profitable in itself but also offered a "gateway" for the company to sell other financial products that would become a larger portion of the company's value in the long run.
In a recent hearing held by the Securities and Exchange Commission, U.S. exchange executives warned that Chinese companies would simply list elsewhere if they were delisted in the U.S. That represents not only a loss for the exchanges that have been vying for big offerings, but also doesn't necessarily change whether U.S. investors hold these stocks. Executives from several large asset managers
noted that their funds could still invest in Chinese companies, even if they are not listed in the U.S.
Regulators in China have been easing the way. The Star board, for example, fast-tracked the listing of Semiconductor Manufacturing International Corp. , which delisted in the U.S. last May amid a push in Washington to restrict technology access to Chinese companies, and made its debut in Shanghai last week. The offering marked the country's largest in a decade.
The offerings could be just the beginning as other companies afraid of getting caught in the U.S.-China crossfire hedge bets or choose to delist from the U.S. entirely. As China's domestic chip maker, SMIC (688981. China) was squarely in the middle of the U.S.-China technology Cold War that has been played out over semiconductor technology.Ant Could Be the Biggest IPO Ever, but It Will Bypass the U.S. Others Could Follow.By Reshma Kapadia.
https://www.barrons.com/articles/ant-could-be-the-biggest-ipo-ever-but-it-will-bypass-the-u-s-51595256949?mod=hp_LEAD_2
5.The Biggest IPOs of All Time.
https://www.statista.com/chart/19838/biggest-ipos/
6. Wall Street Is Throwing Billions at Once-Shunned Gold Miners
Junior Miners almost a triple off bottom
Wall Street Is Throwing Billions at Once-Shunned Gold Miners
(Bloomberg) — A year ago, you couldn't get Wall Street to touch most gold miners' stocks. Today, it's throwing billions at the industry.
Precious-metals miners once seen as too leveraged and high-risk for the typical investor raised $2.4 billion in secondary equity offerings during the second quarter, data compiled by Bloomberg show. That's the most since 2013 and seven times more than the funds they raised a year earlier.
With the Covid-19 crisis threatening economies worldwide and gold prices soaring on the heels of monetary and stimulus programs, precious-metals companies have become the darlings of the investment community. The sector, which once largely drew the attention of specialist funds, is now attracting a broad base of investors.
"All of a sudden we're seeing real interest from generalists," said Bryan Slusarchuk, chief executive officer of Fosterville South Exploration Ltd., whose company plans to dig for gold in Australia. "If this continues, it could just be the start of an incredible bull market for gold equities."
Yvonne Yue Li, Justina Vasquez and Aoyon Ashraf
https://finance.yahoo.com/news/wall-street-throwing-billions-once-233147743.html
7. Blackrock Upgrades Emerging Markets…Did Earnings Bottom?
BlackRock Shifts Money From China in Wake of Stocks RallyBy Lilian Karunungan and Abhishek Vishnoi
https://www.bloomberg.com/news/articles/2020-07-20/blackrock-shifts-money-from-china-after-break-neck-stocks-rally
8. Office Occupancy Rates March 2 to July 8
Wolf Street
The chart above shows data per business day. On a per-week basis, which irons out some of the day-to-day fluctuations, the top 10 metros in the data are aligned similarly for the week through July 8. The average of the 10 metros, according to Kastle, shows office occupancy running at 21.6% of the pre-Covid era, down from 22.7% four weeks ago. The current rate represents a decline of 78.4% from the pre-Pandemic era.
Work-from-Home & Covid Resurgence Maul Office Occupancyby Wolf Richter • Jul 15, 2020 • 132 Comments
https://wolfstreet.com/2020/07/15/work-from-home-renewed-covid-outbreaks-maul-office-occupancy/
9. Yesterday We Showed Over 55 Owning the Majority of Wealth…..Global Millennials Own Future Spending Power.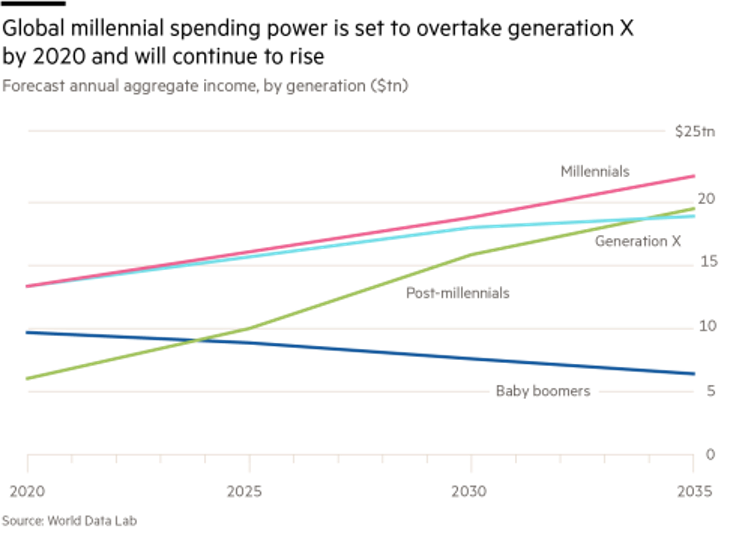 https://www.ft.com/content/194cd1c8-6583-11e8-a39d-4df188287fff
10. 10 Reasons Why Some People Will Never Succeed
Writer by birth Read full profile
In O.G Mandino's The greatest salesman in the world, a very important fact was made which said that:
"two amongst a thousand wise men, will define success in the same words, yet failure is always described in one way. Failure is man's inability to reach his goals in life whatever they may be."
While success is relative, subjective, holds monetary and non- monetary value, failure is more a "one size fits all" recipe. Below are ten things people do to fail on purpose.
1. They don't understand the value of time.
"Any successful entrepreneur knows that time is more valuable than money itself." – Richard Branson
Unsuccessful people don't value their time. They are everywhere, anywhere, anytime because they lack the ability to dedicate their time towards their goals. And year after year they make new promises which never come to fruition simply because they couldn't be bothered to put in the time required towards their goals. Time management skills, learning how to say no and knowing what commitments to undertake, is a step towards great success in any area of our lives.
2. They don't do things that are in alignment with their goals
"It's not hard to make decisions when you know what your values are." – Roy Disney.
The more important a goal is, the higher it will be on your hierarchy of values and the more discipline and order you will have associated with it. The less important a goal is, the lower it will be on your hierarchy of values and the less discipline and more disorder you'll have associated with it. Unsuccessful people have mistaken busyness with productivity. They are a part of everything but nothing which they do is in alignment to their values and their goals. Writing down in a journal what your gaols are and implementing strategies which can get you there will help you identify things that are not on par with where you are going.
3. They never step up to the plate
"People seem to think that success in one area can compensate for failure in other areas, but can it really? True effectiveness requires balance" – Stephen Covey
So your boss sucks and you really hate your job but this is no reason to slack and produce mediocre work. You're getting paid to be there so do it right, life has this universal law of giving you what you put in. It's just maturity and wisdom to pursuit excellence no matter the circumstances. Unsuccessful people are the ones who are okay with getting bad grades and won't bother finding an effective studying method that will help their learning ability, because after all, being a student of distinction is less about how smart you are but more about how well you can plan and prepare, and that makes you feel smarter and that in itself produces great results.
4. They have self-imposed limitations
"You are what you are by what you believe" – Oprah Winfrey
Unsuccessful people tend to say things like "I'm just not good with numbers", "I just really hate studying", and "I just don't think I can run a successful business". They put limits on themselves and excuse their behaviour but it's really just a way of underachieving and aiming low enough to not miss. Get rid of the idea that you only have a specific set of skills and talents for specific tasks, stop thinking that you're not as intelligent as the next person. What life requires of you is to make the most of yourself, for yourself, and for others.
5. They are good at making excuses
⌄ Scroll down to continue reading article ⌄
These are the people who will find reasons and logic as to why they can't and why they shouldn't. They sometimes mistake this abhorrent tendency for "just being realistic". They lack imagination and always find ways to justify why something shouldn't be but they never really try. The best remedy for this is to stop your mind when it's about to start making the excuses and re-ignite the engine that has started it all.
6. They lack class
"You can easily judge the character of a man by how he treats those who can do nothing for him." ― Johann Wolfgang von Goethe
Unsuccessful people usually tend to have no social IQ. They say things like "well at least I'm being honest" or "this is how I am, deal with it". They don't know how to treat other people and tend to be arrogant, for no apparent reasons most of the time. Nobody likes a big mouth, a show off, a humble boaster, or people who don't know how to just say thank you when given a compliment. These traits are unbecoming and are not what true class acts are made of. Being nice and polite to people you like is easy, being nice and polite to someone you cannot tolerate or who you are in constant disagreement with – that is character. Learning how to speak to people is a skill only few have mastered. It has been said the best way to test a man's character is by watching how he acts when standing in a very long queue and is met with bad service, how he handles Christmas lights and his reaction when you ruin their expensive items.
Source: globalgrind
7. They are procrastinators
"Only put off until tomorrow what you are willing to die having left undone" ― Pablo Picasso
The funny thing about this one is that they are usually self-proclaimed procrastinators. They see no shame in it. This goes back to them never understanding the value of time. They are okay with living a life that keeps up with yesterday. They live life as though they just have another one in the bank. Let's just see how round one goes and if all else fails we press next or rewind or pause. Understanding that you start dying the moment you are born and wisdom to realize that every day is a gift and you owe it to yourself to do everything you can do in those twenty four hours because nothing's ever promised today tomorrow.
8. They don't' take action
"Do something today, your future self will thank you for" – Les Brown
The simplicity of this rule of life may be why they disregard the magnitude of its effects. Unsuccessful people tend to ponder and leave footprints in the sands of time. They can talk a great game and they dream really big but they lack the courage to just go forth. Stop dreaming about what will be, dreams in themselves are not bad but get up, show up and DO something. Stop with the coffee shop meetings and go do something.
Source: collegetimes
9. They can't face adversity
"All sunshine and no rain makes a dessert" – Arabian Proverb
⌄ Scroll down to continue reading article ⌄
There was a shepherd boy, he was not a warrior and he was small in size. He looked at a giant and said "I will strike you down and cut off your head" and that is exactly what he did. The thing with challenges is, they're only as big as we make them seem and as strong as our weakness will allow. Unsuccessful people have not understood this and they give up all too quickly because things got uncomfortable, things got a little bit rough, they want roses without the thorns, babies without labour and a pot of gold at the end of the rainbow without bearing the storm. Overcoming challenges not only bring us closer to our goals but they turn us into someone we never imagined existed. Don't be afraid to conquer fears and to enter new territory, step out of your comfort zone and challenge yourself. In the midst of adversity courage is born. You'll never know how strong you are if you've never had to fight and sometimes you might fail but at least you failed and proved to Goliath that he wasn't quite the Giant he thought he was.
Source: deliyachris
10. They are apathetic
"So, because you are lukewarm, and neither hot nor cold, I will spit you out of my mouth" -Revelation 3:16
Yes there are natural fence sitters. They never have an opinion about anything, they can't make decisions and are over the border plain ignorant. They can't hold smart conversations and are not open minded if it isn't directly in relation to what they know. They think everyone should view life the way they view it. They are indifferent about everything and stand for nothing. They don't read, they don't educate themselves past "formal education" and they put no effort into how they present themselves. Even if they never achieve their highest potential this is okay with them because in a world so full of wonder and curiosity they have managed to find a way to be bored. Apathy is a silent killer. Find something that you are passionate about, even if you don't get paid for it. Put your gift to use.
Source: screencrunch
The people who are out there making things happen are not as extraordinary as we make them ought to be. They're pretty plain and most of the time after a second glance they're not all that exceptional in any way but they've managed to get to where they are and stay there because they mastered the art of discipline and being the right person at the right time. Maybe you have so many things you want to complete and sometimes you feel so overwhelmed because, there's just not enough time. Put the cell phone down, log off once in a while and stop minding everybody's business and you'll be amazed at the potential you'll unlock.
https://www.lifehack.org/articles/productivity/10-reasons-why-some-people-will-never-suceed.html
Lansing Street Advisors is a registered investment adviser with the State of Pennsylvania..
To the extent that content includes references to securities, those references do not constitute an offer or solicitation to buy, sell or hold such security as information is provided for educational purposes only. Articles should not be considered investment advice and the information contain within should not be relied upon in assessing whether or not to invest in any securities or asset classes mentioned. Articles have been prepared without regard to the individual financial circumstances and objectives of persons who receive it. Securities discussed may not be suitable for all investors. Please keep in mind that a company's past financial performance, including the performance of its share price, does not guarantee future results.
Material compiled by Lansing Street Advisors is based on publically available data at the time of compilation. Lansing Street Advisors makes no warranties or representation of any kind relating to the accuracy, completeness or timeliness of the data and shall not have liability for any damages of any kind relating to the use such data.
Material for market review represents an assessment of the market environment at a specific point in time and is not intended to be a forecast of future events, or a guarantee of future results.
Indices that may be included herein are unmanaged indices and one cannot directly invest in an index. Index returns do not reflect the impact of any management fees, transaction costs or expenses. The index information included herein is for illustrative purposes only.