1. Marijuana ETFs -50% on Average from Highs.
MSOS-The Largest Weed ETF back to Covid lows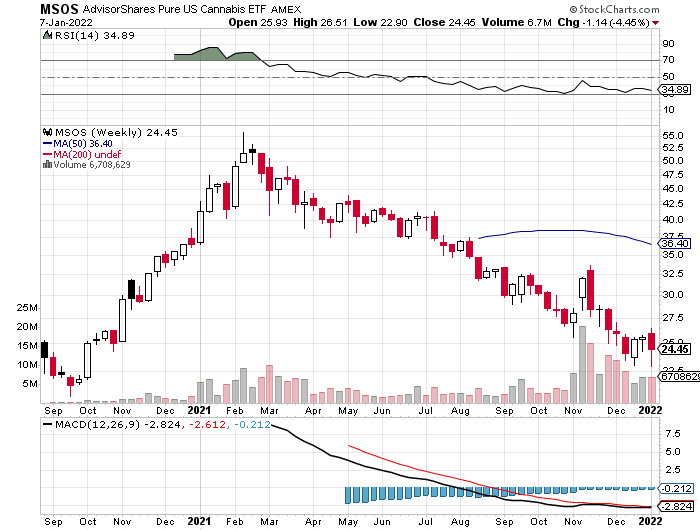 ---
2. Market Rotation Out of Non-Profit Tech Stocks.
Investors dash out of US tech stocks in powerful market rotation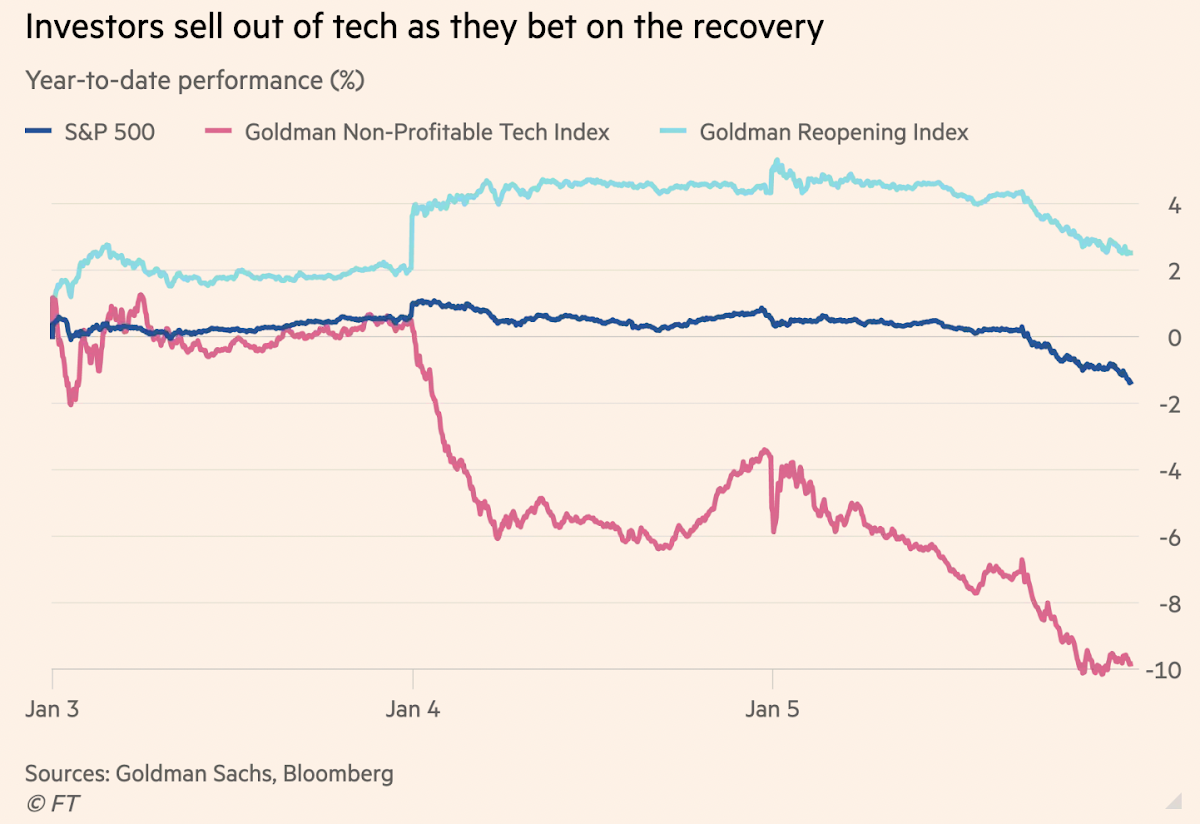 From The Big Picture Blog
---
3. 10 Year Treasury Yield Broke Out of Short-Term Range…..Is 30 Year Next?
30 Year Treasury Yield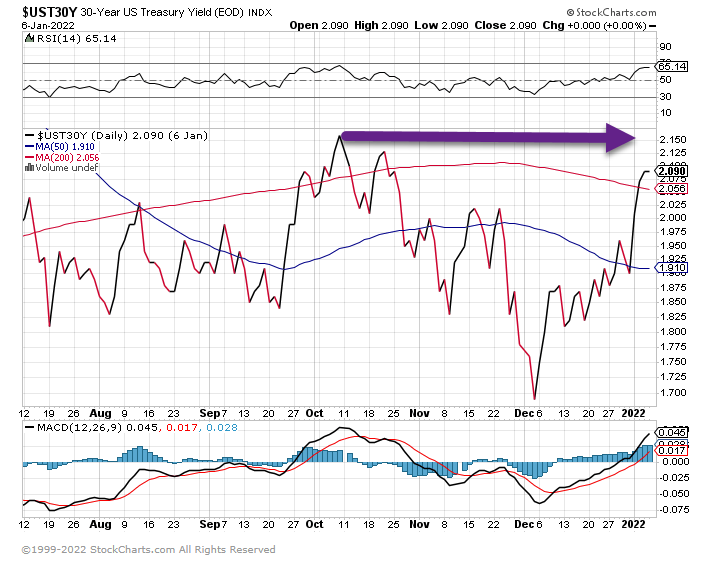 ---
4. Unemployment Rate Drops to 3.9% Pointing to March Rate Hike
Strange Jobs Report Opens Door for March Rate Hike
The headline nonfarm payroll number was a big miss at 199,000 (vs. 450,000 expected). Seasonal adjustment problems may be partly to blame for the payrolls miss, but we expect the December release will also see upward revisions, as alternative data sources report much stronger job growth last month.
Despite the payrolls miss, the rest of the report points to a hot labor market. Most notably, the unemployment rate dropped by 30 basis points to 3.9 percent, which is just 40 basis points above where the Federal Reserve (Fed) expects unemployment to be in the fourth quarter of 2022. We could reach that level as early as this spring with the possibility of reaching 3 percent by December. The tight labor market will increase wage pressure, making a March increase in the overnight rate more likely.
The drop in the unemployment rate was due to a gain of 651,000 people working in the household survey, while the labor force participation rate was unchanged. The unchanged participation rate will add weight to Fed Chair Powell's comments that a good portion of the participation shortfall is voluntary at this point, meaning that the labor market may already be at or beyond full employment.Most of Remaining Labor Force Shortfall is People 55+ Who Don't Want to WorkNot in Labor Force by Age and Reason: Dec. 2021 Compared to 6M Pre-Covid Avg.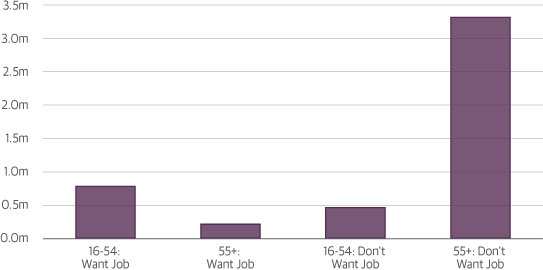 Source: Guggenheim Investments, Haver Analytics. Data as of 12.31.2021.
In another sign of how tight the labor market is, average hourly earnings rose 0.6 percent month over month, 20 basis points higher than expected, and November wage growth was also revised up. This wage data corroborate other data we're seeing on worker bargaining power, with both the quits rate and small business wage plans at record highs. Powell has repeatedly cited strong wage growth as an upside risk to inflation.
Wages Are Booming with Business Signaling More Ahead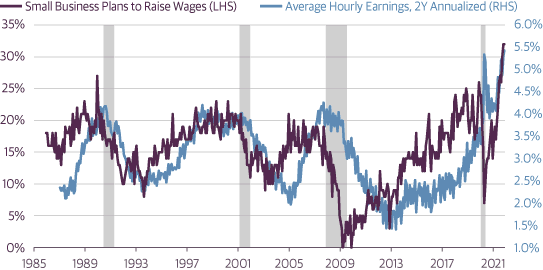 Source: Guggenheim Investments, Haver Analytics. Data as of 12.31.2021.

With the unemployment rate likely to reach the Fed's end of 2022 target within the next few months, and with rising risks of soaring wage growth exacerbating inflation, a March rate hike is increasingly likely.

By the Macroeconomic and Investment Research Group
Brian Smedley, Chief Economist and Head of Macroeconomic and Investment Research
Matt Bush, CFA, CBE, U.S. Economist, Macroeconomic and Investment Research
https://www.guggenheiminvestments.com/perspectives
---
5. For Short-Term Traders…Bitcoin the Most Oversold on RSI Since 2020 Crash.
Zerohedge-Bitcoin be the most oversold since the March 2020 crash, surpassing even the furious liquidations observed during the May 2021 crash.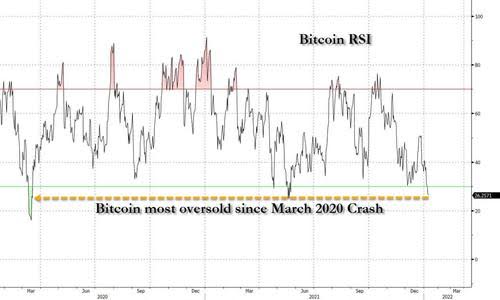 Waiting for the institutional bitcoin inflow?
Looks like you have to wait a bit longer. BTC has several problems when it comes to attracting the "real" institutional flow (we are not talking MSTR nor El Salvador). BTC lacks a shorter term trend and volatility continues to be huge. This is not what institutions are looking for…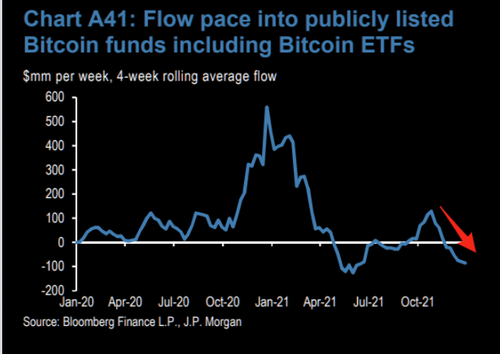 Source: JPM
https://www.zerohedge.com/the-market-ear/daretobuy
---
6. History of Bitcoin Corrections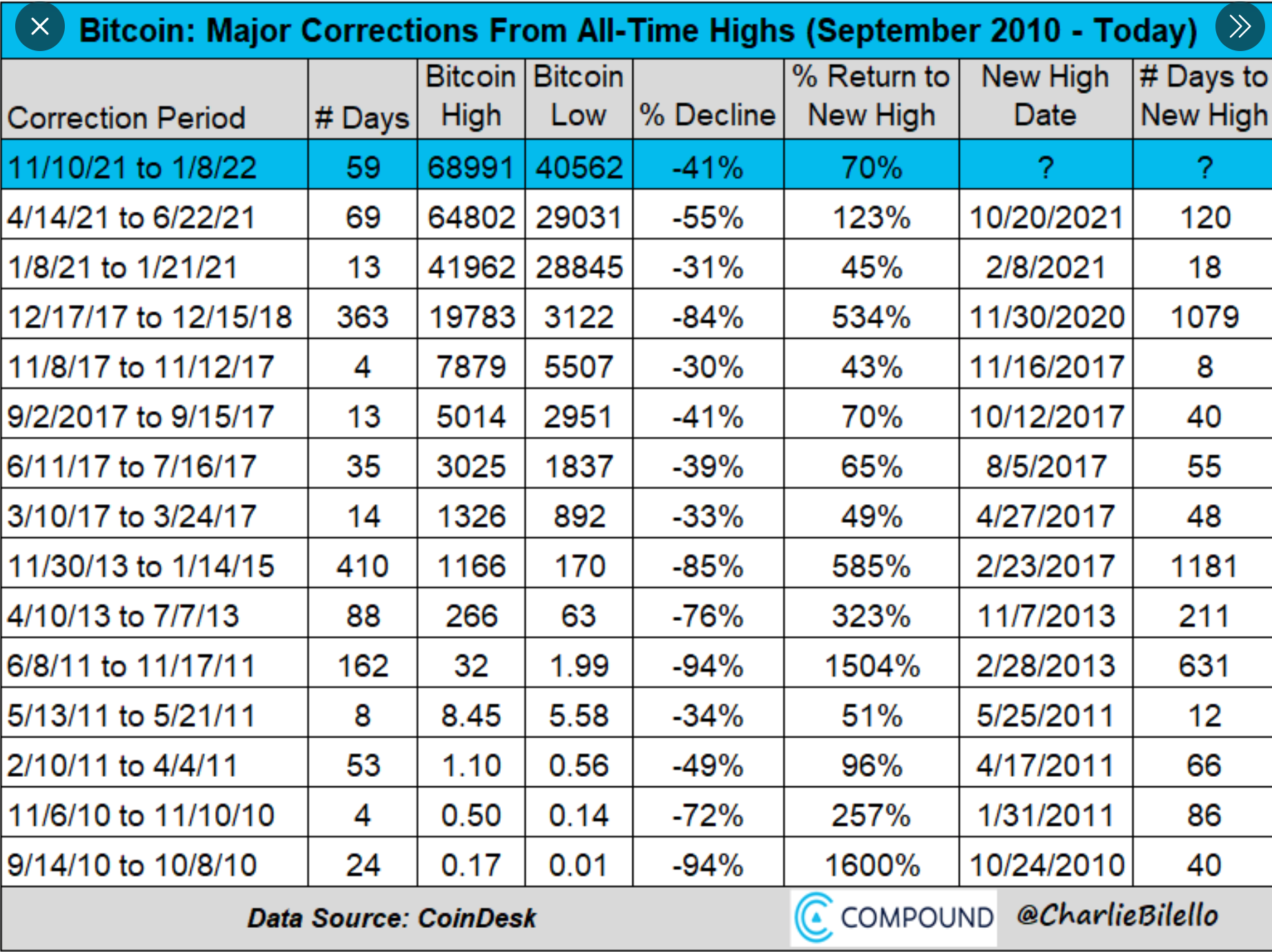 Small Coins Crushed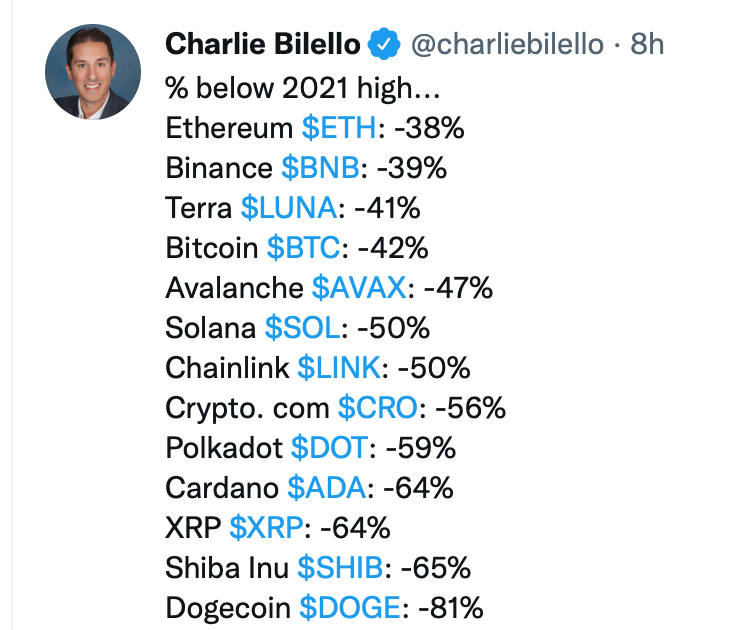 https://twitter.com/charliebilello
---
7. Crypto Fear and Greed Index at "Extreme Fear" Levels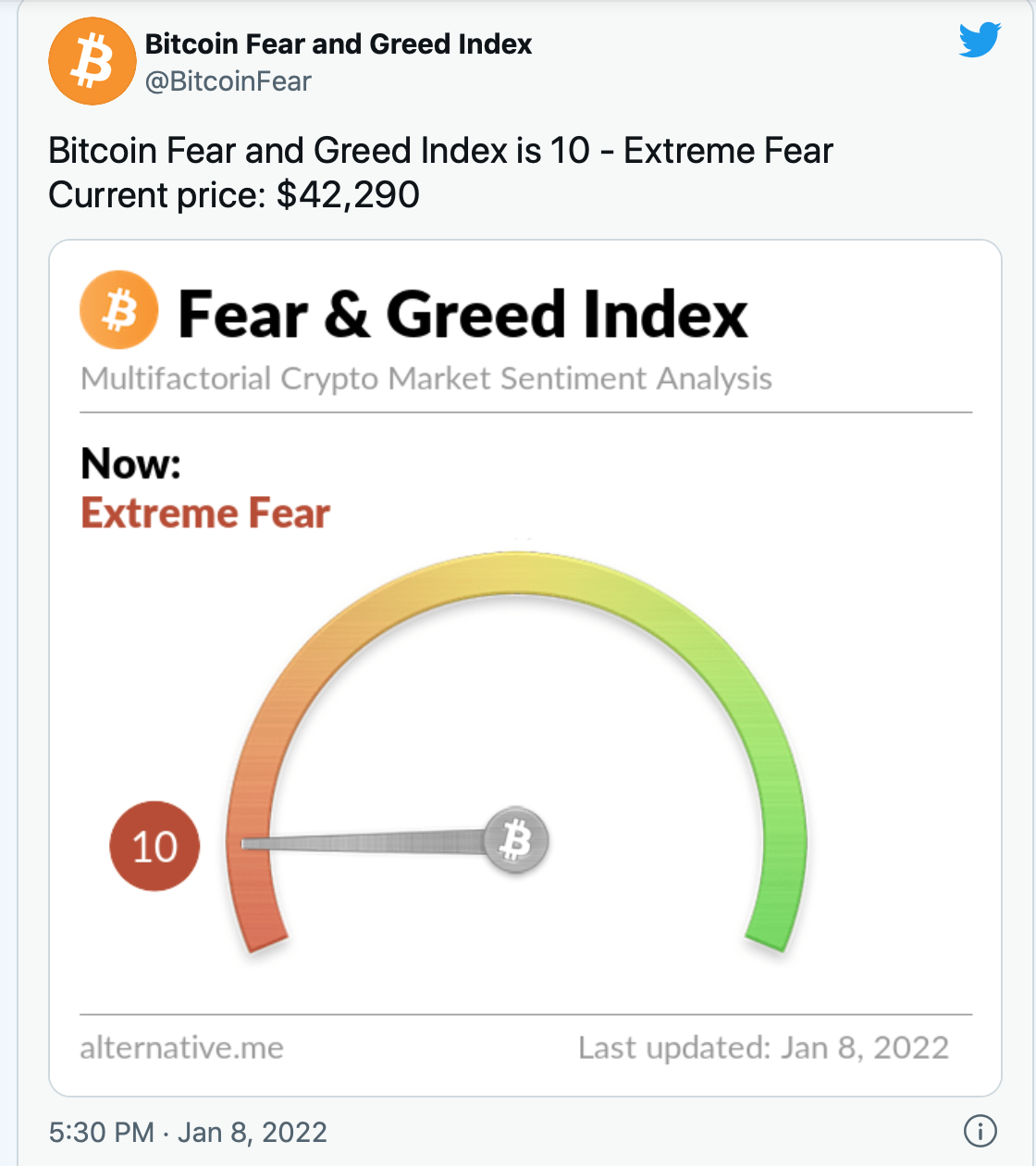 https://news.bitcoin.com/crypto-fear-and-greed-index-score-hits-5-month-low-analyzed-sentiment-points-to-extreme-fear/
---
8. States and Local Governments Running Healthy Surpluses.
Barrons-While the U.S. economy is expected to cool in 2022 after a pandemic resurgence, there's a largely untapped source of hundreds of billions of dollars in potential stimulus that could keep inflation elevated for longer—and it's sitting with state and local governments. 
State budgets are flusher than ever, benefiting from a Covid-driven combination of an estimated $885 billion in direct federal stimulus, soaring tax revenue, and curbed costs as some state and local services shifted online. State and local receipts were 16% above the prepandemic trend in the third quarter of 2021, according to an analysis by the Committee for a Responsible Federal Budget. State and local noninterest spending, meanwhile, was up just 5%.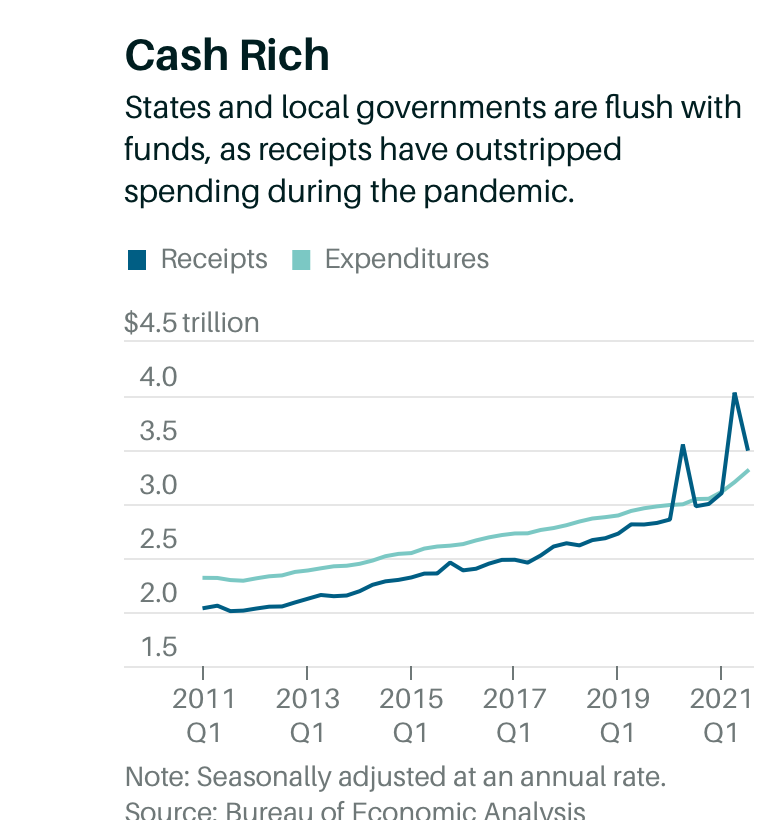 States Could Drive Rising Prices Even Higher. Here's How.By
https://www.barrons.com/articles/inflation-risk-states-stimulus-51641431634?mod=past_editions
---
9. Half of the U.S. Could Need Glasses by 2050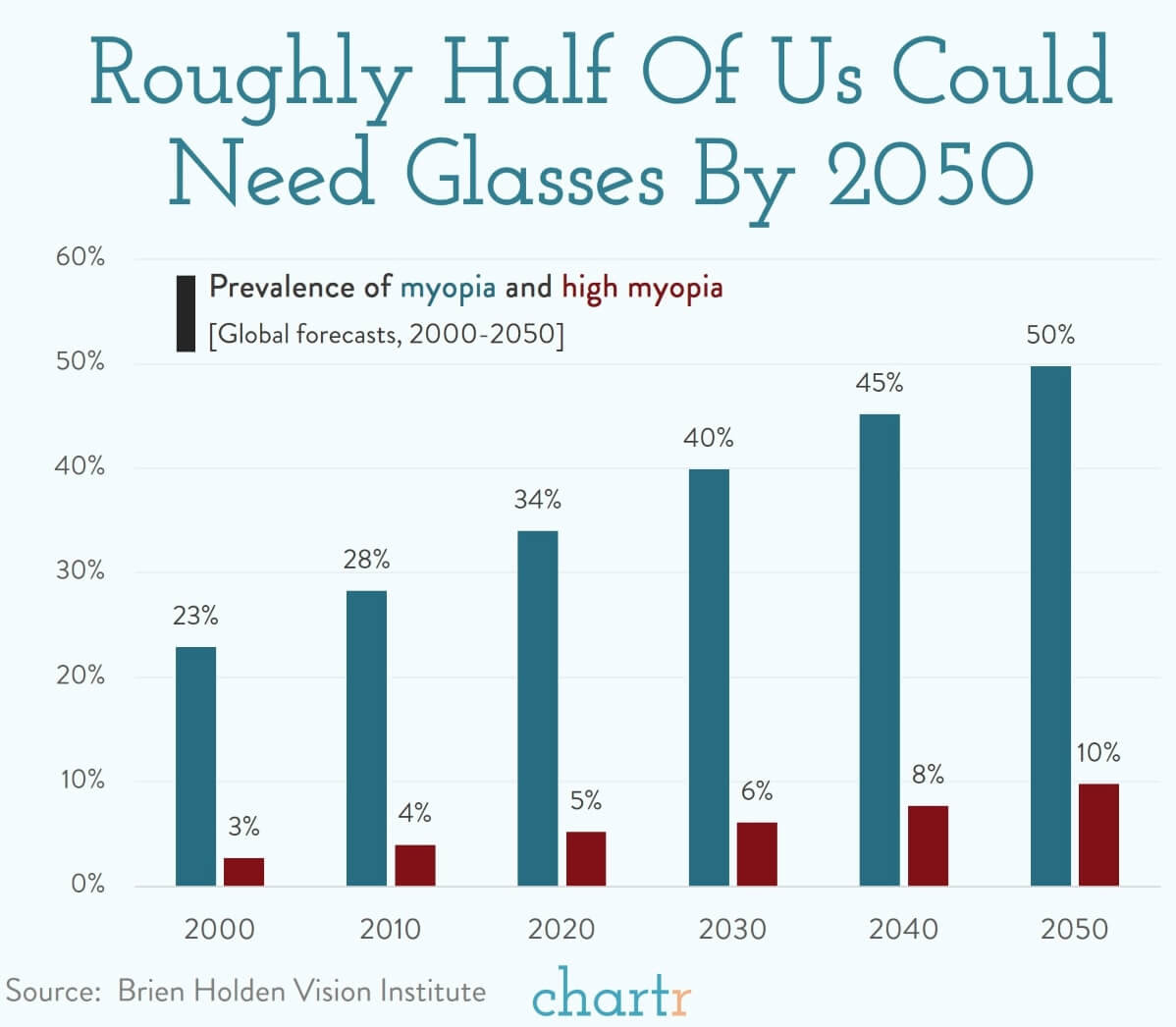 Myopia, or short-sightedness, is on the rise.

Data from the BHVI predicts that by 2050 almost half of the global population could be affected by Myopia — more than a doubling of the rate from the year 2000.

Has the pandemic made it worse?

With increased amounts of screen-time, it feels intuitive that our eyes might have been put under more strain in the last two years — and there's a decent amount of scientific evidence to back that up, as myopia has long been associated with spending more time indoors.

Although there haven't been any conclusive studies in adults since the pandemic, a study of children in Hong Kong from 2021 found that "the rate of nearsightedness that developed during the pandemic more than doubled what was found in a pre-pandemic study of children the same age". Good time to be a glasses maker.
---
10. Turning Goals into Results
How high achievers attain their goals. 
Posted January 9, 2022 |  Reviewed by Kaja Perina
KEY POINTS
Not knowing, not doing, and the knowing-doing-gap keeps us from achieving our goals.
A desire-fueled approach enables us to turn our goals into results.
Track the percentage of time spent doing focused, productive work towards your goals.
At the start of a new year, we typically take account of what we have accomplished and what we would like to accomplish in the current and coming year(s). We find new determination to set and achieve our goals.
Yet many struggle to achieve the goals they so resolutely desire. We may fall into the blame game – blaming our situation or ourselves for not achieving them. Living through the challenges of the pandemic can make achieving our goals more daunting.
Learning to turn goals into results is important.
Having and achieving goals leads to having and living a life of meaning and purpose. Of the many hurdles that can get in the way of our achieving our goals, broadly speaking they fall into four areas.
Not knowing Sometimes the problem is that we are not clear about what we want. We don't know what success would look like. So we meander in our efforts. In the absence of clarity, efforts are less directionally focused.
Not doing. Analysis paralysis is the swamp that can suck anybody in, but it is a special hazard for the more intellectually inclined. As they try to maximize and optimize choices, they incur the costs of indecisiveness and inaction. A mindset of risk aversion and reluctance to act leads to the next cause of failure to turn goals into results.
The knowing-doing gap. We know what our goals are at this point, and we often know what to do. But for many reasons, prominent of which is fear, we don't do the needful. We may not know how to do what is required.
Circumstances change. Sometimes, however, extraneous circumstances beyond our control limit what we can do and force us to change our goals and how to achieve them. Buffeted by circumstances, our priorities change. We encounter losses – health, finances, and relationships – that narrow or close options, forcing us to accept what is, adjust accordingly, and accommodate the new normal.
How to turn goals into results 
There is a straightforward approach to turning our goals into results. It's much like embarking on a road trip. It starts with having the desire to visit a destination. That leads to doing the required planning and preparation before setting off on the journey. Acknowledging the possibility that we may encounter road closures and detours that delay us can help us focus on reaching our destination. We can apply the same principles at scale to achieve our short-term and long-term goals.

Turning Goals into Results
Source: Rahul Bhandari
Desire is a powerful force of human nature. Advertising, branding, and marketing professionals harness it effectively. You, too, must tap into the power of desire to help you accomplish your goals. Generate within you a burning desire to achieve specific goals. Thinking of this process as strategic intent gives you the heuristic to align all you think and do towards achieving your goal(s). Shift your mindset from resisting what is required to the opportunity and ability to do it. This subtle shift from "I must do this" to "I get to do this" will allow you to take pleasure in and derive additional benefit beyond the task—giving you an added boost to do what is required.
Strategic intent in Sanskrit is known as sankalpa, a heartfelt desire, a solemn vow, an intention, determination, or a one-pointed resolve to do something. A sankalpa is a tool meant to harness the will, and to focus and harmonize mind and body on a specific goal. Your sankalpa is not just your intention. It's your heartfelt desire: What you are meant to do in the world.
Planning is essential to achieving goals. An effective way of planning is to analyze, prioritize, and develop an operational plan. An excellent place to start is by taking an inventory of where you're spending your time.
Over 13 weeks, track where you're spending your time at 15-minute intervals. Then analyze the data by simply grouping the specific activities into types of activity. For example, a senior executive discovered she is spending 30% of her time in meetings she initiates, of which 80% are one-on-one meetings and 20% involve teams of people. Another 20% of her time goes into performance reviews. And so on.
\What percentage of your time are you spending doing focused, productive work towards your goals? This simple analysis gives you insights into what to stop doing, what to prioritize, and when to spend time aligned with fulfilling your desires. You can use the insights to then create a plan–for the year, quarters, months, weeks, and down to what you will accomplish each day and where you'd spend your time in 15-minute blocks. Bringing this intentionality alone provides the nudge to keep you focused on working towards achieving your goals.
Doing what is required is at the heart of achieving your goals. Three capabilities help. First, learn to manufacture time. Focus on the 20% of the effort that will get you 80% of the results. Don't do that which you can have others do. Delegate. Second, build a team to help you in your journey. Think of elite athletes: They have an entire team of coaches, nutritionists, sports psychologists, and friends helping them prepare for and achieve their goals. Lastly, you don't have to do everything all at once. Activate the power of compounding. Doing tasks incrementally but consistently over time accrues tremendous outcomes. This is the secret behind overnight success, which takes years of consistent and directionally focused effort.
The power of intentional living
Even the best-laid plans can sometimes be ineffective in helping us achieve our goals. The beauty of intentional living is that we can be agile – we can change our goals, come up with new plans, and take the required action to achieve them. Knowing what your goals are, planning and preparing to achieve them, and then doing what is required consistently is a proven recipe for success.
You've got this.
https://www.psychologytoday.com/us/blog/turning-adversity-advantage/202201/turning-goals-results