1. Asset Class Returns in Falling Dollar Environment
From Nasdaq Dorsey Wright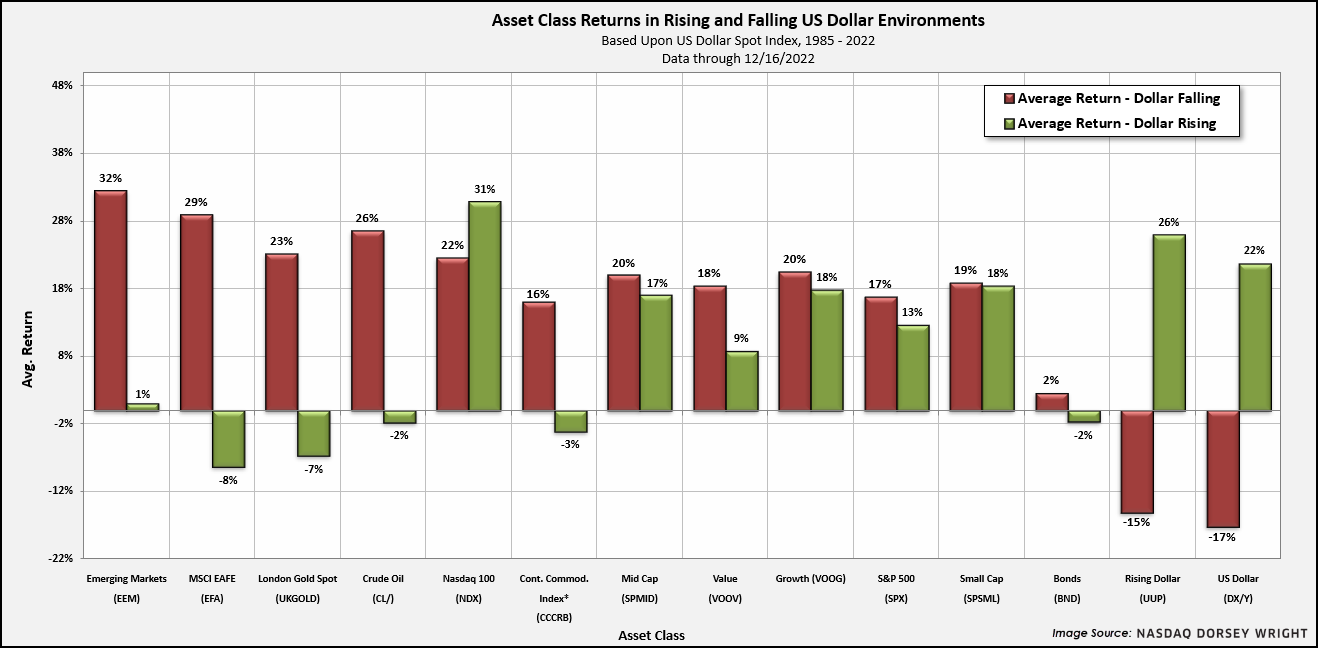 https://www.nasdaq.com/solutions/nasdaq-dorsey-wright
---
2. Bank of Japan Catches Market Off Guard
CNBC-Elliot Smith
– The Bank of Japan caught markets off guard by tweaking its yield curve control policy to allow the yield on the 10-year Japanese government bond to move 50 basis points either side of its 0% target.
-In its policy statement, the BOJ said the move is intended to "improve market functioning and encourage a smoother formation of the entire yield curve, while maintaining accommodative financial conditions."
https://www.cnbc.com/2022/12/20/bank-of-japan-shocks-global-markets-with-bond-yield-shift.html
Japanese Yen to U.S. Dollar Straight Down 2020-2022 …Bounce in Last 2 Months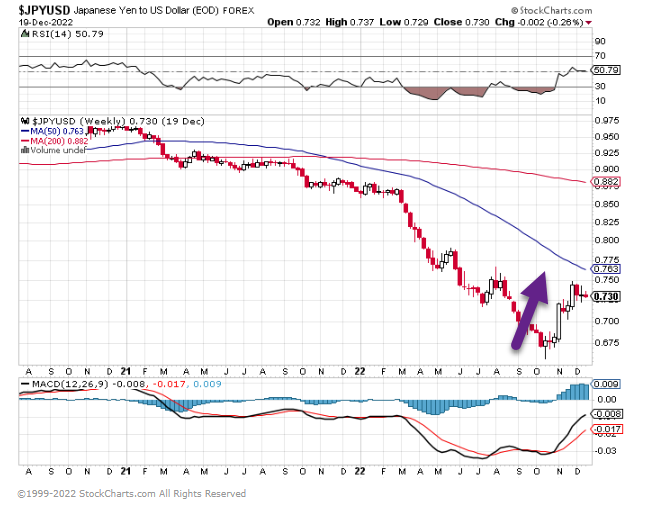 ---
3. Short Interest in S&P Collapsing
From Dave Lutz at Jones Trading JPM notes that Short Interest in SPY is collapsing near 2022 lows.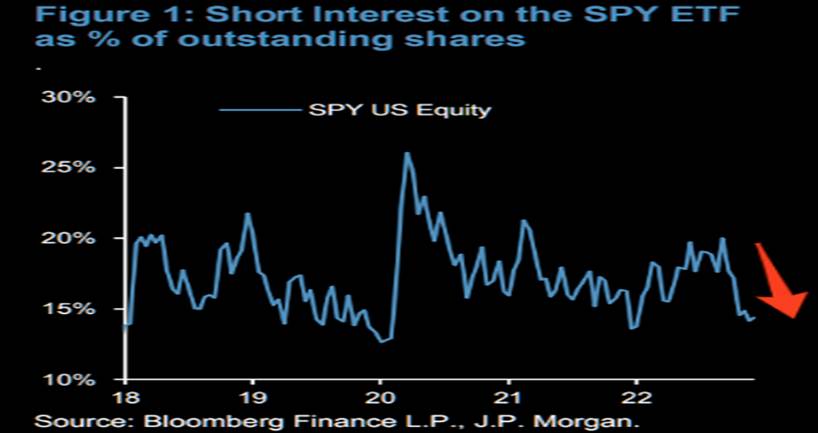 ---
4. Follow Up to Yesterday's Aerospace/Defense Chart….Raytheon Hiring 23,000 People.
Raytheon Still Has Labor Shortfall After Hiring 23,000 Workers
Raytheon Technologies is struggling to fill 13,000 job openings as labor shortages compound the disruption from supplier shortfalls, CEO Greg Hayes told a Morgan Stanley conference on Wednesday.
·   Company has already hired 23,000 workers this year
o    Has lost 15,000 to attrition
·   Annual sales expected to be at the lower end of forecast range due to supplier strains
o    Sees structural casting shortages crimping engine production through year end
o    Microelectronic chip shortages likely to linger through mid-2023
·   Predicts Airbus will produce A320neo at 65-jet monthly rate in 2025, below the planemaker's target
https://news.bloombergtax.com/daily-tax-report/raytheon-still-has-labor-shortfall-after-hiring-23-000-workers?context=article-related
Raytheon 50day thru 200day to Upside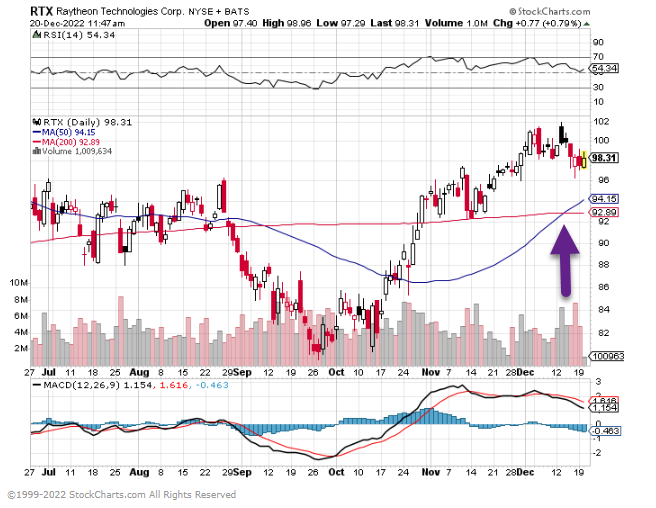 ---
5. Crowded Airports with Travel Back ….JETS ETF No Bounce
Airline ETF Downward Channel Since Early 2021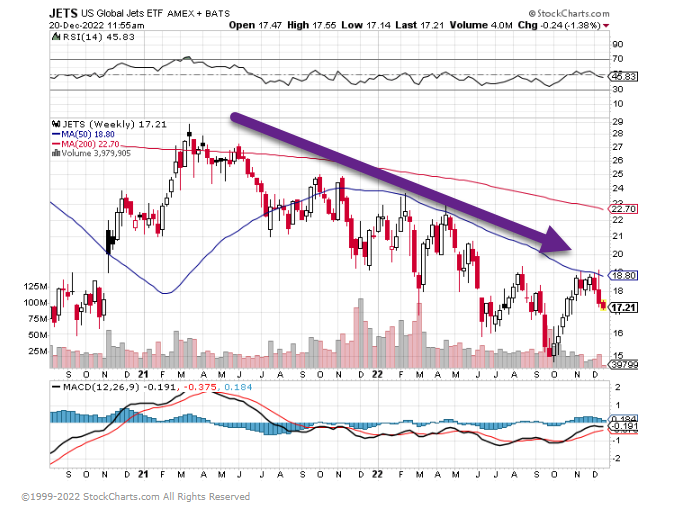 ---
6. E-Commerce Falls from 18.8% of Retail Shopping to 16.4%
WSJ By Isabelle Bousquette  Two years on, shoppers are returning. E-commerce is now 16.4% of all retail shopping, down from 18.8% at the height of the pandemic, according to the National Retail Federation. https://www.wsj.com/articles/retailers-rethink-in-store-tech-as-shoppers-return-11671233235?mod=tech_featst_pos3
RTH-Retail ETF 3 Lower Highs in a Row….But Another Chart that Never Broke Long-Term 200 Week Moving Average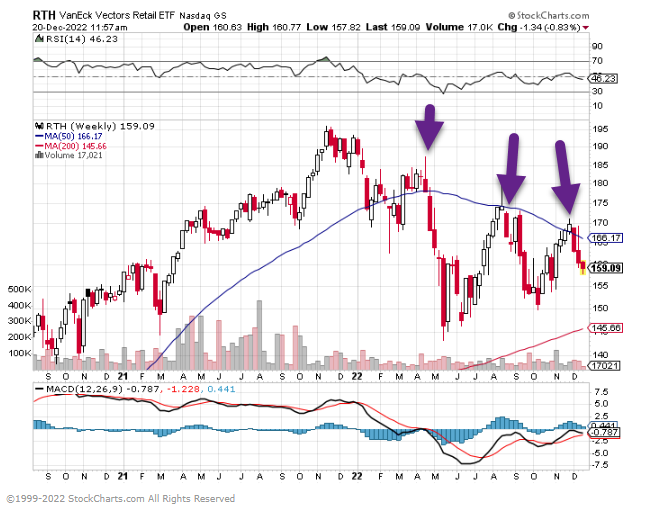 ---
7. Dogecoin Now Worth More Than Coinbase and Silvergate Combined.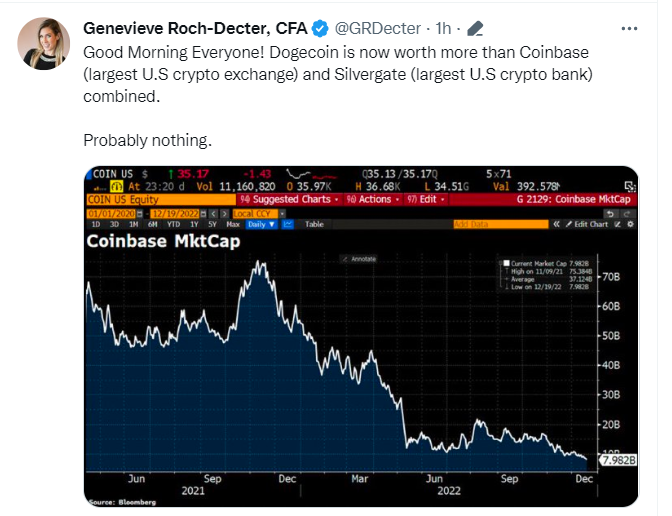 https://twitter.com/GRDecter
---
8. More Solo Households in America than with Children for the First Time Ever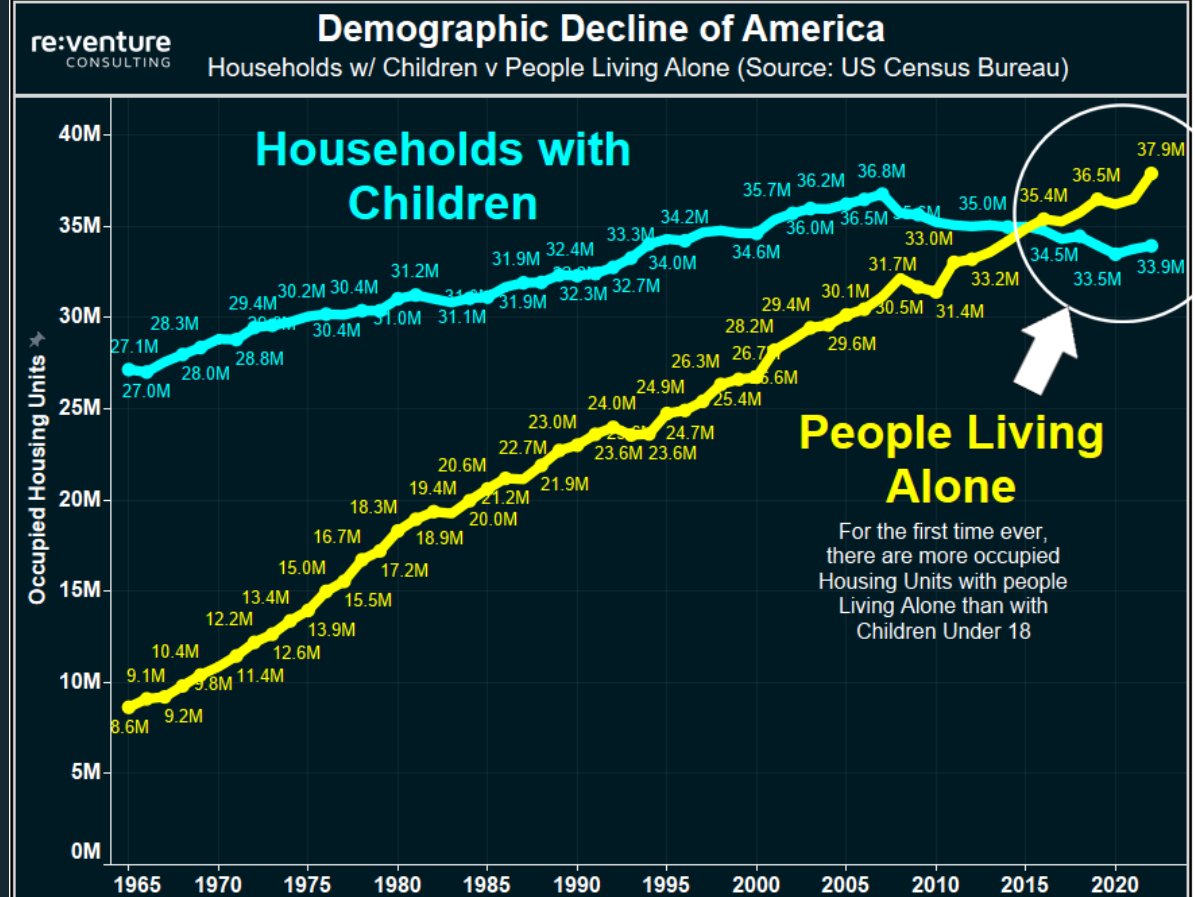 ---
9. New electric car buying incentives kick in Jan. 1, and a lot has changed. Here's an explainer.
Marketwatch By Sean Tucker
Only some Teslas will qualify; if you're thinking of buying one, you should either wait or act really fast
Congress changed the rules governing electric car tax credits over the summer, but the changes didn't immediately take effect. Some will kick in soon, while others will taper in over time. The evolving rules mean that the best time to buy an electric vehicle depends on everything from which car you want to your current income.
We'll break it down for you.
What has changed, what will change
Before Congress passed the Inflation Reduction Act in August, federal EV tax credits were reasonably easy to understand. Buyers could claim a credit of up to $7,500 if they bought one of the first 200,000 EVs or plug-in hybrid vehicles (PHEVs) a manufacturer built.
Once a manufacturer hit that cap, the credit phased out over the remaining year.
Two manufacturers, General Motors GM, -0.23% and Tesla TSLA, -5.22%, had exceeded the cap. Buyers couldn't qualify for a credit when buying one of their cars. Another — Toyota TM, -0.07% — crossed it during 2022, meaning buyers could still be eligible for part of the credit.
No other manufacturer had hit the cap, so all EVs and PHEVs from other manufacturers qualify today.
The act changes the rules radically. Broadly, it eliminates the manufacturer cap and introduces income and price limits instead.
That means buyers can again qualify for the credit when buying a GM, Tesla, or Toyota product. But only if they fall under income limits and the car falls under price caps.
Those rules take effect on Jan. 1, 2023.
Some vehicles that don't qualify for a credit on Dec. 31 will be eligible on Jan. 1 — chiefly those made by GM and Tesla.
New income and price caps
Only individuals reporting adjusted gross incomes of $150,000 or less qualify for the discounts. The limit moves to $225,000 for those filing as head of household and $300,000 for joint filers.
The law also introduces price caps. The discount now applies only to cars priced under $55,000 and trucks and SUVs priced under $80,000.
That rules out many Tesla products. Only the least-expensive version of its Model 3 sedan, the Model 3 Standard Range, sneaks in under the price cap. Every Tesla Model Y SUV qualifies. No Model S or Model X makes it in under the price cap.
Factory location limits
Congress aimed the new regulations at getting more Americans into electric cars to cut greenhouse gas emissions. But it has other aims, too.
Lawmakers designed the act to boost North American manufacturing. Only EVs assembled in North America qualify for the credit. That rules out some popular models, like the Hyundai Ioniq 5, 2022 North American Car of the Year, built in South Korea.
The act also phases in a set of rules requiring manufacturers to mine critical battery components in the U.S. or from major trade partners. Those rules don't kick in until 2024, so you don't need to factor them into your buying decision today.
Automakers are working to adjust their supply chains to meet the requirements. But, according to the Alliance for Automotive Innovation (a major industry trade group), no electric car could meet the battery sourcing requirements today.
Tesla is offering a discount to shop before Jan. 1
Many Tesla shoppers have figured out that their car will qualify for a tax rebate if they wait to buy — so many that it may be causing problems for the company.
Tesla reports delivery figures quarterly. The company has had a rough quarter, with its stock price falling dramatically after CEO Elon Musk began devoting much of his time to running Twitter. There are signs it's worried about an artificially low delivery number in its fourth quarter results because of all the customer-requested late deliveries.
That could benefit buyers.
Tesla rarely discounts its cars. But in December, it's offering a discount of $3,750 on every Model 3 and Model Y if customers agree to take delivery in 2022.
For some buyers, waiting for the tax rebate in January is still the best move. But if you plan to buy a Tesla and your income will keep you from qualifying for the tax incentive, you could see a lower price by buying now.
Reasons to wait another year?
One last component of the law might affect your decision. Before and after Jan. 1, 2023, the rules allow you to take the $7,500 discount as a credit on your taxes.
On Jan. 1, 2024, dealers will be allowed to offer it as an upfront discount instead. Waiting another year might make sense for buyers who can't easily afford to float the $7,500 until tax time.
Putting it all together
So, if you're shopping for an electric vehicle, when should you buy it?
If you want a GM, Tesla, or Toyota product, you won't be eligible for the $7,500 tax credit in 2022. You might be eligible in 2023 if your income and the car's price both fit under the new caps. In that case, you should wait.
If you're buying a Tesla Model 3 or Model Y, however, and either your income or the car's price means it won't qualify, act now and take Tesla's discount offer.
See: The 2023 Kia EV6 is more than $17,000 cheaper than the Tesla Model Y. How do they compare?
If you want to buy an EV from another manufacturer, you might be better off acting before Jan. 1. Income and price caps won't affect your purchase then, and many cars that qualify under the old rules won't be eligible under the new ones because of where they build them.
This story originally ran on KBB.com. 
https://www.marketwatch.com/story/new-electric-car-buying-incentives-kick-in-jan-1-and-a-lot-has-changed-heres-an-explainer-11671130838?mod=home-page
---
10. Everything You Know About How to Sell Yourself Is Wrong, According to Wharton Psychologist Adam Grant
Whether you're pitching a startup, making a speech, or applying for a job, don't follow this common advice.
BY MINDA ZETLIN, AUTHOR OF 'CAREER SELF-CARE: FIND YOUR HAPPINESS, SUCCESS, AND FULFILLMENT AT WORK'@MINDAZETLIN
Adam Grant. Photo: Getty Images
Vision. Passion. Confidence. Most of us–especially in the startup world–have heard over and over that we need these things to be successful. Whether you're pitching a potential investor, selling a big customer, or even applying for a dream job, the more of these three things you have, the better–so conventional wisdom goes.
Adam Grant, Wharton psychologist, TED speaker, and best-selling author, says this is all wrong. In fact, he himself receives dozens of pitches every day, and he rejects many of them for leaning too hard on those three elements and being too light on things like data, asking for advice, and a desire to collaborate.
In an episode of his podcast WorkLife earlier this year, Grant actually invited a company founder who'd pitched him onto the show to discuss how these three elements led to her pitch being rejected–and she was both brave enough and wise enough to accept the invitation. The result is a fascinating conversation and some great lessons that can help all of us every time we pitch anyone–to invest, try our idea, buy what we're selling, or even hire us.
Here's what Jessica Holton, co-founder of the online relationship counseling startup Ours, learned from her conversation with Grant–and what we can all learn as well.
1. Don't start by talking about your vision.
You have grand ideas about how the world would be a much better place if everybody could use your product, service, or ideas. For example, in her pitch, Holton told Grant her company's goal was to "revolutionize relationship health." 
"Why does relationship health need to be revolutionized?" Grant asked. "Where is the proof that it's broken, that people are in pain, that they're struggling with their relationships, that they don't have the existing access to the solutions they need?"
Holton told him she'd gotten lots of advice to "sell a vision." 
Grant responded: "That's the first myth: 'Lead with your bold idea!' But research suggests that no one cares what you'll create in the future until you convince them there's something wrong with the present." Many people suffer from "the curse of knowledge," he added. Having studied a problem for months or years, "it's so crystal-clear in your mind that you often forget to explain it to others."
2. Preparation is more important than passion.
A second myth is that a great pitch must convey great passion, Grant said. Nearly every founder has heard this advice. "But in a study of a business plan competition, the amount of passion that founders showed had no bearing on whether judges decided to fund their pitches," he said. "The founders who got investments were the ones who were rated as more thoughtful, logical, and fact-based."
Passion is great, he added–no one is suggesting you should not be passionate about whatever it is you're pitching. But doing your homework is a better path to success.
3. Don't act like you have all the answers.
"We have the best team in the world to build a brand that makes relationship health accessible," Holton wrote in her pitch. That sentence raised a big red flag for Grant, who found it self-aggrandizing. 
"Which takes us to our third myth–the key task in a pitch is to project confidence," he said. He acknowledged that the question of expressing confidence is a loaded one for female founders seeking investment. "Research shows that investors typically ask male founders about upside potential (how will you win?) but female founders about downside risk (how will you make sure you don't lose?)," he noted. "So, for better or worse, a lot of advisers told Jessica that it was critical to express confidence."
What's wrong with expressing total confidence? "Evidence shows that when people are considering working with you, they care at least as much about whether you're collaborative as whether you're capable," Grant explained. "And I've found that one of the ways to signal that you're collaborative is to talk about some of your shortcomings. It shows you're receptive to input and open to learning." 
I agree with Grant that talking about shortcomings could be tricky for female founders pitching investors if those investors tend to assume that women founders are less capable than men, even though the data suggests that the opposite is true. At the same time, whatever your gender, it's smart to remember that in most pitching situations, part of what you're selling is a relationship with you. Most investors won't just send a check and then sit back and wait for results–they're also offering their advice and their connections. And, of course, someone who hires you is likely to spend lots of time with you every day. So it's a good idea to communicate that you're eager to work with the people you're pitching, and to learn from them. And to give them the sense that working with you will be a fun and collaborative experience.
In my new book Career Self-Care, which I'm honored that Grant endorsed, I explore how asking for help or advice when you need it is a sign of strength, not weakness. It's something truly confident people are not afraid to do. If you're pitching an investor or interviewing for a job, chances are you don't just want money–you also want that person's support, their insight, and their goodwill. Keep those things in mind during every pitch, and you'll increase your chances for success.
https://www.inc.com/minda-zetlin/everything-you-know-about-how-to-sell-yourself-is-wrong-according-to-wharton-psychologist-adam-grant.html?utm_medium=social&utm_campaign=freeform&utm_source=linkedin