1. Textbook Investor Behavior…Largest 5 Week Period of Global Equity Flows Ever.
Global Equities logged +$133B worth of inflows over the past 5 weeks. This is the largest 5 week period on record by ~30% – GS Traders note January is right around the corner and this is when 37% of the YEARLY rebalances takes place. Potentially as much as $100bn of equity inflow is a guesstimate.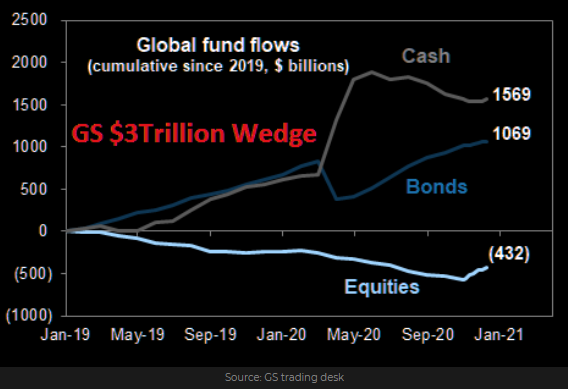 From Dave Lutz at Jones Trading
2. Asset Class Returns over the Last 10 Years…
Charlie Bilello, @charliebilello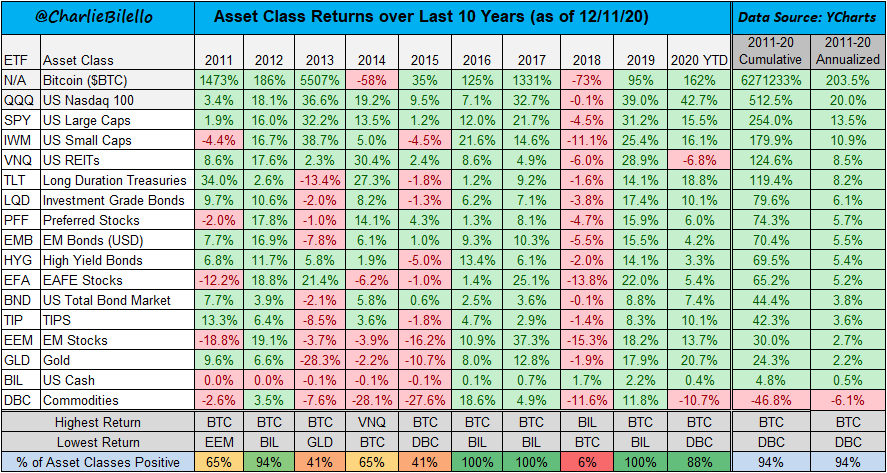 3. Small Caps vs. S&P ….Small Growth Leading
The near-term improvement is noteworthy, but when we compare Small Cap Growth and Small Cap Value to the S&P 500 over the past year, we find glaring differences between the two groups.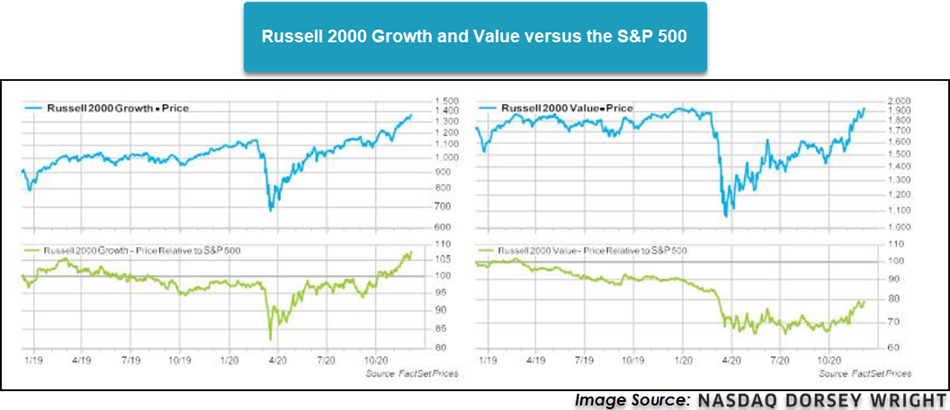 As we can see from the image above, the Russell 2000 Growth index has performed well and is above where it was prior to the March sell-off. Relative to the S&P 500, the Russell 2000 Growth Index is comfortably outperforming year-to-date. On the other hand, the Russell 2000 Value Index is barely in the black on the year returning 1.03%. While the Russell 2000 Growth Index has improved dramatically against the S&P 500 since March, the Russell 2000 Value Index has struggled to improve on a relative basis despite laggards rallying over the past several weeks.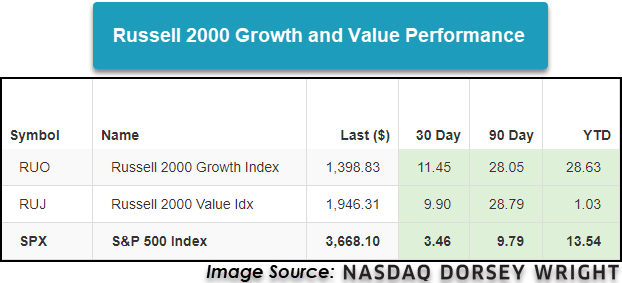 4. Two Records-World Negative Yielding Debt Hits New High and Global Stock Market Cap New Record

BY TYLER DURDEN–Submitted by Christophe Barraud
The pool of negative-yielding debt across the world exceeded $18 trillion for the first time in history, according to Bloomberg data. The move came after the ECB announced it will expand its massive monetary stimulus program by another €500 billion and will extend emergency bond purchases for nine months.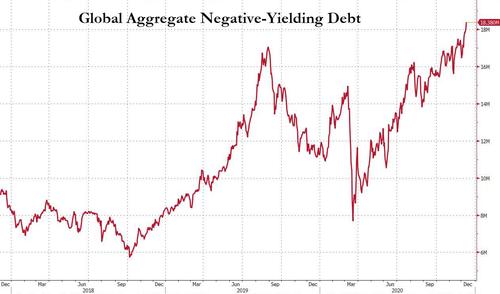 These policies have led to a sharp increase in money supply and have contributed to inflate price of financial assets such as bonds (downward pressure on yields) and equities. In this context, Bloomberg World Exchange Market Capitalization (equities) topped $100 trillion last week.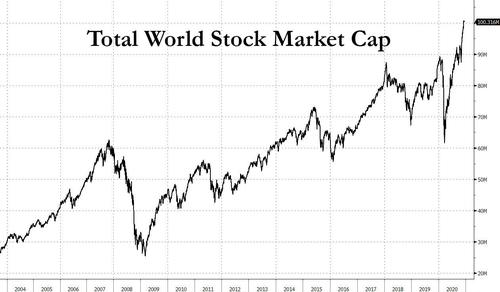 Negative-Yielding Debt Exceeds $18 Trillion As Global Market Cap Hits $100 Trillion
https://www.zerohedge.com/markets/negative-yielding-debt-exceeds-18-trillion-global-market-cap-hits-100-trillion
5. Tesla 6th Largest Company in S&P Based on Market Capitalization
Wolf Street–Based on its market capitalization, at the moment $578 billion, Tesla would be the sixth largest company in the S&P 500 behind Apple, Microsoft, Amazon, Google, and Facebook. And it would weigh over 1% of the S&P 500 index. This massive market cap is turning the otherwise fairly routine event of rejiggering the S&P 500 index into a global spectacle.
But Tesla has a market share of the global passenger vehicle market of about 1%. It's just a small automaker. But Tesla's market cap ($578 billion) is now about equal to the combined market cap ($582 billion) of Toyota (Toyota and Lexus), Volkswagen (VW, Audi, Porsche, and many other brands), Daimler, GM, BMW, Honda, and Ford – an amazing sight: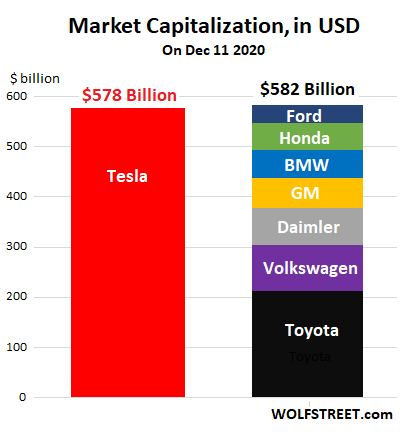 Tesla, Quadruple-WTF Chart of the Year- By Wolf Richter for WOLF STREET.
https://wolfstreet.com/2020/12/12/tesla-the-quadruple-wtf-chart-of-the-year-it-should-just-sell-shares-on-autopilot-at-huge-prices-and-exit-sordid-business-of-making-cars/
6. VIX Volatility Index Holding $20 Levels
VIX broke thru August lows but did not break 20 level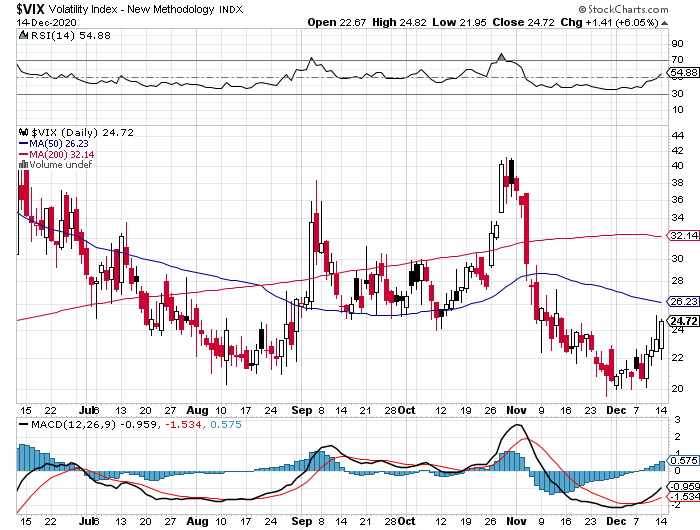 ©1999-2020 StockCharts.com All Rights Reserved
7. Here's when the Covid vaccine could be available at your neighborhood drugstore, grocery store
PUBLISHED MON, DEC 14 20203:46 PM ESTUPDATED MON, DEC 14 20204:37 PM EST
KEY POINTS
· Walgreens and CVS Health officials said they expect to have Covid-19 shots for the general public at their stores in the early spring.
· The two drugstore chains are playing a central role in an earlier phase of the rollout: Vaccinating staff and residents at tens of thousands of long-term care facilities, such as nursing homes.
· Rite Aid, Kroger, Publix and H-E-B — some of the other retailers involved in the vaccine effort — said they're still waiting to hear when they will receive vaccine doses and can begin offering the shots.
Health-care workers across the U.S. received Covid-19 vaccinations Monday, the first Americans to do so outside of a clinical trial.
It will still be several months, however, before the average person can walk into their local drugstore or grocery store and receive the vaccine. In interviews with CNBC, Walgreens and CVS Health officials said they expect to give shots to the general public starting in the early spring.
"Over the next couple of months we anticipate that we'll be able to have [it in] our stores similar to the flu season," Rina Shah, group vice president of pharmacy operations at Walgreens, said Monday on CNBC's "The Exchange."She said that would be "hopefully in the spring timeframe."
For now, Shah said, it's important for health-care workers and long-term care facilities residents to take priority, because supplies remain limited.
"As more and more vaccine becomes available, access to that vaccine will continue to grow," she said.
https://www.cnbc.com/2020/12/14/covid-vaccine-cvs-walgreens-early-spring.html
8. Share of Rent Received in April
https://www.reit.com/news/blog/market-commentary/nareit-member-survey-results-covid-19-and-april-rent-collections
9. 15 fastest-growing cities by raw numbers since 2010 (pre-covid)
The U.S. Census Bureau this week announced 15 cities that had the largest growth in raw numbers since the last census, in 2010. They are:
Phoenix added 234,301 residents. Population 1.68 million.
Houston added 224,751 residents. Population 2.32 million.
San Antonio added 221,092 residents. Population 1.55 million.
Los Angeles added 186,437 residents. Population 3.98 million.
Austin, Texas added 177,079 residents. Population 978,098.
Fort Worth, Texas added 164,761 residents. Population 909,585.
New York City added 161,786 residents. Population 8.34 million.
Charlotte, North Carolina added 150,101 residents. Population 885,708.
Dallas, Texas added 145,915 residents. Population 1.34 million.
Seattle added 145,014 residents. Population 753,675.
Denver added 127,386 residents. Population 727,211.
San Diego added 121,922 residents. Population 1.42 million.
Columbus, Ohio added 109,535 residents. Population 898,553.
Washington, D.C. added 103,982 residents. Population 705,749.
Jacksonville, Florida added 89,757 residents. Population 911,507.
https://www.azcentral.com/story/news/local/arizona/2020/05/23/phoenix-and-buckeye-again-top-lists-fastest-growing-u-s-cities/5236791002/



10. Amazon Spent Years Learning What It Takes to Do Great Work. These 4 Steps Contributed Most to Its Success
"Skill is overrated," says Jeff Bezos. These four things are not.
BY JUSTIN BARISO, AUTHOR, EQ APPLIED@JUSTINJBARISO
Yesterday, Amazon founder Jeff Bezos published his annual letter to shareholders, and it's got some great advice for anyone who is striving to do great work.
After commending Amazon employees for their commitment to excellence, and Amazon customers for pushing Bezos and his team to continue raising the bar, Bezos delivered a lesson in how to stay ahead of customer expectations.
It all comes down to maintaining high standards, he writes.
And how do you do that?
Bezos continues:
"The four elements of high standards as we see it: they are teachable, they are domain specific, you must recognize them, and you must explicitly coach realistic scope."
It took Amazon many successes–and billions of dollars of failures–to learn that lesson, says Bezos. "With those experiences as backdrop, I'd like to share with you the essentials of what we've learned (so far) about high standards inside an organization."
So, here they are: the four elements of high standards, according to Jeff Bezos:
1. High standards are teachable.
"People are pretty good at learning high standards simply through exposure," writes Bezos. "High standards are contagious. Bring a new person onto a high standards team, and they'll quickly adapt. The opposite is also true. If low standards prevail, those too will quickly spread."
The takeaway: It may be challenging to establish high standards in the beginning. It starts with hiring people who are open to learning and constructive criticism, and requires complete buy-in. But once those employees are used to working at a high level, it becomes self-sustaining.
2. High standards are domain specific.
"If you have high standards in one area, do you automatically have high standards elsewhere?" Bezos asks. "I believe high standards are domain specific, and that you have to learn high standards separately in every arena of interest."
Bezos says when he founded Amazon, he had high standards for inventing, customer care, and hiring. But he didn't have high standards on operational process: the actions needed to "keep fixed problems fixed" and "to eliminate defects at the root," among other things.
"Understanding this point is important because it keeps you humble," writes Bezos. "You can consider yourself a person of high standards in general and still have debilitating blind spots."
The takeaway: Learn to recognize your strengths and weaknesses, as well as the strengths and weaknesses of others. Then, be humble and willing to learn from those who excel where you don't.
3. High standards must be recognized.
How do you achieve high standards in a specific domain?
"First, you have to be able to recognize what good looks like in that domain," answers Bezos.
Bezos goes on to speak about Amazon's practice of starting meetings with silent reading of "narratively structured six-page memos," which he describes as a kind of "study hall." But not all of these memos are created equal.
"It would be extremely hard to write down the detailed requirements that make up a great memo," states Bezos. "Nevertheless, I find that much of the time, readers react to great memos very similarly. They know it when they see it. The standard is there, and it is real, even if it's not easily describable."
The takeaway: You won't always be able to quantify excellence, or even describe it in explicit terms. But if you identify and praise it when you see it, others will begin to recognize it, too.
And that motivates everyone to try harder.
4. High standards require realistic expectations.
Bezos says you must also have realistic expectations for the scope of a task or project: how much effort it takes to achieve a great result.
To illustrate, Bezos tells the story of a friend who recently decided to learn how to do a proper handstand. After her initial efforts left her frustrated, she decided to hire a coach to help her learn. The coach told her that most people think they can master a handstand in about two weeks of daily practice, but in reality, it takes about six months.
"Unrealistic beliefs on scope–often hidden and undiscussed–kill high standards," concludes Bezos. "To achieve high standards yourself or as part of a team, you need to form and proactively communicate realistic beliefs about how hard something is going to be."
Bezos then returns to the memo example.
"Often, when a memo isn't great, it's not the writer's inability to recognize the high standard," he says, "but instead a wrong expectation on scope: they mistakenly believe a high-standards, six-page memo can be written in one or two days or even a few hours, when really it might take a week or more! They're trying to perfect a handstand in just two weeks, and we're not coaching them right. The great memos are written and re-written, shared with colleagues who are asked to improve the work, set aside for a couple of days, and then edited again with a fresh mind. They simply can't be done in a day or two."
The takeaway: You can improve results simply by teaching scope. Make it clear exactly how much time and effort are needed to achieve a great result.
Why skill is overrated
It's what Bezos says last that I found most interesting.
"How about skill?" he asks. "Surely to write a world class memo, you have to be an extremely skilled writer?… In my view, not so much, at least not for the individual in the context of teams. The football coach doesn't need to be able to throw, and a film director doesn't need to be able to act. But they both do need to recognize high standards for those things and teach realistic expectations on scope."
In other words, Bezos says, someone on the team needs to have the necessary skill to perform a task (like writing a great memo), but it doesn't have to be you. And this takes us back to point two: By learning to identify what individuals on your team do well, you can better delegate–giving you time to focus on your own strengths.
The result? A whole that is far greater than the sum of its parts.
The benefits of high standards
Bezos credits Amazon's high standards with its ability to build better products and services for customers, as well as to recruit and retain the best (since high performers are drawn to high standards).
But there's another, more subtle (and intrinsic) benefit.
"A culture of high standards is protective of all the 'invisible' but crucial work that goes on in every company," writes Bezos. "I'm talking about the work that no one sees. The work that gets done when no one is watching. In a high standards culture, doing that work well is its own reward–it's part of what it means to be a professional. And finally, high standards are fun!"
So, remember: High standards:
· Are teachable
· Are domain-specific
· Must be recognized
· Must be clearly communicated (especially regarding scope)
Achieving this is well worth the effort. Because as Bezos concludes:
"Once you've tasted high standards, there's no going back."
https://www.inc.com/justin-bariso/jeff-bezos-thinks-these-4-steps-contributed-greatly-to-amazons-success.html?cid=sf01003&sr_share=facebook
Disclosure
Lansing Street Advisors is a registered investment adviser with the State of Pennsylvania..
To the extent that content includes references to securities, those references do not constitute an offer or solicitation to buy, sell or hold such security as information is provided for educational purposes only. Articles should not be considered investment advice and the information contain within should not be relied upon in assessing whether or not to invest in any securities or asset classes mentioned. Articles have been prepared without regard to the individual financial circumstances and objectives of persons who receive it. Securities discussed may not be suitable for all investors. Please keep in mind that a company's past financial performance, including the performance of its share price, does not guarantee future results.
Material compiled by Lansing Street Advisors is based on publicly available data at the time of compilation. Lansing Street Advisors makes no warranties or representation of any kind relating to the accuracy, completeness or timeliness of the data and shall not have liability for any damages of any kind relating to the use such data.
Material for market review represents an assessment of the market environment at a specific point in time and is not intended to be a forecast of future events, or a guarantee of future results.
Indices that may be included herein are unmanaged indices and one cannot directly invest in an index. Index returns do not reflect the impact of any management fees, transaction costs or expenses. The index information included herein is for illustrative purposes only