1. 10 Year Yield -20% from Highs
10 Year Yield Closes Below 50day Moving Average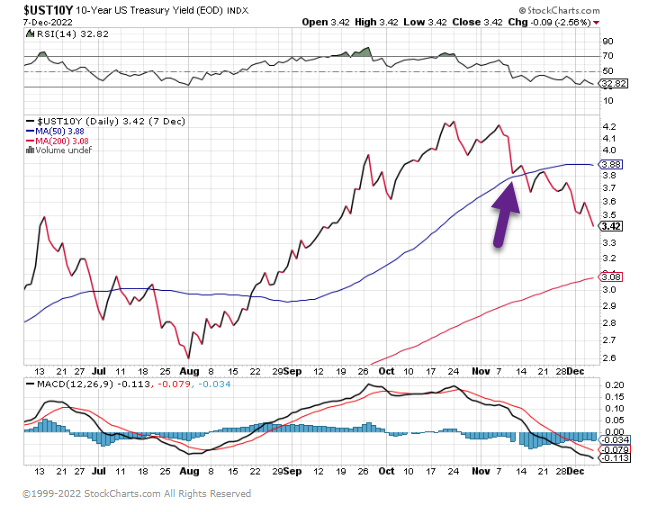 ---
2. 10 Year Yield Higher Highs and Higher Lows Still Intact
Wolf Street Blog The 10-year yield closed at 0.52% on August 4, 2020, which marked the end of the 39-year bond bull market. Since then, the 10-year yield has risen sharply, with big surges followed by smaller retracements, followed by big surges, followed by smaller retracements, etc., adhering to the Wolf Street dictum that "Nothing  Goes to Heck in a Straight Line." The 10-year yield, as it went up, marked higher highs and higher lows each time. And the current bear-market rally fits in nicely, and the yield could drop further, and it would still fit in nicely: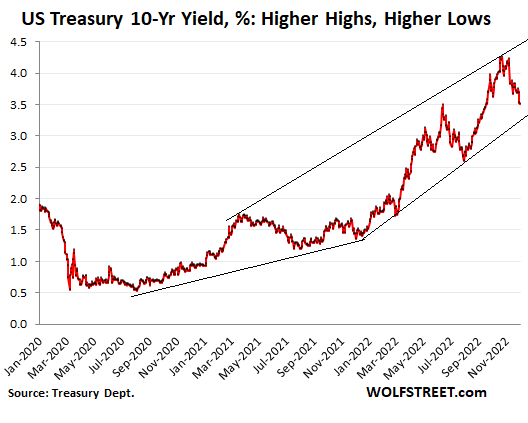 https://wolfstreet.com/2022/12/04/drop-in-10-year-treasury-yield-mortgage-rates-is-just-another-bear-market-rally-longer-uptrend-in-yields-is-intact-with-higher-higher-highs-and-higher-lows/
---
3. More Evidence of Inflation Falling…..Citi Inflation Surprise Index
Liz Ann Sonders Schwab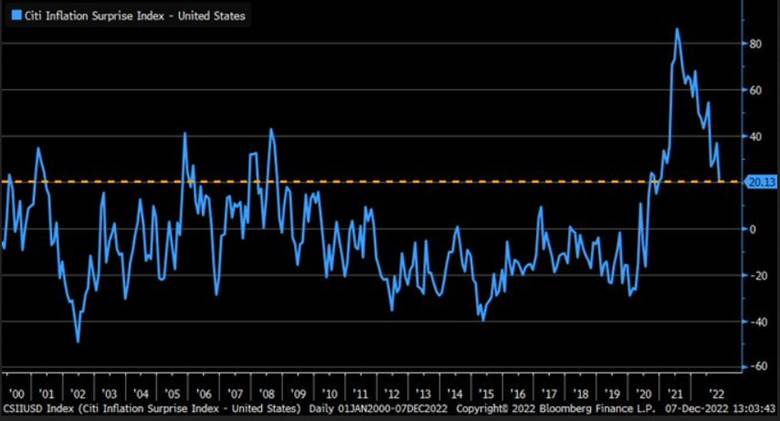 ---
4. US Total Crude Inventories at 36 Year Low
@JavierBlas  US **total** crude oil inventories (both commercial and the Strategic Petroleum Reserve) have fallen to a 36-year low, dropping below the previous bottom set in 2001 |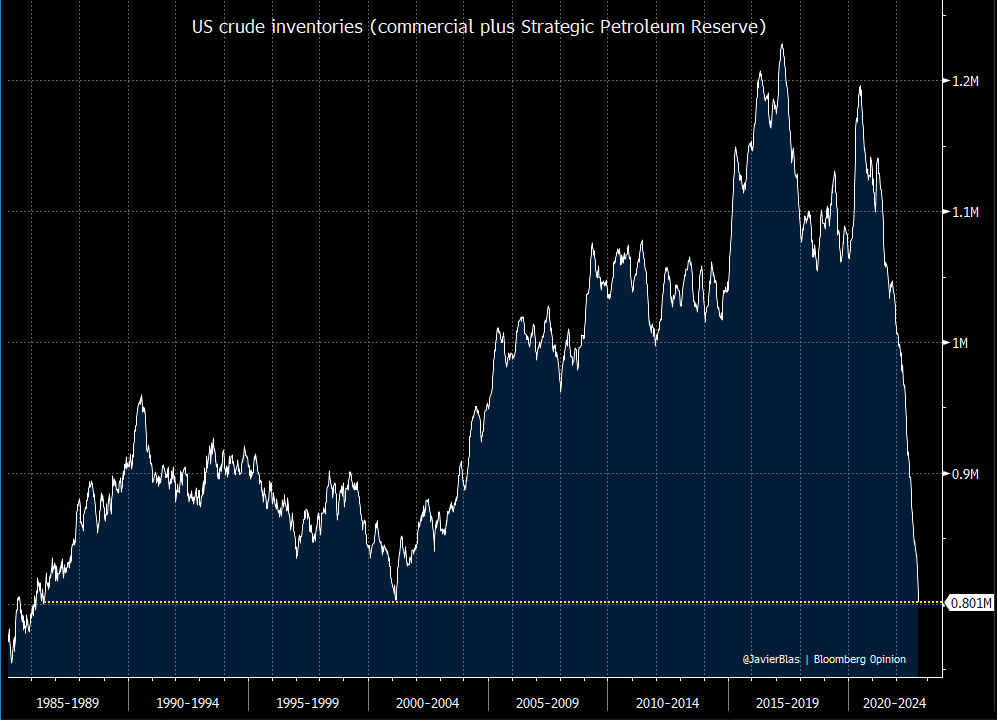 https://twitter.com/JavierBlas
---
5. Exxon Best Performance in History…$50B Buyback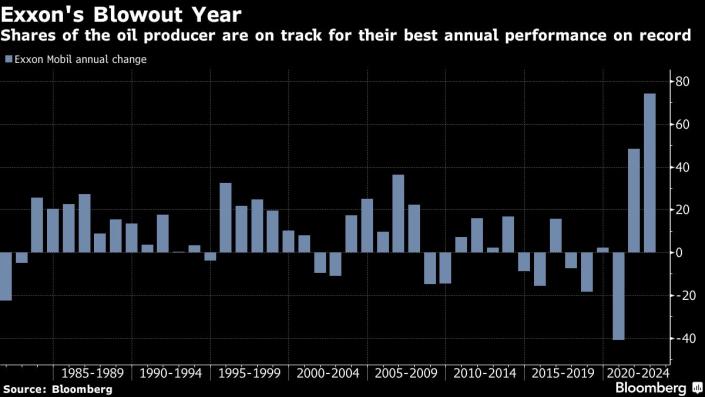 (Bloomberg) — Exxon Mobil Corp. raised its annual share buyback by about 10%, six weeks after the oil giant posted its highest profit in its 152-year history.
Exxon will now repurchase $50 billion of stock through 2024, expanding its previous plan of $30 billion through 2023, the Irving, Texas-based company said in a statement. The buyback will now include $15 billion of share repurchases this year, which would be the highest annual total since 2013, according to data compiled by Bloomberg.
"The runway on the buyback is likely to be well received, we think, as it provides visibility, relative to some peers that guide on a quarterly basis," RBC Capital Markets analyst Biraj Borkhataria wrote in a note.
The shares jumped 2.1% to $105.83 at 9:44 a.m. in New York. West Texas Intermediate futures climbed 2% to above $73 a barrel. Exxon stock is up about 73% this year, which would be its best annual performance of the modern era if it holds through Dec. 31.
https://finance.yahoo.com/news/exxon-lifts-share-buyback-50-145025690.html
---
6. The U.S. chip boom is just beginning
Matt Phillips, author of Axios Markets
Chip giant Taiwan Semiconductor Manufacturing Co.'s decision to triple its investment in Arizona is part of a national rush to re-shore key inputs for the American economy.
Driving the news: President Biden traveled to TSMC's Arizona plant on Tuesday to bask in the glow of the announcement. The company — which by some measures manufactures over half the world's chips — said the three-fold increase would bring its investment to around $40 billion.
TSMC says the plants will create more than 10,000 high-paying tech jobs, including 4,500 directly at the plants themselves.
"American manufacturing is back, folks," President Biden said, speaking at the TSMC facility.
The big picture: The last few years of economic disarray — broken global supply chains, high inflation, Russia's war on Ukraine, and growing trade and technology tensions with China — upended the system of globalization that emerged after the Cold War.
That global network required that people, commodities, capital and goods could — and would — always flow easily across borders.
But the onset of COVID generated a series of global government scrambles for essentials — first masks and vaccines, then semiconductors, and now oil and gas — that at times blurred the line between economic security and national security.
State of play: The disorder also highlighted the importance of developing domestic production of cutting-edge semiconductors, now sourced from a Taiwan that finds itself increasingly imperiled by an aggressive China.
The $280 billion Chips and Science Act of 2022 — signed into law in August — includes $52 billion in subsidies to coax companies into building production plants in the U.S.
Corporations have been receptive, in part because Russia's invasion of Ukraine and China's response to Speaker Nancy Pelosi's visit this year "have really hammered home the fact that there is no guarantee of peace in the Taiwan Straits going forward," says Chris Miller, a Tufts University history professor and author of the new book "Chip War: The Fight for the World's Most Critical Technology."
Context: TSMC's announcement is just the latest in a string of high-profile investment plans from computer chip companies.
In early 2022, Intel announced it would spend $20 billion on a new chip production facility near Columbus, Ohio, and has plans to spend a similar amount building out plants in Chandler, Arizona.
Samsung Electronics has floated the possibility that it could follow a previously announced $17 billion investment in chip production in Austin, Texas, with up to $200 billion on 11 plants in the area, according to Bloomberg.
What they're saying: The U.S. and European focus on boosting chip manufacturing, along with China's simultaneous desire to lead global tech "all point to increased semiconductor capital expenditure in the coming decade," analysts with S&P Global wrote in a recent research report.
The bottom line: In the aggregate, the reshuffling of the global chip market along national lines could be inefficient and costly as countries around the world rush to build, or rebuild, their own local supply of chips.
But in the U.S., it will make for good politics, offering shovel-ready photo ops for politicians at plants that promise good-paying jobs that, by definition, won't be outsourced to China.
https://www.axios.com/2022/12/07/us-chip-boom-just-beginning-biden-tsmc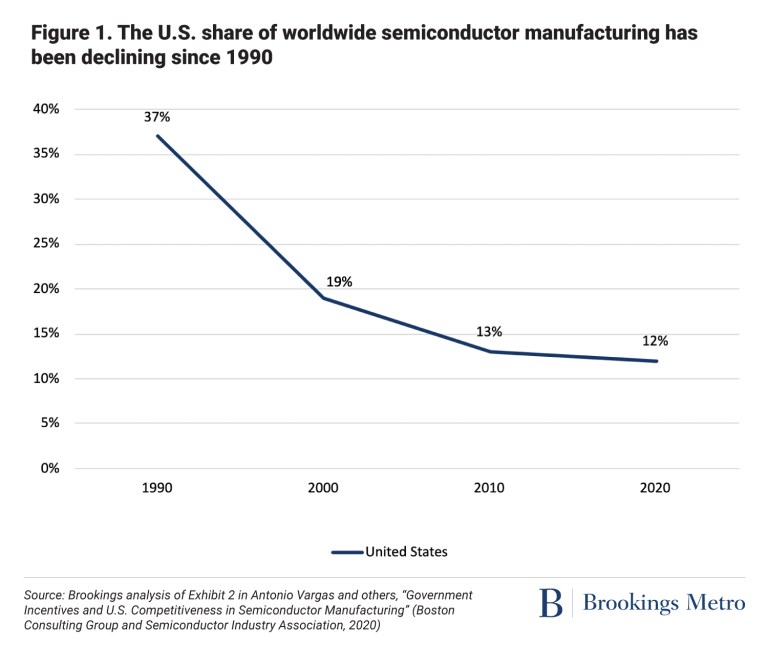 ---
7. Weakening Dollar is Not Good for All International Companies
Capital Group Many European companies earn a substantial portion of their total revenue in dollars. In the health care sector, for example, French drugmaker Sanofi reported that currency effects boosted its sales by nearly 1 billion euros in the first half of 2022.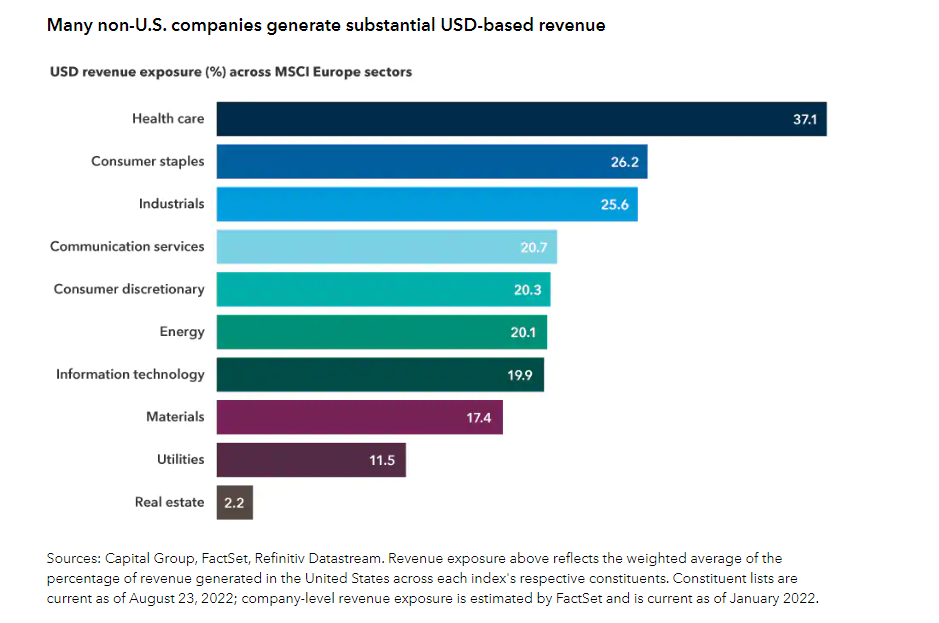 https://www.capitalgroup.com/advisor/insights/articles/2023-international-outlook.html?sfid=1988901890&cid=80891680&et_cid=80891680&cgsrc=SFMC&alias=A-btn-LP-2-CISynCTA
---
8. 967K Immigrants Naturalized at U.S. Citizens….3rd Highest Ever
Eric Finnegan-John Burns Real Estate –Good news for housing demand, labor supply, population growth… and of course, all those new US citizens.  In fiscal year 2022, 967K immigrants were naturalized as US citizens.  That's the 3rd highest level – ever.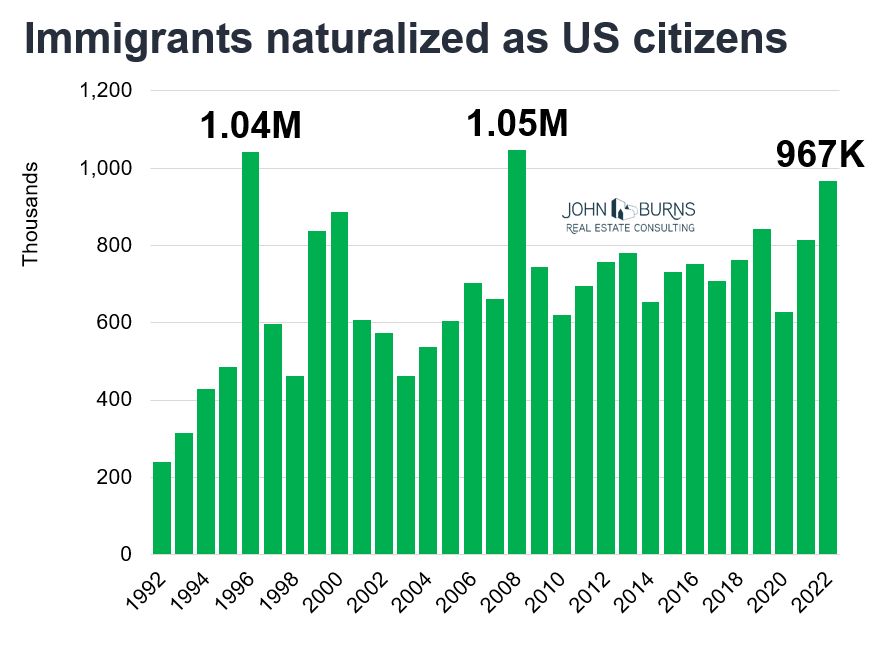 https://www.linkedin.com/in/ericfinniganl/
---
9. Who Is Viktor Bout, Arms Dealer in Swap for Brittney Griner?
Story by Valerie Hopkins and Alan Yuhas • 1h ago
Shortly after his conviction in 2011 on charges including conspiring to kill American citizens, the Russian arms dealer Viktor Bout relayed a defiant message through his lawyer as he faced the prospect of decades in prison.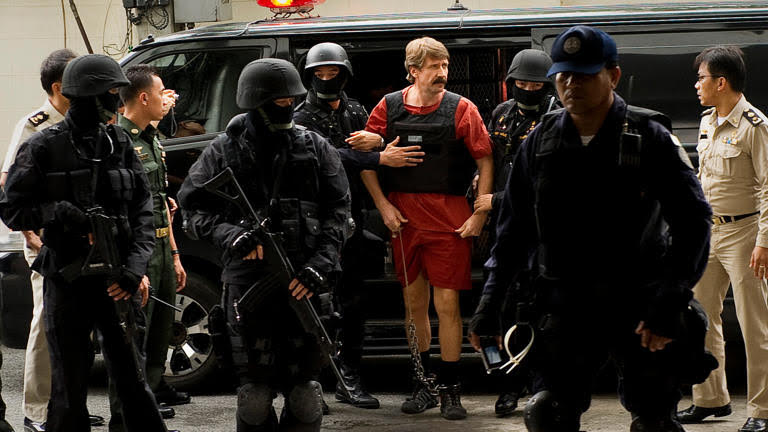 Viktor Bout, a notorious Russian arms dealer, arriving at court in Bangkok in 2010. He was extradited and convicted of conspiring to kill Americans.© Nicolas Asfouri/Agence France-Presse — Getty Images
Mr. Bout, his lawyer said, "believes this is not the end."
More than a decade later, Mr. Bout, 55, has been freed, despite serving less than half of his 25-year prison sentence. He was exchanged on Thursday for the American basketball star Brittney Griner, who had been imprisoned in Russia for 10 months.Russian officials had pressed for Mr. Bout's return since his conviction by a New York jury on four counts that included conspiring to kill American citizens. Prosecutors said he had agreed to sell antiaircraft weapons to drug enforcement informants who were posing as arms buyers for the Revolutionary Armed Forces of Colombia.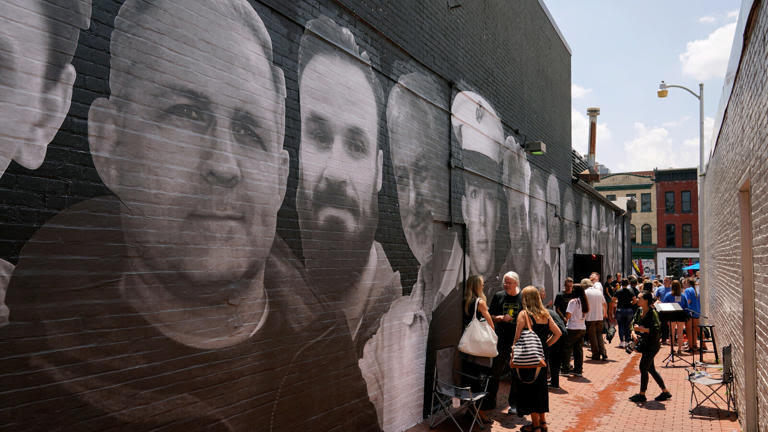 A mural in Washington depicting American hostages held abroad, including Paul Whelan, left, in July.© Patrick Semansky/Associated Press
The attorney general at the time, Eric Holder, called Mr. Bout (pronounced "Boot") "one of the world's most prolific arms dealers." Mr. Bout become notorious among American intelligence officials, earning the nickname "Merchant of Death" as he evaded capture for years. His exploits helped inspire a 2005 film, "Lord of War," that starred Nicolas Cage as a character fashioned after Mr. Bout.
He was probably the highest-profile Russian in U.S. custody and the prisoner Russia had campaigned the most vociferously to have returned. His return to Russia is likely to reignite the debate over the wisdom of engaging in prisoner exchanges for Americans the United States considers "wrongfully detained" — as was the case with Ms. Griner and is with another American still imprisoned in Russia, Paul Whelan, a former Marine.
In interviews with journalists, Mr. Bout has repeatedly denied accusations that he has worked for Russian intelligence agencies. But Mark Galeotti, an expert on Russia's security services, said there were strong signs — Mr. Bout's education, his social and professional networks, and his logistical skills — that he is a member, or at least was in close collaboration with, Russia's military intelligence agency, known as the G.R.U.
"That is also the opinion of U.S. and other authorities — and it explains the reasons Russia has been so assiduously campaigning to get him back," Mr. Galeotti, a lecturer on Russia and transnational crime at University College London, said in an interview in July. "All countries try to get their citizens out of rough jurisdictions, but it is clear that it has been a particular priority for the Russians in getting Viktor Bout back."
Mr. Bout grew up in Dushanbe, the capital of Tajikistan, until his conscription into the Soviet military at age 18. After a term in the Army, he studied Portuguese at the Military Institute of Foreign Languages in Moscow, a common entree to Russian intelligence services, and eventually became an officer in the Air Force
The Soviet Union broke apart not long after Mr. Bout left the military. As Russia's economy collapsed and criminal groups thrived, he moved to the United Arab Emirates and started a cargo company that grew to a fleet of 60 planes.
With military supplies of former Soviet states leaking onto the black market, his shipping empire delivered guns to rebels, militants and terrorists around the world, prosecutors said. In the new era of privatization in Russia, arms traffickers were able to use old Soviet-era social, military and business networks, and to also develop shell companies to hide transactions.
Mr. Bout was accused of selling weapons to Al Qaeda, the Taliban and militants in Rwanda. According to several investigations and his U.S. indictment, he and his associates flouted arms embargoes in Sierra Leone, the Democratic Republic of Congo and Algeria, where he sold weapons to both the government forces and the rebels fighting them.
His ability to avoid being captured added to his notoriety among Western intelligence officials. In 1995, the Taliban forced down one of his planes in Afghanistan and seized the cargo and imprisoned the crew. Mr. Bout and Russian officials somehow managed to get the crew out of the country: In 2003, he told The New York Times Magazine "they were extracted," and in 2012, The New Yorker reported, he said they simply escaped.
U.S. authorities finally caught up with him in Bangkok in 2008. Mr. Bout met with undercover Drug Enforcement Administration agents he believed represented rebels from Colombia's Revolutionary Armed Forces, or FARC, which the United States considered a terrorist organization until last year.
When the prospective buyers told him the weapons could be used to kill American pilots, Mr. Bout responded, "We have the same enemy," prosecutors said.
Thai authorities arrested him on the spot. He was extradited to the United States in 2010 and two years later was sentenced to 25 years.
In the years since, Russian authorities have maintained Mr. Bout's innocence and brought him up as a possible swap for other high-profile American and Ukrainian detainees held by Russia. He has been at the center of a Russian campaign, "we don't abandon our own," that has cast his arrest as unfair and politically motivated.
Mr. Bout's exchange has been a priority for Russia "a matter of honor and a matter of ruthless pragmatism," said Mr. Galeotti, the Russia expert.
Russian intelligence agencies "have inherited from the former Soviet K.G.B. a culture that makes it clear to its own agents — 'we will get you back.' That kind of loyalty to your own is really important when you are expecting people to put themselves potentially in harm's way."
It was unclear whether Mr. Bout's return would further encourage Russia to arrest Westerners who can be traded; Moscow denies allegations that it intentionally arrests people to force an exchange.
Andrei Soldatov, a Russian journalist and expert on the security services who is a senior fellow at the Center for European Policy Analysis, said that while Mr. Bout had been the highest profile Russian prisoner in America, there were many more Russians in U.S. prisons, particularly for hacking.
The Russian authorities, Mr. Soldatov said, learned how to "create banks of hostages" in the early 2000s during a brutal war with the breakaway region of Chechnya, right after President Vladimir V Putin came to power.
"It was a lesson they never quite forgot," said Mr. Soldatov. Referring to Russian security agencies, he said, "It makes total sense, from their point of view to do the same with the U.S."
Ivan Nechepurenko contributed reporting.
Who Is Viktor Bout, Arms Dealer in Swap for Brittney Griner? (msn.com)
---
10. How to (Actually) Change Someone's Mind
by Laura Huang and Ryan Yu
Summary.   Much of leadership boils down to turning adversaries into allies. In this piece, the authors discuss three persuasion strategies leaders can employ when faced with a disagreement in the workplace: the Cognitive Conversation, which is best for convincing colleagues…more
If you're a leader, it's likely that not everyone who works with you will agree with the decisions you make — and that's okay. Leadership involves making unpopular decisions while navigating complex relationships with colleagues, partners, and clients. But often, you will need to get buy-in from these constituents, and therefore you will need to convince them to change their mind.
There is little friction involved in convincing people who are your natural supporters. But trying to change the mind of a dissenter, or a detractor, is a different story. How do you go about convincing someone who, for one reason or another, doesn't see eye-to-eye with you? Someone who gives you a flat out "no"?
In the recent research we completed for Laura's book, Edge: Turning Adversity into Advantage, we observed, and then interviewed, more than 60 leaders who were trying to convince business associates and other constituents to change their minds on a course of action that they initially disagreed with. The leaders who were most successful in overcoming others' skepticism were those who diagnosed the root of the fundamental disagreement before trying to persuade. They first asked themselves, "What's driving my detractor's resistance?" These leaders often pinpointed which aspects of their arguments elicited the most pushback and the most emotional reactions. Then, depending on the answer, they approached the situation with one of the following three targeted strategies.
The Cognitive Conversation
When to use it: The detractor may be opposed to your argument because of an objective reason. If they've clearly articulated a logical set of objections, and they don't appear to be hiding ulterior motives, approach them with a cognitive conversation. This is especially useful when the detractor is known to have a no-nonsense attitude and can easily set aside emotions in their decision-making process.
How it works: A successful cognitive conversation requires two things: sound arguments and good presentation. Take, for example, a situation where you are pushing to switch suppliers and you've found one whose materials and products are superior to the current supplier, whose products have been causing numerous downstream issues. But your colleague is in favor of sticking with your current supplier with whom he has a long-standing relationship. He expresses his resistance to your proposal by pointing out the higher prices the new supplier charges. You want to prepare sound arguments that disprove the detractor's objections. In this instance, you might point out that the new supplier is actually less expensive in the long run, when you take into account all the additional production costs cause by the current supplier. You also want to use a logical framework and clear storyline to force the detractor to reassess their thinking. For example, you can emphasize that the decision is based on cost, quality, and service, but above all, cost and quality.
Be cautious about not introducing emotions into the discussion, which could give the impression that you and your detractor are not on common ground. For example, you don't want to make it seem as if you believe your colleague's relationship with the former supplier is irrelevant. The goal is to show the person that, on an objective and factual basis, their initial stance on the situation isn't as reasonable as your argument. Be warned, these detractors are not easily swayed by broad generalizations. Be ready to mentally spar with them and come prepared with facts that back up each aspect of your overall argument.
The catch: Don't assume that getting a "yes" from this type of detractor signals a conversion into an everlasting supporter. You may have persuaded them on this specific issue, but they may disagree with you again in the future. If that's true, expect to have another cognitive conversation on that separate argument.
The Champion Conversion
When to use it: When the detractor isn't easily persuaded through cognitive arguments, or when they harbor a grievance in your relationship with them, engaging in debates may be futile. Take, for example, a management decision where you'd like to promote a qualified individual who performed brilliantly under your supervision, but a counterpart of yours argues that your subordinates often get promoted over hers. Even if your promotion candidate is objectively more deserving, others may still feel resentment and refuse to provide support.
How it works: Don't jump in and try to convince the other person. Instead, invest time in personally learning about and building rapport with them. Here, it's not about arguments or presentation, at least initially, but understanding their perspective and why they might feel personally affronted. For instance, you might ask questions about her team, and which team members she feels have the most potential. Gradually convert this detractor into someone who is your champion or advocate, perhaps by shedding more light on the qualities that you value in individuals, both on your team as well as your counterpart's team, or showing how you value her leadership style. By the time the decision must be made, try to make sure you're both on the same page as to which qualities matter for promotion decisions and that you've clearly articulated how your candidate exemplifies those qualities.
The catch: No matter how much of a champion the other person becomes, don't expect them to agree with a decision that's fundamentally illogical. You can't rely on relationship alone; your stance still needs to be backed by clear logic. Additionally, these types of detractors can easily sense if you're trying to manipulate the situation to get them on your side. Authenticity is key: allow the other person to see who you are so that they can more fully understand your point of view.
The Credible Colleague Approach
When to use it: There are times when the detractor's deeply-held personal beliefs make them fundamentally opposed to your proposal. Take, for example, a colleague who might disagree with you on the need to run a necessary clinical trial for a new product. Because they believe that the clinical trial might be harmful in some way or run counter to their values, they oppose the idea, even though the evidence shows that the benefits outweigh the harm. It's sometimes tough to pinpoint where these personal beliefs stem from, but some combination of the person's upbringing, personal history, and unspoken biases will, at times, make it seemingly impossible for them to accept a decision, no matter what logical or emotional argument you throw their way. In these situations, there isn't much you can say or do to change their mind.
How it works: Rather than trying to argue with someone who seems resistant, bring in a credible colleague. A champion of your position from another part of the organization, whether they are a peer or superior, may be better-suited to convince this detractor. This forces the detractor to disentangle who you are from what your argument might be and evaluate the idea based on its objective merits. If you and the detractor are at an impasse, the credible colleague might just tip the scales in your favor.
The catch: Calling in an external supporter is a double-edged sword. While it can achieve the outcome you want, it may exacerbate your detractor's opposition, especially if the detractor feels that the credible colleague has forced them to take your side. It's critical to find the right colleague who can tactfully advocate for your position while maintaining a cordial relationship.
It's not easy to have detractors, and it's even harder to change their minds. The key is to understand the source of their resistance and use a targeted strategy that best resonates with your particular detractor. You'll have a much better chance of getting a "yes."
https://hbr.org/2020/07/how-to-actually-change-someones-mind?utm_medium=social&utm_campaign=hbr&utm_source=LinkedIn&tpcc=orgsocial_edit