1. War, Stock Corrections, Bond Bear, Record U.S. Government Debt, Covid, etc. etc…..U.S. Dollar Still King Currency.
U.S. Dollar Approaching 2020 Pre-Covid Highs…..50day going thru 200day to upside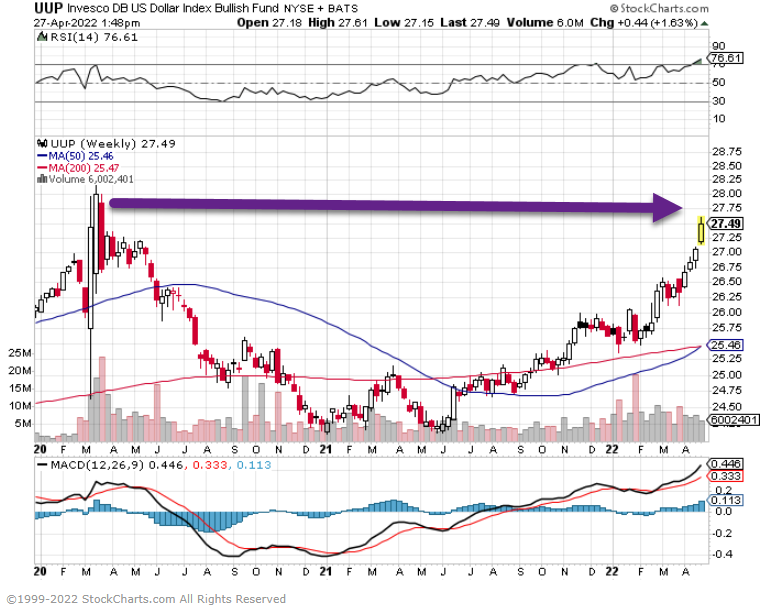 ---
2. Diesal Fuel Futures Settle at Record High
Massive exports and strong domestic consumption are helping to drain distillate stockpiles in the U.S., which have fallen to the lowest level since 2008. The shortage is most acute on the East Coast, where inventories have dropped to the lowest level since 1996. Fuelmakers on the Gulf Coast have been operating at their highest rates for this time of year in more than a decade and are still unable to rebuild stockpiles. Rising shipments to Latin America and Europe have left the main fuel pipeline supplying the East Coast underused.
Shifting trading patterns also contributed to spiking prices. Liquidity has fallen in recent months in futures and physical markets, exacerbating volatility in both. While futures traders exited hedges, physical traders ditched storage tanks as holding onto products became a losing proposition, leaving a thinner cushion for supply crunches and price swings.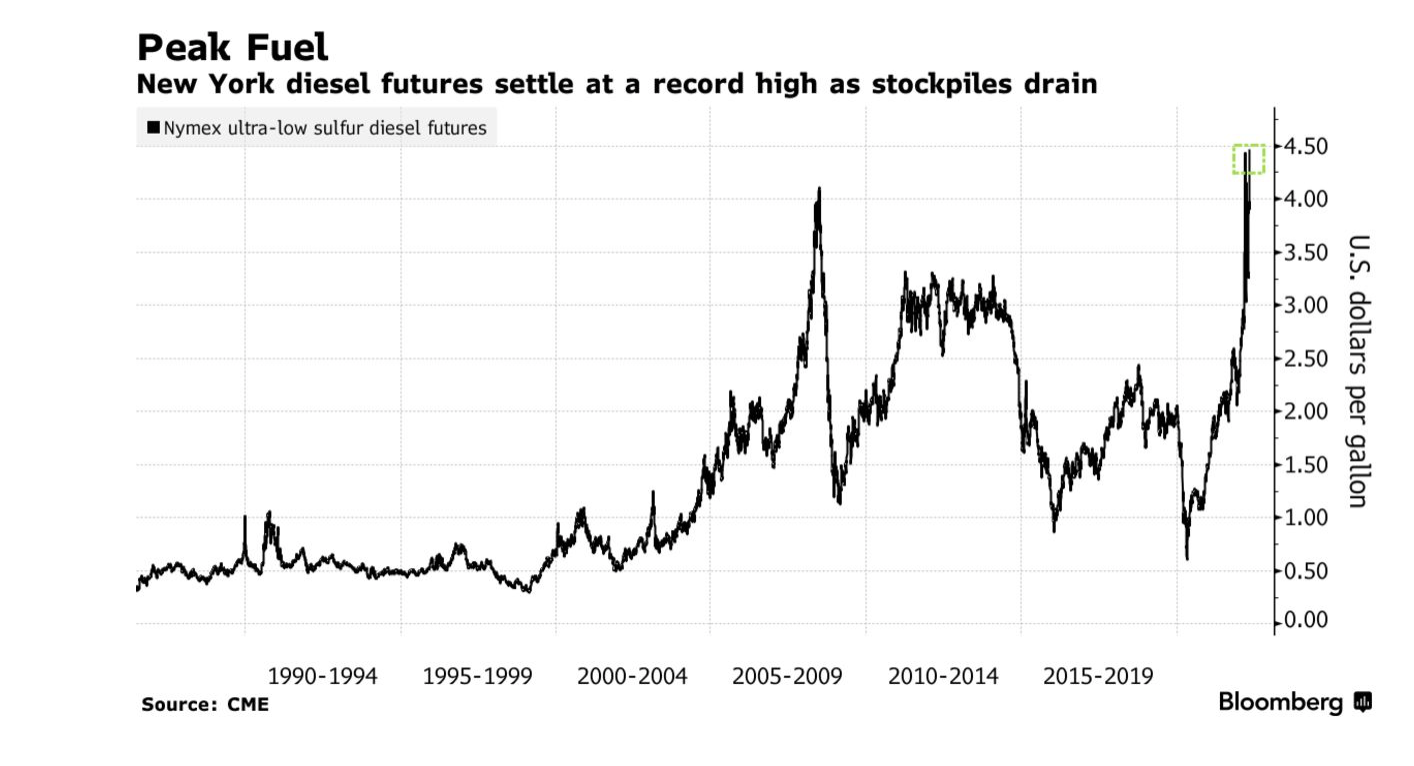 Chunzi Xu–https://www.bloomberg.com/news/articles/2022-04-26/u-s-diesel-futures-settle-at-record-high-as-shortage-deepens?cmpid=socialflow-twitter-business&utm_medium=social&utm_campaign=socialflow-organic&utm_source=twitter&utm_content=business&sref=GGda9y2L
---
3. 10 Year Treasury is 4 Standard Deviations Above 52 Week Moving Average
Lance Roberts, the chief investment strategist of RIA Advisors—Busy Chart but see the downtrend channel in middle….Technically speaking, he adds, the yield on the 10-year Treasury TMUBMUSD10Y, 2.794% is now 4 standard deviations above its 52-week moving average, and near the top of the long-term downtrend channel from 1980.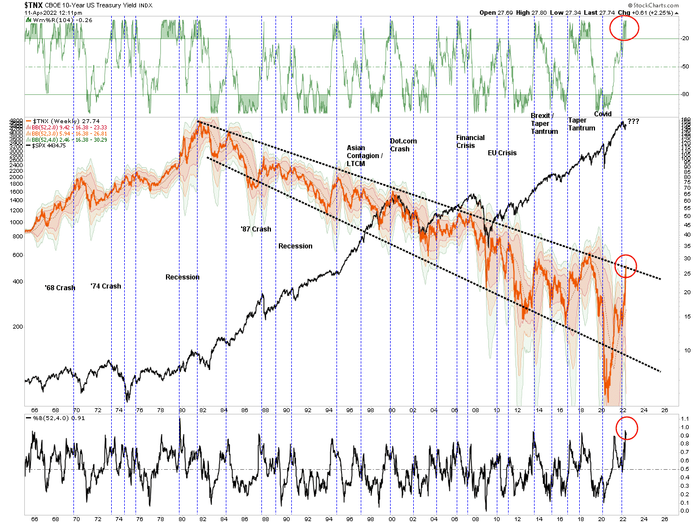 https://www.marketwatch.com/story/the-bond-market-has-crashed-why-one-strategist-says-embrace-the-pain-and-get-back-in-11651056414?mod=home-page
---
4. Another Mid-Term Election Chart
LPL Research..Strong Bounces Historically Off Lows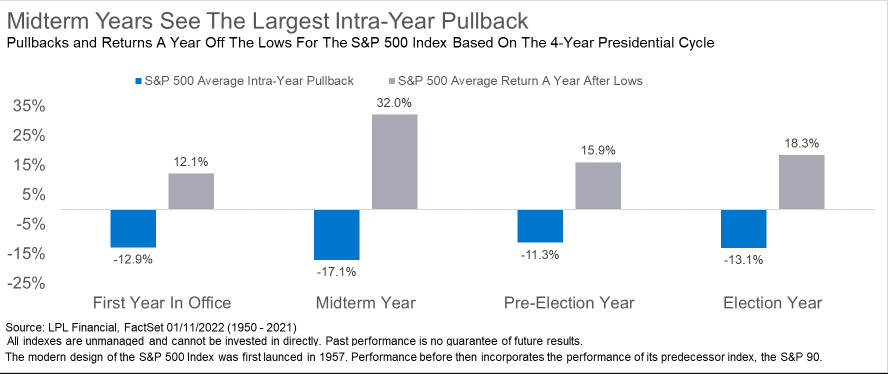 https://i0.wp.com/lplresearch.com/wp-content/uploads/2022/04/Blog-4.27.22.png?ssl=1
---
5. Apple Revenue Breakdown-Visual Capitalist
How Do Big Tech Giants Make Their Billions? (visualcapitalist.com)
---
6. Breaking Euro Reliance on Russian Gas Down by Country
From Dave Lutz at Jones Trading
Four European gas buyers have already paid for supplies in rubles as President Vladimir Putin demanded.
---
7. Mortgage Volume Trades Back to Mean…Higher Rates and No Inventory.
Wolf Street "The drop in purchase applications was evident across all loan types," the MBA's report said. "Prospective homebuyers have pulled back this spring, as they continue to face limited options of homes for sale along with higher costs from increasing mortgage rates and prices. The recent decrease in purchase applications is an indication of potential weakness in home sales in the coming months."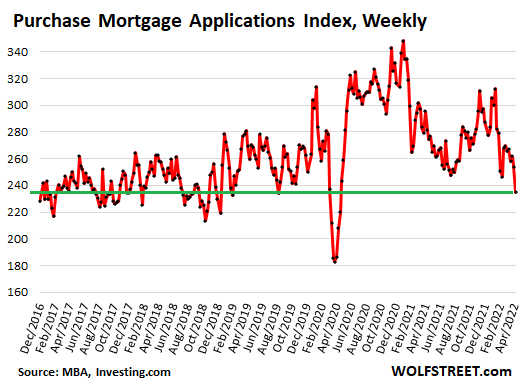 https://wolfstreet.com/2022/04/27/mortgage-volume-gets-crushed-by-spiking-interest-rates-what-it-means-for-future-home-sales-and-consumer-spending/
---
8. 70% of Starbucks Employees at Company Less Than One Year
Huge growth in Starbucks employees but heavy turnover.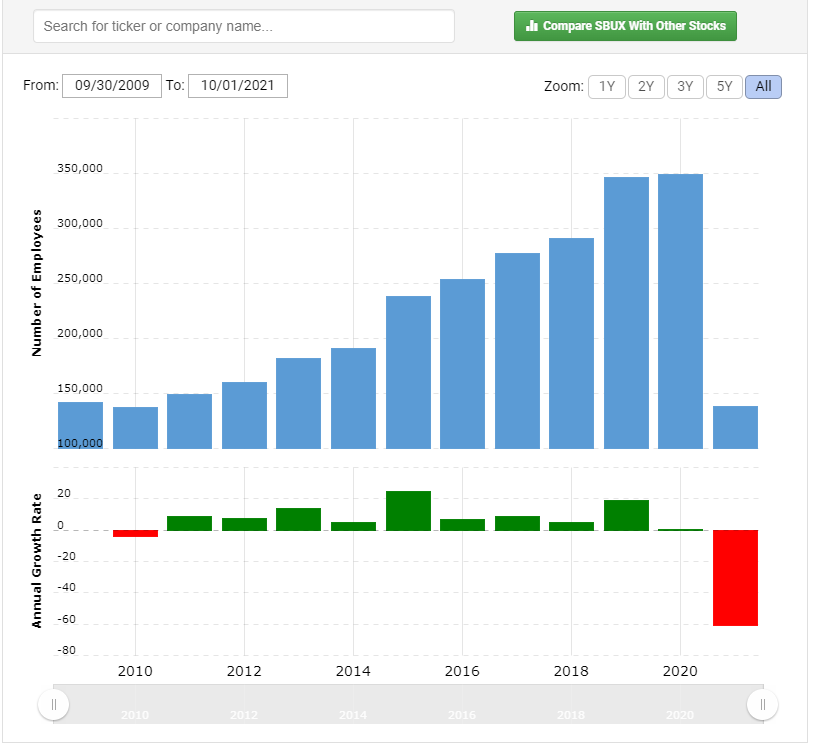 Macrotrends
https://www.macrotrends.net/stocks/charts/SBUX/starbucks/number-of-employees
---
9. Don't Forget Elon Musk's Other Company Valued at $6B
Boring Company raises additional $675 million as investors chuck money into holes in the ground
Elon Musk's tunnel company is now valued at nearly $6 billion
By James Vincent  Apr 21, 2022, 5:18am EDT
The Boring Company has raised a new round of funding worth $675 million, with Elon Musk's grand plan to "solve traffic" with tunnels now valued at $5.675 billion.
In a blog post announcing the news, the company reiterated its goals and achievements so far, drawing particular attention to its "next generation" of Prufrock tunnel-boring machines (TBMs).
"Unlike traditional TBMs which require upwards of a dozen or more people to operate, Prufrock is designed to be capable of operating completely remotely and autonomously via computerized systems and requires zero people in the tunnel to operate," said the company. "The current iteration of Prufrock, called Prufrock-2, is designed to mine at up to 1 mile/week, meaning a tunnel the length of the Las Vegas strip (approximately 4 miles) can be completed in a month."
So far, The Boring Company has built just two operational 0.8-mile tunnels underneath the Las Vegas Convention Center, as well as 1.1-mile test tunnel in Hawthorne, California. The company has been pitching its services far and wide, and although many projects have run aground, authorities in Las Vegas last year approved the construction of a 29-mile tunnel system containing 51 stations.
The planned Las Vegas tunnel system, dubbed the Vegas Loop. Image: The Boring Company
The Boring Company describes its tunnels as a "public transportation system that resembles an underground highway" but — more succinctly and accurately — as "Teslas in tunnels." Originally, Musk said the company's tunnels would use autonomous sleds to carry cars and specially-designed pods at speeds of up 150mph to transport pedestrians and cyclists. So far, they're currently limited to electric vehicles (Teslas) driven by human employees at around 50mph and carrying ticketed passengers.
The company's Las Vegas tunnels have been open for a few years now, and first-hand impressions have been mixed to say the least. When everything goes to plan, the company's tunnels let cars pass through them at sedate speeds. But when they're busy they also create their own traffic jams — the very problem they're intended to solve.
Investors, though, don't necessarily care whether or not founders like Musk ultimately follow through on their hyperbole, only that the companies they run attract enough customers and revenue to pay back their own investments. And Musk has proved, time and time again, that's he's very good at pushing up share prices and valuations. For the meantime, that means The Boring Company has a lot of tunnels left to dig.
Boring Company raises additional $675 million as investors chuck money into holes in the ground – The Verge
---
10. Portfolio PAIN Isn't A Four Letter Word
Posted April 20, 2022 by Anthony Isola
Pleasures are to be avoided if they result in greater pain, and pain is to be welcomed if it results in greater pleasure. –  Epicurus
Pleasurable investing is an oxymoron. Good luck adopting buying high and selling low into your investment policy.
The human body's reactions to pain provide sound investing advice.
Our default state is Homeostasis. Balancing pleasure and pain is never-ending. After a Dopamine overdose, the body brings order to the crime scene. Examples include crashing after a sugar high and head-splitting hangovers after alcohol overindulgence.
We're a Dopamine Nation.
This chart measures the percentage dopamine increase of a rat trapped in a box when exposed to various substances.
Anna Lembke drops knowledge in her ground-breaking book, Dopamine Nation. She compares food, sex, drug, and technology addiction to a pendulum. When the pendulum is overweight pleasure, pain gremlins jump onto the other side, throwing things back into balance. Pain overcompensates, leading to the need for more Dopamine to maintain Homeostasis. Addiction creates massive pain.
What happens if we reverse engineer pain and pleasure?
Dr. Lembke states: Pressing on the pain side of the balance can lead to its opposite – pleasure. Unlike pressing on the pleasure side, the Dopamine that comes from pain is indirect and potentially more enduring. 
Pleasure gremlins jump on after the initial pain creating longer-lasting pleasure; intermittent exposure to pain makes us less vulnerable.
Cold showers and baths are initially painful. Our bodies eventually numb themselves to the exposure.
According to Dr. Lembke: Dopamine rose gradually and steadily throughout the cold bath and remained elevated for an hour afterward. 
Exercise is the ultimate example.
Exercise is immediately toxic to cells, leading to increased temperature, noxious oxidants, and oxygen and glucose deprivation.
Then this happens.
Exercise increases many of the neurotransmitters involved in positive mood regulation: Dopamine, serotonin,…..Exercise contributes to the birth of new neurons and even reduces the likelihood of using and getting addicted to drugs.
Acupuncture falls under this category. Minor pain prevents larger doses from asserting their will.
What does this have to do with investing?
It scientifically backs the old saying regarding the markets; If it feels good, you're probably doing something wrong.
Selling your stocks in a crisis creates a momentary dopamine rush. While temporarily pleasing, the long-term market gremlins hop onto the pain side of the pendulum. Your portfolio and wealth may never recover from the extended period of suffering they unleash on your wealth and psyche.
Balancing the agony and ecstasy of the markets isn't easy.
Investors must embrace the pain when markets fall precipitously. Short-term torture eventually morphs into self-correcting market homeostasis producing sustainable pleasure.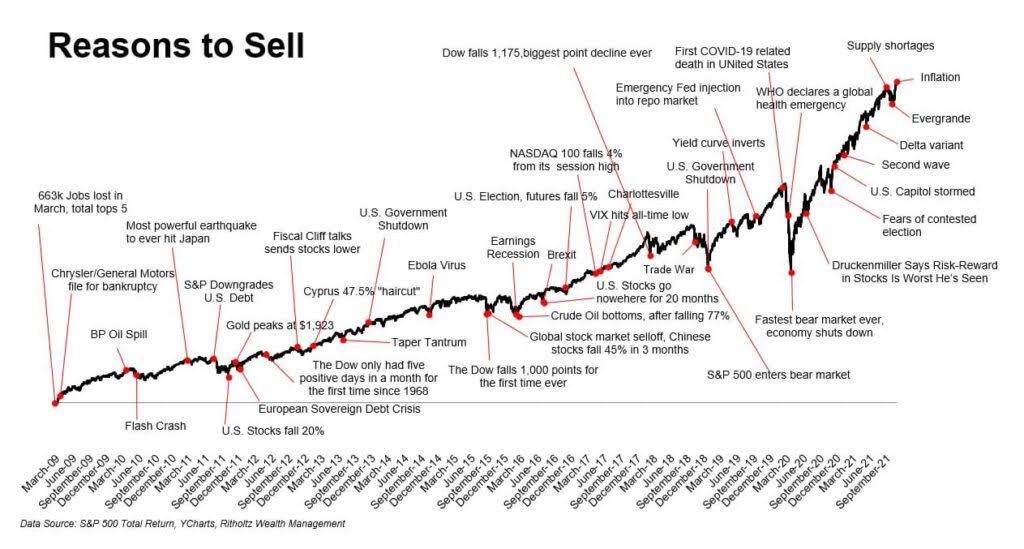 Credit cards offer a dopamine rush. The temporary pleasure of purchasing disposable goods doesn't compensate for the long-term destructive effects of minimum payments attached to a 20% interest rate. The momentary disappointment of walking out of the store empty-handed is justified if you don't have the funds to pay in full.
Phil Pearlman more than gets it.
And we live in a world where comfort is so accessible that seduction is almost unfair.
We have air conditioning in the summer, heat in the winter, a fridge stocked with food and drink, and if we don't, we can order anything from our couch and have it sent to us in minutes or overnight in dry ice via Federal Express.
I thought about this just this morning as I adjusted the heat function on my car seat.
All of this comfort is not good.
Regarding investing and life, PAIN isn't a four-letter word.
Source: Dopamine Nation by Anna Lembke M.D.
https://tonyisola.com/2022/04/portfolio-pain-isnt-a-four-letter-word/
From Abnormal Returns Blog www.abnormalreturns.com