1. Percentage Positive Returns by Month in Stock Market
Dorsey Wright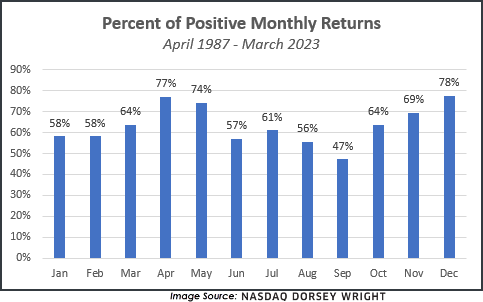 https://www.nasdaq.com/solutions/nasdaq-dorsey-wright
---
2. Growth Outperforms Value in Quarter One…"Growth" ETFs Huge Disparity in Sector Holdings
Barrons Invesco S&P 500 Pure Growth (RPG), for example, currently has 28% in energy stocks and only 14% in tech, while iShares S&P 500 Growth (IVW) has 34% in tech and just 8% in energy. Vanguard Mega Cap Growth has more than 50% in tech and less than 1% in energy, while First Trust Large Cap Growth AlphaDEX (FTC) has 16% and 19% in the two sectors, respectively.  By Evie Liu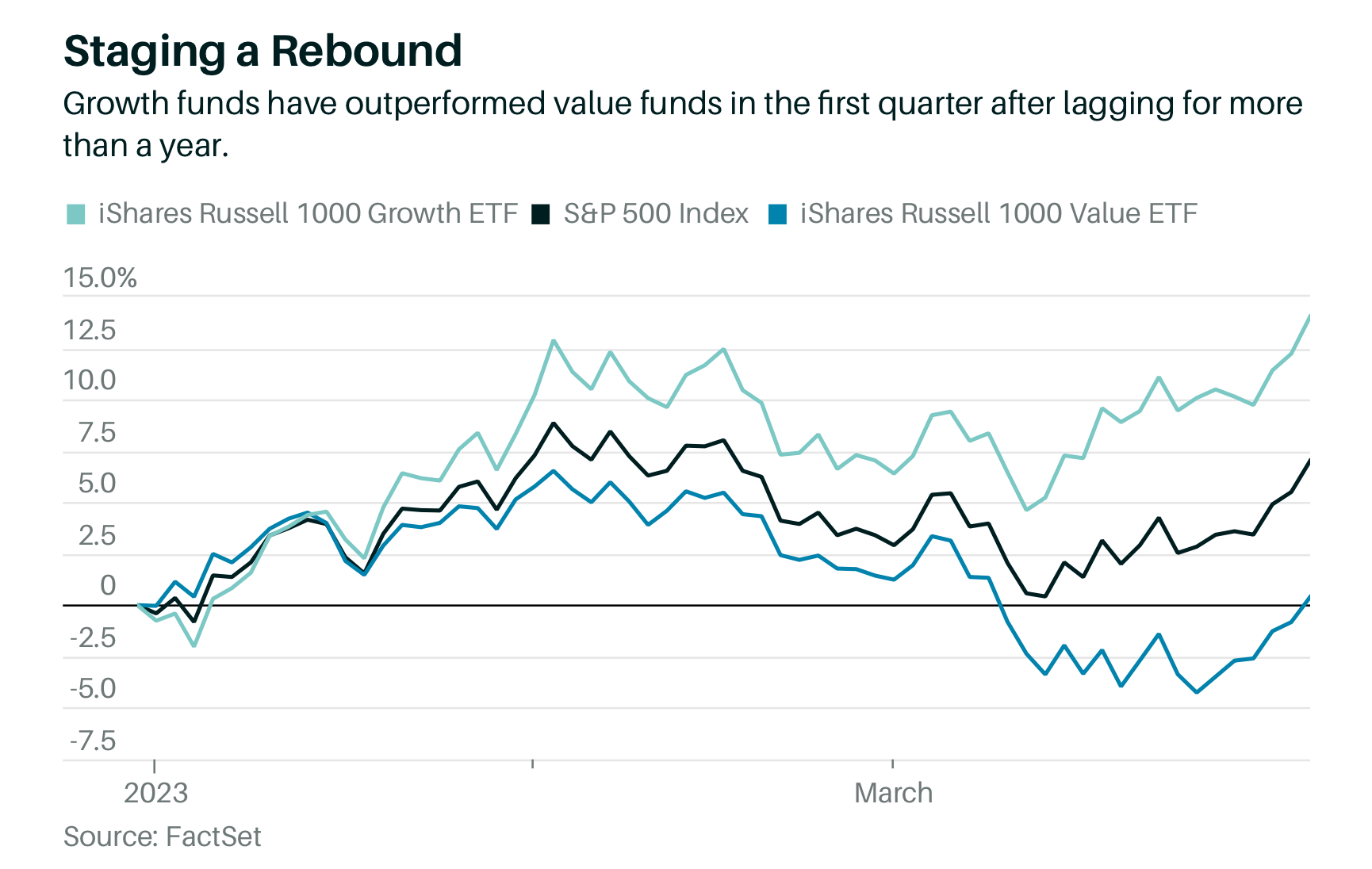 https://www.barrons.com/articles/how-to-pick-growth-stock-funds-fc843e01?mod=past_editions
---
3. Bond Volatility Much Higher than Stock Volatility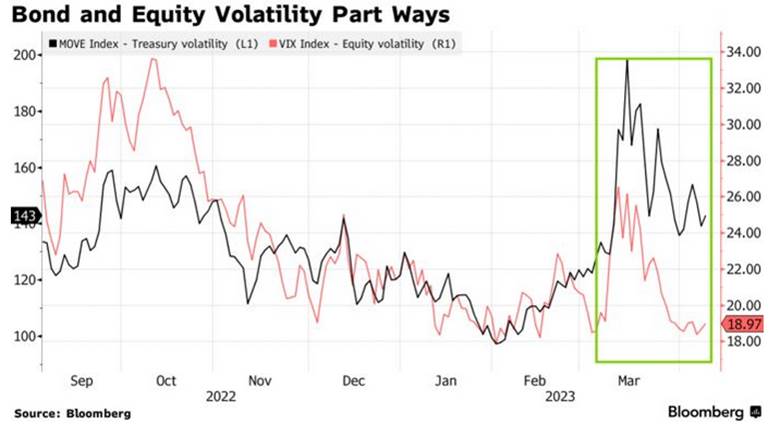 ---
4. Share Buyback ETF No New Highs Yet.
PKW got to withing 4 points of previous highs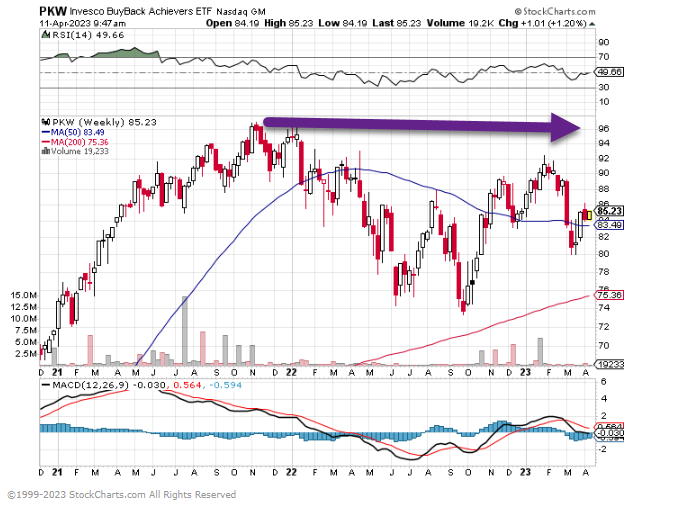 ---
5. S&P Dividend Growers did Make the New Highs.
SDY underperforming 2023 but made new highs in beginning of year.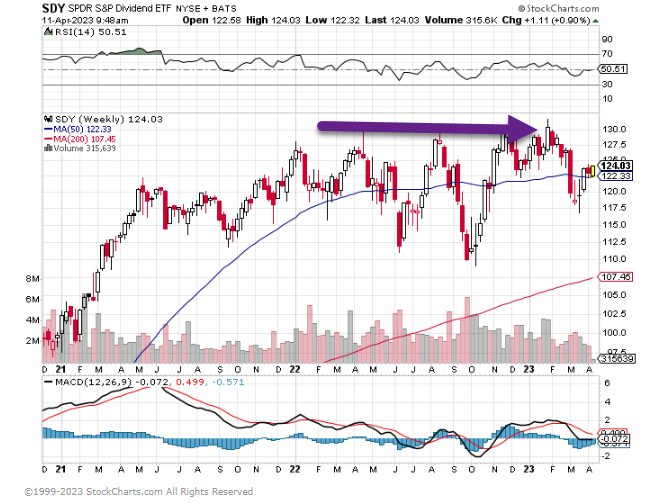 ---
6. Small vs. Large Bank Exposures
JP Morgan Private Bank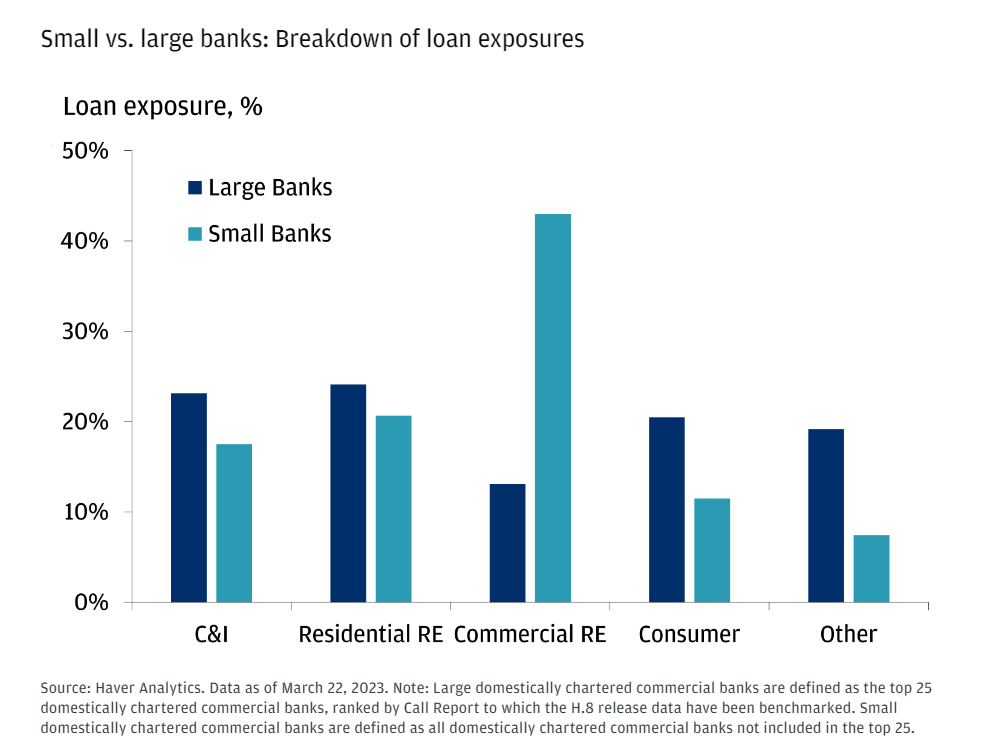 https://privatebank.jpmorgan.com/gl/en/insights/investing/tmt/the-ripple-effects-of-the-bank-crisis?pid=&programName=20230331-NAM-ES-INV-Top%20Market%20Takeaways&utm_source=email-pb&utm_medium=Other-NA&utm_campaign=20230331TMT&utm_content=CTA&mkt_tok=MzkyLUhLQy04NzYAAAGK13yFshRFVbOpHiqBgT_eXh-rDEngj4KiJ72NpBsgNj2KEMNaewNVhU35JTUE-rFJy469wrg8Hmqi-HPdRgWLgSnVEVtyI3Adpq3GWYOyJmQTJA
---
7. China New IPO Policy …1 Firms Launched Monday with 96% Average Return
China's first batch of shares under new IPO system surge in debut
SHANGHAI/SINGAPORE, April 10 (Reuters) – Some shares among the first batch of stocks to list under China's registration-based initial public offering (IPO) system more than tripled in their debut on Monday despite tepidness in the broader market.
The listing of the 10 companies on the main boards in Shanghai and Shenzhen marks the full roll-out of China's new U.S.-style IPO mechanism, designed to make public share sales more market oriented.The system has already been adopted by Shanghai's tech-focused STAR Market, Shenzhen's start-up board ChiNext and the Beijing Stock Exchange for smaller companies.Shenzhen CECport Technologies Co (001287.SZ), an electronic components distributor based in the southern technology hub of Shenzhen, opened up 161% on Monday, and surged by as much as 239%, after it raised 2.25 billion yuan ($327.18 million).
Under the new rules, there is no daily trading limit for the first five trading days for shares that have listed after an IPO. Previously, new stocks listed on China's main boards could jump as much as 44% and slump no more than 36% in their debut.
However, after those five days, stocks listed on the main boards will be subject to the regular 10% daily trading limit.  Dencare Chongqing Oral Care Co (001328.SZ), an oral products maker, opened up 98% and soared by as much as 214%. The other eight companies, including Shaanxi Energy Investment Co (001286.SZ) and Both Engineering Technology Co (601133.SS), rose by between 50% and 120%.Ade Chen, the general manager of asset manager Fund Investment in Guangzhou, said the stocks surged as "their valuation and debut prices are not expensive".
CECport Technologies's IPO was priced at 26.8 times its earnings, below the industry-wide valuation in 2021 of 35 times earnings, according to its prospectus.Dencare's price-to-earnings ratio for the IPO was 36.8, versus a wider industry valuation of 51.6 in 2021, its prospectus said.
Both figures indicate the companies are undervalued relative to their peers.  "Afterwards, investors will focus more on companies' growth potential and fundamentals," Chen said.Overall, China's stock benchmark index (.CSI300), slipped roughly 0.3% on Monday, as investors focused on China's drills around the Taiwan Strait and awaited more data to gauge the strength of China's economic recovery after it dropped restrictive COVID-19 policies.The market-oriented IPO system reform is expected to speed up listings and corporate fundraising, as Beijing seeks to revive an economy ravaged by COVID restrictions.
"The changes brought about by the IPO reform are all-round and fundamental, centred by information disclosure," Yi Huiman, the chairman of the China Securities Regulatory Commission (CSRC) said, according to a report from state media CCTV on Monday.
"The service function of the capital market to the real economy, especially technological innovation, has been greatly improved," Yi said.
($1 = 6.8769 yuan)  https://www.reuters.com/markets/deals/chinas-first-batch-bluechips-under-new-ipo-system-surge-debut-2023-04-10/
---
8. Commercial Real Estate and GDP Growth
After the housing bubble burst in 2008, construction of new homes declined more than 50%, and residential investment pulled GDP growth down by 1% for three years.
With commercial real estate construction being roughly 75% the size of residential investment, and fewer skyscrapers and shopping malls being built, the bursting CRE bubble could be a drag on GDP growth of around 0.75% over the coming three years. This should be compared with a 2% potential growth rate for the US economy (according to the CBO).
In other words, with the commercial real estate bubble bursting, we are likely to enter three years with low growth, similar to what we saw after the housing bubble burst in 2008. Put differently, once the Fed starts cutting rates later this year, interest rates will likely stay low for several years, and QE is likely to come back in 2024.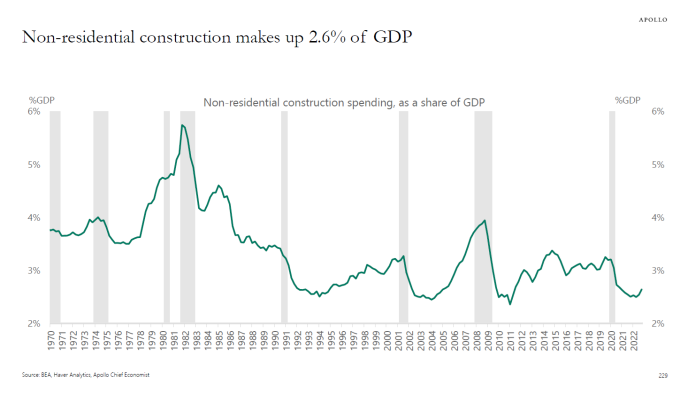 Torsten Slok, Ph.D.Chief Economist, PartnerApollo Global Management
---
9. State Tax Revenue at Record Highs
Capital Group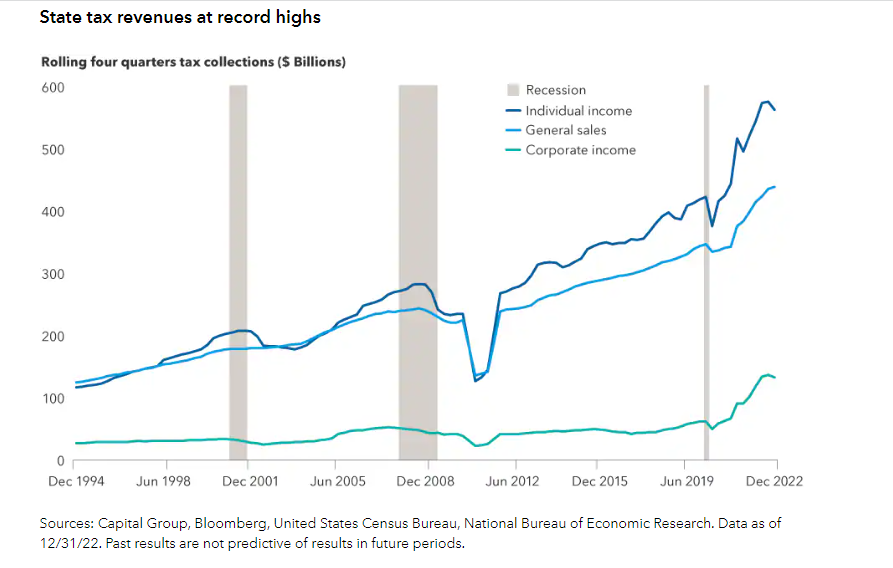 https://www.capitalgroup.com/advisor/insights/articles/recession-resilience-muni-bonds-can-help-shield-portfolios.html?sfid=1988901890&cid=80963071&et_cid=80963071&cgsrc=SFMC&alias=D-btn-LP-6-A1cta-Advisor
---
10. Good News: Stress Is Going to Kill You
Psychology Today…But it's going to take longer than ever.
THE BASICS
Stress is endemic to modern society.

People are convinced that stress is leading to their demise, and it's true that stress can contribute to life-threatening illnesses.

Compared to 100 years ago, dying of stress-related illness in our 70s or 80s is a luxury.
Welcome to Stress on the Brain. In this blog, I'll be writing about stress and its impacts on the way we think, the way we behave, and the way we get sick. When I first meet someone and the conversation turns to my area of research, the most common response I get is, "You should study me because I'm so stressed!" This response reflects our culture's attitudes: Stress negatively affects the way we think. Stress negatively affects our health. Stress is going to kill us.
What I tell people in response is both good and bad news. The bad news? Stress is going to kill you. The good news? It's probably going to take a long time.
What do I mean by this? Consider that 100 years ago, the average life expectancy in the U.S. was about 54 years. Compare that to our current life expectancy of 76 years (in 2021, the most recent year for which data are available).
What was killing people so young 100 years ago?
Among the top five causes of death in 1923 were infectious diseases such as tuberculosis and influenza. Today, by contrast, four of the top five causes of death are stress-related: heart disease, cancer, chronic respiratory diseases, and stroke. (I haven't forgotten that over 1 million Americans recently died from another infectious disease, COVID-19, but the point remains that most of the maladies that kill us today are made worse by stress.)
Why is this good news? One hundred years ago, most deaths of American adults were due to infectious diseases occurring in their 50s. Today, by contrast, we have the luxury of dying of stress in our late 70s or even older.
Much of this difference is due to the massive successes of public health.
Clean drinking water. Centralized sanitation. Improvements in maternal and infant health programs. These programs have shifted the causes of death for most Americans from acute infections to chronic diseases. Such chronic diseases are strongly impacted by lifestyle factors such as diet and stress.
Take, for example, the number-one killer of adults, heart disease. The cardiovascular system, including the heart and blood vessels, is a particularly sensitive target of stress. The system includes a pump (the heart) and a sequence of elastic tubes (blood vessels), which are always working.
One of the primary stress responses is to increase blood flow to working muscles to outrun a predator on the proverbial savannah. Just like with any mechanical system, the cardiovascular system will eventually wear out with increased use, as when under chronic stress. Modern stress rarely necessitates running from a predator, so the increased wear and tear on our cardiovascular system is for naught. It just hastens the eventual breakdown of the system.
This doesn't sound like good news, either. But hold on. Advances in cardiovascular medicine reduce the negative impact of the modern lifestyle on our hearts and blood vessels. The negative impact that stress can have on the cardiovascular system can be counteracted with improvements in diet, exercise, and medicine, prolonging the health of the system into our eighth or ninth decade. The impact of stress is still there, but our modern mitigation techniques allow us to maintain a healthy cardiovascular system for much longer.
If all this sounds too good to be true, you're correct. I'm glossing over a great deal, including the threat of future pandemics, increased number of deaths of despair, and the widening income gap, all of which threaten to wipe out some of the increases in life expectancy we've seen over the last 100 years. My message is this: You can now survive stress for longer than ever in our species' history. Yes, stress will kill you. Until then, stay vigilant to maintain and expand on the gains that we've made. Future generations may have the luxury of being stressed for even longer!
Tony W. Buchanan, Ph.D., is a professor of psychology and neuroscience at Saint Louis University.
https://www.psychologytoday.com/us/blog/stress-on-the-brain/202304/good-news-stress-is-going-to-kill-you