I had the best burger ever at Nomad Bar NY last night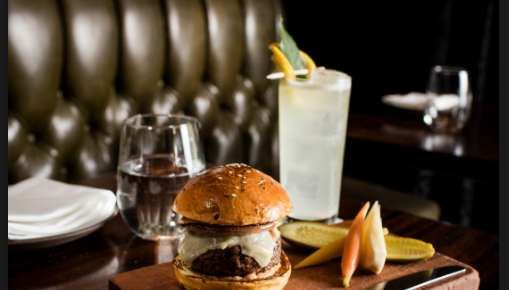 1.Trumpenomics…Small Cap vs. Large Cap Post Election.
What a chart..This is small cap (iwo) vs. large cap (vv) post election…huge spike in leadership as dividend play gets whacked.
And IWM (small cap) also keeps going, another 83 million shares traded.  In the last 4 sessions this fund has traded about 350 million shares and is up 8.9% in the past 5 sessions and the fund has also hit an all-time price high. SPY is up only 1.6% over the same 5 sessions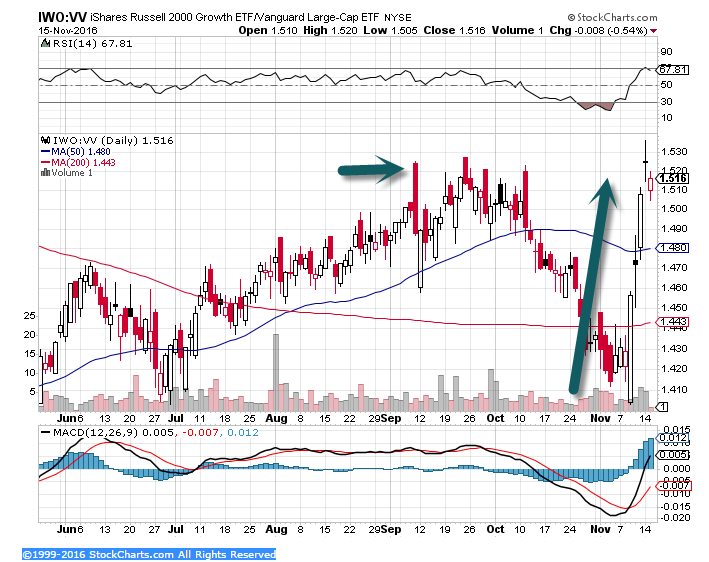 2.Trumpenomics..Ten Year Treasury 5 Day Bear Market After 35 Year Bull.
Ten Year Yield Chart 50day thru 200 day to upside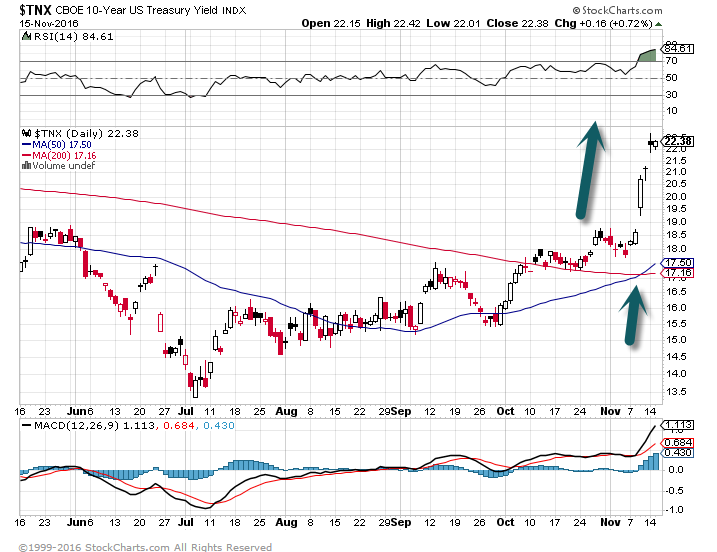 3.On Tues. the XLF Traded More Volume than the SPY ETF….Money piles into bank stocks.
An amazing day for XLF (Financials); it came out of the gate yesterday and never stopped, XLF traded 261 million shares, yes 261, that's is almost triple what the SPY traded. XLF is up 11.1% over the last 5 sessions… And it was big time buyers…  Also other financials traded heavy, ETFs like, VFH, IYF and KBE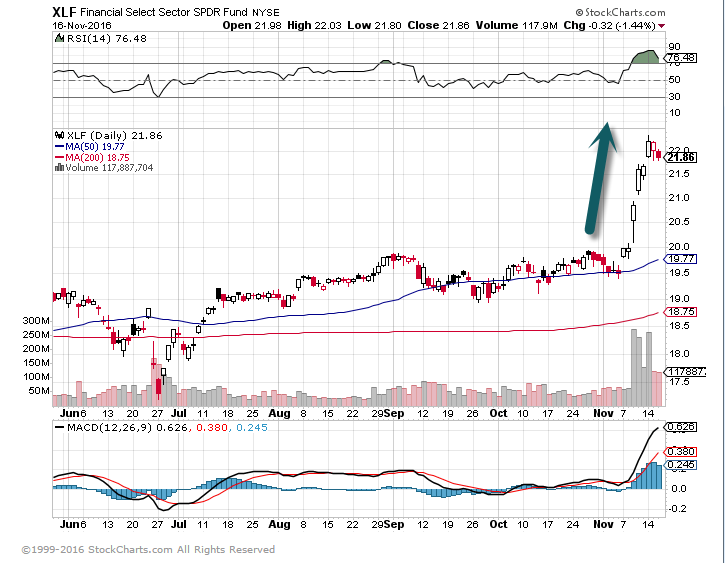 4. Trumpenomics..U.S. Dollar Set to Break Out of Band.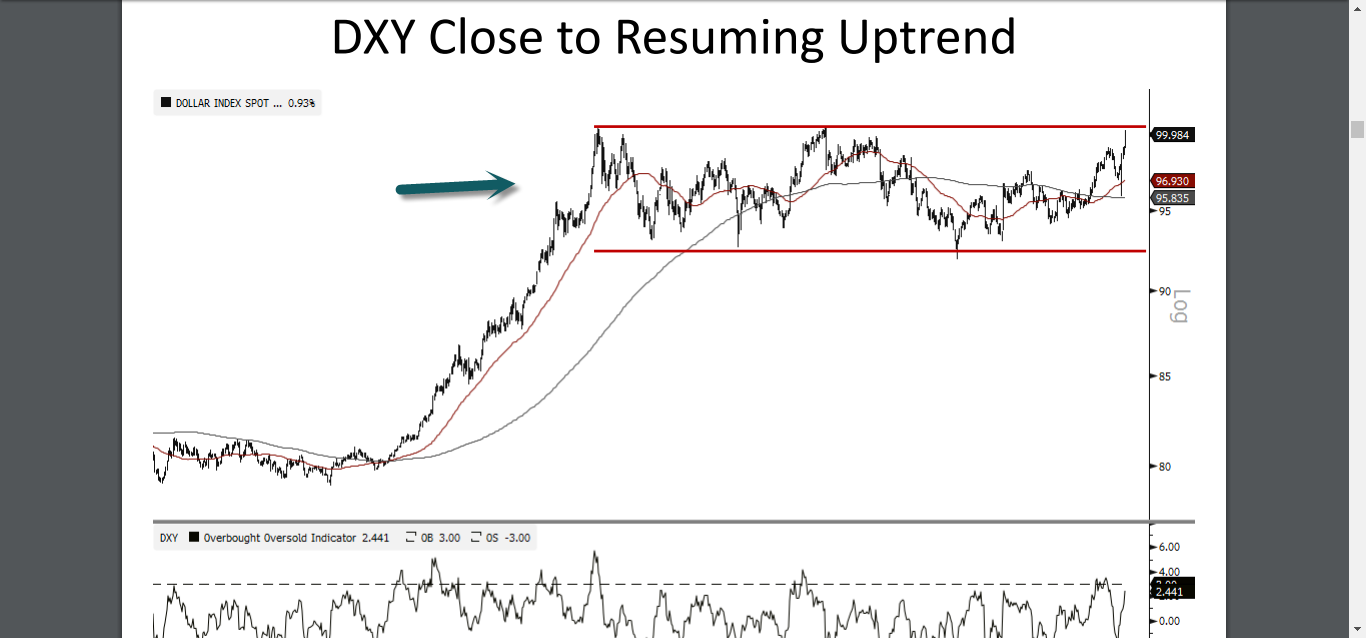 www.renmac.com
EBoucher@renmac.com
5.Gold Quick Drop Below 200day and Back to June Levels as Short-Term Traders Trump Gold Hedge Backfires.
GLD 50day not below 200 day yet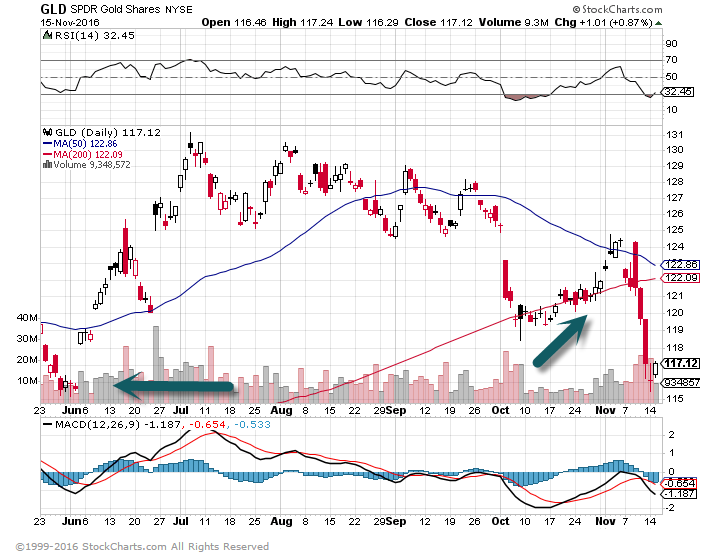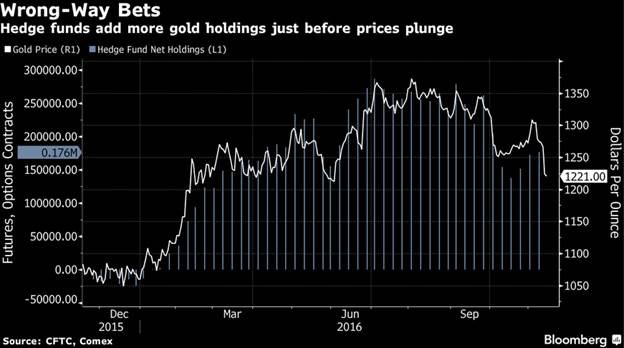 6.High Effective Tax Rate Companies Outperformance
 Thanks to Dave Lutz at Jones for chart
Shares of S&P 500 companies with the highest effective tax rates rallied the most after Donald Trump emerged as the winner from Tuesday's election, while the least-taxed group fared worst.  Share of the 100-most taxed S&P 500 companies beat the benchmark last week by a full two percentage points while the least-taxed group lagged by 0.4 percentage point.  Mr. Trump said during the presidential campaign that he wants to reduce the corporate tax rate from 35% to 15%
7.Chart of the Day….Dow Rally is Average in Duration though Below Average in Magnitude.
The Dow just made another all-time record high. To provide some further perspective to the current Dow rally, all major market rallies of the last 116 years are plotted on today's chart. Each dot represents a major stock market rally as measured by the Dow with the majority of rallies referred to by a label which states the year in which the rally began. For today's chart, a rally is being defined as an advance that follows a 30% decline (i.e. a major bear market). As today's chart illustrates, the Dow has begun a major rally 13 times over the past 116 years which equates to an average of one rally every nine years. It is also interesting to note that the duration and magnitude of each rally correlated fairly well with the linear regression line (gray upward sloping line). As it stands right now, the current Dow rally that began in March 2009 (blue dot labeled you are here) would be classified as average in duration though below average in magnitude.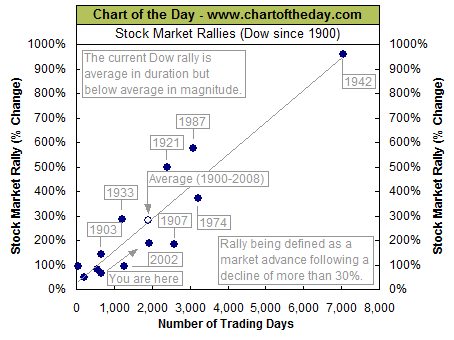 8.The Wage Growth Story in Settled for FED
The latest report on wage growth from the Atlanta Fed has solidified the case for a rate hike next month.
Source: @AtlantaFed
Wage growth has been particularly strong in the service sector, rising just above 4% per year.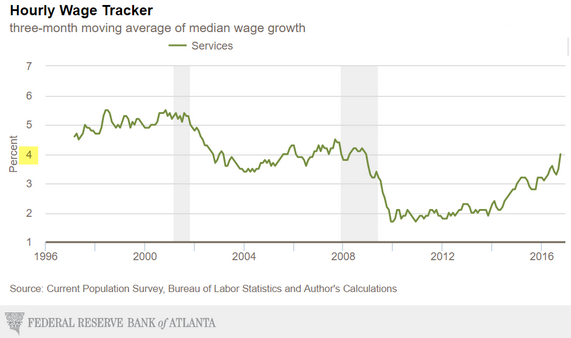 Moreover, wage growth for US women has improved sharply (note that the chart compares wage growth, not actual pay).
Source: @AtlantaFed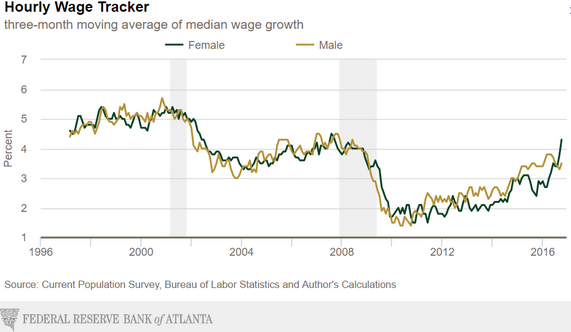 9.Goldman Sachs Financial Conditions Index…I am not familiar with index.
It shows the Goldman index is pointing south as the S&P 500 heads in the other direction. "Moving down means that real people and business are facing tighter conditions — more expensive rates to borrow money, says Helen Thomas, of the Blonde Money blog.
Something's got to give? "So you'd think if it [the index] goes down, stocks markets would fall, because it's harder to get credit and more expensive to borrow," Thomas says. And if this chart is indeed showing less money around to dip into, then stocks should start to sell off as has been the pattern in the past few years, she says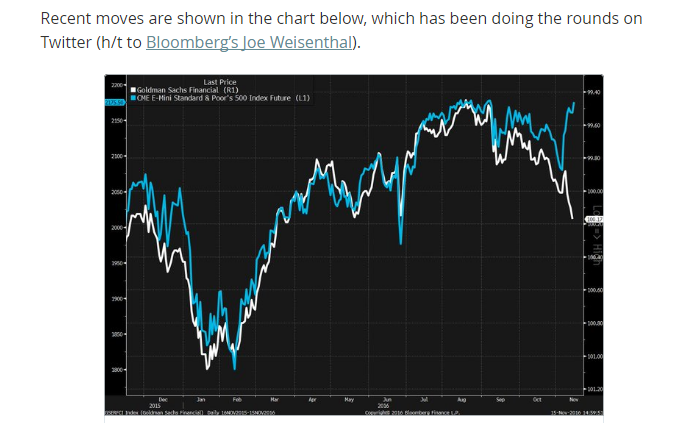 http://www.marketwatch.com/story/the-stock-rally-is-about-to-catch-a-chill-if-this-indicator-holds-2016-11-16
10. 8 signs you should fire someone
One of your duties as a manager or business owner is not to just handle tough employees, but also to let them go when justified. While handing a pink slip to an employee is never a pleasant task, it's a necessity if you want to have a thriving business.
Instead of letting these employees overstay their welcome — with serious repercussions to your business — keep a lookout. If you notice one or more of these following eight signs then it's best to fire this employee sooner rather than later.
No call/no show
As a leader, you need to have empathy. If an employee lost their mother or father in a sudden and tragic accident the last thing that is one their mind is to call out of work. However, if this happens a second time, then maybe it's time to get a little suspicious. After all, absenteeism ends-up costing you and your business both time and money since you're asking your other team members to pick-up the slack.
You should have a policy in place that addresses guidelines for time off and handling last minute absences. Make this policy known to your employees for the get-go. For me personally, I give an employee a warning for their first no call/no show, but if it happens again, they're fired on the spot. I know that sounds harsh, but I have a business to run and can't keep having this type of person holding me and my team back.
Productivity is down
To be fair, there are times when productivity can decrease. Sometimes a project has become larger and more time-consuming than initially planned. That doesn't mean that your employees are slacking or lack the skills needed to be successful. It just means that they're swamped.
But, if you have one specific employee who keeps handing in assignments past the deadline then that's an obvious red flag that they're productivity has declined. Other signs include their work requires several revisions, they're constantly asking co-workers for assistance, or their taking-up too much of your time, then it's time to let that employee go.
Stirs the pot
This individual can do some serious damage to your workplace if left unattended, and I think you know what type of person I'm talking about. They spread rumors. They pit colleagues against each other. They incite mutiny by undermining management or bad-mouthing a supervisor. If you have an employee who won't embrace company initiatives, quibbles about project requirements and gets a kick out of causing trouble, then it's probably time for you to part ways.
Can't handle change
"Change is inevitable, especially at a fast-moving company. Employees need to be comfortable with change and eager to improve our abilities," says Matthew Bellows, CEO of Yesware. "We need to keep our skills growing at pace with the company."
This can actually be tough when you have a hard-working employee who is responsible and fits the culture of your company. Unfortunately, if they can no longer perform at a high level because the pace is too fast for them, then unfortunately it's time to move-on to someday who can.
Argumentative/unpredictable
As a leader, you want to encourage innovation and have employees who will change you and the status quo. However, if there's an employee who is always starting arguments with you, their colleagues, or even customers, then that's a pretty good sign that they're capable of having a major blowup. This type of behavior isn't just frightening, it also creates an uncomfortable work environment for your other employees. Simply put. That person has to-go before things become too hostile.
They're not trying to improve
Let's say that you have an employee who is tardy or afraid of public speaking. Instead of making an effort to arrive to the workplace earlier or start taking public speaking classes, the employee doesn't make any sort of effort to rectify their mistakes or better themselves then it's probably in your best interest to give the employee the ax.
They're a placeholder
I get it. When you first started you needed to hire wherever you could until things took-off. I know this firsthand because I brought in some friends and family members during the early stages of my business. The thing is, if they don't have the skills or experience to help take your business to the next level then they're just a placeholder.
Again. This can be extremely tough since it has nothing to do with their work ethic or personality. Hopefully they'll understand that it's an essential move you have to make in order to help your business grow.
Customers and vendors are complaining
Did you know that 86% of customers will stop doing business with a company because of a bad customer service experience? Even more troubling is that a dissatisfied customer will tell between 9-15 people about their experience. In other words, you have to keep your customers happy. If you're receiving complaints about an employee from customers because of sub-par customer service then you have to let them go.
The same can be side of vendors. Who would they want to do business with an organization that has rude or apathetic employees?
Read the original article on Entrepreneur. Copyright 2016. Follow Entrepreneur on Twitter.
http://www.businessinsider.com/signs-you-should-fire-someone-2016-11