1.U.S. Stocks Vs. International…Big Spreads.
Since the 2009 bear-market low, the SPDR S&P 500 exchange-traded fund (ticker: SPY) has shimmied up 244%, outgunning the 96% gain in the iShares MSCI All Country Ex-U.S. ETF (ACWX), and 93% for the iShares MSCI Emerging Markets ETF (EEM).
5 Year Chart…S&P +66% vs. EEM -7%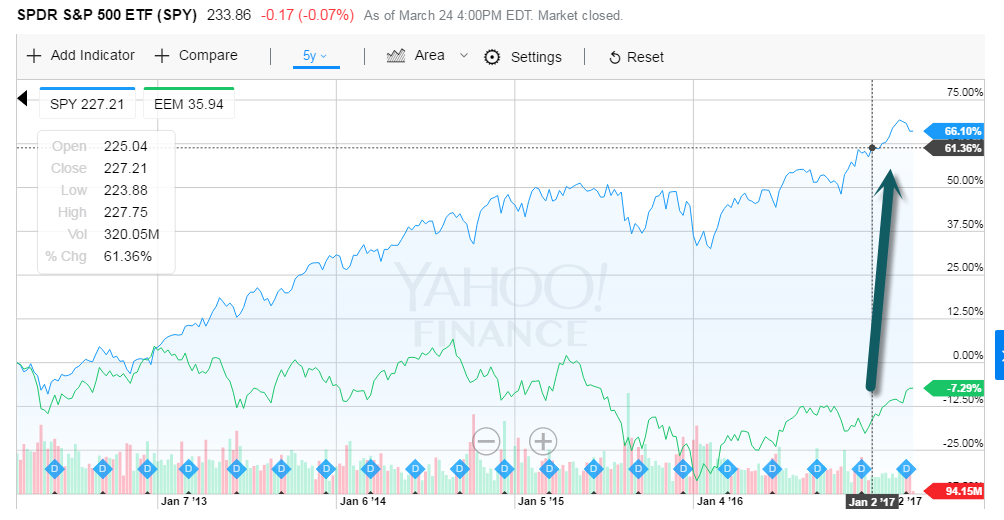 5 Year Chart S&P +66% vs. International Developed +13%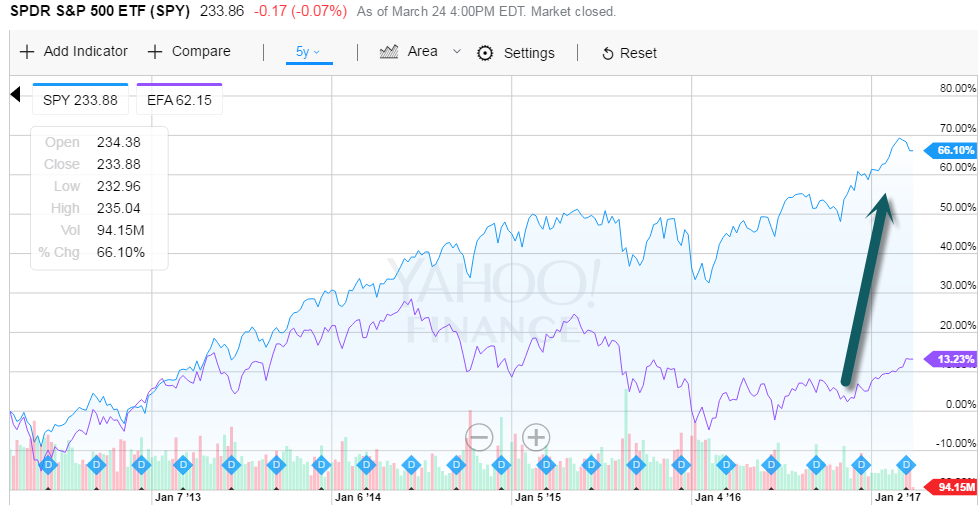 www.yahoofinance.com
2.Did the 10 Year Trend of U.S. Outperformance Just Break?
Today's Chart Of The Day looks at the 10-year trend of U.S. out-performance vs. international stocks, and a potential crack in that trend. Specifically it looks at the performance ratio of the MSCI-EAFE index (i.e., Europe, Australiasia & Far East) relative to the U.S.'s S&P 500 index. Besides the clear 10-year downtrend in the series, the other noteworthy aspect of the chart is that the trendline has been so well-defined. We've seen at least a half dozen precise touches of the Down trendline since 2009, an interesting dynamic considering the derivative nature of the series, as opposed to a tradeable price plot. One thing that suggests is that markets do indeed have a natural, structural order to them – not merely a self-fulfilling, technical analysis-driven influence.
Philosophical musings aside, the immediately relevant point here can be seen at the end point at the lower right-hand side of the chart. Specifically, the ratio has broken the trendline to the upside (i.e., in favor of the EAFE) in just the past few days.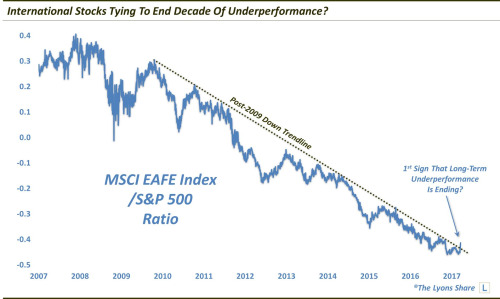 Found at Tadas Viskanta's
www.abnormalreturns.com
3.Energy is the Worst Performing Sector 2017 But Oil Volatility Index Still in Downtrend.
Crude Oil Volatility Index Chart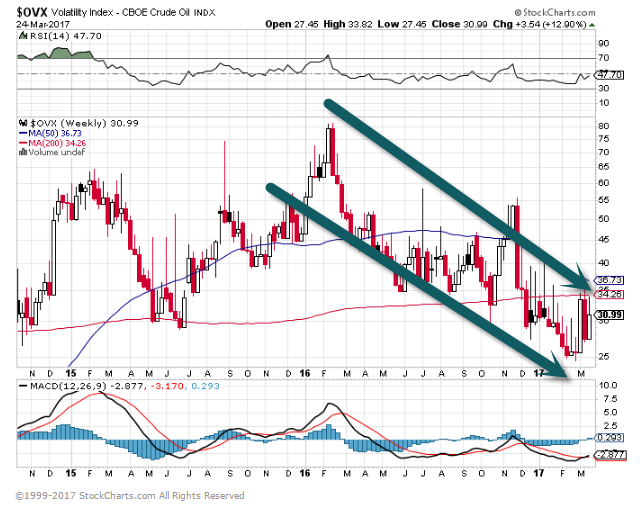 4.Investors Follow Classic Behavior in Low Vol Funds.
Returning to smart-beta; Whether these factors even offer a premium is a whole other debate, but I think the risky nature of them still leaves opportunity for disciplined investors. Let's look at one of the more popular strategies, low-vol. In 2016, this got off to a really hot start, outperforming the S&P 500 by 8% in the first seven months of the year.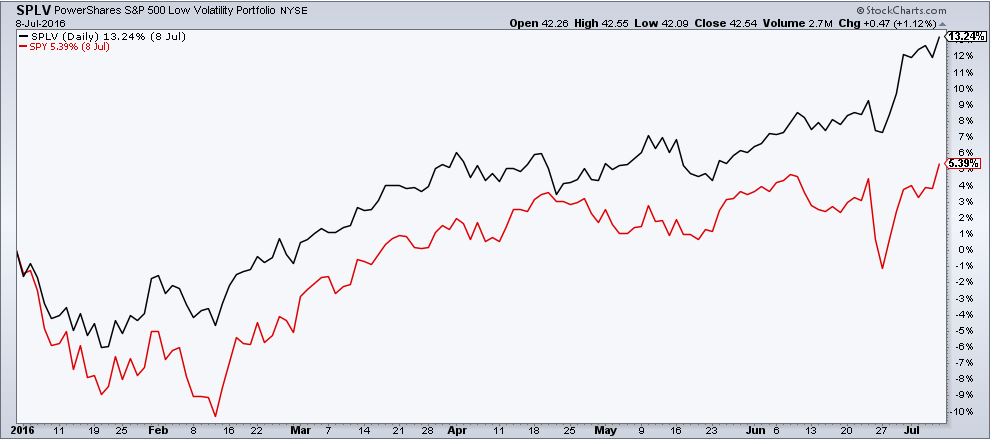 But then in the following seven months, there was a reversal of fortune and low-vol underperformed the S&P 500 by 9%.
And investors did what they have been doing since the beginning of time. In the first chart, when low-vol was doing well, $1,354,750,000 poured in, and then when the tide came out, so did investors, pulling out $1,737,700,000, around 20% of total assets.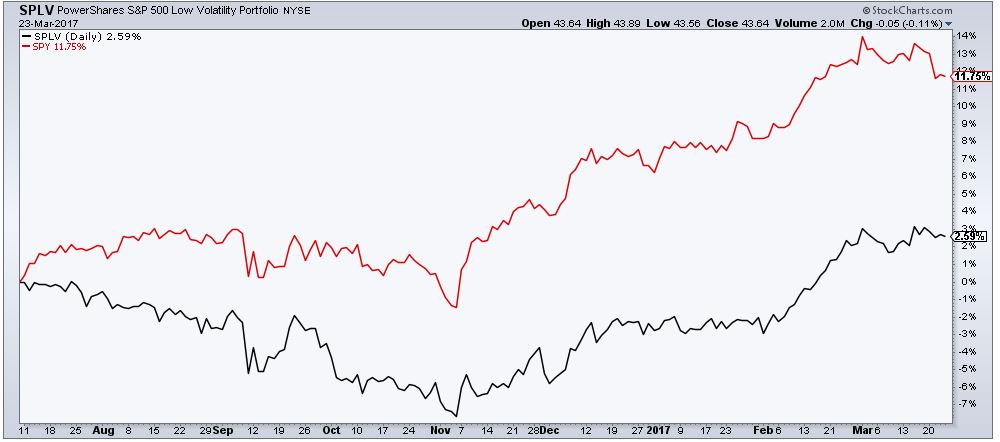 Michael Batnick
5.Retail Investors Unfazed…Bearish Sentiment Drops from 37% to 30%
Individual Investors Buying on Weakness
Mar 23, 2017
With bulls failing to reach a majority in the weekly AAII sentiment poll for a record 116 straight weeks, one would think that the sell-off earlier this week would have sent bullish investors scrambling like a bunch of cockroaches. The reality was somewhat different, though. In this week's survey, bullish sentiment actually ticked higher, rising from 31.17% up to 35.28%. True, that's barely even a third of the total, but given the fragile state of investor sentiment, it is not what we would have expected.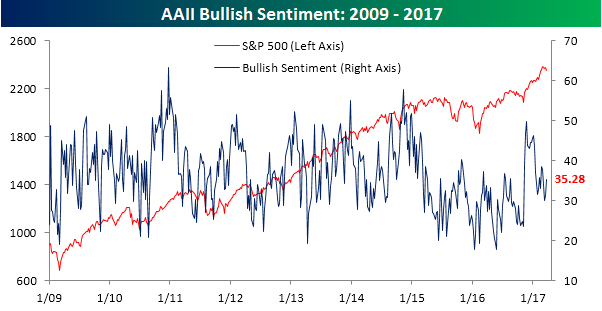 Bearish sentiment saw an even larger move in the opposite direction. As shown in the chart below, bearish sentiment declined from 38.7% down to 30.5%. That's the lowest weekly reading since early February, the largest one-week decline since early October, and the largest two-week decline since February 2016. That's quite a thaw in the bearish camp!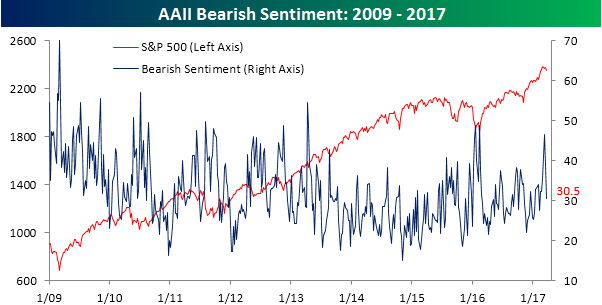 6.Watching for Signs of Euphoria Stage for this Bull Market….SPACs Would be an Interesting Data Point.
What is a 'Special Purpose Acquisition Company – SPAC'
Special purpose acquisition companies (SPAC) are publicly-traded buyout companies that raise collective investment funds in the form of blind pool money, through an initial public offering (IPO), for the purpose of completing an acquisition of an existing private company, sometimes in a specified target industry such as information technology. The money raised through the IPO of an SPAC is put into a trust where it is held until the SPAC identifies a merger or acquisition opportunity to pursue with the invested funds. Shares of an SPAC are typically sold in relatively inexpensive units that include one share of common stock and a warrant conveying the right to purchase additional shares or partial shares.
Read more: Special Purpose Acquisition Company – SPAC Definition | Investopedia http://www.investopedia.com/terms/s/spac.asp#ixzz4cTANEsbh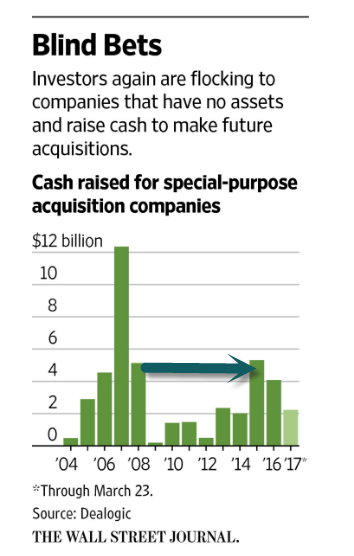 https://www.wsj.com/articles/riverstone-retired-energy-executive-get-billion-dollar-check-to-shop-in-oil-patch-1490309435?tesla=y
7.One of the Most Stunning Charts in my 20 Year Career.
From Barry Ritholtz Big Picture Blog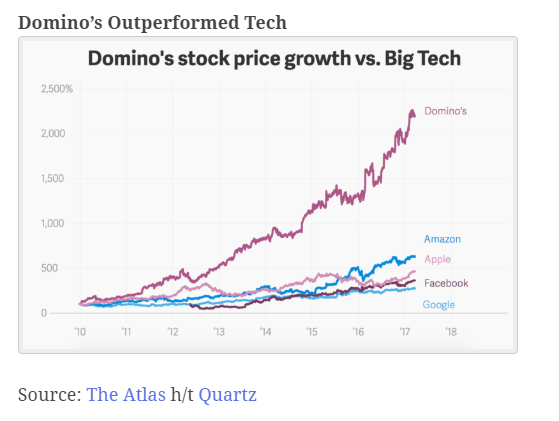 http://ritholtz.com/2017/03/sunday-reads-86/
8.RETAIL FORECAST: U.S. consumers will spend $632 billion online by 2020
Not a Good Chart for Big Box Retail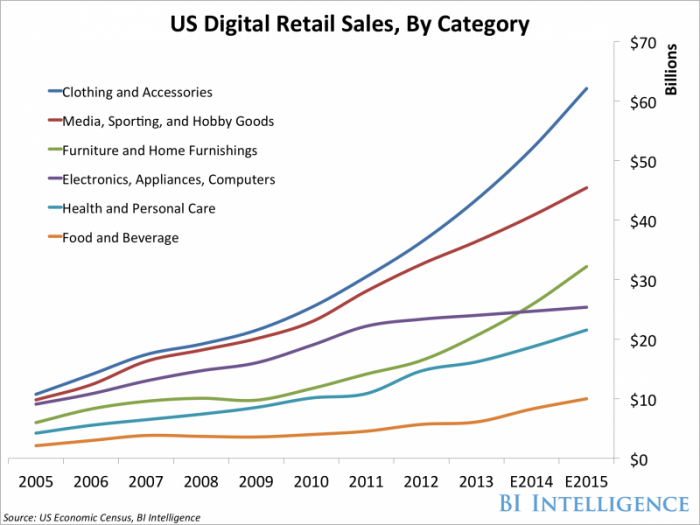 BI Intelligence
E-commerce has been on the rise in the last several years, thanks in large part to titans in the industry such as Amazon and Alibaba.
And that growth shows no signs of slowing down in the near future. In fact, e-commerce will truly become the future of retail, as nearly all of the growth in the retail sector now takes place in the digital space.
BI Intelligence, Business Insider's premium research service, forecasts that U.S. consumers will spend $385 billion online in 2016. Moreover, BI Intelligence predicts that number will grow to $632 billion in 2020.
This is hardly surprising considering e-commerce's healthy growth. Though the U.S. retail average growth rate in the first half of 2016 was just 2% for total retail, it was 16% for e-commerce.
The number of online shoppers has grown by nearly 20 million from 2015 to 2016. And these 224 million shoppers are spending more, as the total amount spent online grew from $61 billion in the first quarter of 2015 to $68 billion in Q1 2016. Finally, these customers are transacting more frequently, as the number of online transactions has risen by 115 million from 2015 to 2016.
But all of this shopping online creates its own set of challenges, both for consumers and the companies that are trying to get their products onto shoppers' screens and into their shopping carts. In short, you need a plan.
And to create your ultimate e-commerce battle plan, you need the right intel.
BI Intelligence is here to help.
Our team of industry experts has you covered on topics such as:
· Shopping cart abandonment
· Marketing effectiveness
· Merchandise returns
· Customer satisfaction
· Social media monetization
· Mobile payments
· Accommodating shoppers at the 11th hour
· And much more
To help you develop and/or fine-tune your e-commerce strategy, the team at BI Intelligence has developed an exclusive bundle of 10 reports entitled The E-Commerce Battle Plan Bundle.
Below are the extensively researched in-depth guides that are included from our team of industry experts which can help YOU excel in the competitive world of online retail:
Get full report at BI
http://www.businessinsider.com/ecommerce-online-retail-monetization-strategy-planning-2016-11
9.Read of the Day….5 Questions Every Investor Should Ask According to Howard Marks
Always remember that in the stock market, there's always someone on the other side of you.
When you buy a stock, someone out there, they could be anywhere, is selling it to you. When you sell a stock, someone out there, they could anywhere, is buying it from you. That one thought might make you do things a little differently.
Why would someone be taking the other side of your trade or investment? Do they know something you don't? Do they have a better plan than you do?
All of these questions bring us to Howard Marks. The legendary value investor and stock market thinker. He once wrote about this problem. Especially for value investors who are trying to discover deep and hidden value. Before you buy any stock, you need to ask yourself a few questions. Without the answer to these, you can never be so sure. Perhaps the person taking your bet is smarter than you. Or even worse, maybe the Efficient Market Hypothesis is more real than you think. Here's what Marks once wrote, and then a link to the person who showed us this:
1. Why should a bargain exist despite the presence of thousands of investors who stand ready and willing to bid up the price of anything that's too cheap?
2. If the return appears so generous in proportion to the risk, might you be overlooking some hidden risk?
3. Why would the seller of the asset be willing to part with it at a price from which it will give you an excessive return?
4. Do you really know more about the asset than the seller does?
5. If it's such a great proposition, why hasn't someone else snapped it up?
View image on Twitter

Follow
cheap beta @cheapbeta
Re-reading Howard Marks' book.. this has haunted me for years
6:36 PM – 17 Mar 2017
Found at www.abnormalreturns.com
10. An Introvert's 9 Secrets to Leadership
Leadership is not reserved for extroverts.
Mark Zuckerberg, the man behind the social media giant Facebook is an introvert. How's that for a paradox.
Some of the most acknowledged leaders are introverts. You don't have to be outgoing, crazy communicative, and incredibly charismatic to achieve greatness in this life.
A leader's strength comes from creativity and ideas; not from social skills. But when you're afraid to come out of your protective shell, you're missing out on an opportunity. Introverts can be great leaders if they leverage their strengths, and cultivate some of their flaws.
Claire Donovan, a team leader at EssayOnTime, explains that being an introvert doesn't make it easy for you to established yourself as a leader: "As an introvert, it's not easy for me to act natural in front of an audience. I've had my awkward moments in meetings, and it wasn't easy. But guess what, no one has it easy. Can you name someone who woke up one day and became a leader? No, it takes a lot of effort for everyone, especially those who are willing to invest that effort. Introverts are just as capable for leadership as extroverts are."
Here's a guide for introverts to cultivate their leadership efforts… courtesy an introvert, like you.
1. Acknowledge the Strength of Empathy
The force of empathy is strong with introverts. Extroverts may be the better speakers, however, introverts are great listeners. An introvert leader is able to see a problem from another person's POV. They understand how people feel in a certain situation, and can take proper action to calm them down. When it comes to misunderstandings and conflicts, introvert leaders are exquisite at solving them.
2. Communicate One-On-One
Most introverts don't like speaking in front of an audience, but they're good at making connections with fewer people. One-on-one talks are their forte, since they don't waste words and listen carefully before giving a response.
You can use this skill as a leader by welcoming face-to-face meetings with your employees; this should also give you the reputation of being approachable. (A major win.)
3. Don't Throw Away Me-Time
An extrovert gets his strength from socializing. That's why extrovert leaders are so appreciated in their organizations. They're always inviting people for lunch and dominate the conversation at office parties. Introverts, on the other hand, feel exhausted after spending a lot of time among people. They need time alone to reconnect with their inner peace. Don't cut yourself short from that necessity. Whenever you need time for yourself, take it. As a leader, you have a responsibility to interact with other people, but that won't be 24/7.
Recharge while still growing your skills as a leader by taking a daily 20-minute break to read in your office. Start with The Perfect Day Formula, which can help you hone any anxiety associated with leading more employees. The book itself comes with an interactive kit ($199) that includes journals and worksheets.
4. Lay Your Cards on the Table
Most teams are used to working with extrovert leaders. Your employees might be surprised by your quiet approach. The first thing you need to do is make your leadership style known. You're not the guy they worked with; you're a completely unique person with a different approach. As long as you prove yourself to be a good leader, the style shouldn't be a make or break.
5. Use Technology
Do you prefer writing emails instead of face-to-face interactions? Then, technology is your best friend. Stay informed about business progress by use of collaborative e-tools and experiment with platforms until you find the perfect one. Thanks to digital communication, you won't feel exhausted after a day's work. You'll still have energy for real meetings and business presentations.
6. Fake It!
You don't have to feel great when giving that presentation, but you do have to fake it. Whenever necessary, call upon an image of yourself being comfortable and confident, and watch it become real. Karen Renaud, vice-president of Cambridge House International, says,
"My introverted nature is constantly challenged in an extroverted business world. My approach is to act as if I am an extrovert. For instance, when I'm at a networking function, I try to act as if I'm the most comfortable person in the room. I smile a lot and introduce myself to people while avoiding the thoughts of bolting. I also ask a lot of questions."
7. Get Out of That Box
Your home is your comfort zone. All you need is your family, a good book, music, or a movie to have the perfect Saturday evening. When it comes to work, you like doing your job in the best way possible, but you don't feel comfortable when you stand out. That's something you need to change. A great leader steps into the unknown by taking risks and meeting new people. You may not feel comfortable at first, but it's important to keep challenging yourself and step out of that safety zone. This obstacle is an opportunity for growth. The feeling of exceeding your own capacity and reaching new heights is priceless.
8. Rely on Your Reason
When you notice a conflict within your team, you won't feel good about getting in the middle of the situation and confronting people's opinions. But that's exactly what you need to do. Take your time to think about the issue. If you're an empath introvert, you can understand the anger and view all sides of the conflict. Once you analyze the situation, speak up with reasonable arguments and solutions. That's the kind of leader worthy of respect.
9. Practice Communication
Some introverts prefer written communication, while others choose to talk. You need to find the approach that works for you and make the most of it. However, you'll need to work on the type of communication you don't like, too. Keep informing your team about the organization's goals and the progress of all projects. Give feedback on their work and ask them to come to you with any ideas.